I still remember when my friend Grayson wanted to buy new good tires for his Mitsubishi Lancer Ralliart. But he didn't want to spend hundreds of bucks.
He came to me, and I asked him to look at the Kenda tires. Owing to my advice, he went for Kenda Kenetica KR17, and it was the best decision regarding choosing the tires.
So, what could be the best Kenda tire for your sedan, SUV, or coupe? Don't worry; I have summed up the good possible options in this Kenda Tires Review.
I recommend you give it a read; otherwise, you may miss this golden opportunity. Without ado, let's get into it.
We've also tested several other tire brands. Check our blogs on Michelin, Goodyear, and Achilles Tires to see if they are worth buying.
Why Should You Choose Kenda Tires?
Kenda tires are durable, & budget-friendly tires with strong traction for various terrains.
These are among our top choice for all-season driving. Let's take a look at some of the reasons, why you should opt fot these tires.
I have seen that these tires not only provide a reasonable price but also, they have all those benefits that a customer wants.
The additional bonus is that the company guarantees more than 40,000 miles of tread wear on their tires.
These are all the things about Kenda that hook me up.
How do I Test The Kenda Tires?
I have been in the tire industry for more than 7 years, and during that time, I've tested a lot of tire brands.
As you know, the weather is quite versatile in Carolina; therefore, I use these tires throughout the year and assess their quality based on their performance on dry, wet, and snowy roads.
The below guideline review Kenda tires on the factors mentioned earlier.
Best 4 Kenda Tires Review:
So I went on and selected the top 4 Kenda Tires for review. But before we dive into the detailed analysis, here is a table summarizing the performance of all 4 Kenda Tires.
| Tire Model | Dry Road | Wet Road | Snowy Road |
| --- | --- | --- | --- |
| Kenda Klever A/T2 | Good grip and traction. Some slippage at high speeds. | Excellent grip, handling, and aquaplaning resistance. | Good for average driving, not aggressive driving. |
| Kenda Kenetica KR17 | Excellent grip, traction, and steering control. | Good average traction, some grip issues. | Not recommended for ice/hard-packed snow. |
| Kenda Vezda UHP A/S | Good traction and control. Excellent cornering grip. | Strong traction, excellent aquaplaning resistance. | Not recommended for icy roads. |
| Kenda Klever R/T KR601 | Exceptional dry and off-road performance. | Excellent grip, control, and aquaplaning resistance. | Moderate performance. Not for high-speed snow driving. |
1. Kenda Klever A/T2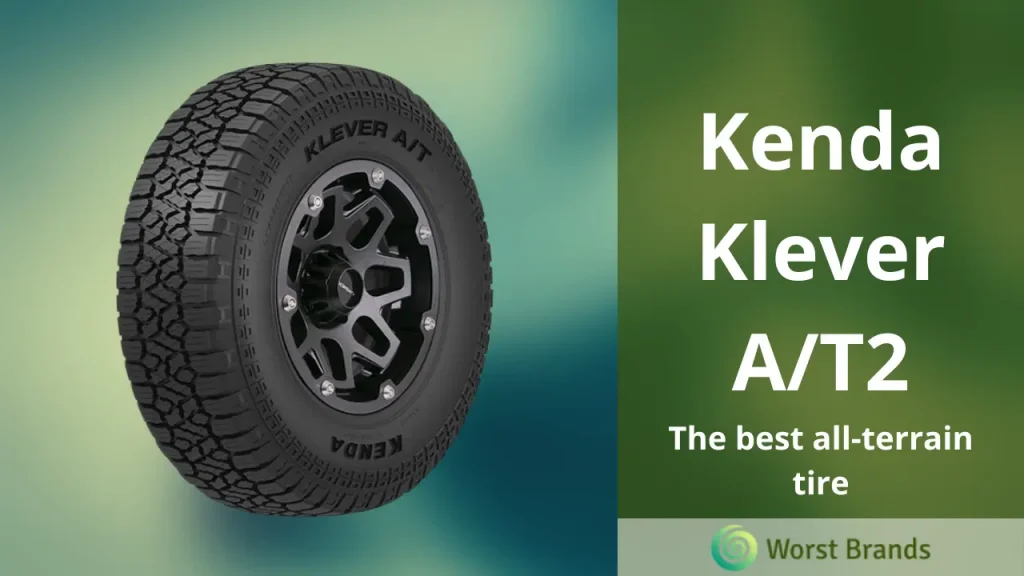 A next-generation tire by Kenda, Klever A/T2 offers the best performance on all terrains.
If you are looking for a tire that can work effortlessly in every type of condition, then it's the perfect option for you. I can say that it can handle every type of road, from the highway to offroad.
Dry road performance:
On a dry road, Klever A/T2 gives a lot of grip and traction despite carrying a lot of burdens. Considering it is a mid-range tire, the dry performance is pretty good.
The brake time is comparable to other cheap brands, and you can drive aggressively, and still, the tires will give you good control. The little problem is that these tires can slip, on and off.
You push too hard, and you'll see a loss in the grip. However, being an all-terrain tire, it won't show you any lag in the handling.
Wet road performance:
I think the biggest problem for any tire is the wet road, and to my goodness, these tires perform exceptionally well.
No lack in the grip, traction, and handling at all; however, speeding higher can cause you a bit of an issue. The grooves did a great job in providing resistance against aquaplaning.
Snow performance:
On a snowy road, Klever A/T2 shines with its 3PMSF rating. This tire can win trophies on a snowy road on average driving, but aggressive driving is not recommended.
Pros:
Good offroad skills
Better traction on both dry and wet road
Have a good price bracket
Cons:
The driver can hear humming sounds on the highway while driving.
Verdict:
Having said this, Klever A/T2 are good all-terrain tires. They have amazing snow capabilities, class-leading off-road skills, and give a nice comfortable ride.
One of the best fits for light trucks, 4 x 4, and SUVs, it seems that Klever A/T2 is a new model rather than just evolving the old one.
2. Kenda Kenetica KR17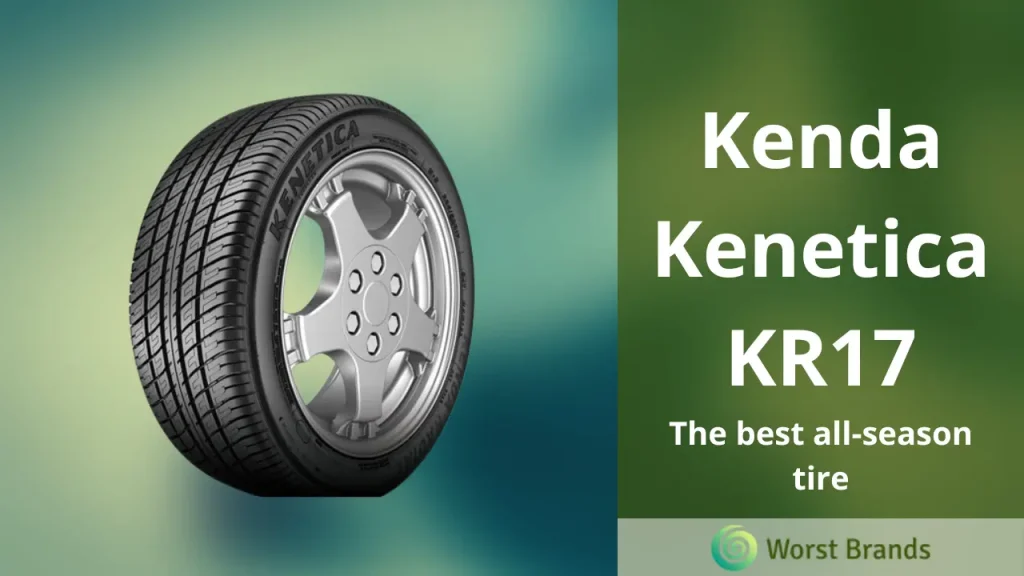 Presented with a sporty look, Kenda Kenetica KR17 is the best all-season tire for your vehicle. This tire is suitable for SUVs, crossovers, and coupes.
Kenda has implied their latest technology in the fabrication of KR 17, which is advanced NMA technology.
It is manufactured for every weather with its durability, long performance, and extended tread wear.
Dry road performance:
Coming to the dry road performance, I tested the tire on Mitsubishi 3000GT equipped with a 2.0-liter four-stroke engine and CVT transmission.
All I can say is that I was pretty impressed with the performance of Kenetica KR17.
The grip of the tires was pretty fantastic on the dry road. Even though I took the speed higher than the average, the traction was plentiful.
The brake time was less, and the steering control was firm and accurate.
Wet road performance:
While on the wet roads, things were pretty the same. Except that KR17 sometimes misses the grip.
Also, the braking was below average, but I gave an edge to it due to the slippery roads.
However, the tire's traction was good, even on average. The four circumferential grooves and various lateral grooves prevent the risk of hydroplaning.
Snow performance:
The snow driving with Kenetica KR17 is not encouraged. You can drive on the light snow, but you may also need a stud to avoid falling. These tires are not the best fit for ice and hard-pack snow.
Pros:
Affordable price segment
Good dry road traction
Cons:
The tire is lacking in the wet road department
There could be noise depending on the model of the car
Verdict:
On a short note, the tire's comfort was pretty good and better than other cheap tires. Yet, these tires are lacking in the department of noise and wet roads.
You can hear a healthy roar at speeds higher than the average. I also observed a bit of noise even at normal speeds.
All in all, KR17 is a good choice for an all-season tire, owing to its good grip and traction.
The treadwear is also good as the company provides a warranty of 50,000 miles for these tires.
3. Kenda Vezda UHP A/S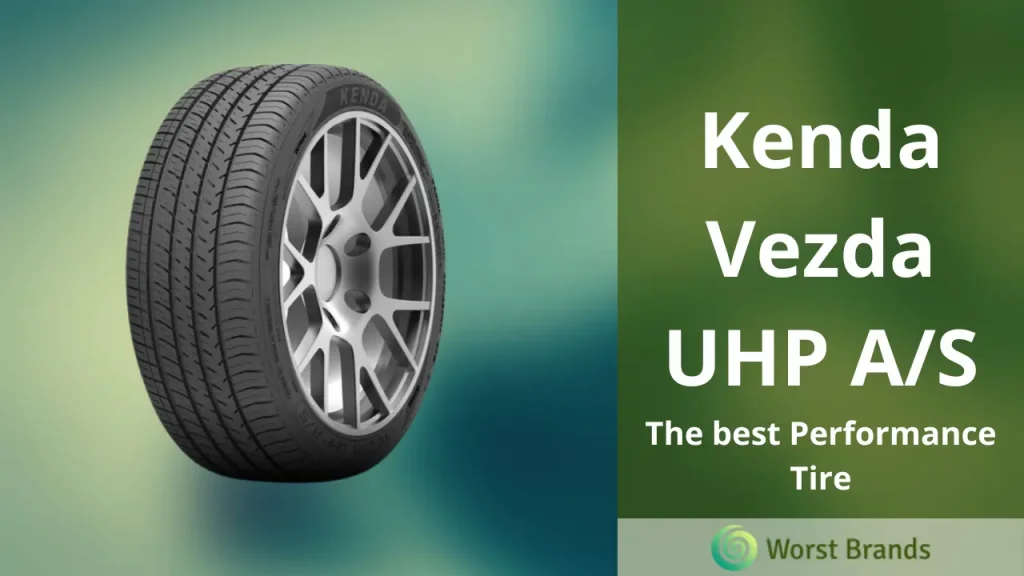 Dated back in 2017, the company launched its best-performance tire for high-power vehicles.
That said, the Vezda UHP A/S tire is the most suitable for sporty cars, coupes, and high-powered sedans.
The cornering grip of the tire gives it good traction for both wet and dry roads while having a nice price segment.
Dry road performance:
Vezda UHP A/S provides better than average traction and control when it comes to dry road driving. Plus, the cornering grip and the stability were also excellent.
The asymmetric pattern increases the gripping on the road. The icing on the cake is that the silica in the tires enhances the tire's flexibility despite the weather conditions.
Wet road performance:
Talking about the wet road performance, Vezda UHP A/S comes with four large circumferential grooves that not only give resistance against aquaplaning but also they provide an excellent wet driving experience.
Plus, 3-D sipes around the tire enhance the traction on the slippery road.
Snow performance:
It is recommended not to use Vezda UHP A/S on a snowy road due to poor performance on icy roads.
Pros:
Strong traction on both dry and wet roads
Low price for budget-conscious drivers
Cornering grip is better than other average tires
Cons:
Not good for snowy and icy roads
Verdict:
As the tire is built for all types of vehicles, including high-powered sedans, coupes, and sporty cars.
The purpose of Vezda UHP A/S is to deliver first-class performance. The comfort is quite good and has a long treading life.
Yay or nay? It all depends on your usage and preferences.
4. Kenda Klever R/T KR601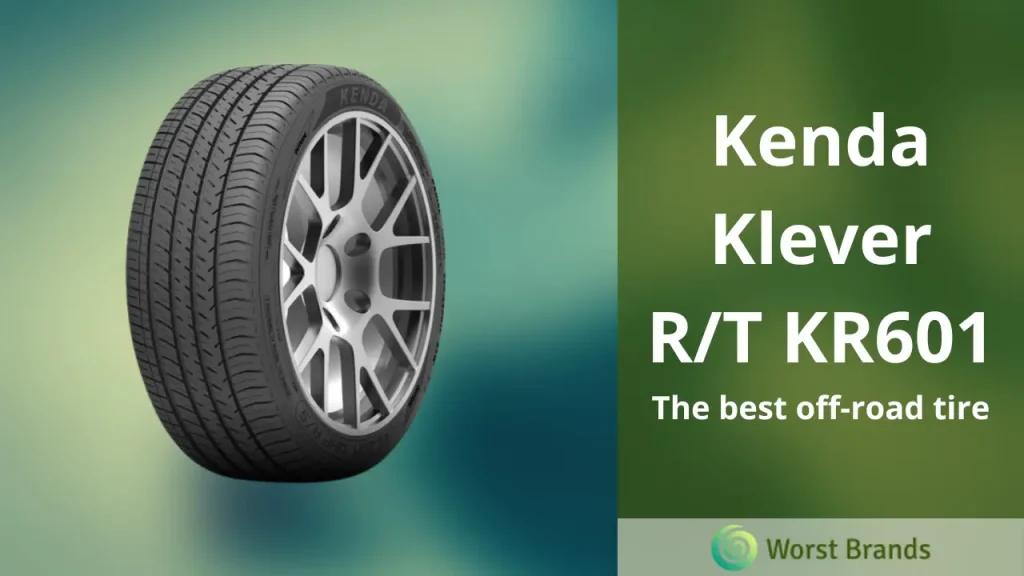 Launched in 2018, R/T KR601 is the company's best tire for off-road vehicles. The tire is good for SUVs, and light trucks and lies between AT (All terrains) tire and MT (Mud terrains) tire.
Kenda Klever R/T KR601 is a rugged-terrain tire made of tough cut and chip-resistant material that can endure every kind of weather.
And you know why is KR601 the best off-road tire? It's because of the unique T3 Triple Tread design, which allows the tire to handle tough terrain quite easily.
Dry road performance:
The dry road performance of R/T KR601 is exceptional. Since the rubber material is built for rough terrain, it did a good job on dry roads.
Similarly, handling was also responsive and predictable. No matter how much the speed is, you won't feel any lag in control.
A rugged terrain tire like Klever R/T KR601 should easily handle off-roading, and that's what it does. You can drive through thick mud to mudslides quite comfortably.
However, I would recommend using tires built for the mud-terrain in the worst scenarios.
Wet road performance:
Just like the dry performance, this tire also aces down the wet road driving. The rubber compound gives these tires good grip, control, and traction on slippery and wet roads.
The wide grooves in the treading prevent aquaplaning and direct away from the water from the tire.
One of the advantages of using KR601 is that these tires remain steady even at higher speeds on watery roads.
Snow performance:
Even though these tires are verified M+S tires, I won't recommend over-speeding on snowy roads.
They have a good deal of grip and control in snowfall, yet driving above the average speed, you'll see a lack of confidence in the traction on the road.
In extreme conditions, these tires can't give competition to winter tires.
Pros:
The best tires for off-roading in this price range
Outstanding performance on both dry and wet roads
Noise levels are not too high
Cons:
Suffers on a snowy road at higher speeds
Verdict:
Last but not least, KR601 tires are meant for rugged trains, and they give comfort to the drivers.
The aggressive look and interwoven pattern double down the fun of using these tires on your vehicle.
Also, the rubber ring is quite good for lowering the noise levels compared to other cheap options.
Conclusion:
Gathering all the nuts and bolts, let me say that Kenda provides the best tire suitable for every kind of driver in the budget segment. I still remember when I got my friend these tires, and he still praises their quality.
Probably, you have read the article. The overall theme is that Kenda tires provide the quality for their price.
These tires are good for dry and wet roads and give a bonus of comfort and reduced noise levels.
As per my thoughts, being an expert, include Kenda tires in your buying list if you want a good flip for your money, long tread life, and better driving range.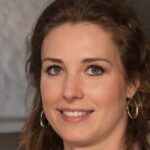 Crystal Hafley is a dedicated writer and content creator for WorstBrands, where she specializes in writing insightful reviews about kitchen appliances and fashion products.
With her expertise, Crystal provides readers with accurate and reliable information to help them make informed decisions about the brands and products they use every day. When she's not researching or writing, Crystal enjoys cooking and exploring the latest fashion trends.