Do you ever feel like driving a heavy, sluggish tank? You're not alone. All those extra pounds create drag on the car and use up more gas.
But what if there was an easy way to cut down on that drag and save fuel?
Autogreen Tires offer budget-friendly, eco-friendly options with good traction on dry roads and low noise levels, though they may struggle in snowy conditions.
So, what are the tires you should select? To ease your finding, we have developed this Autogreen tires review.
Check out this review to see how these tires can help improve your driving experience.
Who Makes Autogreen Tires?
Best Choice International Trade Co., Ltd is a brand that manufactures and distributes tires locally and internationally.
Also Read:
Autogreen Tires Warranty:
The company offers different types of warranty on various models. For example, some tires are covered under the manufacturer's road hazard warranty for up to 1 year.
While a few models also come with a 4-year replacement & workmanship warranty. So, the warranty depends on the model you are selecting.
How Have We Tested Autogreen Tires?
Our testing system is a bit different compared to other online reviews. After thorough quality checking in our labs, we use our subject vehicle tires.
We also check for other markers like OE and ESG scores. After reviewing customer feedback, we put a comprehensive yet detailed review before you.
Autogreen Tires Review:
After complete testing, we have chosen these top three tires from the company for review. Read now.
Autogreen Tourer Chaser TC1 Tire:
Autogreen Tourer Chaser TC1 is a high-performance tire from the company.
Its overall customer rating is 9/10, which shows it is a great option. But we'll get to know it in a while.
This tire has a speed rating of T/H and rim sizes ranging from 13'' to 15''. It has a D category of fuel efficiency and 69 dB noise levels.
Having said that, Tourer Chaser TC1 is most suitable for cars like sedans and SUVs.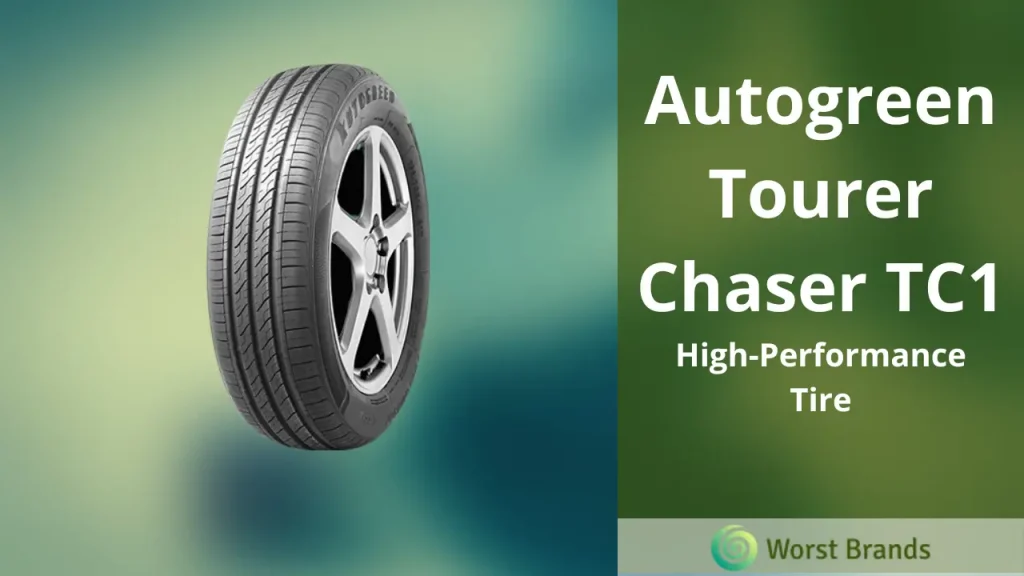 Dry Road Performance:
The Dry Road Performance of Tourer Chaser TC1 is first class. It gives your vehicle an aggressive look and has a sleek tread pattern.
This pattern is optimum for extra-load or straight driving.
The sipes on the tire decrease the rolling resistance, resulting in a comfortable ride and high fuel economy.
On a dry and straight road, the traction is maximum, and the grip is also excellent. There is no lack of handling, nor does the car seem to fluctuate at high speeds.
The symmetrical tread pattern has another benefit: it decreases the noise levels of the tire on the highways.
However, you may suffer from cornering and braking issues at high speeds.
Wet Road Performance:
The Wet Road Performance of Tourer Chaser TC1 is similar to that of wet roads.
However, using 3 deeper and wider grooves, you can expect much more from this tire on watery roads.
These grooves eliminate the water and give grip on the wet tarmacs. This is reasonably necessary to achieve a balanced ride.
On top of that, tiny slits in the zigzag pattern work as biting edges, thus enhancing traction on slippery roads.
On the weaker side, these specs don't work when you push the accelerator.
At high speeds, the contact of the tires can break, and the car can slip. Also, the braking time is not as good as expected.
Snow Performance:
Just like all the high-performance tires deceive on snowy roads, Tourer Chaser TC1 also does the same.
Though it can give you enough grip to drive slowly on snowy roads, high-speed driving is miserable.
Our Kia Picanto 2 struggles badly with these tires on slushy and snowy roads. That said, we recommend you go for a particular winter tire if you are from the northern areas.
Things we liked:
Grip and traction on wet and dry roads
Resistance against aquaplaning
Low noise levels
Things we didn't like:
Cornering grip and braking at high speeds can be issues
Verdict:
Summing up, you should expect from Tourer Chaser TC1 a little more than average performance.
It handles wet and dry tarmacs well while failing at snowy tarmacs. Secondly, high-speed driving again is not the cup of tea of this tire.
Autogreen Versat-AS2 Tire:
Versat-AS2 is meant to perform in all weather. Despite being an all-season tire, it targets winter specifically.
You can use this tire with light trucks, SUVs, and passenger cars. Versat-AS2 has a T/H/V/W speed rating and sizes ranging from 13" to 18".
The tire's fuel efficiency is category C, though some tires have category D.
The noise levels are between 67-70 dB, and the tire belongs to class C. Let's have a look at its performance.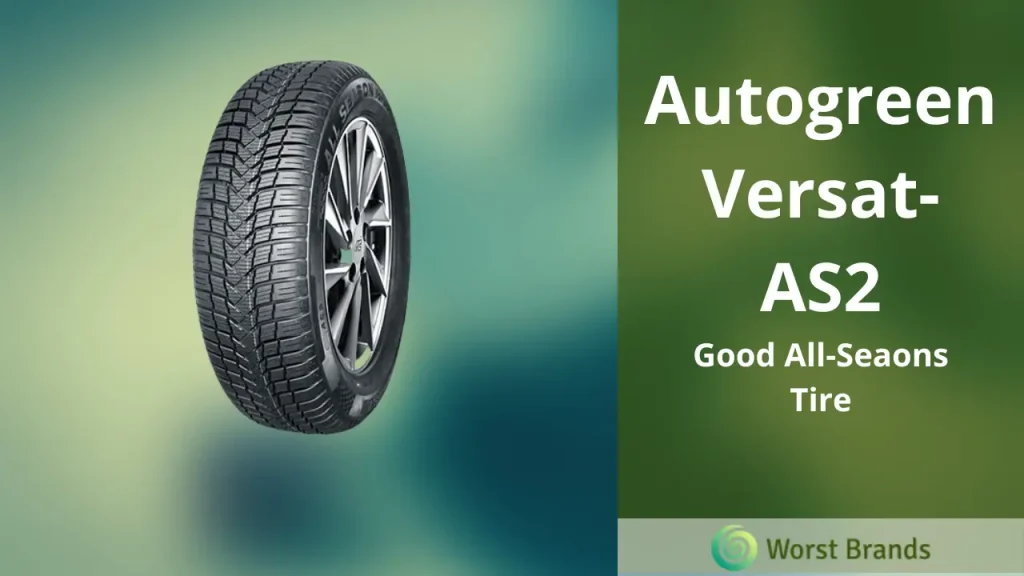 Dry & Wet Road Performance:
On dry and wet roads, the tire gives proper handling and stability. Versat-AS2 has symmetric patterns coupled with a big shoulder design.
This feature is essential as it provides adequate grip and traction to the tire.
The main grooves of this tire are in a zigzag pattern and diffuse the water entering the structure of the tire.
Also, the interlinked sipes act together to provide the lateral force that allows the tire to run smoothly and overcomes the cornering grip.
Lastly, the braking of Versat-AS2 is also good. You'll see that the tire stops in an optimum range with enough braking time to keep you on the safe side.
On the downside, this tire suffers from cornering at high speeds.
Snow Performance:
This is the area where Versat-AS2 outclasses other midrange all-season tires. As mentioned earlier, this tire is designed to give most of it in winter.
An advanced piece-shaped pattern and a special compound allow flexible handling on snowy roads.
The shoulder block design gives this tire enough traction to run smoothly on slushy and watery roads.
Even if the tire faces wear, snow traction is the last to go, thanks to unique rubber. Still, high-speed driving is not recommended with this tire on the snowy tarmacs.
Things we liked:
Snow driving is excellent
Grip and traction are fantastic on dry and wet tarmacs
Resistance against aquaplaning
Budget-friendly tire
Things we didn't like:
High-speed braking is a downside of the tire
Studders in the cornering grip
Verdict:
The final few words about Versat-AS2 are that this is an all-season tire with a significant focus on winter performance.
It has a special tread design and compound to enhance its performance on various roads.
This tire is definitely our recommendation for a person who often travels to northern or winter areas.
Autogreen Super Sport Chaser SSC5 Tire:
Super Sport Chaser SSC5 is an all-around tire because it gives performance and can be used in all weathers equally.
You can use this tire with sporty cars, coupes, sedans, and other high-powered passenger cars.
SSC5 has a V/W/Y speed rating and has C fuel efficiency. The tire can be purchased in 33 sizes and has a UTQG rating of 320 AA.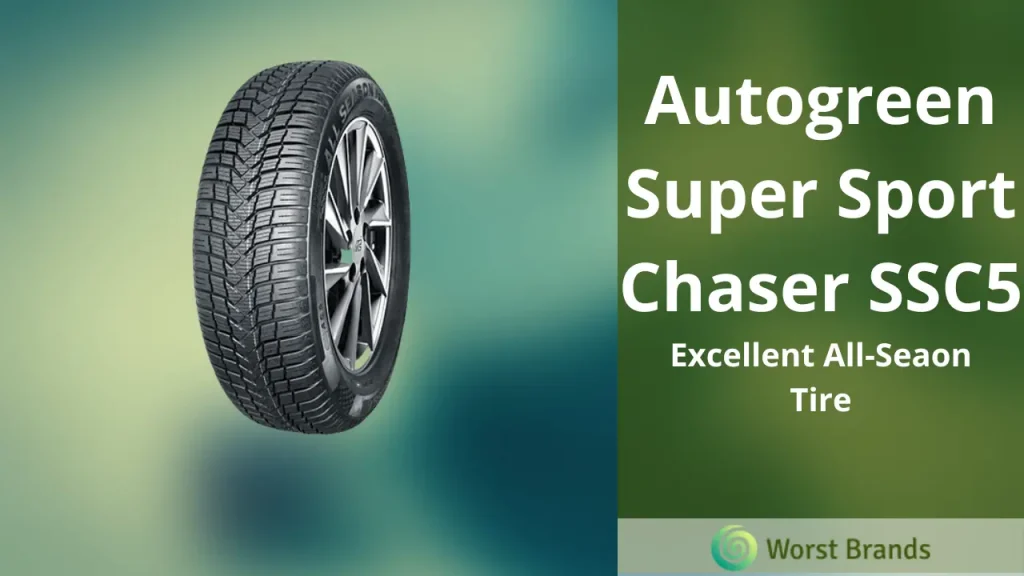 Dry Road Performance:
On dry roads, SSC5 works smoothly at average speeds. Though the company advertises it to perform well at high speeds, it doesn't fulfill this claim.
Having said that, you can expect excellent traction and grip at average speeds, owing to the asymmetric pattern design.
The use of high-stiffness polyester gives it extra stability and traction on the roads. But, SSC5 suffers at high speeds as it lags from proper braking and cornering grip.
Slippery Road Performance:
To enhance the performance of SSC5 on slippery and slushy roads, the company has incorporated a high wet grip compound into the tire. It boosts overall grip and gives extra stability to the driving.
Also, 4 straight circumferential grooves give this tire enough power to eliminate the water from the threads. They also provide high-speed stability on slippery tarmacs.
However, it may suffer from enough traction and grip at high speeds. So, you may need to have a special winter tire to drive on icy roads.
Things we liked:
Stability in handling
Controlled drive
Grip and traction on dry roads
Things we didn't like:
Snowy performance is underpowered
Verdict:
Summarizing this, SSC5 is a tire that ensures you get a good driving experience as long as you ride like a saint. Despite its qualities, this tire loses traction once it goes on top of the meter.
Pros and Cons of Autogreen Tires
Autogreen tires come with the following pros and cons:
Pros:
Budget Friendly
Good Traction and Grip on Dry roads
Quiet and Comfortable ride
Cons:
Most tires suffer on snow
Why Should You Choose Autogreen Tires?
Autogreen tires are an excellent choice for several reasons.
First, they are made of eco-friendly materials that help reduce environmental pollution. Second, their tread design offers superior traction in wet and dry conditions.
Third, their reinforced sidewalls protect against damage caused by potholes and other road hazards. And finally, their low rolling resistance helps you save fuel economy.
Autogreen Tires Complaints:
There are a few complaints people have about Autogreen tires.
Some say the tread wears down quickly, and the tires don't handle well in wet weather.
Others have complained about difficulties getting the tires properly inflated and balanced.
Additionally, some say the Autogreen logo is too prominently displayed on the tires' sidewalls. They also suffer from Snow Performance and cornering at high speeds.
Are Autogreen Tires Good?
Autogreen tires are famous for blending quality with affordable prices. Many of their models match even expensive brands in terms of quality.
The main highlights of their tires are that they provide a comfortable and safe ride.
Summing Up:
Here is what we have learned so far. Autogreen is famous for making quality tires in the budget section.
Though their tires often come with many caveats, they can be a good purchase for your dollars.
So, if you are interested in a tire from Autogreen, read this guideline thoroughly, as we have reviewed the top 3 tires from the company.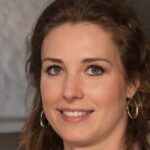 Crystal Hafley is a dedicated writer and content creator for WorstBrands, where she specializes in writing insightful reviews about kitchen appliances and fashion products.
With her expertise, Crystal provides readers with accurate and reliable information to help them make informed decisions about the brands and products they use every day. When she's not researching or writing, Crystal enjoys cooking and exploring the latest fashion trends.