Undoubtedly, Whirlpool is one of the global manufacturing appliance companies known for its quality, features, and durability.
Whirlpool is an energy-efficient Star-qualified company for most washing machines. It is also known for its fabulous smart features that reduce the manual burden.
But what about the review that complains about the weak water sensors or over-filling?
Similar: LG Washing Machine Reviews
Whirlpool Washing Machine Reviews:
If you are curious about the quality and performance, keep reading our in-depth Whirlpool Washing Machine Review.
You will learn how the machines work, how well they perform, and if they are worth buying.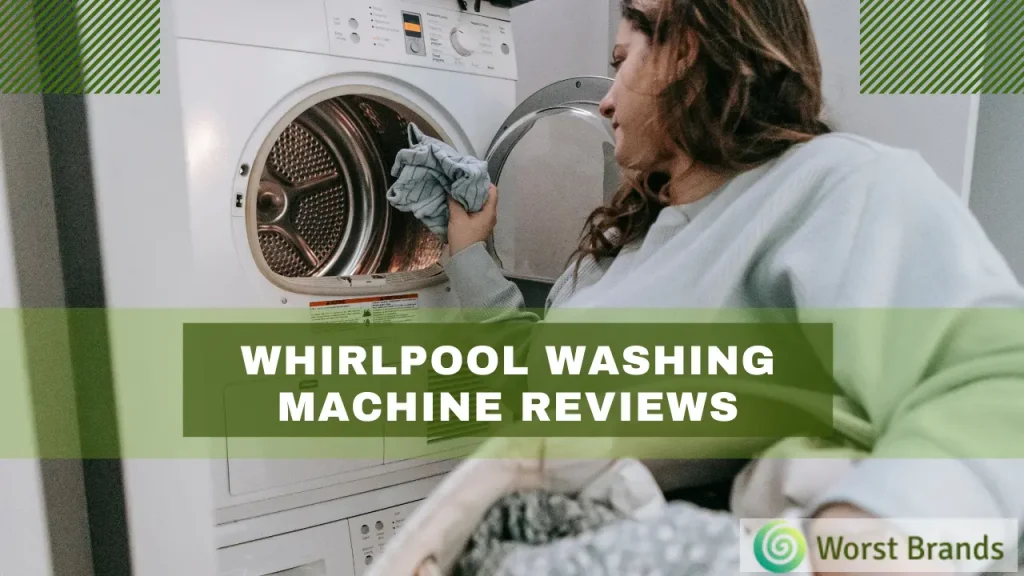 Performance of Whirlpool Washing Machine:
Whirlpool washing machines are fully stocked with amazing features and the latest technology that ensures fast yet efficient cleaning with a deep water wash.
You can also use its delay or start option to select the right washing time. Although it offers a maximum spin speed of 750 RPM, comparatively lower than other high-end washing machines, its other working technologies cover it all.
These machines use smart features by connecting to their app that allows you to select customized variable options.
Such as, you can set soaking time for variable intervals of 15 minutes to 120 minutes, depending on the type of fabric.
We liked the Whirlpool front-loader and top-loading machines the most. However, the durability of some models is still another point to ponder. But all in all, these are good-performance washing machines.
Mindful Range Of Whirlpool Washing Machines:
Samsung, Dawlance, and Whirlpool are three names that come to mind when thinking about reliable appliances.
As they all deliver quality products simultaneously and have unique selling points.
In the case of Whirlpool, its smart yet durable laundry range brings more comfort and ease to its user's life. Here are the 4 distinctive ranges of its laundry;
1. Top-Loader Washing Machines | Well-Accommodated Series
Agitator washing machine
Impellers-operated washing machine
2 times better cleaning action
2. Front-Load Washing Machine | Fast-Functioning Series
Quick-wash cycles
Flexible installation process
Simple, accessible, and modern features
3. Dryer and Washer Combo | 2-In-1 Series
Gas or electric operated machine
A wide range for everyone
Smart features enhancing compliance
4. All-In-One Washing Machines | Best-Performance Series
Dryer and washer combo
Dispenser facilitated machines
Operational yet handy
Key Features of Whirlpool Washing Machines
Besides its wide range, Whirlpool has an extensive range of technologies used for washing and drying clothes, which makes this brand likable to users.
These technologies will save you time and facilitate this hefty task with complementary smart features.
Let's take a look at the useful features of the Whirlpool Washing Machines. These impressive features make these washing machines stand out in this populated industry.
Load & Go™ Dispenser:
This wide capacity dispenser eases the user by preventing cautious refilling for successful washing. You can add an abundant detergent to the dispenser and forget the refilling for about 20 loads.
Pretreat Station Plus:
It performs three main tasks simultaneously for stain-cleaning with preset settings.
Soak, scrub and wash
Dual-temperature faucet
Accessible tools such as brush
Adaptive Wash technology with Active Bloom™:
This washing technology will automatically adjust the washing setting, such as the required type of wash action or suitable water levels. Thus, it acts as a sensor for appropriate washing.
Automatic Presoak option:
It will allow you to soak your clothes in the machine preventing the hassle of pre-soaking separately.
You can set the time limit for soaking then the machine will start its washing cycle after the soaking cycle.
Quick Wash cycle:
You can perform light washing almost in half an hour which will relieve you by reducing the time of washing chores and finishing it quickly.
The Sanitize Cycle:
This special cleaning cycle uses an oxy chemical to eliminate your clothes' germs and bacteria.
It automatically mixes this chemical as an additive and detergent for enhanced microbe-free washing.
Agitator-Wash Action:
A two-way cleaning action performs cleaning by moving the agitator and basket containing the load in the opposite direction. This dual-directional motion ensures better cleaning.
The Affresh® Cycle:
The Affresh cycle will maintain the washing machine's performance by keeping it clean and free from tiny particles that could clog its vents and affect its performance.
It is suggested to run this cycle after 30 washes. You can also use liquid bleach for additional cleaning.
Wrinkle Shield™ Option:
This feature ensures neat and wrinkle-free clothes. Once you select the Wrinkle Shield™ option, it will work up to 12 hours after each cycle.
Tumble Fresh™ Option:
This option also performs the same as the wrinkle shield option. Still, it gives the privilege of having wrinkle-free clothes without opting for a dry cycle.
It automatically activates after the washing, and the clothes keep tumbling for up to 12 hours.
Cold Wash Cycle:
The cold wash cycle is a premium feature that lets you adjust the temperature, time, and wash actions according to different kinds of fabrics. It serves as the best feature for cotton fabrics and clothes having fast colors.
Intuitive Controls:
These controls can adjust the wash setting according to the type of fabric, or else you can also adjust your desired setting for each cycle. It gives you both options that make washing an easy-to-do task.
An additional privilege of these controls is that you can save the setting, i.e., automated or customized, up to 35 for future use. It saves a lot of time for users.
Whirlpool App | A Luxurious Smart Feature
Like most high-end brands, Whirlpool also offers accessibility controls via a smart app.
It is named the Whirlpool app that offers so many complimentary features that makes washing clothes such an easy task that you can control it with the aid of single touch. Some of the outstanding specs of this app are:
Schedule setting: You can set your schedule on this feature by activating this app. It will start and ends the cycle according to your particular routine.
Synergistic setting: You can match the washer cycle with the dryer cycle for timely cleaning and drying.
Assign a Task: You can set any desired action that will be done automatically according to the time instructed within the preset cycle.
Favorite Cycles: After saving your favorite cycle, activate the cycle from the app to start over. You can save this cycle with a customized name and time also.
Specialty Cycles: This feature recommends suitable settings for special laundry such as sleeping bags, activewear, etc.
Quick Tips: After app activation, it will suggest some personalized tips for a smooth washing experience.
Voice Control: You can use a compatible voice-enabled device to deliver voice commands for a better wash. But this feature is restricted to U.S. users only.
Merits and Demerits of These Washing Machines:
You will get different reviews for most appliances based on their personal experience.
We have researched different forums and customer reviews on e-commerce marketplaces to compile the advantages and disadvantages discussed by the users.
These are some of the common perks and pitfalls of these machines.
Pros:
Affordable and quality machines
Wide range of selection
Smart, automated features
Fast yet excellent cleaning
Default and suitable customized suggestions
Cons:
Troublesome spin cycles
Weak water drainage system
Some products are noisy
Best Whirlpool Washing Machines | 5 Top Rated Picks for You
Whirlpool offers a wide range of washing machines that differ in many ways. You can choose the perfect washing machine that works best for functionality, installation, and price.
But if you are in a hurry, we have picked our 5 best picks that serve best from every perspective.
1. Whirlpool Top-loader Washer-WTW6120HW
If you want a high-capacity machine for tons of washing loads, this machine is the right option.
Its decent white color with amazing specs makes it lovable by its users. Some of the highlighted features are;
8 cubic Ft. Capacity
Smart connectivity features
Extensive wash cycles option
Simple to use
Efficient cleaning and drying
Load and Go dispenser
Energy-efficient pick
Buyer's Complaint:
2. Best Whirlpool Agitator-Based Washing Machine- WTW4955HW
It is also another top-loader machine, but it has agitators instead of impellers.
These motion tools ensure better cleaning action and make this range efficient by performing washing 2 times better than any other machine. Additional features are;
8 cubic Ft. Capacity
Quiet and reliable
Good cleaning action
Soaking cycle availability
Water selection options
Huge tub capacity
Stainless steel basket
Buyer's Complaint:
Dry spots on clothes as water does not reach everywhere.
3. Best Whirlpool Front-Load Washing Machine- WFW5620HW
It is one of Whirlpool's favorite washing machines because of its many complimentary features.
This machine is also reliable and energy-efficient, with many customized options and certifications. Other features include;
Preload detergent option up to 20 loads
Fast cleaning and drying function
5cu. Ft. load capacity
Decent white color machine
Operated via intuitive controls
Load and Go dispenser
A durable, functional machine
Buyer's Complaint:
The door hinges are weak.
4. Best Whirlpool Electric Stacked Laundry Machine-WET4027HW
Whirlpool has also come up with a washer and dryer that operate automatically to assist the washing task in the best way possible.
It automatically adjusts each cycle's onset, duration, and stopping for the distinctive fabric types.
Robust dual-action agitator
Wide fabric softener dispenser
Efficient auto-drying
Good for small spaces
9 drying cycles
Saves time and electricity
Heavy-duty performance
High-quality machine
5. Best Whirlpool All-in-One Washing Machine-WFC8090GX
Despite its small capacity, it has all the features that make it the best purchase so far.
The 2-in-1 washer and dryer, auto-drying feature, pre-filling detergent for 20 loads, and softener dispenser with ventless design make it the best machine overall. Also, it offers the following features;
Operates via smart app
Easy-to-use
Simple installation
Classic cashmere color
Good for narrow space
Load and Go Plus dispenser
Good value for the price
Buyer's Complaint:
You may also like to read:
Final Thoughts
Whether you choose impeller or agitators-based machines, these washing machines are typically known for their fine cleaning performance that ensures wrinkle-free dried clothes in no time.
Most users recommend Whirlpool top-load washing machines to get the best from this brand as it covers maximum durable features with ultimate usability.
But, in the end, it all depends on your budget and personal preferences.
Do you prefer to preload your washing machine with detergent, or do you like to add soap with softener before each wash? What suits you best? Share your perfect washing method.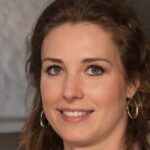 Crystal Hafley is a dedicated writer and content creator for WorstBrands, where she specializes in writing insightful reviews about kitchen appliances and fashion products.
With her expertise, Crystal provides readers with accurate and reliable information to help them make informed decisions about the brands and products they use every day. When she's not researching or writing, Crystal enjoys cooking and exploring the latest fashion trends.