Looking for a great set of tires for your car? Check out Rotalla tires.
Rotalla makes some great tires, perfect for anyone looking for a new set of rubber in the budget range.
Whether cruising down the highway or taking tight turns on back roads, Rotalla tires will give you the performance you need.
So, what are you waiting for? Read this Rotalla Tires Review to find more.
Why Should You Choose Rotalla Tires?
Here are just some of the causes why Rotalla should be your go-to tire brand:
Value for Money:
Their tires are affordable yet still offer great performance. Their tires are backed by solid build components, so you know you're getting a quality product.
Range:
They have many tire options to suit all vehicles, from family cars to off-roaders. No matter what your needs are, Rotalla has a tire that will suit you.
Excellent Performance:
They offer great grip in most conditions and are very durable. You can trust Rotalla to keep you safe on the road, despite the weather conditions.
If you're looking for a reliable, affordable, and high-performing tire brand, then Rotalla could be a great choice for you.
They're a brand you can trust with a wide range of tires to suit all vehicles and excellent performance in all conditions.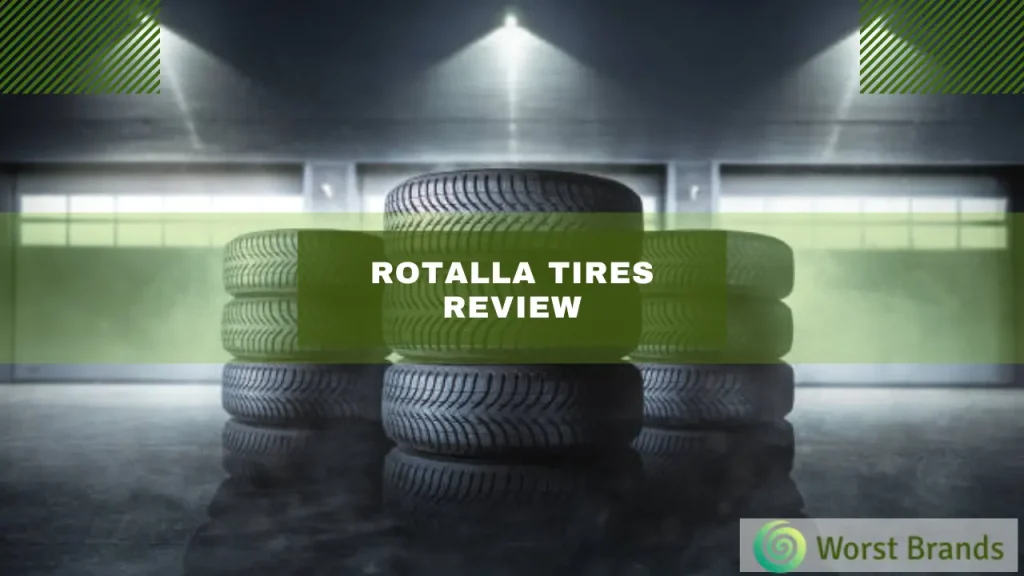 How Did We Test Rotalla Tires?
Rotalla tires are tested in various ways, both in the lab and in the real world.
In the lab, they're put through various tests, including wet traction, rolling resistance, wear resistance, and more.
They're also tested on vehicles under real-world conditions to see how they hold up on different types of roads and in different weather conditions.
Also, read our expert reviews on other tire brands:
Rotalla Tires Review
Let's read more to find out about the top 3 Rotalla tires.
1. Rotalla F105 Tires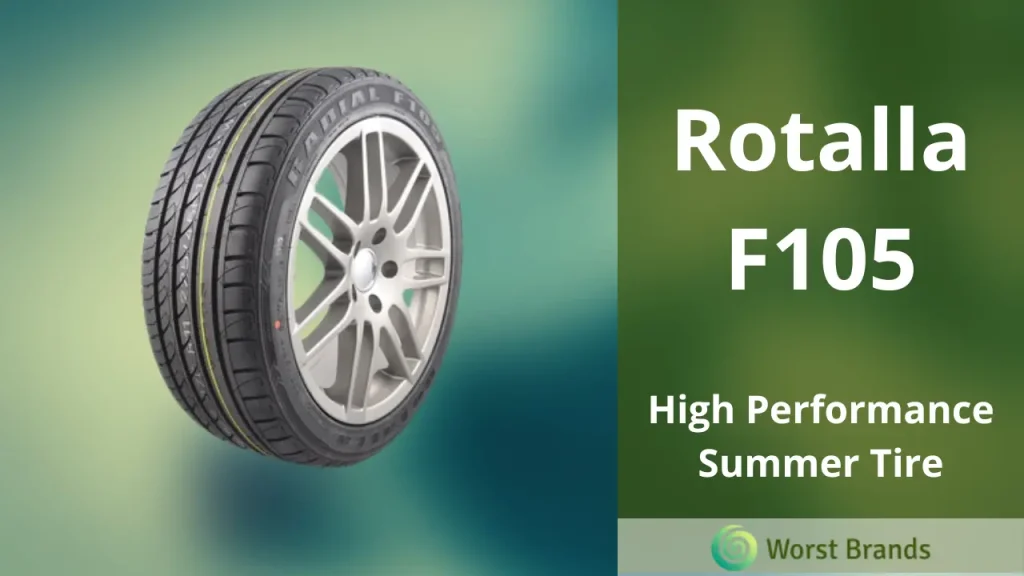 Are you in dire need of a high-performance tire that is not too hard on your pocket?
Here comes Rotalla F105. This tire is an average performer on the road with some caveats.
F105 comes with a summer rubber compound in its tread and has an aspect ratio of 35-50.
The construction of the tire is radial, and its speed index is W. Let's find out more about this tire below:
The behavior of F105 on dry roads is excellent up to the point when the wheels start making sound at faster rpm, which is a usual issue with inexpensive tires.
Despite this, the asymmetrical rubber pattern offers a good grip on rough pavement.
The tire's appearance is calm and stylish; hence, the high-performance title is given.
The tires were okay after having driven it almost 200 miles in a row without stopping.
The adhesion on the slippery tarmacs is just usual. On the damp surface, our vehicle did, in fact, skid.
But when you take it on normal wet roads, you will see more than enough grip, adhesion, and control.
If you have fixed F105 tires on your high-speed car, we would recommend you not to do any drifting.
However, 3 radial grooves and one deep lateral groove work together to shed water and prevent hydroplaning on wet days.
Even though the label clearly states that this is a summer tire, it is not effective enough to clear away ice when used in snowy circumstances.
Due to this reason, we do not advise using this tire in snowy circumstances because doing so increases the likelihood of the sidewall splitting.
Although they are not among the wheels best suited for the winter, the price is fair. Moreover, F105 is not a poor option if you are going to be purchasing them.
Things We Liked
Normal speed driving
Comfortable ride
Aquaplaning resistance
Things We Didn't Like
No performance on the snow
Cornering and high-speed driving issues
Verdict
After testing F105 thoroughly, our final review about this tire is that it performs like a normal summer tire, despite the HP tag.
So, we can recommend this tire to only a person with no intention of driving his car too fast.
2. Rotalla RU01 Tires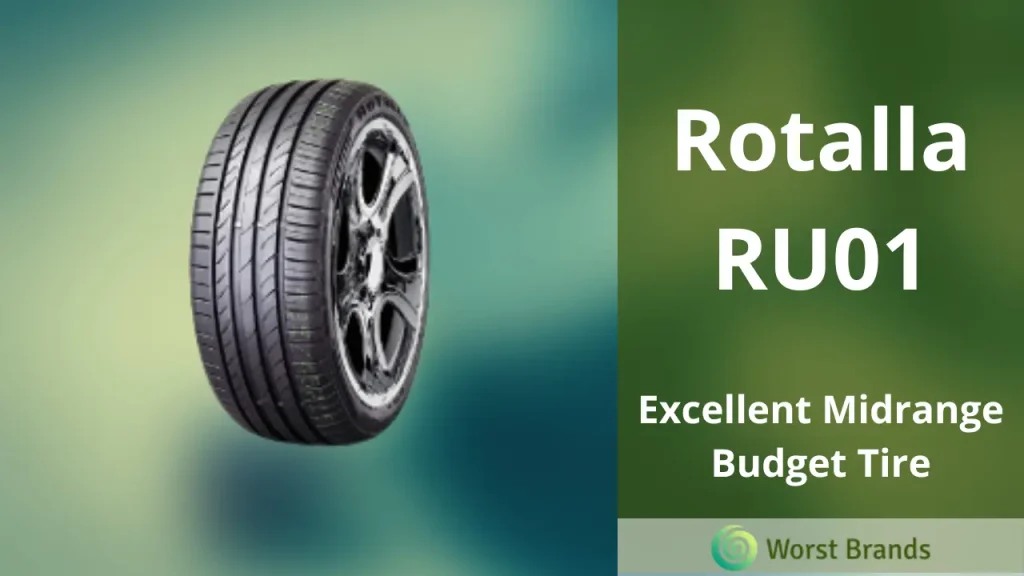 Okay, we know F105 didn't supersede your expectations too much; how about a midrange tire that delivers something good?
This is Rotalla RU01. It is a summer tire with excellent performance on both dry and wet roads.
Rotalla RU01 is a tire that targets the market of passenger cars. It has an aspect ratio between the 30-55% range and has radial construction.
It can't carry a heavy load and has a speed limit of H.
Compared to the Rotalla F105, the overall performance of RU01 is much improved but still struggles at many points. When used on dry roadways, the effectiveness of the tires is remarkable.
On the other hand, this budget tire made some distracting noise at high speeds. When going around turns, it offers a great stopping ability.
Additionally, owing to the solid rib design, these tires offer quick steering and steadiness while driving on the highways.
Furthermore, the compelling center rib makes for a more enjoyable riding experience and increases stability.
The reliability of these RU01 on wet roads is likewise great, as evidenced by its performance.
The rubber composition has been upgraded, and it comes with a 3-rib design along with 4 grooves that prevent hydroplaning and wash away dirt and water.
On wet pavements, the tires offer a decent amount of grip. However, this tire fails miserably when you go on the top of your meter.
When tested among other midrange tires, it comes last in wet braking, stopping at 27 meters.
Because these tires include diagonal ridges, they can keep a decent pace on snowy sidewalks, so a dip in warmth will not be a concern to them.
Therefore, we can't suggest them for use in the colder months when there is significant snowfall.
Things We Liked
Noise levels are low
Resistance against aquaplaning
Excellent traction and grip
Things We Didn't Like
High-speed driving is not recommended
Verdict
The thing is that RU01 is a passenger tire; it does not fall in the high-performance category, despite being claimed by other big names.
So, this tire is more suitable for a driver who rides his car carefully.
3. Rotalla S210 Tires
Rotalla S210 is a top-quality tire designed for winter conditions. It is made by the company to perform on slushy roads. Let's find out its performance.
S210 is suitable for SUVs and passenger cars. It has a radial design and comes with an H-speed category. This tire has an aspect ratio of 35-65%.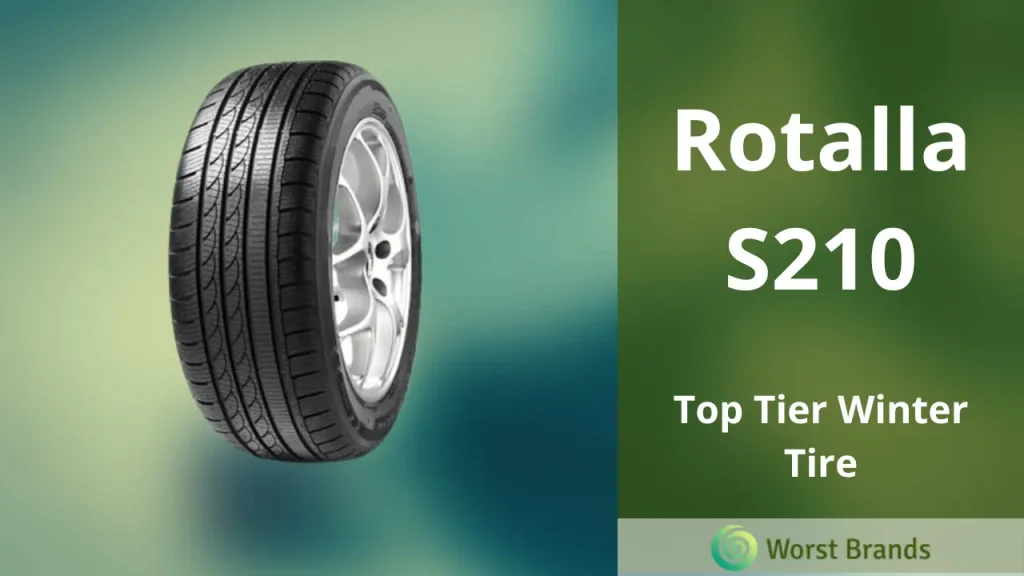 Comes with an asymmetric shape, Rotalla S210 offers improved traction when traveling over dry ground.
We have driven this tire for almost 3000 miles and were somehow happy with its performance.
It was superb at normal speeds and mediocre at top speeds. The traction and grip were there but minimal at high speeds.
The tire includes 3 circumferential channels and 1 lateral shallower groove that drain the water and dirt and prevent the tires from fishtailing.
Though the tire is quite good on wet roads, you are not recommended to go hard on it as you might suffer from drifting, especially in heavy rainy conditions.
As should be anticipated from a tire of this type, its endurance on snow roads is outstanding.
Because the transverse ridges push snow away, S210 gives remarkable skid resistance in the snow and excellent grip when driven on ice.
The cherry on the cake, the microgrooves, and the 3-D block pattern are responsible for superior performance in severe cold circumstances.
In addition, the tire tread design is properly constructed to have micro sipes, which allows the vehicle to keep its balance on slushy roads.
However, at high speeds, this tire still struggles in snowy conditions.
Things We Liked
Normal speed driving is okay
The snowy road driving is excellent
The tire doesn't make a noise
Resistance against aquaplaning
Things We Didn't Like
High-speed driving is mediocre
Verdict
The verdict here is that S210 is a winter tire, which satisfies this claim to a great excellent. So, go for this tire if you are from the northern areas or regions with heavy snowfall.
Pros and Cons of Rotalla Tires
Pros
Great Build Quality
Resistance against aquaplaning
Cons
Some models make road noise
Who Makes Rotalla Tires?
Shandong Yongsheng Rubber is a brand that is behind the manufacturing of Rotalla tires. It is a Chinese company and has been supervising Rotalla Tires for years.
Rotalla Tires Warranty
Unfortunately, we were unable to find warranty information about Rotalla tires. Since it is a Chinese company, they don't work directly in the USA.
Still, some brick-and-mortar stores and third-party retailers provide warranties on their behalf for many products.
Consult your nearest tire store to know more about the Rotalla tire warranty.
Rotalla Tires Complaints
Here are a few of the main complaints about Rotalla tires:
Poor Quality Control:
Despite having good quality, some batches have been reported as inconsistent.
This means that these tires will perform much worse than others. It can be frustrating if you end up with a defective set of tires.
Road Noise:
Many of the company's models make noise on the road. They can go pretty loud when driven at high speed on the highway.
Not very comfortable:
Many users have reported that some Rotalla tires are quite hard and uncomfortable to drive on, particularly for long periods.
This can make them unsuitable for some people, especially if you plan on doing much driving.
Are Rotalla Tires Good?
Overall, we can say that Rotalla tires are quite great. The company offers some quality products with an excellent combination of price and performance.
These tires undoubtedly have some caveats both in performance and in build. But if you look at their price point, you'll agree that this is justified.
Bottom Line
In your quest for value-packed tires, Rotalla might just fit the bill. Their range is vast, catering to various vehicular needs, and their performance holds up decently.
However, be mindful of the road noise, and don't expect plush comfort on longer drives. For the budget-conscious, everyday driver, these tires can be a savvy pick.
If you have a need for speed or extensive road trips in the future, you might want to scout other contenders.
Don't skip inquiring about warranties when making your choice. Drive safe!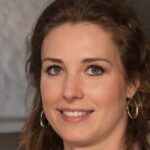 Crystal Hafley is a dedicated writer and content creator for WorstBrands, where she specializes in writing insightful reviews about kitchen appliances and fashion products.
With her expertise, Crystal provides readers with accurate and reliable information to help them make informed decisions about the brands and products they use every day. When she's not researching or writing, Crystal enjoys cooking and exploring the latest fashion trends.