Refrigerators are a must, and we all know it. But did it ever occur to you that these daily-life essentials are not limited to the type of refrigerators you see regularly?
Just like you, I also had a heart attack (okay, an almost heart attack) when I decided to buy a refrigerator for my new apartment.
Trust me! I came back empty-handed the first day. Because after seeing so many types of refrigerators, I wasn't even sure whether the traditional type of fridge that I was about to buy would fit my needs or not.
So, I sat down and made a list of all the types of refrigerators available. After hours of research and thousands of ticks and crosses, I was finally able to choose a refrigerator that fits my preferences and my apartment's as well.
Types of Refrigerators:
To save you all this struggle, I have highlighted some of the major types of refrigerators in this article. From side-by-side and bottom-freezer refrigerators to freezer-less and french-door refrigerators, here is my list of 12 different types of refrigerators that you'll find in the market.
Types of Refrigerators Based on Configuration:
French-door
Side-by-side
Top-freezer
Bottom-freezer
Types of Refrigerators on The Basis of Installation Style
Built-in Refrigerators
Counter-depth Refrigerators
Full-depth Refrigerators
Other than these, there are some Specialty refrigerator options as well. The following are some examples.
Mini Refrigerators
Wine Refrigerators
Ice Makers
Kegerators
Walk-in Refrigerators
Now let's go in-depth to find out more about these different types of fridges.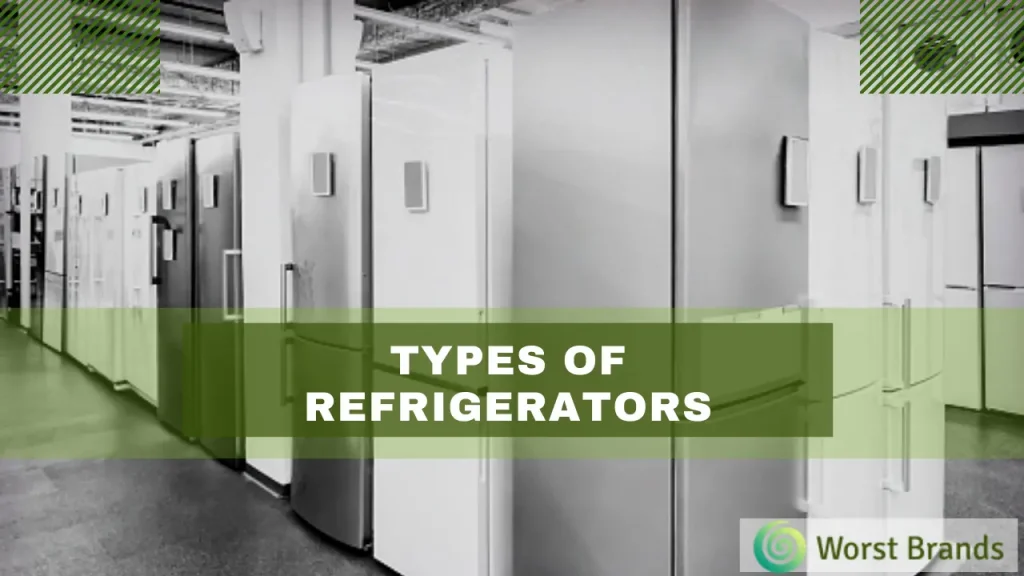 1. French-door Refrigerators
Introduced in the 1990s, these types of refrigerators are a few of the most versatile refrigerator.
Opening from the center, the door of a french-door refrigerator is split into two. Unlike the other refrigerators, if you open just one door, you can minimize energy consumption by preventing the cold air from going out.
If you are looking for a fridge that can store tall items, french-door refrigerators are your thing.
They come with big door bins, wider shelves, adjustable top shelves, and deep drawer freezers.
With all these characteristics, doesn't a french-door refrigerator sound like hitting the jackpot?
I hate it when my vegetables lose their freshness due to humidity. Therefore, I am literally in love with the large humidity drawers of these refrigerators.
These drawers retain the flavors and freshness of vegetables and meat.
Other than that, french-door refrigerators also have retractable shelves that make it easy to reach out to different items.
French-door fridges are also equipped with touch screens or InstaView™ embedded doors and some other smart home features.
And for someone who values integrated tech options, french-door refrigerators are sure a holy deal. You can also include water and ice dispensers if you want.
Things I Don't Like:
However, there are a few things that you should consider before going for these types of refrigerators.
Despite being versatile, French-door refrigerators are also counted among a few of the most expensive kitchen appliances. Since they are bigger in size, they also consume a lot more power.
2. Side-by-side Refrigerators
Side-by-side refrigerators have gained a lot of praise recently. With their split design, now you can grab things from both the refrigerator and freezer simultaneously.
These types of refrigerators basically consist of two doors that open from the center. The freezer is on one side, while the refrigerator is on the other.
I am sure you know how difficult it is to pick an item through packed shelves? I often drop one or two things while trying to pick something from the back.
Side-by-side refrigerators have become more common in the past few years, and this amazing arrangement can be one of the reasons behind this popularity.
Although French doors are one of my favorites, I like the freezer capacity that side-by-side refrigerators come with.
And the best part is that if you are short on budget but yet want the best of both worlds, this is the type of refrigerator you should go for.
As compared to other counterparts, the side-by-side configuration type is less expensive.
The refrigerator side has a bit more space than the freezer, I don't care if I sound biased, but I love it because it helps me store more fresh foods. You can also add ice and water dispensers or external user interface panels.
If you have back problems, then there is no question you should avoid refrigerators that are down by your feet.
So, in that case, this type is your ideal match as you can pick things easily while you are standing.
Things I Don't Like:
Since one whole side is dedicated to the freezer, this also leads to a loss of energy as the cold air can escape easily by opening the large door.
3. Top-freezer Refrigerators
What do you visualize if someone mentions the word fridge in front of you? A single-column refrigerator with refrigerator separate freezer and refrigerator sections. This is what you imagine first, right?
Also known as top-mount, the top-freezers are the classic type of refrigerators.
These types have the upper compartment as the freezer while the bottom one as the refrigerator with both doors opening from the side, for those living in small apartments.
Other than that, Top-freezers are also comparatively more economical.
The refrigerator compartment has more space than the freezer. If you have ever lived or currently living in a rental apartment, you might already be familiar with this type.
Top freezers are about 69″ inches high and are the most cost-effective type on this list.
Things I Don't Like:
The main disadvantage of a top freezer is that you can't add a cold water dispenser or ice machine.
If you want a refrigerator with a great appearance, then this might not be the one for you.
4. Bottom Freezer Refrigerators
The name bottom freezer refrigerator itself is enough to give an idea about the configuration.
Bottom freezer refrigerators are basically the reverse of top freezers. In these types of refrigerators, the compartment is on the bottom while the compartment for the fresh food is on the top.
Some of the higher-end bottom freezer models have slide-out doors for the freezer section.
However, the upper section works like the top freezer and swings up from the side.
The biggest benefit to the slide-out freezer is that the items won't fall from the shelves.
If you have a large family, this refrigerator can be your ideal type as the freezers in these models are comparatively wider than the others.
While the fresh food compartments in the top freezers are designed to reach shin level, these compartments in the bottom freezers are at waist level.
If you want some built-in external features such as an ice and water dispenser, then the bottom freezer might be perfect.
Things I Don't Like:
However, although the freezer door is pretty convenient, it still can be troublesome for those with back problems.
5. Built-in Refrigerators
Over the past few years, built-in refrigerators have become an essential part of high-end kitchens.
They add an aesthetic and seamless look to the kitchen. Built-in refrigerators are found in a wide range of widths. You can even find one around 48 inches.
Built-in refrigerators are usually installed in the cabinetry. They are designed in a way that they run about 24 inches deep and are filled with shelves.
With the LED lighting, hidden door hinge, and safety glass, Built-in refrigerators will make your kitchen look functional and sophisticated.
You need to ensure there is no extra space left as the air can pass out easily. Therefore, you need to check with your interior designer while going for a Built-in refrigerator.
Since these refrigerators are backed against the wall, they are an ideal type for those who want some extra floor space.
Things I Don't Like:
Built-in are more permanent refrigerators. So if you are planning to move on or remodel your kitchen, this type might not be the one for you.
Other than that, if you have a low budget, then these types of refrigerators also tend to be more expensive.
6. Counter-depth Refrigerators
The name counter-depth actually comes from the concept that these refrigerators need to be lined with the depth of your counters.
The benefit of counter-depths is that you can move them around if and when needed but also make your kitchen look seamless.
Counter-depth refrigerators are comparatively smaller than regular refrigerators. It is easier on the wallet because of its smaller size.
And if you have more space, you can also go for a wider counter-depth refrigerator up to 36″.
So overall, if you don't rely on food storage and are looking for a cost-effective option, you should go for a Counter-depth.
Things I Don't Like:
Due to size, there is also a disadvantage for you if you store a lot of food as these refrigerators are also shallow and can't store much.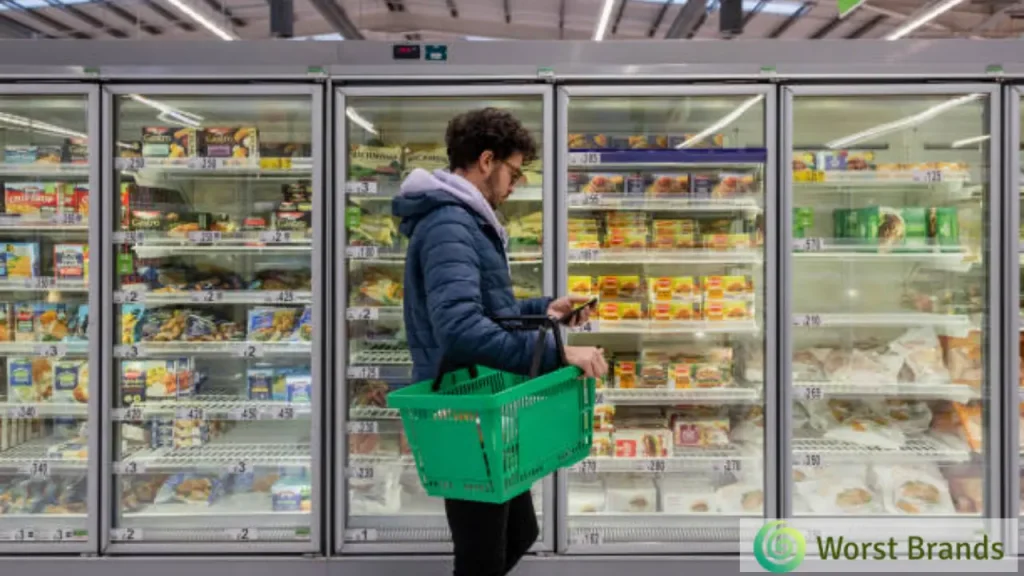 7. Full-depth Refrigerators
The term "Full-depth" itself should give you an idea of the installation style. A Full-depth refrigerator is deeper than counter-depths. The extra space allows you to store more groceries.
Full-depth refrigerators are pretty common these days. Therefore, you'll find a wide range of styles and colors.
The best part about these refrigerators is that they are less pricey, making them an ideal choice for people who want to buy a great fridge without breaking the bank.
You can place this refrigerator in an independent spot or a corner. This will add to its aesthetics.
Things I Don't Like:
If you are short on space, you should avoid buying a Full-depth refrigerator because they require a lot of kitchen space.
8. Mini Refrigerators
As the name itself suggests, these fridges are really small in size. Mini refrigerators are used to store milk, coffee, ice cream, snacks, and lunches.
Students living in dorms will appreciate their small size. This "small but mighty" is perfect for storing beverages and leftovers for students.
However, these refrigerators are not only for students. Even if you are working in your office, you can keep one in your room, so you enjoy cool beverages when you need a break from your work.
Suppose you are living upstairs and the kitchen is downstairs. You can keep one in your room to save yourself from a trip to the kitchen.
You can also keep one in your bar if you want to. If you have a toddler and you want it easy for them to reach fruits, yogurt, pizza, cheese, and snacks.
You can keep one in their room as well. This way, they won't bother you if they are hungry or thirsty.
Sounds like a jackpot, doesn't it? Mini refrigerators are also less expensive than the rest of the fridges.
Things I Don't Like:
The size of Mini refrigerators itself is not enough to fit a lot of items. The items you can fit are also of a limited size. Mini refrigerators usually don't have freezers.
9. Wine Refrigerators
When you love inviting your friends for drinks, it can get pretty tricky when all those wine bottles start piling up in your fridge. All you need is a Wine Refrigerator.
Not only does it have lots of space, it also provides a classy look.
These refrigerators are designed with humidity and temperature control features that help to store wine for a long time.
A regular is opened and closed more than 100 times a day. This causes the temperature to fluctuate.
UV rays, temperature fluctuations, and humidity can make your wine age faster, and it will taste fresh.
Other than that, as compared to regular refrigerators, wine coolers or refrigerators use less energy.
You can find a wide variety of reliable and high-performance wine refrigerators in the market. However, make sure to store the bottles at 55 degrees Fahrenheit.
Things I Don't Like:
The environment inside a Wine refrigerator is very dry, which causes the corks to dry up soon.
As the cork starts drying out, it moves down towards the wine. It overall leases to the oxidation of the wine, thus ruining it.
10. Ice Makers
Do you use ice daily? Is your kitchen big enough to welcome another appliance? If so, then an ice maker will be your most effective kitchen friend.
You can find both portable and under-counter ice maker models in the market that fit your room and kitchen.
Ice makers are really easy to set up and clean. They produce pounds of ice continuously, so you'll never run out of ice.
Whether you like cubes, round balls, or crushed ice, there is an ice maker for every shape and choice.
It takes only 7 to 15 minutes for an ice maker to produce ice. Ice makers also come with built-in timers that are available whenever you need them.
Things I Don't Like:
Ice makers take up a lot of floor and counter space. And you have to put water regularly for it to produce ice daily.
Some small portable ice makers cannot keep frozen for a long time.
11. Kegerators
From built-in to freestanding, from mini to outdoor, a wide variety of kegerators are available.
Kegerators are the type of refrigerators that are used for beer. Kegerators are designed in a way to keep the ice-cold beer on tap.
Other than that, a Kegerators can hold various gallons of beer. This can come in handy when you have invited some friends home for drinks.
Moreover, kegerators also come in various keg sizes, making them an ideal appliance for restaurants and bars.
Whether outdoors or indoors, you can place your kegerator wherever you want.
Going to a bar for beer can be expensive as the beer itself costs quite much, and the tip you have to the bartender adds more to it. So having a kegerator at home can save you a lot of money.
Even if you don't drink beer, a Kegerator can still come in handy. You can use it for other drinks such as kombucha, sodas, cider, cold brew coffee, and much more.
If you usually keep your sodas and drinks in the fridge, then a Kegerator can also help you save a lot of space.
Now you can use your refrigerator for fresh and frozen foods only as your drinks have found their home.
Things I Don't Like:
Kegerators are a lot more expensive, and the maintenance is difficult and costs a fortune. Also, some models don't work properly in all climate zones.
12. Walk-in Refrigerators
Walk-in refrigerators are ideal for those people who need high-volume storage space.
You can store almost anything in large quantities, from leftovers to meat and ingredients.
If you want to store food or ingredients for a longer time, I think you should check out a Walk-in refrigerator for sure.
Walk-in refrigerators are available in two types, Built-in and Pre-Fabricated. Built-in Walk-in refrigerators usually take up more space as they are designed with heavily insulated walls that cover both floor and walls.
They are also made on pre-order, which makes them ideal choices for professional businesses or hotels.
Pre-Fabricated is slightly less durable than the Walk-in refrigerators. However, they are comparatively less expensive as they don't require any installation.
They are built either on-site or at the manufacturer's plant. Pre-Fabricated refrigerators can also be expanded.
So you can do it without any tension if you ever need to relocate or expand them.
Things I Don't Like:
If you think about buying a Walkin refrigerator, you need to do adequate research first.
The installations, delivery, size, energy costs, and maintenance can cost you a fortune.
Frequently Asked Questions
Which Is Better, Top Or Bottom Freezer Refrigerators?
If you are looking for a more energy-efficient refrigerator, a top freezer is the best choice. However, if you want to keep massive frozen foods, then a bottom-freezer will come in handy. 
Which Refrigerator Style Is Most Energy Efficient?
Top-freezer refrigerators use less energy, so they are the most energy-efficient refrigerators.
What Type Of Refrigerator Lasts The Longest?
Bottom-freezer and Top-freezer refrigerators are two of the most reliable and durable refrigerator types available.
Which Refrigerator Type Offers the Most Storage Room?
Varying widths from 24 to 33 inches, Top-freezers tend to have more storage capacity than the others.
Do Bottom Freezer Refrigerators Have More Problems?
Frozen foods can nd they often get stuck, so it can be difficult to get them out, especially for seniors or those with back problems. It is also really expensive due to the add-on features such as the built-in ice and water dispensers.
You might also want to know:
Bottom Line
Buying a refrigerator is not easy, especially when you can choose from dozens of brands.
However, the process becomes a little easier when you know what you and your kitchen need in a refrigerator.
This article has taken you through multiple types of fridges based on the installation, configuration, and specialty styles.
From Built-in and Counter-depth to French doors and Side-by-side, I have explained some of the best types of refrigerators for you.
I hope I have made it easier for you to choose a fridge. Tell me which refrigerator you are going to buy and why. If you have any questions, feel free to ask me in the comments.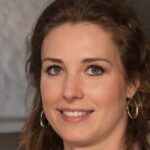 Crystal Hafley is a dedicated writer and content creator for WorstBrands, where she specializes in writing insightful reviews about kitchen appliances and fashion products.
With her expertise, Crystal provides readers with accurate and reliable information to help them make informed decisions about the brands and products they use every day. When she's not researching or writing, Crystal enjoys cooking and exploring the latest fashion trends.