Skyworth TV is a great choice if you are on a tight budget. Being of high quality, it comes at quite a reasonable price!
However, just like every other TV, the performance cannot be guaranteed. Where every electronic device gets some problems, there, Skyworth TV is no exception.
If you are a Skyworth TV user or are thinking of getting one, you are at the right place! You must know about some commonly faced problems with Skyworth TV. And that's what we have done for you.
Common Skyworth TV problems include Wi-Fi connectivity issues, black screen, not turning on, picture and sound-related issues, and no signal. Such issues require solutions like restarting the device, fixing cables, and adjusting the settings.
Here in this article, we will discuss Skyworth TV problems and their troubleshooting procedures.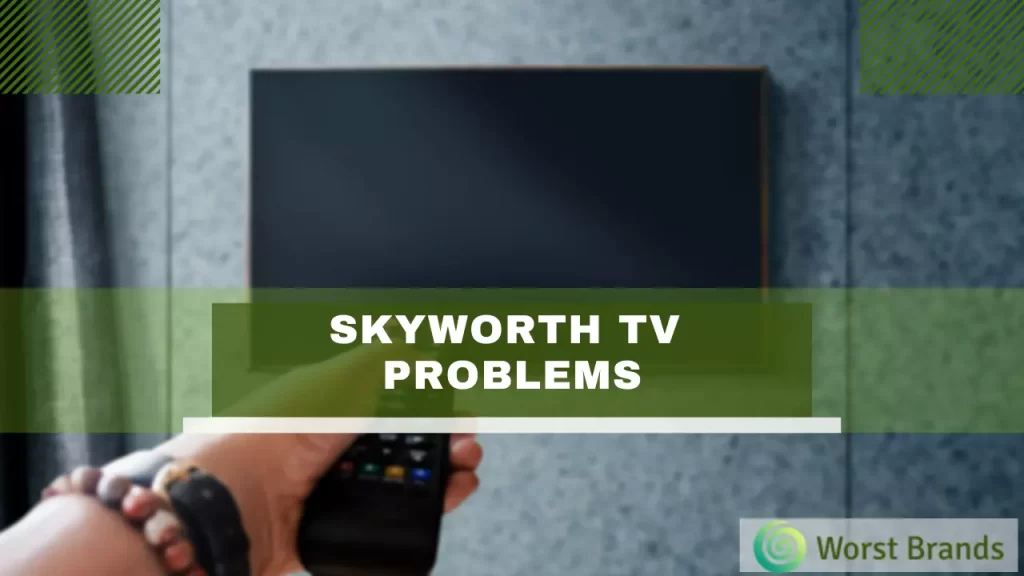 Related: Worst TV Brands List
Facing Skyworth TV Problems? Here Are the Solutions!
Reported by Skyworth TV users, here is a list of issues commonly occurring with Skyworth TV.
Skyworth TV not turning on
Skyworth TV not connecting to Wi-Fi
Black screen Problem
There is sound but no picture
Skyworth TV is turning on and off
Picture without sound
TV is showing no signal
Skyworth TV not responding to remote
Skyworth TV not reading USB
Make sure to read on to explain troubleshooting procedures to these problems.
1. Skyworth TV Not Turning On
If your Skyworth TV does not turn on, this indicates some issue with the power supply. 
Firstly double check that the main power cord is plugged in perfectly. Another thing you can do is to unplug the power cord and re-plug it back in after a few minutes.
Also, there might be a fault in the power supply board on the wall. You can test if the wall receptacle is working properly by plugging in another device and seeing if it works. If you conclude that it has some fault, try using another socket.
If the issue isn't that serious, it should be resolved, or else you may want to contact a professional.
2. Skyworth TV Not Connecting to WI-FI
Wi-Fi connectivity issues are extremely popular with smart TVs.
If you face this issue with your Skyworth TV, the first thing is to restart your TV and router. This would resolve if there is some temporary glitch or a bug.
Secondly, you should put all your Wi-Fi settings on the TV to default or perform a reset to your Skyworth TV.
Hopefully, this will resolve the issue. If not, then you must check for the respective cables if they are connected properly and do not have any physical damage.
There is one more thing you can look for. Usually, routers have a limit of devices that can possibly connect to that network at a single time.
You may try disconnecting other devices from the network if many devices are connected. After that, try connecting the TV again.
3. Black Screen Problem
If you see a completely black screen when you turn on your TV, there might be a minor defect in the display. There can be a damaged cable or simply loosely connected cords.
You must inspect the power cord and look if there is any fault. To fix the black screen, the simple solution is to restart the TV by disconnecting the power supply and reconnecting it after a few minutes.
If this does not work, then you must contact customer service for their assistance.
4. There Is Sound but No Picture
If you can hear some sound coming from the TV when you play it but not the picture, the faulty backlight is the first thing to be suspected.
However, before calling a technician to replace the backlight, you must check the cable connections too.
Make sure that the video cable is firmly connected to its respective port. There is usually a yellow cable for video. On the side or back of your TV, look for it and ensure that there is no fault in it.
5. Skyworth TV Is Turning on and Off
If this is the behavior of your Skyworth TV, there might be some issue occurring in the device's cooling system.
When the cooling system ceases to function properly, the overheating causes this automatic shutting down. 
If that is the case, you will need a technician to look for it and perform a suitable action to troubleshoot this.
Apart from this, there is a possibility that the TV is not getting the required power supply. Check your power source and see if it meets the requirement of your Skyworth TV.
6. Picture Without Sound
Watching TV without sound is not at all enjoyable. If you get this problem with your Skyworth TV, you might have accidentally put the TV on mute without knowing it. Just check for it and increase the volume.
If this is not the case, then the next thing to do is to check whether the audio cables are firmly plugged into their respective audio jacks. Moreover, put your sound settings to default and then restart the TV.
If still, the problem persists, you must first test the TV's built-in speakers before seeking any professional help. 
You can do this by pairing up a set of external speakers and checking if the sound comes out of them.
If yes, then that's the fault in the TV's speakers. And if not, there must be some other hardware issue that needs to be looked at by a technician. 
7. TV Is Showing No Signal
If you get this error, the first thing to do is to check for the HDMI cables connections.
 At the back of your TV, look for the HDMI port where the video cable is plugged in.
 Each HDMI port has a label on it. Look for it.
 When you are done, on your remote, tap on the source
 There, select HDMI and change the source to the one your Video cable is plugged into.
Apart from this, if this does not work, you can always restart the TV or perform a soft reset to the TV to get rid of any temporary bugs.
8. Skyworth TV Not Responding to Remote
TV not responding to remote can be way too frustrating. If you face this issue, the first thing to be done is to replace the batteries of the remote with fresh ones.
You can try this procedure too:
Put the batteries out of the remote.
Turn off your Skyworth TV by directly unplugging the main power cord from the wall socket.
Wait for at least a minute. Don't be impatient!
After a minute. Plugin the power cord and wait till the display occurs on the screen.
Now put the batteries of your remote back in and see if the remote works now.
9. Skyworth TV Not Reading USB
Any damage to the USB port would never let a USB connection to the TV. If you try to connect a USB to the Skyworth TV and it doesn't read it, you must check for the status of the US port.
Try to clear if there is any dust built-up in the port and firmly connect the USB.
Besides, if your TV's software isn't updated yet, make sure you do it because this might also be the reason behind the TV not detecting the USB
Pros and Cons of Skyworth TV
If you wonder whether to get a Skyworth TV for yourself or not, here we have selectively put on some pros and cons of the TV that might help you decide.
Pros: 
Comes at a reasonable price.
Have so much of cool and great features. Being budget-friendly provides high-quality display and has many built-in smart features.
It offers a wide variety of products where you can find a device according to your preferences, considering the budget.
It is seen that the brand does work on improving its technology and features on the TVs
Cons: 
Not every Skyworth TV model gives an ideal user experience. The cheaper models often lack a lot of features.
 TVs are reported to have quite a low response rate compared to other brands, which can frustrate the user.
Conclusion
Problems occur with all TVs of all brands. If the issue is not a serious one, you can fix it on your own with a little bit of knowledge.
If you are already a Skyworth TV user or thinking of getting one, we hope this article has helped you to some extent. Problems with Skyworth TV are quite similar to the issues we see with other TVs too.
Hopefully, the explanation we gave about the Skyworth TV problems proved to be helpful for you.
Let us know in the comments what you think about Skyworth TVs. We would love to read them! And stay hooked for more such interesting and helpful content!