Are you in the market for a new golf cart or want an upgrade? With so many brands and models available, deciding which one to choose can be overwhelming.
While there are many reputable and high-quality brands out there, unfortunately, there are also some that you should avoid.
Today, we'll explore some of the worst golf cart brands to avoid. Whether you're a seasoned golfer or a beginner, this information will help you decide when purchasing your next golf cart.
So, buckle up, and let's hit the green.
Golf Cart Brands to Avoid
According to customers' feedback, the worst golf cart brands to avoid are Icon EV, Crossfire, Evolution, Tomberlin, Royal, Bintelli, GEM, HDX, and Melex.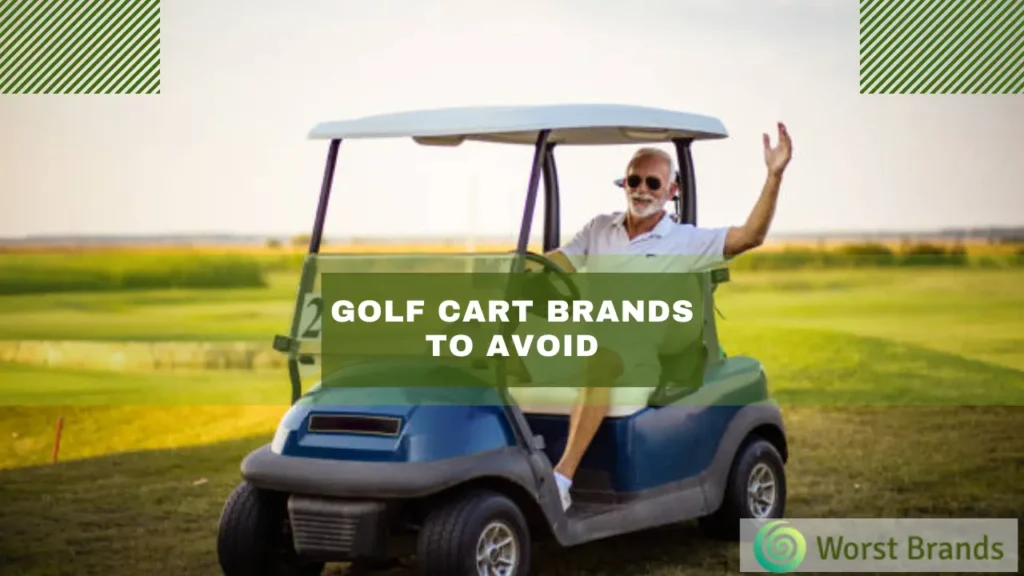 Also Read: Car Battery Brands to Avoid
1. Icon EV
If you're in the market for a reliable golf cart, it's essential to steer clear of brands with a subpar quality reputation.
Unfortunately, Icon EV is one such brand that promises affordable prices. Still, it ultimately falls short when it comes to durability and performance.
On the surface, Icon EV may seem like a decent option. Their street-legal golf buggies are available in a rainbow of eye-catching hues. Their powerful 4Kw motors enable them to hit up to 25mph velocities.
They also handle rough terrains well, a plus for those who enjoy a more adventurous golfing experience.
However, when you dig deeper, the disadvantages of choosing an Icon EV become apparent.
Firstly, Icon EV is not your brand if you prefer gas-powered carts over electric ones.
Another issue with Icon EV carts is their size and weight. They are larger and heavier than many other golf cart brands, which can cause problems in confined spaces such as garages or sheds.
Additionally, several common issues of EV golf carts include battery problems, faulty solenoids, and brake issues resulting from loose bolts, tangling wires, and stuck cables.
These issues can lead to costly and time-consuming repairs, which can be frustrating for golfers who just want to hit the links.
Lastly, another problem with Icon EV golf carts is their tires. They are prone to slouching, affecting the cart's stability and making it difficult to maneuver on the course.
Reasons to Avoid
Larger and heavier than other brands
Battery problems
Faulty solenoids
Brake issues
Slouching tires
2. Crossfire Golf Cart
If you want a golf cart that has a UTV vibe, Crossfire may seem like an attractive option.
With a 177cc 4 stroke single cylinder engine, a speed of around 25 mph, and various safety features, it may appear to be a decent choice.
Despite their attractive designs, Crossfire golf carts lack quality and reliability.
The brand has a reputation for producing carts that break down frequently, leaving owners frustrated and needing costly repairs.
In short, while Crossfire golf carts may offer a unique UTV vibe, their low-quality engines make them an unreliable choice for golfers.
Reasons to Avoid
Battery Issues
Faulty Electric Starter
Parts not easily available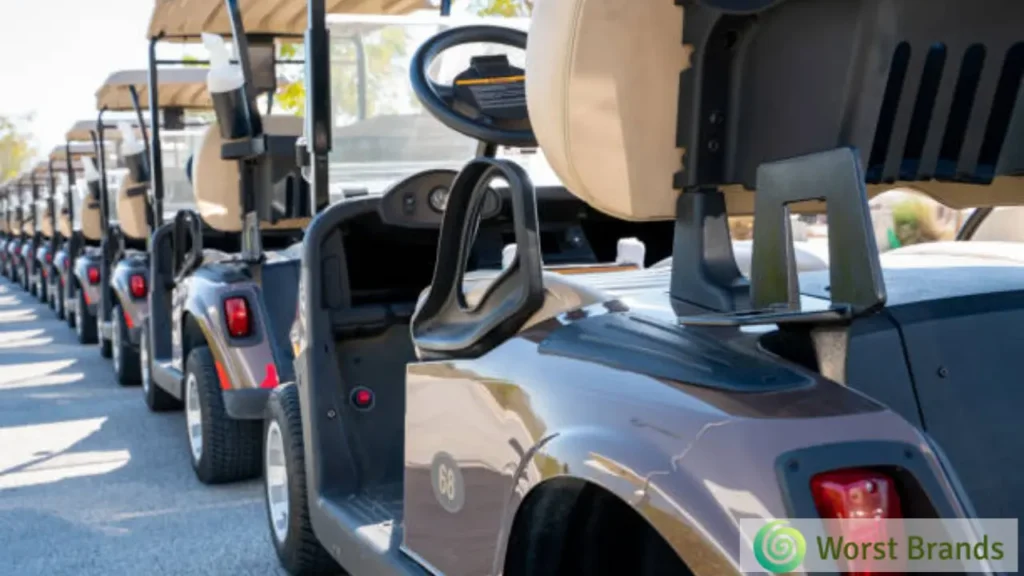 Similar Blogs:
3. Evolution Electric Vehicles
I bought the Evolution Electric Vehicle based on its design and features but soon regretted my decision.
While their carts may come with impressive features such as touchscreen controls, premium wheels, and a 2-year warranty, they also come with many issues.
One major drawback of Evolution golf carts is their performance on rough terrain or the golf course. My rides were bumpy and uncomfortable.
Additionally, the side mirrors cannot be adjusted vertically, which can be a safety hazard for some users.
Another issue I faced with Evolution golf carts was their reliability. Startup issues due to a faulty starter solenoid or battery errors are common.
Customers also face problems with the brakes, motor, speed controller, and direction switch.
These mechanical issues can be costly and leave you stranded on the course.
While Evolution Electric Vehicles is a popular brand in the US and Asia, it is a bad golf cart brand to avoid.
Reasons to Avoid
Uncomfortable ride on rough terrain or golf course
Costly repairs and maintenance
Poor reliability and performance
4. Tomberlin Golf Carts
Tomberlin golf carts are popular for their classic designs and decent top speed, making them ideal for use on golf courses and roads with a maximum speed of 25mph.
They also have useful features like electric steering, a full-screen reverse camera, a horn, and an e-brake.
However, despite these features, the Tomberlin is among the worst golf cart brands that have some serious problems with its motor and power.
Many customers have also complained about defective parts.
While the Tomberlin golf cart has advantages, other important factors are to consider when choosing a golf cart.
It is important to take note of the cart's performance and durability.
In this case, the low power output and dependence on a power source may be a deal-breaker for some buyers.
Reasons to Avoid
Less power compared to other golf cart brands
Defective Parts
Speed Control Issues
Motor Malfunctions
5. Royal EV Golf Cart
The Royal EV Golf Cart may seem like a great option with impressive features like reversing camera and retractable dual seat belts.
However, there are some serious issues you should be aware of before considering purchasing it.
Many users have reported regular issues with speed control, faulty direction switches, and motor malfunction.
Not only will this lead to high maintenance costs, but you'll also have to deal with the hassle of calling in a mechanic frequently.
In my opinion, it's best to avoid this bad golf cart brand and opt for a more reliable option.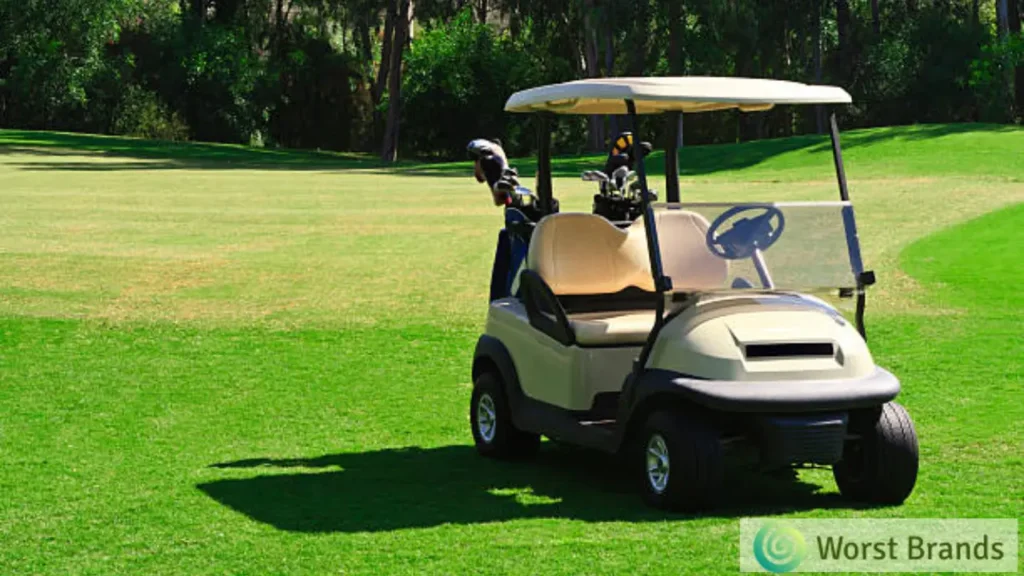 Reasons to Avoid
High maintenance cost
Prone to breakdowns
Unreliable performance
6. Bintelli EV Golf Cart
Bintelli is considered among the reputable US Golf Cart brands. While Bintelli golf carts are affordable and offer some impressive features, they fall short in a few areas.
Their small engines make them unsuitable for inclined roads, and you may experience poor performance in such conditions.
Considering these limitations, avoiding Bintelli golf carts and exploring other options that offer better performance and reliability is good.
Reasons to Avoid
Not capable of uphill driving
Small engine
7. GEM EV
My friend purchased a GEM Electric Vehicle golf cart last year, and while it has some impressive features, it is the worst golf cart brand to avoid, and let me tell you why.
Firstly, GEM carts are expensive compared to some other well-known brands such as Yamaha, E-Z-GO, and Club Car.
Additionally, the charging time for GEM carts is longer than average, taking 10-12 hours to fully charge.
This means you'll need to charge your cart overnight to be ready for use the next day.
GEM carts require high maintenance due to their electric vehicle design.
While they can be used on golf courses, they are better suited for driving around neighborhoods or towns.
On top of that, my friend complained about speed control and parking brake functionality. These issues are annoying and often expensive to fix.
While GEM Electric Vehicles offer luxury features, the high price tag, and maintenance requirements make them a less favorable option than other golf cart brands.
Reasons to Avoid
Expensive
Long charging time (10-12 hours)
High-maintenance electric vehicles
8. HDK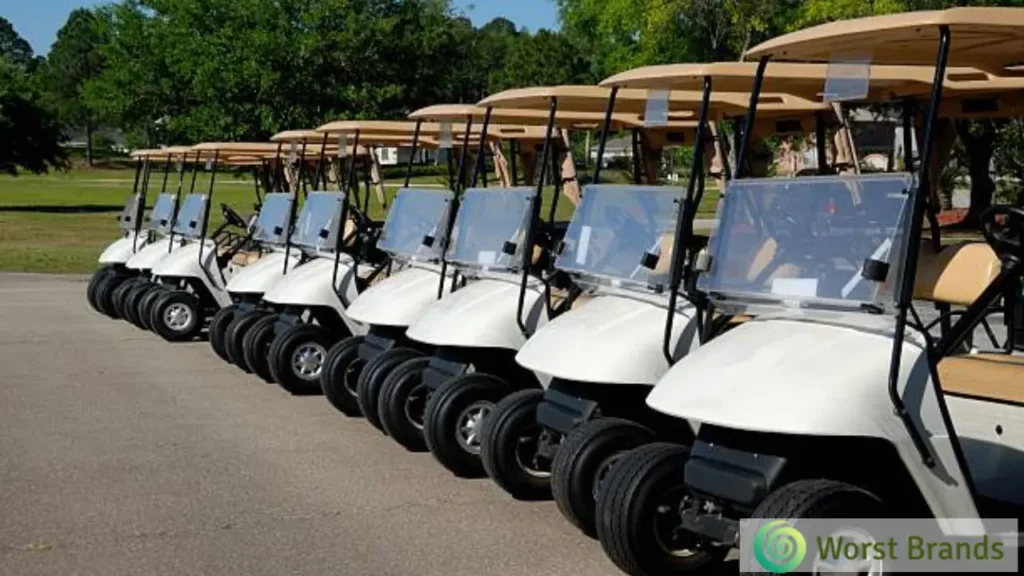 Looking for an affordable electric golf cart? HDK may seem like a good option, but beware of its pitfalls.
HDK carts are cheaper due to lower production costs in China, but their top speed of 22 mph falls short compared to American-based brands.
Additionally, finding local dealers for new carts is challenging, and getting parts and accessories can be a hassle.
Don't be fooled by the lower price tag, as the overall maintenance and availability of resources make HDK one of the worst golf cart companies to avoid.
Reasons to Avoid
Low Speed
Difficult to find accessories and parts
9. Melex
Melex might not be the best option despite being an old and reputable golf cart brand.
While they offer affordable prices, their golf carts are relatively slow, making long-distance rides inconvenient.
Additionally, finding Melex parts can be a struggle, with limited dealers stocking repair parts.
So, unless you're a fan of slow rides and don't mind the possibility of struggling to fix your cart, you might want to consider other brands.
Reasons to Avoid
Slow speed (19 mph)
The battery needs frequent recharging for long-distance coverage
5 Signs to Identify a Worst Golf Cart Brand
Identifying the worst golf cart brand can be a challenging task. However, here are some key factors to consider:
Poor Customer Reviews:
Check customer reviews online or on the brand's website to see what previous customers have said about their experiences with the brand's golf carts.
Low Speed:
If the golf cart has a lower maximum speed than other brands, it may not be the best choice for those who want a faster cart.
Limited Availability of Parts:
It is difficult to find replacement parts for the golf cart; this could be a red flag. Ensure that the brand offers a variety of parts that are easily accessible.
Lack of Dealer Network:
Stay away from a brand that does not have a widespread dealer network; it may be challenging to get repairs and services when needed.
High Maintenance Costs:
If the golf cart is expensive to maintain and repair, this can be a sign of poor quality.
Frequently Asked Questions
Q1: Which Golf Cart is quicker?
The speed of a golf cart depends on various factors, such as the model, make engine type, and terrain. Generally speaking, electric golf carts tend to be quicker than gas-powered golf carts.
Electric motors deliver instant torque, whereas gas engines take some time to rev up. However, some high-performance gas golf carts can be faster than their electric counterparts.
Q2: Which Golf Cart is affordable to maintain?
Generally, an electric golf cart is more affordable to maintain than a gas golf cart. Electric carts have fewer moving parts and require less maintenance, such as oil changes, spark plug replacements, and air filter replacements. They also have fewer fluids to maintain, such as engine oil and coolant.
Final Words:
Golf carts can be a fun and practical way to navigate the golf course or your community.
However, with so many options available, it's important to do your research and be cautious of the worst golf cart brands to avoid.
From Icon EV's battery problems to Crossfire's low-quality engines, it's essential to consider factors such as size, weight, and performance before purchasing.
Remember, a golf cart may seem like a small investment, but the cost of repairs and maintenance can quickly add up, so choose wisely.
With the right brand and model, you can enjoy a smooth ride on the green and make the most out of your golfing experience.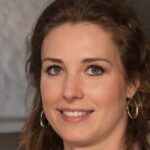 Crystal Hafley is a dedicated writer and content creator for WorstBrands, where she specializes in writing insightful reviews about kitchen appliances and fashion products.
With her expertise, Crystal provides readers with accurate and reliable information to help them make informed decisions about the brands and products they use every day. When she's not researching or writing, Crystal enjoys cooking and exploring the latest fashion trends.