Why is this olive oil all over social media? What's the reason for it being celebrated by experts? Why is it that uber-famous celebrity chef said this olive oil is a fantastic deal? Yes, you guessed it right. We are talking about the one and only Costco's Kirkland olive oil.
Don't worry if you have little knowledge about it because we will do a full in-depth Costco Olive Oil Review.
Costco Olive Oil Review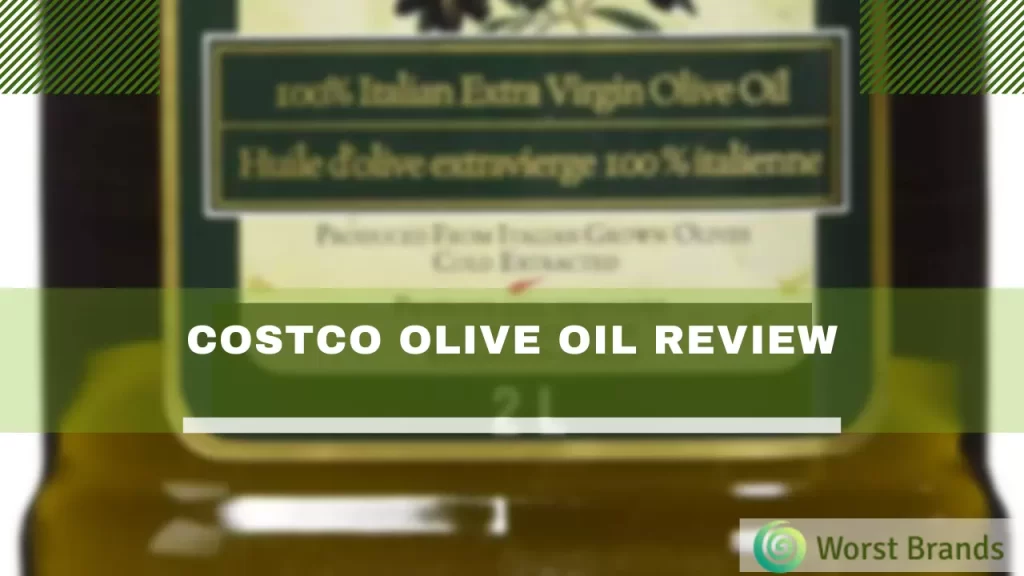 Related:
So, without further ado, let's get right into the review of Costco Olive Oil.
About Costco and Kirkland:
Costco was founded as a multi-national corporation in Seattle,1983. The company works on the principle of buying in bulk. Costco has earned a reputation for carrying high-quality national and international brands in the past years.
It is now the 5th largest retailer in the world. Its Kirkland olive oil is manufactured under the highest quality of standards coming straight from Italy's top olive oil farm, Puglia.
Being aware of the dilutions and misappropriations in the olive oil industry, Costco only accepts top-quality olive oils and Kirkland's signature olive oils are one of them.
We will do an in-depth review of all of them to have a better insight into the product.
Taste and Overall Feel:
Taste is one thing that has been the real game-changer for Costco and Kirkland. It tastes excellent.
The company's extra virgin olive oil is initially made in Italy, where farmers first cold-press the olive oils within a few hours of the harvest to maintain the authenticity of olives.
As a result, the oil has a distinctly rich, fruity, rich taste that goes well with almost everything. In addition, it has a vibrant and dense aroma which you don't get to see in all brands. Also, the USDA has certified the organic extra virgin olive oil.
So, overall, a lovely experience to try Kirkland's olive oil out.
Nutritional Content:
A complete power package of healthy nutrients, olive oil has always been a healthier substitute for essential oils. Comes with 120g of calories per tablespoon with 14g of fats.
Especially good for cardiovascular health and help the body build a better immune system to fight against harmful infections. It is excellent for your skin as it cleanses the skin and makes it look young and fresh.
Also, the anti-oxidants help produce sebum in the skin and hair that aid in fighting bacterial infections. Overall, a very healthy liquid is not only for your diet but also for your body.
Usage:
Different bottles have different usage. The pure olive oil is more suitable for salad dressings, frying, and baking, whereas the extra virgin olive oil version is more suitable for sauteing, roasting veggies, and frying.
I generally prefer the extra virgin one. A little treat of bread or chocolate with a drizzle of olive oil is what you are missing out on if you haven't tried it yet. Concluding it, it can be used in a variety of ways.
It just depends upon the situation and your personal preferences.
­Cost, Convenience, and Packaging:
This is one of those olive brands that provide quality at pocket-friendly prices. Prices are pretty reasonable, may vary from flavor to flavor, and size to size.
You can easily access it at your nearest supermarket, or you can order it online to avoid the hassle.
Mostly, it comes in glass bottles, but some olive oils come in plastic packagings, such as Kirkland's pure olive oil, which I don't consider a good thing taking into account the brand reputation.
Customer Reviews about Costco Olive Oil:
A long stream of appreciation is what one can see on Amazon about Kirkland's olive oils. People commented about how good the olive oil tasted and its health and body advantages.
There was an overwhelming response from the customers regarding their purchases. Some people complained about it turning rancid before the expiration date; not sure about that, though.
Many people were furious that the website showed it to be sourced from Italy, but when they received their shipment, the bottle displayed it to be from 4 different countries. So, these are a few lookouts, which you should see before you purchase.
Following is my overall rating of their olive oil range considering all the factors:
Taste: 8/10
Authenticity: 8.5/10
Cost: 8/10
Customer Reviews: 7.5 /10
Convenience: 7.5/10
Final Verdict on Costco Olive Oil Review:
Concluding, it can be your go-to option if you are looking for quality, good olive oil. Many positive reviews and thousands of satisfied customers increase their brand reputation and authenticity of the product.
So, considering all the factors, I think it is worth giving a shot. I hope this in-depth review might have helped you understand all the nitty gritty's about the brand and helped you in deciding whether to buy it or not.