When it comes to stand-up paddleboarding, choosing the right equipment is essential for a safe and enjoyable experience. As a paddleboarder, I've encountered my fair share of subpar equipment.
With so many brands on the market, separating the good from the bad can be tough.
In this post, we'll take a look at the worst sup brands to avoid, helping you steer clear of low-quality products and disappointing experiences.
Sup Brands to Avoid
Based on reliability, stability, and performance, the Worst SUP brands to Avoid are Hurley, Wavestorm, Bestway, Solstics, and X paddleboards.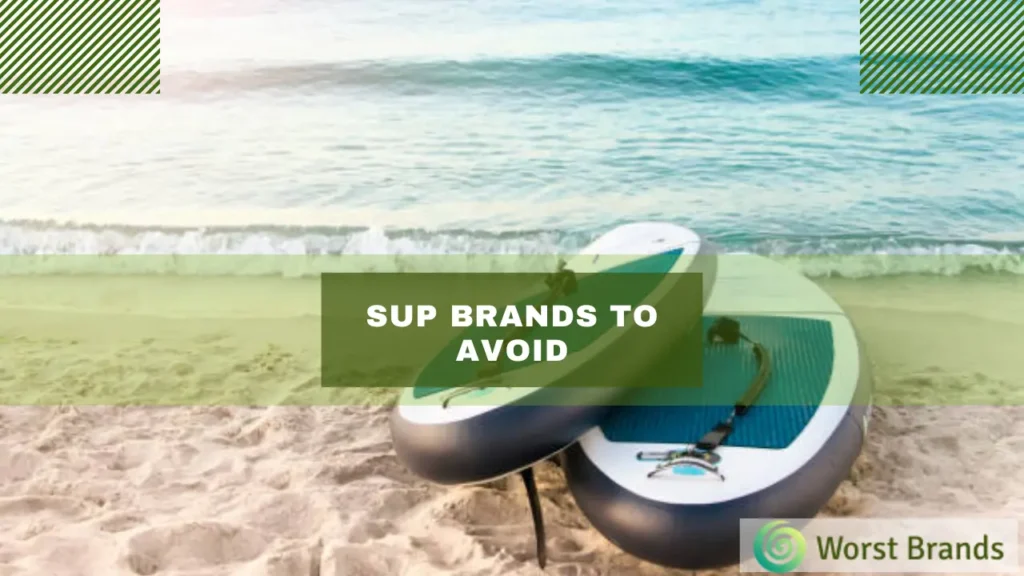 Read our following blogs to learn about the 7 worst boat brands or 7 least reliable kayak brands.
Hurley Paddleboard
Are you considering a Hurley paddleboard for your next aquatic adventure? You might want to think again as it is one of the bad sup brands in the market.
Many users have had less-than-stellar experiences with this brand, and it seems that the promise of a premium-quality board might be more hype than reality.
Imagine eagerly waiting for your new Hurley SUP to arrive, only to discover that the box is damaged and key components are missing.
Some users have reached out to Hurley's customer service in hopes of resolving the issue but often receive little to no help.
It's frustrating to have to buy replacement parts independently, especially when you've already invested in what you thought would be a top-tier paddleboard.
The board's lightweight design may be appealing, but it is less stable. In a few instances, seams have opened up after a short period of use.
Additionally, the grip deck quality has been a concern, with air bubbles and deformations appearing after exposure to water or sun.
Wavestorm
Wavestorm is known for its affordable paddleboards that are easy on the wallet.
However, as the saying goes, "You get what you pay for." In this case, it means a lower-quality board that may not stand the test of time.
My experience with a Wavestorm paddleboard was underwhelming.
The board was unstable, making balancing and enjoying my time on the water difficult. Moreover, the material started deteriorating after just a few months of use.
Another thing that bothered me during my sessions with the Wavestorm paddleboard was its sluggish performance on sharp turns.
This made it challenging to navigate through the water, especially when trying to avoid obstacles or change direction quickly.
Other paddleboarders have also reported similar issues with Wavestorm boards, such as poor tracking and a lack of durability.
If you're looking for a long-lasting and enjoyable paddleboarding experience, it would be wise to steer clear of this worst paddleboard brand.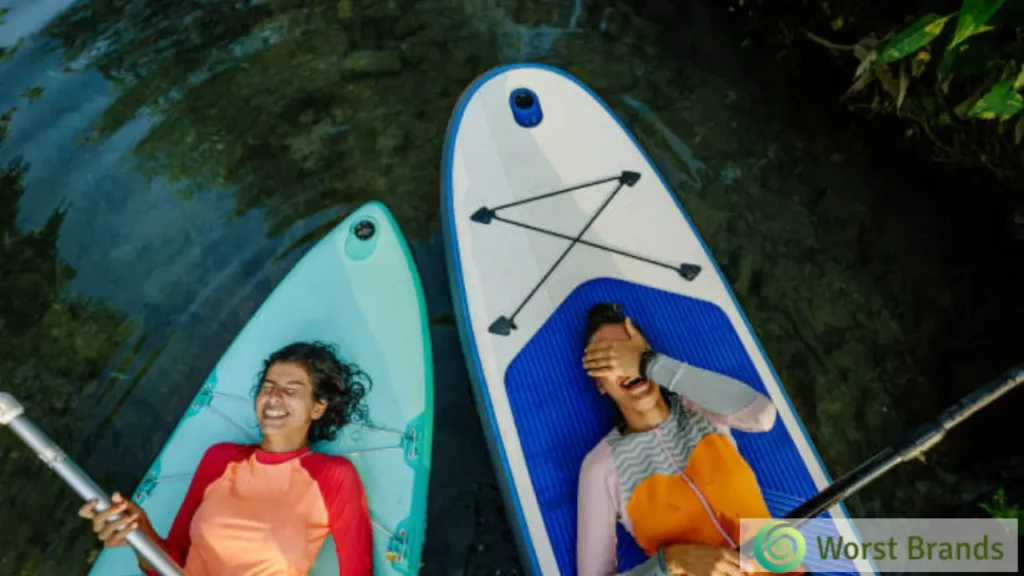 Bestway
I recently tried out the Hydro-Force Bestway Freesoul Tech Convertible SUP Set; honestly, it was a letdown.
Though Bestway has made a name for itself in the inflatable products market, its venture into the inflatable SUP world left much to be desired.
The board lacked the rigidity and stability needed for an enjoyable paddleboarding experience.
It felt like I was constantly struggling to maintain my balance, which prevented me from fully immersing myself in the joys of paddleboarding.
Other issues are difficulty in sharp turns and poor tracking; I couldn't control the board making turns.
With so many better options available, it's wise to give Bestway a miss when choosing your next paddleboard.
Solstice
Imagine planning a trip to Lake Tahoe, CA, and investing in a Solstice paddleboard only to discover it's an inflatable board that buckles under your weight.
It would be disheartening to find that your expensive paddleboard is only suitable for sunbathing.
Customers have reported their boards buckling under their weight, which could impact your enjoyment of the water.
Another reoccurring problem is the malfunctioning of the pump.
While these paddleboards are easy to inflate and portable, you could face challenges with the pump not working after a few uses.
While Solstice offers paddleboards at various price points, users have noted that their less expensive models lack rigidity and stability.
It could be worth considering a thicker, more rigid board to ensure a more enjoyable experience on the water.
Lastly, various paddleboarders highlighted issues like bubbles on the surface or delaminated areas are also reported by various paddleboarders.
Additionally, leaks in multiple seams after only one or two seasons of use raise concerns about the brand's durability.
With all the above issues and a high price tag, Solstice is definitely one of the worst sup brands to avoid.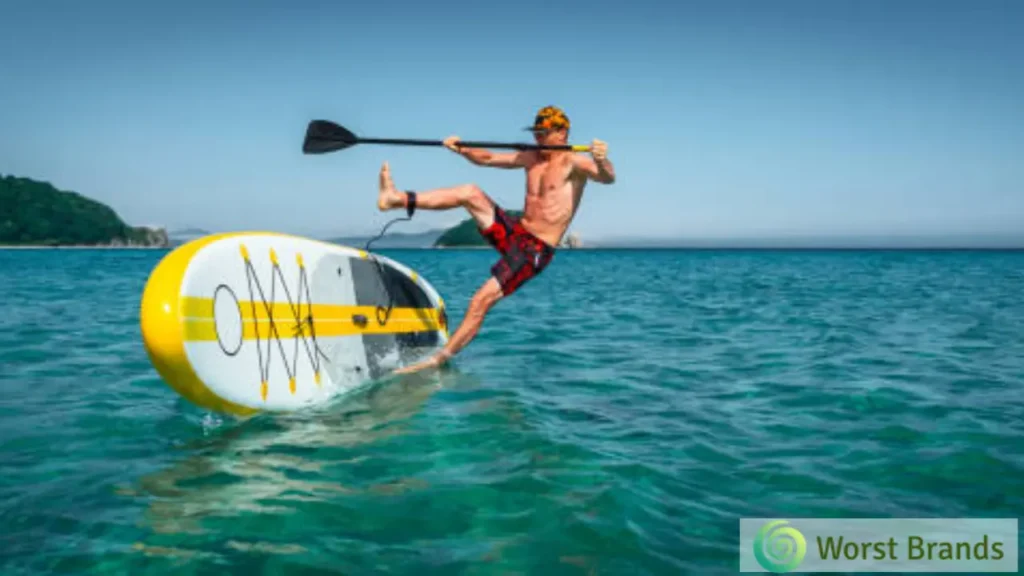 X Inflatable Paddleboards
When I first encountered Brand X. I was so excited to finally get a paddleboard and hit the water. Little did I know, I was in for a huge disappointment.
The first issue I noticed was the poor quality of the materials used. The board started to show signs of wear and tear after only a few uses.
Not only that, but the stability was so bad that I couldn't even stand on it without feeling like I was going to fall.
Other drawbacks include poor customer service and the board not holding pressure.
How to Spot Worst Paddleboard Brands? 5 Warning Signs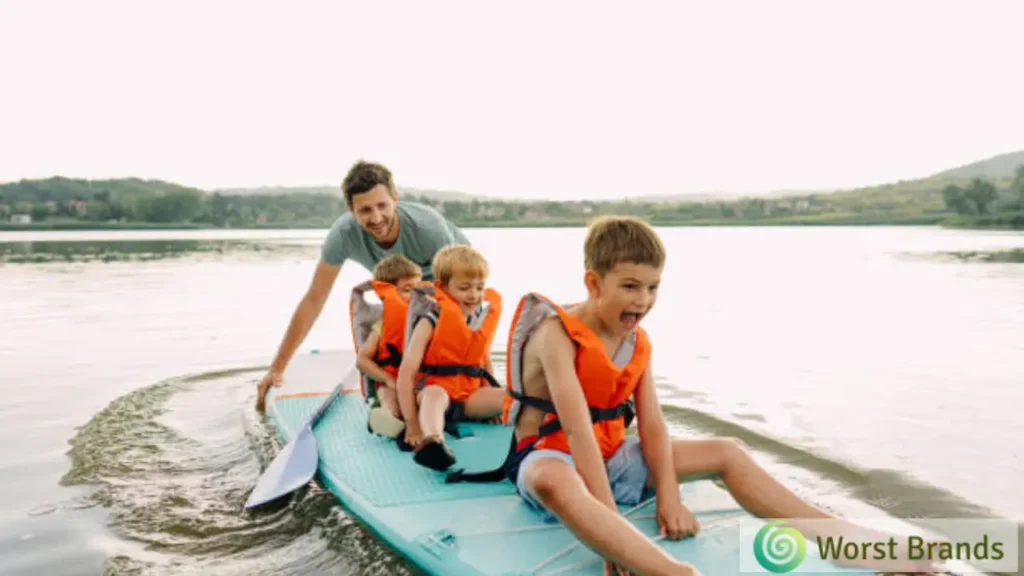 1. Shaky stability:
A well-designed SUP should provide a stable platform for both beginners and experienced paddlers. It could be a red flag if users frequently report struggling to maintain balance.
2. Unruly handling:
Good paddleboards should be easy to control and maneuver. If the board is often described as unwieldy or difficult to steer, it may not be a reliable choice.
3. Patchwork Performance: 
If users report frequent repairs or a high rate of wear and tear, the brand might not prioritize durability.
4. Inflating Problem: 
Inflatable SUPs should hold air and maintain their shape under pressure.
If customers complain about deflation, leaks, or difficulties with inflation, it's a sign of poor quality.
5. Shortage of Accessories:
SUP brands should provide essential accessories, like paddles, pumps, or repair kits. Brands that skimp on these items may be cutting corners elsewhere, too.
Conclusion
When it comes to stand-up paddleboarding, choosing the right equipment is vital for an enjoyable and safe experience.
It's best to avoid the worst SUP brands mentioned above, such as Hurley, Wavestorm, Bestway, Solstice, and Brand X.
These brands offer subpar materials, poor stability, and lackluster customer service. Instead, invest in a reliable, high-quality paddleboard that will provide you with the stability, performance, and durability you need.
By making an informed decision, you'll be able to fully enjoy the incredible sport of paddleboarding while minimizing the risk of accidents and frustrations. Happy paddling!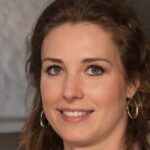 Crystal Hafley is a dedicated writer and content creator for WorstBrands, where she specializes in writing insightful reviews about kitchen appliances and fashion products.
With her expertise, Crystal provides readers with accurate and reliable information to help them make informed decisions about the brands and products they use every day. When she's not researching or writing, Crystal enjoys cooking and exploring the latest fashion trends.