Like Samsung, GE is a well-known company for appliances. You will have a wide range in terms of performance and style. But GE has a famous range of series known as Café refrigerators, mostly known for its stylish platinum handles and sleek finish.
But when you start to search for buying any particular model, you might get confused about its durability and quality control because of so many mixed reviews.
So, if you are eager to find out the honest café refrigerator reviews, start reading.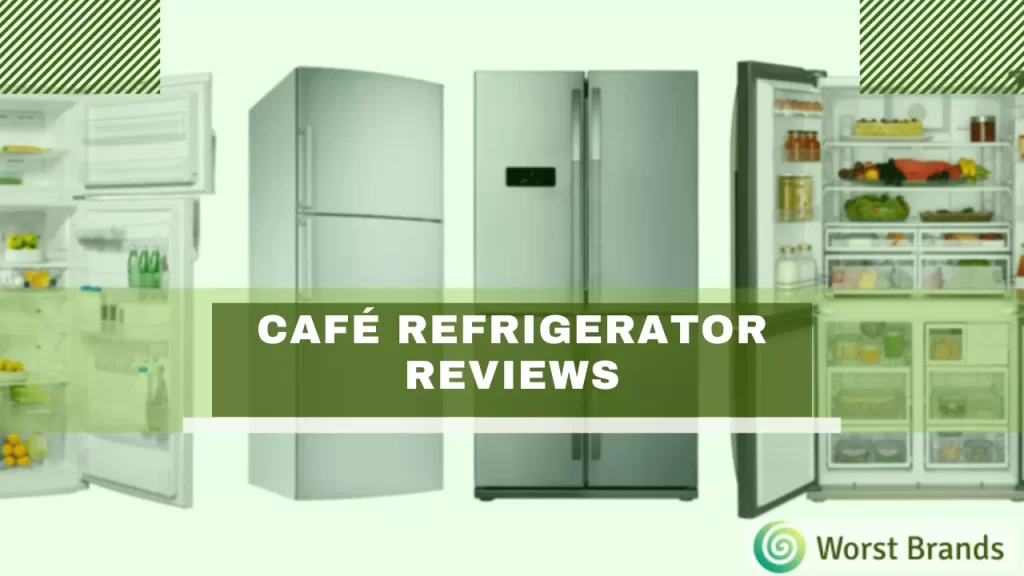 Related: Refrigerator Brands to Avoid 2022
Overview of Café Refrigerators: 
GE Café refrigerators are sleek, stylish, and an absolute treat to the eyes. Their hot/cold water dispenser to make ice and coffee is the winning feature, making it an exceptionally tremendous fridge.
Their fridges are all about style and modern features with a smart look. You can connect their smart features such as brewing time, auto-filling, dispenser filling with just a single tap on your phone. 
Despite their good look, this brand has a flimsy bottom freezer, and some models are noisy. But most of the models are quiet and spacious, making them the best choice for large spaces.
The large stainless steel ice maker can deliver cubes, crushed ice, and chilled water. At the same time, the Keurig brewing system will make hot lattes for you.
Another amazing feature includes the notification about the quantity of water it can dispense and alarm. It offers a capacity from 4 cubic feet to 26 cubic feet in general.
However, the price is slightly high than other high-end brands. But we believe that customization and style justify the price.
Why You Will Find Mix Reviews About Café Refrigerator?
Before buying a product, the first thing anyone does is read its reviews. Well talking about these refrigerators, you will find mixed reviews. Some might say these refrigerators are the best ones other will say don't buy them.
As a new shopper, it can be hell confusing for you. So after extensive research and with little personal use, we have separated its pros and cons so that you can decide if this fridge is suitable for you or not.
5 Different styles of Cafe Refrigerators:
GE first serves the Café style refrigerators as a separate entity.
But due to its classic looks and outrageous demand, GE decided to innovate this design and offers 5 different versatile designs in this regard.
Full-size refrigerators
Dual drawer refrigerators
Wine & beverage centers
Built-in refrigerators
Under-counter ice makers
Some Winning Features Of Café Fridges – Why Worth Buying?
Most well-known individuals recommend café refrigerators because of their aesthetics and functionality. You will see find more valuable qualities along with its pleasing looks.
Some of the prominent features are highlighted:
1. Luxurious Glass Outlook:
Café refrigerators are all about looks and fashion. You will like the sheen look of glass platinum on the outer side of this refrigerator.
These fridges are big than regular refrigerators. However, you will find many colors and designs in its range.
2. Excellent Airflow System:
A multi-flow air system assures its cooling feature by the proper functioning of the jets, which ensures that each corner will get the same amount of ventilation to maintain the freshness of the food while maintaining its crispiness and preventing ripening.
3. Robust Humidity Control System:
Café fridges offer absolute control over humidity and temperature. You will find the best performance of these fridges as they maintain the humidity more than two folds than usual refrigerators.
At the same time, they keep the temperature sustained in both compartments separately.
4. Highly-Efficient Evaporators:
Twin-chill evaporators ensure crisp maintenance by keeping the freshness of food in its original state.
This feature and humidity control system make the best combination to give the perfect performance that you expect from any high-end refrigerator.
What Are The Downsides Of These Refrigerators? – Buy Consciously
After revealing the plus, we want to share some important downsides for you to notice before buying to make a conscious purchase.
1. Pricy Than Usual Refrigerators:
Most users have found this trendy refrigerator costly compared to other high-end refrigerators having similar features. But people that love classy outlook are happy to pay for the aesthetics.
2. Jamming Ice System:
Some users find the ice delivery system, not a very pleasing experience. It is because they find it difficult to get the dispensing crushed ice.
Although the ice-making is perfectly done, pouring it out is another talk. So the design does not offer smooth ice expulsion due to jammed ice.
3. Few Models Are Noisy:
Full-size refrigerators are mostly noisy and hard to deal with. If you are a person that wants a pin drop silence in your house, then we suggest you check the noise level of that particular model that you want to purchase.
4. Same Size but Less Storage:
We suggest you give a good check into the design and storage because some fridges might look big and have the same length, but their in-built does not offer enough storage.
5. Prolong Water Heating In Dispenser:
Some French-door refrigerators that offer hot-water dispensers might take a lot of time to warm the water. So they rather prefer to do it on the stove.
So it is not only time-consuming but also very frustrating for some users.
Most Reliable Café Refrigerators for You | Our Findings
We use different methodologies to survey the reviews and opinions regarding these refrigerators. So after gathering them up, we have fid these 3 best picks with the least drawbacks.
We hope that you will find your best cooling partner.
1. Café – CQE28DM5NS5 Review [Full-Size Refrigerator]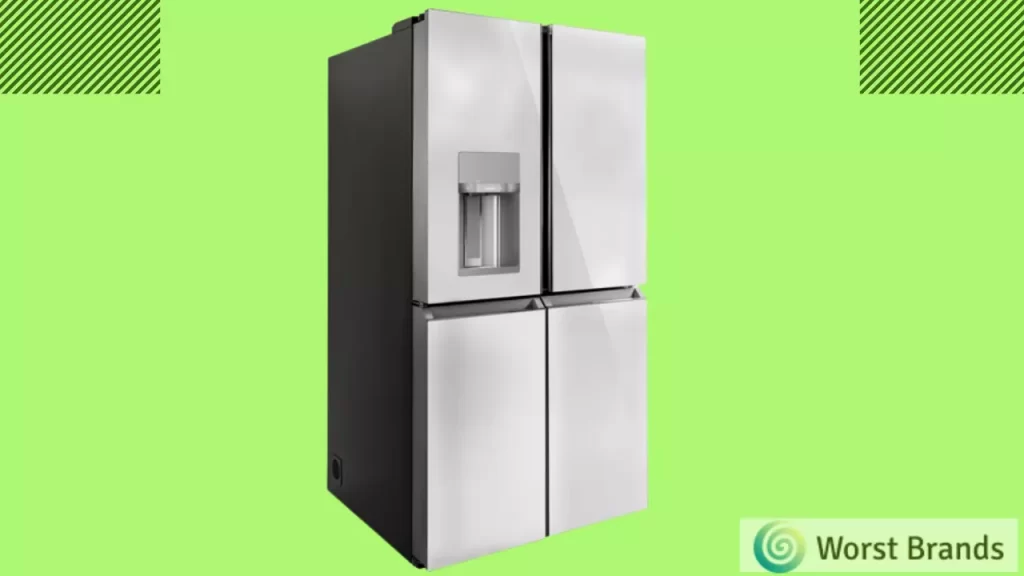 If you have a big family and want a giant full-size fridge to store all the edibles in one place, it will retain its freshness and crispness. Then this smart quad-door fridge is the best pick for you. It is the absolute example of superior design with ultimate performance.
The fridge is equipped with tilt-out door-bins that can store up to 12 cans or bottles, and it comes with slide-out shelves to keep all your food organized.
The door-bins have rubberized bottoms that allow them to stand on their own when they're tilted out, so they won't tip over.
It also features triple evaporator cooling, which allows it to keep things cold longer, and its LED lighting will automatically turn on when you open the fridge.
Café has been around for more than 10 years, and they're pretty popular for their quality products. This fridge is no exception – it is sturdy, and it'll keep your food fresh for a long time. If you're looking for a reliable fridge, then this is definitely one of our top picks.
Pros:
Tilt-out door-bins
Slide-out shelf
Triple evaporator cooling
2. Café – CSB42WP2NS1 Review [Built-In Refrigerator]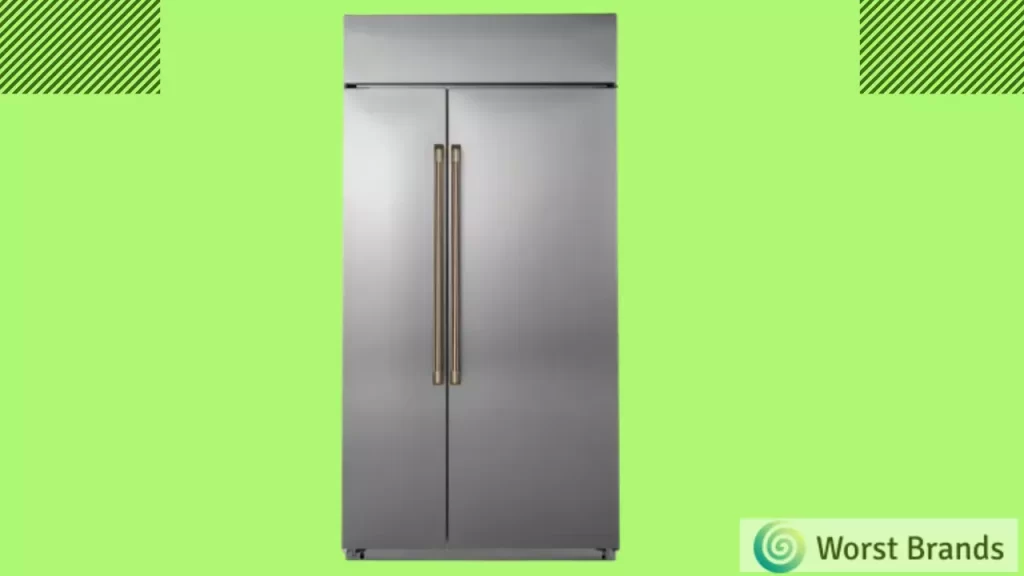 This side-by-side refrigerator is all you need to have a fantastic and premium quality suite. You can customize the base and hardware according to your choice.
Despite being big, the customized options give extra points to consider your first choice.
The CSB42WP2NS1 is a standard refrigerator that has a freezer drawer with a capacity of 25 cubic feet.
This refrigerator is ideal for families who have kids or families with larger households. The middle freezer compartment allows for easy access to food, and there are plenty of drawers and shelves to keep all the items organized.
It also has a sealed door, which helps to keep the food fresh for longer.
This is a great choice for families with kids because it has plenty of storage space, and it is also quite compact, making it perfect for apartment dwellers.
Overall, this is a great refrigerator that's well-made and durable.
Pros:
Larger drawers
Sealed middle drawers
25 cubic foot capacity
3. Café – CDE06RP4NW2 [Built-in Dual-drawer Refrigerator]
It is the best-personalized product so far for a classic look. This dual drawer refrigerator has an optimal capacity of 5 cubic feet. You will love the organization that offers maximum storage in the best way possible.
This one is appropriate for those who want something basic and functional, in my opinion.
It has a 5-cubic-foot capacity, which is sufficient for a household of three or four people.
So if you're planning to move in with your future partner, you should buy this one. It's very easy to clean, and the stainless steel interior will make your kitchen look classy.
Pros:
Quite slide-overs
Adjustable divider
Stainless steel interior
Have You Tried Café's Refrigerator Accessories?
You must have heard so much about the café refrigerator's outstanding looks and appealing designs.
They offer some fridge accessories separately so that you can make the perfect look for your kitchen.
They offer ice maker door kits and fridge handle kits made up of stainless steel or brushed stainless steel in a wide range of colors.
Our Verdict: Café Refrigerator Reviews
Still, You Think Café's Refrigerators Are Reliable? Undoubtedly yes. You can rely on these refrigerators because they are owned by GE, a well-known energy star certified company.
Moreover, the café smart French-door refrigerators have been the most famous ones. We suggest these refrigerators despite so many side effects because not all models possess these.
So we suggest you go for the product with the best reviews.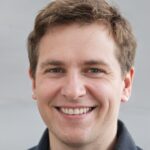 Steven Settles is a professional content writer with over 7 years of experience in writing for different niches, including brand reviews, technology, fitness, and more.
Currently, he is working as a content writer for WorstBrands, where he provides insightful reviews of different products, including home appliances, outdoor gear, fashion, and kitchen products. In his free time, Steven enjoys traveling and exploring new places.