Finding a good tent is as difficult as finding a needle in a haystack. There are a million things to consider, from a tent providing enough space to it being stormproof.
The choice is made more challenging by the cheaper quality tents flooding the market.
They'd cost you less and promise remarkable features, but you'll soon realize you've made a mistake.
To help you narrow down to the best tent, we've mentioned the worst tent brands you shouldn't spend on. They'd collapse after one use and turn your camping adventure into a nightmare.
So, without further ado, let's get right into it.
How To Spot The Worst Tent Brands?
The worst tents are the ones that collapse in slightly windy conditions and tear apart after using them once or twice. They are not well-insulated either.
So, make sure you follow these guidelines to spot them:
Check the manufacturing material
Ensure that customers receive all parts
Look out for the amount of insulation they offer
Check Reviews and Warranty
Read about the ease of packing the tent back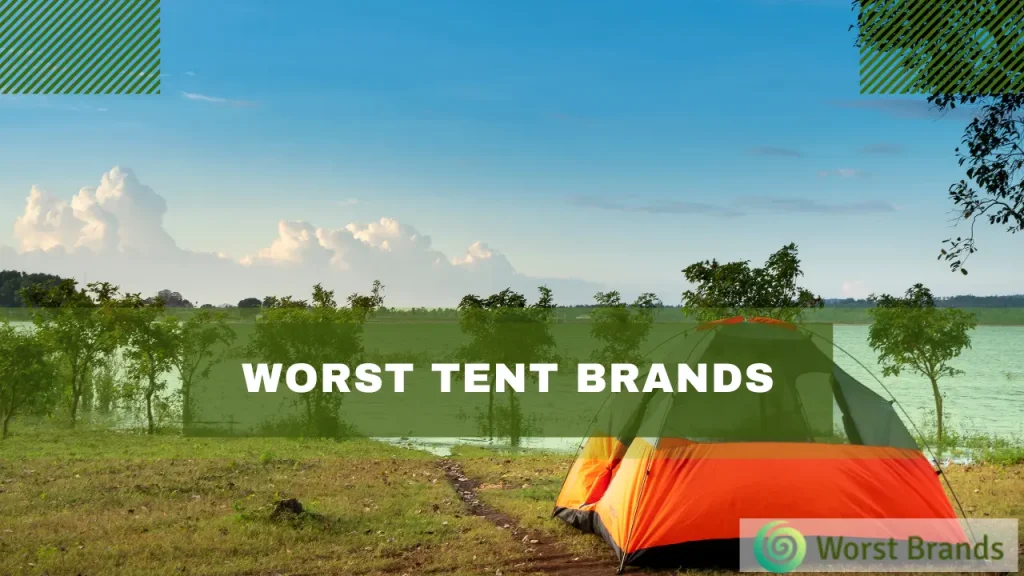 List of 5 Tent Brands to Avoid
After a thorough analysis by our marketing team, we found that Stansport, Slumberjack, Eureka, Geertop, and Wenzel are the worst tent brands you should avoid.
We are saying this because their floors are made of thin material; they build up too much heat and are heavy to carry. Also, holes appear too soon in their tents.
Related: Kayak Brands to Avoid
1. Stansport
Stansport is a 70-year-old company that is passionate about supplying outdoor activities gear.
They conduct an event, 'Encouraging The Outdoors,' to give back to local communities each year.
On the other hand, their products like tents need some more improvement. Gear has multiple issues as seams are not sealed. There are holes, so you have to cover those to ensure you don't get wet.
Stansport should work on its customer service too. A customer said she asked for a replacement, to which first the brand agreed but later said the tent was out of stock.
Also, their tents are easy to assemble, but they are very hard to put back in. While doing all this, buyers noticed some material coming off the floor.
The cheap quality is further exhibited by the zipper getting non-functional after a few uses
What a bummer! In addition, Stansport sews tents so poorly that you have to do some sewing yourself to make them stronger.
Plus, there is a sharp end of the pole in their tents. You have to cover it because the height and design of the tent can cause you to get injured by that end.
Even though the Stansport tents are compact and lightweight, one thing overshadows all that. That is, it falls apart frequently in the middle of nowhere.
Reasons to Avoid:
Lacks sufficient air-flow
Leaks through a mesh
Poles get damaged
2. Slumberjack
They've been focusing on outdoor camping needs for about 50 years. Slumberjack offers a wide array of products like tents, sleeping bags, and camp furniture. Let's discuss the brand's customer satisfaction element.
Firstly, their tents offer no room, so if you have wide shoulders and are tall, you'll be bummed.
The tent won't be spacious for you, and automatically you won't be able to accommodate a camping partner.
Another observation about their tents is that they are not well-insulated. You will be freezing if you decide to take it near a mountaintop etc. So, skip these tents.
Also, the description on one of their tent mentions the weight as 1.3 pounds. However, the actual weight turned out to be 3 pounds instead. The weight makes it unsuitable for backpacking.
The filling of their sleeping bags gets ruined easily. Plus, the mummy shape is very uncomfortable, and polyester attracts grease.
Also, the polyester material of the tent makes it slippery. It also causes heat retention. You sure don't want to sign up for a tent that makes you sweat and slip.
Reasons to Avoid:
It doesn't compress easily
Poles of the tent are damaged when the tent is put down
The bottom is not water-resistant
3. Eureka
Eureka's journey started by manufacturing rugged canvas wagon covers and horse blankets.
Today, they manufacture products to help you with car camping, backpacking, and scouting.
However, the tents Eureka provides offer zero durability. Centre poles elastic breaks, and the crossbar on the roof bent after the first use. Further, the rainfly gets slits due to slight hail.
Customers seem agitated about Eureka not paying delivery charges for products sent for repair or replacement. It sure is exploiting customers so that they won't send products for repair.
Also, they have this pointless policy that says if the tent arrives damaged, only then they'll repair it. Eureka doesn't stand accountable for wear and tear issues and UV damage.
Plus, buyers complained that Eureka's tents have a chemical finish. It is the kind of finish that gives them irritation and burning sensations.
Their worst tents are not sturdy enough to withstand windy conditions. People reported instances when the wind caused it to fly a few feet away due to wind.
Mostly, their tents arrive in smashed boxes. They aren't even easy to set up and require a lot of effort to come together.
Reasons to Avoid:
The floor is thin and not waterproof
It traps a lot of heat
You can't access the pockets for stowing flashlights when lying as they are on the ceiling.
4. Geertop
Geertop started when its founder went backpacking for one and a half years and realized the need to have portable gear for camping.
The brand is dedicated to catering to those on a low budget and beginners to outdoor activities.
Like most other Worst brands of tents, Geertop also failed to provide well-ventilated tents.
Condensation collects on the walls, and you feel warmer than the actual temperature.
Many reviews mention that they received Geertop tents with incomplete gear. Then, upon communication with the representative, they lost their confidence in this brand.
The representatives said they'll pay for the repair but won't get it done themselves.
Geertop's Top road four-person backpacking tent doesn't offer much standing height.
Plus, it's not very spacious either. Whoever buys this tent will feel awful spending on an item that isn't up to the mark.
The carrying bag depicts the poor planning it comes with as well. The bag is so small for the tent size that you could try all you want and still not get the tent fitted.
Also, the sack buckles do not grip the wall webbing properly. So, you better divert your attention to some other brand to get a cost-effective tent.
Reasons to Avoid:
Cheap zippers
Inner wall hooks defective
Heavier than the weight mentioned.
5. Wenzel
Wenzel is a brand that came from the struggle of a sixteen-year-old boy. He boarded a ship with little money and arrived in America with 50 cents.
After developing a fascination for canvas sails, he founded an awning brand.
Once Wenzel shifted to making tents, the brand made huge profits. Today, Wenzel has come a long way after using modern-day technology.
Some issues with this brand that our valued customers deserve to know are mentioned here. Firstly, the end poles are too long to stretch the tent corners and cause ripping.
When poles split apart, the representatives fail to cooperate for any reason. A review mentioned that the staff says we don't provide a warranty for weather-related issues.
Also, their tents leak even with light rain. It is because they are not seam taped or covered by proper rainfly. The least they could've done was to make it leak-proof.
Wenzel's products aren't durable either. The zippers stop working, and you have to get them repaired. In other situations, holes develop, which doesn't make sense.
Surprisingly though, some of their tents have a lot of room. One of them could fit in two full-size air mattresses and still have space.
On the other side, the sewing quality needs to be approved. It looks poorly done, and you have to strengthen the stitches.
Reasons to Avoid:
It didn't stay firm to wind
Poles snap very easily
The floor material is sub-standard
Top 3 Reliable Tent Brands
A tent is your home when you are up in the northern region to get a good night's sleep. It's your shelter when weather conditions are not so good.
So, because we understand your concerns, we decided to mention our top picks. Tents by these brands are durable and functional, so go ahead and pick one.
1. Big Agnes
An interesting fact about this company is that it's based near the mountains. Big Agnes says it makes products near the mountains and only tests the equipment there. An attractive yet smart practice indeed!
Big Agnes Copper Spur HV UL2 is among the top tents out there. It offers ample space, and the materials used are super comfortable.
The tents are not made of bulky material, so the tent is lightweight. It doesn't put pressure on your shoulders while carrying it, and you could easily carry it for days.
Big Agnes's tents are not only well-manufactured but well-planned too. The 42-peak height makes sitting up easier. Plus, the poles are color-coded, which makes assembly less confusing.
Also, the zippers look like they've been made of substantial material. They are sturdy and easy to pull up or down, so they won't break.
What do we love?
The strength of poles makes up for weaker fabric
Can stand harsh and windy weather
2. REI Co-op
It stands for "Recreation Equipment Inc" and is an American retailer. An awesome practice by this company is its attempt to fight climate change. It uses recycled material to make certain products too.
The REI Passage 2 is a commendable tent. Two large doors facilitate two campers' exits and entry points. It adds a lot of practicality, and you will love that!
Further, its 88" length and wide width make it suitable for any body type. You'd not have to worry about getting crammed up due to your plus-sized body.
It has vents at the top with kickstarts to ensure you can alter ventilation according to your needs.
REI tents also have storage pockets to store your belongings, and it is so thoughtful.
The floor is made of 66-denier polyester, which provides the support and strength you wish a tent had. It seems like a tent made in heaven!
What do we love?
Comes with footprints
Breathability is spot on
Full coverage rainfly
3. Hilleberg
It is a Swedish brand founded by a wife and husband. It is known for manufacturing 40 different tent models.
Some of their models have three ground strips planned perpendicular to the length. They give additional strength to the tent to make it stand firm.
Hilleberg gives multiple color options that suit everyone. From red to lighter tones, they have a wide variety. So, get the color that matches your vibe.
The exterior has three layers of silicon with additional UV resistance. Its UV resistance is ensured while dyeing the fabric.
Plus, it also has bathtub shaped floor to ensure the sides of the floor curl up and no build-up of water results. There are alternating sleeve clips that allow inserting two poles in each sleeve.
What do we love?
High-quality materials
Two vents are sewn into the roof part
Easy to set-up
Final Thoughts:
Tents can be one of the camping equipment that will stick with you for a long. It's important to find a fully functional, high-quality tent that doesn't dig a hole in your pocket. 
We made sure you know the worst tent brands to ease your burden. Alternatively, we mentioned the best brands too. Now, look out for the features you want in a tent and choose accordingly. Best of luck with finding one!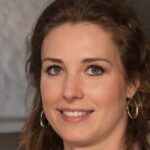 Crystal Hafley is a dedicated writer and content creator for WorstBrands, where she specializes in writing insightful reviews about kitchen appliances and fashion products.
With her expertise, Crystal provides readers with accurate and reliable information to help them make informed decisions about the brands and products they use every day. When she's not researching or writing, Crystal enjoys cooking and exploring the latest fashion trends.