Are you sick of getting a new lip balm every month to fix your chapped lips? If so, don't worry; you'll not be trapped into buying something that'll stay tucked in your drawer this time. 
Lips are exposed to the sun, intense cold, and licking habits; they deserve extra care. So we've curated this guide for you to know which brands to steer clear off. 
So that you can finalize a brand that's worth the spend and your lips can blossom.
Here are a few of the Worst Lip Balm Brands to avoid if you want your lips to be moisturized and beautiful.
So, without further ado, let's get right into it.
How To Spot Worst Lip Balm Brands?
The worst lip balm brand doesn't moisturize lips, has an awful taste and smell, has a sticky formula, and causes allergies.
So, the best way to identify the worst lip balm brand is as follows:
Check Reviews
Look for brand recalls by FDA
Read and confirm that the brand is producing products sustainably
Take a look at the packaging to check for any allergens
Check if it maintains its consistency in different seasons
Read the following articles to learn about other related worst brands:
Lip Balm Brands to Avoid
As per our team's research, Eos, Dr. Bronner's, The Body Shop, Blistex, and Thayers are the worst lip balm brands to avoid.
Because they make lips drier, melt quickly, have molds growing in them, do not glide easily, and have a sticky formula.
Some of them even cause allergies due to the controversial ingredients in them. Let us now turn your attention to these brands by discussing the issues mentioned above.
1. Eos
It is a 100% organic brand known for egg-shaped cute pots lip balms. Eos offers an array of flavors in these pots for all skin types.
Then why is it listed here in the worst lip balm brands? Well, let's draw your attention to what lies inside these pots.
Multiple reviews say that the ball of products rolls out of the packaging. This renders the product useless since it'll eventually catch germs and dry out if it is in the open.
People stated they disregarded it once when they ordered them online, thinking it must've undergone damage during shipping. Later, after buying from stores, they experienced the same issue.
Some of their flavors are disappointing. The strawberry scent was so faint that it seemed a scentless lip balm to many.
Though sometimes customers keep repurchasing a product due to its scent, this one failed to master that.
Eos came under fire when a woman filed a lawsuit against them. She reported that their lip balms caused her lips to bleed and have blisters.
She even stated that there were cracks on the corners of her lips. The FDA noticed it, and this lawsuit ended, but it brought consumer doubts that persisted with it.
Another primary concern is the price point. It is expensive for a lip balm and especially for the one that makes your lips bleed and cry for help. So, stay away from wasting your money on this one!
The round ball-like packaging makes the product difficult to be carried around. How else will you ensure that your lips look presentable if you can't adjust them in your pockets?
Plus, they are hard to apply as consumers said that the chunks break off on lips. Dodge this brand to save your lips from trouble.
Reasons to Avoid:
Waxy texture
Potential irritants
Ball rolls out
Faint scent
A bit on the pricier side
Drying on the lips
Not handy at all
Hard to apply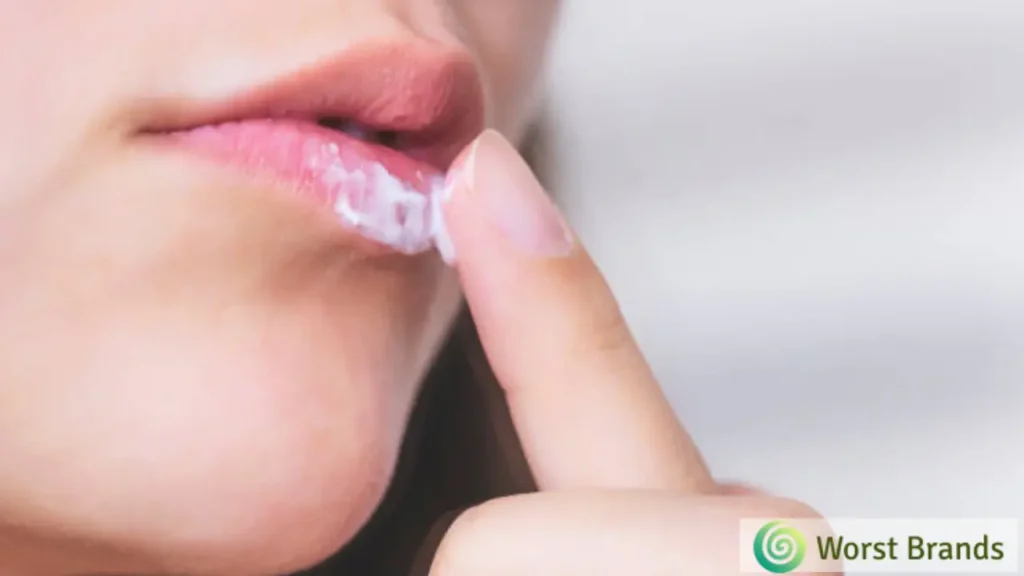 2. Bronner's
In an Oprah interview, Bobbi Brown's owner Brown called Dr. Bronner's soap the "finest soap in the universe." It sure signifies the excellence of their soaps, but let's shed light on the lip products they offer.
Surprisingly, the lip balms are not a hit. One of the significant bummers is the complaints about molds growing in their lip balms.
As soon as customers received the balms, this was observed, which explains they weren't even close to expiry.
Another displeasing fact about their products was that these lip balms caused burning sensations in many.
Upon research, we concluded that it was due to Beeswax present as an ingredient. Plus, their Peppermint and Orange Ginger flavors smell horrible.
Skincare enthusiasts reviewed that they can't tolerate these scents no matter what. They sure do smell like something that can make you puke.
Some customers said that they received the balms half melted. It was almost separated and settled in the lid.
Not just that, sometimes it broke into two halves as soon as buyers used it. Now, whatever the reason is, nobody should spend money on something that doesn't even stay in one piece on the first usage.
Their products are known to add no moisture to lips. Instead, some rant about how they made them even drier.
One of the primary reasons behind this can be that it doesn't get absorbed easily. Also, the surface of the lip balms is so tiny that you can't cover most of your lip in one go.
Reasons to Avoid:
Makes lips flaky
Molds growing inside lip balms
Awful smell
Melt easily
A small top surface, which hinders application
3. The Body Shop
The Body Shop is a one-stop-shop for all your makeup, skincare, and body care needs.
The company claims to produce products with sustainably sourced ingredients and use recycled plastic from India. But do their lip balms offer value for the price?
Well, not really. We have reasons to include it in our Worst Lip Balm Brands list.
Their "Born Lippy Lip Balm" has the stickiest formula. It feels like they are just made to use when you don't have to speak.
Because otherwise, how will a person perform day-to-day activities while this glue-like product is sitting on their lips.
The pot variant is super unhygienic – when you have to put your hands into a container, it will lead to a buildup of bacteria and other germs. Are you willing to fret over clean hands to apply this lip balm?
Their product mentioned above has caused allergies in many. People noticed peeling and bumping right after using this for a couple of days. What a turn-off!
Plus, their marketing gimmicks of "Natural ingredients" are a scam because the ingredients say otherwise. In the name of natural ingredients, there are controversial substances.
One of the main reasons to buy a lip balm is the need to have moisturized lips. Sadly, this one fails to serve that, too, like the brand mentioned above.
So, what's the need to buy a lip balm when you still have chapped lips?
Reasons to Avoid:
A nasty scent that you could sense inside your mouth
Doesn't moisturize as it should
Sticky formula
Unhygienic application
Causes allergies
Controversial ingredients
4. Blistex
Blistex was founded in 1947 in the United States as a lip care business. The brand expanded worldwide with its new launches.
It says it resonates with lip protection and relief, so let's look into these claims.
The lip balms have a drying formula. It just has this one job that isn't done correctly, either.
Multiple competitors stay true to the lip care vision by offering good moisturizing properties, but it doesn't.
Their tinted range of lip balms failed to secure a place in customers' hearts. They are a stain on the name of the color as they offer the slightest bit of tint, which isn't even visible.
This might be alluring to some people. But, those who bought it due to the description saying "tinted lip balm" were utterly disappointed.
Talking about the color, it spreads all around your lip area, whatever little there is. Imagine looking into the mirror to wipe the tint away to save yourself from embarrassment.
Another major turn-off is that the finish is not creamy but rather heavy. Nobody enjoys feeling that they have a lip balm because it's so heavy on the lips.
Plus, the scent is very irritating, especially the sweet berry one. It makes a lot of sense that your lip balm should smell nice but not so strong that it gets to your head.
These are the reasons why we have listed it amond the bad lip balm brands.
Reasons to Avoid:
Doesn't stays for a long time
Drying formula
Faint color
Color spreads around the lip area
Heavy finish
Some of them don't have a pleasing scent
5. Thayers
This one is a personal care brand with a 175-year history. One of the most popular products they have in their line is "Witch Hazel Extract."
It is famous for being multi-purpose in nature, i.e., a toner, face mist, and astringent.
Although it has built a legacy with this product, it is yet to improve its lip balm products.
Most importantly, their lip balms don't glide easily. They lack the smoothness that a lip balm should have.
You know how they say "glides like butter"; this phrase is meant for lip balms but not for this particular brand.
The consumers said that the sticks break easily. Sometimes it breaks into two while the customer has just started using the balm.
They also offer a chemical-like taste. A synthetic touch to a lip balm straight into your mouth is not something anyone should sign up for.
Plus, it says a lot about the ingredients that are inside it. There must be something harmful that's giving that taste.
Talking about ingredients, it has Tocopherol. It irritates the lips, and people get severe allergic reactions to it. Beeswax is another ingredient that is a big no for oily skin. Avoid this if you have oily and sensitive skin.
Reasons to Avoid:
Doesn't glide easily
Causes allergic reactions
Weird taste
Breaks mid-use
Conclusion:
Plump lips with minor irritation are what everyone desires. But, the truth is dry lips happen to all of us at some point in our lives.
The beauty lies in going the extra mile and educating oneself about the lip balm brand that is not worth buying.
We tried our best to help you navigate this process by mentioning the worst lip balm brands to avoid.
Now, go through other options to pick your lip balm. Keep in mind your preferences, like which scent and tint you want.
If you still have any questions, please reach out to us, as we'll be glad to help.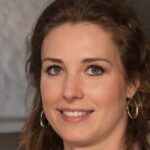 Crystal Hafley is a dedicated writer and content creator for WorstBrands, where she specializes in writing insightful reviews about kitchen appliances and fashion products.
With her expertise, Crystal provides readers with accurate and reliable information to help them make informed decisions about the brands and products they use every day. When she's not researching or writing, Crystal enjoys cooking and exploring the latest fashion trends.