Your house is a blank canvas until you furnish it with your creativity. It's the space that screams your aesthetic and lets you decide the vibe. This is why setting up your house from scratch brings so much happiness.
You can decide on a minimalistic approach or even add multiple furniture pieces if you want to feel fancy.
But, whatever way you choose to furnish it, you should stay away from certain brands. They don't deserve a spot in your sanctuary as they offer substandard quality.
We've mentioned the worst furniture brands to help you stay away from. We've also added a few of our top picks as a bonus.
So, without further ado, let's get started.
Related: Why are Office Chairs so Expensive?
How to Spot the Worst Furniture Brands?
The worst furniture brands are the ones that are not durable, take a lot of time to deliver, and do not provide efficient customer service.
So, go through these instructions to identify the worst brands:
Check Reviews and Complaints.
Look at the Warranty.
Research about the aftercare service.
Read about the durability the brand offers.
Compare the price point of a similar piece of furniture with other brands.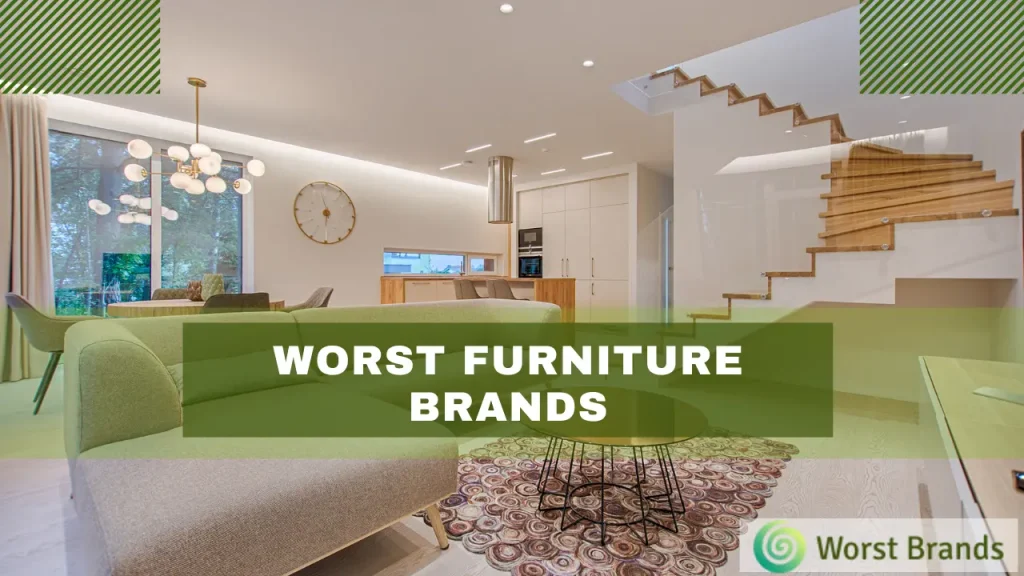 Furniture Brands to Avoid
According to our team's research, Agio, Ashley Furniture, Cymax, Bassett Furniture, and Rochester Furniture are the brands you should avoid.
Because their products are of substandard quality, they don't offer a good warranty and take ages to deliver the furniture.
Some of the brands even scam customers by putting up fake discounts and sending in incomplete pieces of furniture.
1. Agio
Agio was founded in 1994 and has built a name in outdoor furnishings. Its mission is to make outdoor living enjoyable and aesthetically pleasing. Let's look at what customers feel about their furniture today.
Firstly, their furniture offers no durability at all. It's a much-known idea that furniture should last longer considering the price you pay for it.
Sadly, the paint on their furniture peels away. Not just that, the pieces couldn't stand the test of sunlight for a few months even.
People mentioned how the wicker got cracked due to sun exposure.
Plus, their furniture is made of substandard materials as some buyers seem frustrated about bubbling on the tabletops. The Patio table's metal squares got rusted, indicating the cheaper in-lay.
Multiple reviews complained about how the order they got wasn't complete. One mentioned that they received one part of their order twice while the other wasn't. Such irresponsible behavior!
Also, the cushions that come with the 'Member Mark Agio 6-piece Patio set' were not liked by customers either.
They ranted about how the size mentioned by the manufacturer was large than the one received.
The seats that come with their outdoor sets are not comfortable at all. People mentioned they are too low and hard to get up from.
Comfort comes first when buying furniture, so you should ditch this brand. Plus, the dining set had significant flaws too.
It was noticed that the table's leg made it difficult to slide the chairs. This must've been not very pleasant!
Reasons to Avoid:
The picture included an umbrella with a dining set but wasn't received.
Orders deliver too late.
Replacement issues
2. Ashley furniture
It is an American Home Furnishings manufacturer. This company is owned by a father and son and is spread worldwide as it has more than 700 stores. Let's comment on its furniture quality and service.
Their contract says that items can be returned, and customers will get a full refund if delivery isn't done.
But, they don't stay true to their promise and blatantly refuse to do so. This made many customers feel cheated.
Plus, their 50% sales done online and in stores are a scam. People complained that they raised the prices and put up a deal on it.
This made many customers lose their trust in Ashley Furniture, although they previously liked their moderate prices.
Not just that, their stores have 25% higher prices than online sites. They were wrong if they thought customers would overlook such a big issue.
Now, nobody can be sure if the price they are getting the furniture for is the actual price or not.
Many customers pointed out that they were offered all protection for damage, stains, and breakage before buying.
Then when they went to the stores, the manager told them it was just one-time protection, and they should decide if they wanted it now. What a shame!
Plus, they don't deliver the whole order. This doesn't mean they send the order in installments; instead, they don't.
One such experience mentioned by a customer was when he ordered a tv stand and living room set but just received the living room set.
The quality of their product is inferior. They use particle board in some products, which isn't sturdy. Also, after delivery, people received damaged consoles.
Plus, their durability is close to none. The bed frame starts squeaking and makes sleeping difficult. In addition, their sofas sag too early.
Reasons to Avoid:
Sizing issues with recliners
Even after customers paid an extra amount to deliver it at the doorstep, delivery through UPS.
Sent damaged consoles
3. Cymax
They began off selling TV stands and entertainment equipment in 2004 when they were created.
The founder made this stand when his wife felt it was challenging to find one in Canada. Let's look at all the issues that make it one of the worst furniture brands.
The most annoying thing about this brand is that they take two weeks to process the order.
After processing, it takes months for the order to show up, which is too incomplete. Various customers have reported this.
In addition, once you pay them the amount, they don't care at all. The brand stops updating the order, and there's no way you could track it down.
If you call them, you'll be stuck with a long waiting time, and eventually, the phone will hang up. Plus, no one answers emails mostly.
They don't even check on details of orders as they send in wrong orders. Customers complain that they customized something, and someone even chose from the brand's designs but was sent the wrong color.
The brand sent one consumer a bed with a different headboard than that chosen.
Most items received upon delivery are damaged. A man ordered a sculpture and said he received it smashed and broken into pieces. The Wicker Patio set came with legs that looked weak, and later they broke off.
Also, some of their products are not sturdy at all. Like the barstools are flimsy and cheap looking.
As a result, if you're in the market for anything of higher quality, you're better off avoiding it.
Reasons to Avoid:
30 days useless warranty on some items
No durability
Doesn't tell you on the picture that you'll have to assemble multiple pieces yourself.

4. Bassett furniture
One of Virginia's most venerable furniture companies, Bassett Furniture, is still in business today.
They have about 100 retail locations in the US and claim to offer the most custom options. Let's see if they progressed towards being a better brand.
Buyers seem utterly disappointed by the color of furniture they received. They clarified that they had chosen darker colors with an in-store designer and received a lighter version.
But, the brand says that is due to the in-store sample getting dirty since it comes under people's hands. This just doesn't seem like a legitimate rationale for doing so.
Plus, the products have significant flaws, as Bassett loveseat hems arrived unglued.
Not just that, in the back pillows of the sofa, there wasn't enough filler, so it didn't give a put-together look.
As exhibited by their couch leather starting to wear away in a few months, the longevity is poor.
Slats of bed break and cushions on the sofa have been noted to deflate early. The poor quality of the fabric is evident by the fact that the cloth gets rougher after a while.
They haven't managed to make comfort their forte with all that. Buyers complain that the sofas are hard as rocks and the chairs wobble. Can it get any worse?
Reasons to Avoid:
Poor customer service
Stains on furniture as it was received
Their fabric is suitable mainly for dry-cleaning only.

5. Rochester Furniture
It has been in the industry since 1994, and it started in South Africa. Until now, most of their manufacturing happens in South Africa.
They say they've perfectly crafted furniture that brings life to your home. Let's check out if Rochester Furniture managed to bag customer approval or not.
One of the biggest turn-offs is their inability to complete their commitments. Reviews mentioned that they purchased a furniture set with some parts missing, which was promised to reach them later. But it didn't.
Imagine buying a study table and being told you'll be notified about the matching chair later, but you aren't.
As much as they rave about aftersales service, it should've been top-notch. But, they don't even let customers claim their warranties, and the team responds after weeks of waiting.
The most annoying thing about their customer care is their branch managers, who make excuses and refuse to cooperate.
Some of their pieces have defaults like their recliner chairs don't recline properly. Surprisingly, people noticed torn stitches after getting the orders, making the furniture look used.
Their furniture doesn't stand the test of time either. The Mariposa bedroom set's base breaks apart, and the finish deteriorates too. Also, their dining table is so thin that it gets dents quickly.
Reasons to Avoid:
Furniture gets dents easily
Pricier
The cost of delivery is high too.
You might also love to know:
Top 3 Reliable Furniture Brands
We've got you if you just moved into your new place or want to revamp your style.
Your concern about adding a personalized touch to your happy home is ours now.
So, we have mentioned the best brands to choose from. These brands offer durable, stylish pieces and include all color palettes to add more joy to your place.
1. Floyd
This brand aims to put an end to disposable furniture. They've taken various steps that prove their passion for this goal, and one of them is their timeless pieces.
Most importantly, their products are FSC certified, which signifies it uses wood from forests that are mindfully managed.
Along with that, they manufacture furniture without using harmful chemicals and spray. They are an environment-friendly brand for sure!
Floyd offers a ten-year warranty and stain-resistant upholstery. Their products are also pet-friendly, which means they won't get damaged if pets try to scratch them.
Also, they use natural wood like walnut and pine. Even with this practice, they've kept the prices affordable. So, kudos to them!
What do we love?
They consciously try to cut down transportation emissions
Provide top-notch quality
Easy to assemble
2. Lexington
It offers a diverse style catalog, targeting consumers of all kinds. They include furniture designs from classic to contemporary.
Surprisingly, people mentioned that they repair or send parts even after the warranty is over and don't even charge for shipment. That's wow!
Also, their sofas are easy to clean, making them last longer. Buyers said they just swiped it on a damp towel, and it's good as new. A brand that's easy to maintain deserves all the praise!
The delivery timing is commendable, and their sofas are wildly comfortable. They are not too hard or too soft but offer the right amount of support.
What do we love?
Couch delivery on time
Friendly staff
Beautiful colors on sofa available
3. Crate and Barrell
They offer beautiful and modern dining table sets. Not just that, there are a hundred styles to choose from, so you don't have to get disappointed.
Company policy is spot-on as a customer mentioned they returned a table for the third time. The company offered a full refund for it.
This also shows that the staff is super friendly and considerate towards customers.
A review mentioned that their microfiber couch stands the test of spills and years of usage. It is not something you'd expect from every brand.
What do we love?
Customization is welcomed
Modern designs
Delivery is on-time
Conclusion:
There are plenty of options for picking the furniture of your choice. But, it all comes down to your home's measurements and color scheme. These things hold utmost importance after choosing the brand.
So, first, plan practically according to your preference and then go for something timeless.
We hope this article will help you not fall prey to the worst furniture brands. If you still have any queries, you can comment them down as we'll be glad to help.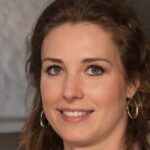 Crystal Hafley is a dedicated writer and content creator for WorstBrands, where she specializes in writing insightful reviews about kitchen appliances and fashion products.
With her expertise, Crystal provides readers with accurate and reliable information to help them make informed decisions about the brands and products they use every day. When she's not researching or writing, Crystal enjoys cooking and exploring the latest fashion trends.