With tons of brands flooding the market with their "Oh-So-Perfect" taglines and swoon-worthy marketing strategies, buying a mattress can be a big hassle.
At least once in your search of mattresses, you must've come across Tempur, Serta, Avocado Green Mattress, and Amerisleep. But do they offer you the comfort, padding, and longevity they claim?
Edgar Watson once said, "There is only one thing people like that is suitable for them; a good night's sleep." Indeed, though, there are no two views about people wanting the best sleep time.
It can be quite challenging to eliminate the over-hyped and low-quality mattresses that give your body aches. But, don't worry.
We are here to steer you in the right direction so that you know exactly which worst mattress brands to avoid so that "Mattress-search" ends on just the perfect match.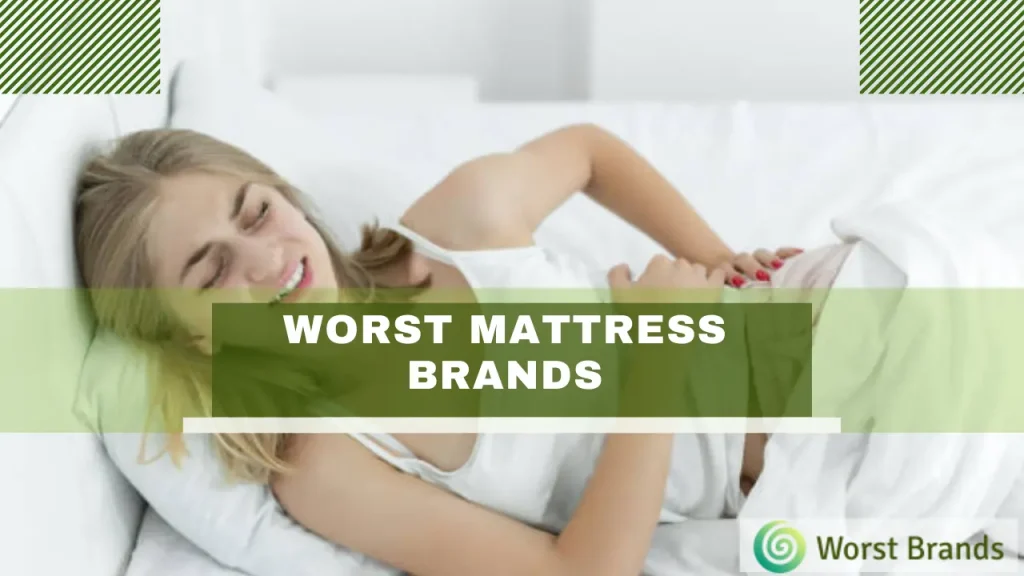 Related:
How to Identify the Worst Mattress Brand?
You can identify the worst mattress brand based on the quality of materials used to construct it, as well as its durability.
These are the two most important aspects that determine the lifespan of a mattress.
Poorly constructed mattresses tend to be prone to sag, and they often don't last very long. They are also made with materials that aren't conducive to health and comfort.
List of Worst Mattress Brands to Avoid
As per our team's research, Beautyrest, Novilla, Olee Sleep Store, Sleep Innovations, and Oliver Smith are the worst mattress brands to avoid.
Because they offer no durability, hardness that's not very comfortable, shipping issues, poor exchange policies, and cause body discomfort.
Let's dive deeper into the brands and why you should stay away from those brands.
1. Beautyrest
This brand proudly says, "taking sleep from being a luxury to luxurious," and it didn't sit well with us. Beautyrest didn't meet our expectations with some of its products, like Comfort Plus Air Mattress.
This one has comfort in its name but fails to offer a peaceful sleep because of all the bounciness it shows on slight movements.
Since it's supposed to be an easily inflatable and deflatable mattress, you'd ideally think it will be your go-to for camping purposes or guest arrivals but sadly, no.
The customers who have used it are primarily upset about its defect in inflation; it doesn't stay inflated for long.
Also, its upper layer and base are made of Dura-Vinyl, but what use does that brings if people are not so happy with the unpleasant smell of vinyl. It sags in the center point when it stays inflated, leading to back pains.
Why Is It Not Worth Your Money?
Extra bounciness
Deflation defect
Vinyl smell
Sagginess
2. Novilla
This brand is known to offer affordable mattresses plus; it is also CertiPUR-US certified, which indicates that it is free of harmful chemicals. At the same time, some of its mattress models are disliked by customers.
Many people choose the Novilla full mattress for the rate and description of its features. Here's the shady part, many customers complain that despite the brand saying it's medium-firm, this mattress is very hard. The hardness makes it not at all suitable for side sleepers.
Its quality is acceptable for the first few weeks, but it deteriorates excessively as per its users within a few months. It is a bummer for a product that offers a 10-year warranty.
One other reason for the dissatisfaction is that people have been said to have the most excruciating pains because of the poor quality. Despite offering cooling gel-infused memory foam, it's said to trap heat which leads to sweating.
Apart from its unsatisfactory features, the shipping takes longer in some areas.
Reasons to Avoid
An uncomfortable hardness
Quality deteriorating overtime
Traps heat
Shipping takes longer
This in no way implies that all the mattresses of this brand are a disappointment, but to be on the safer side, go for some other brand.
3. Olee Sleep Store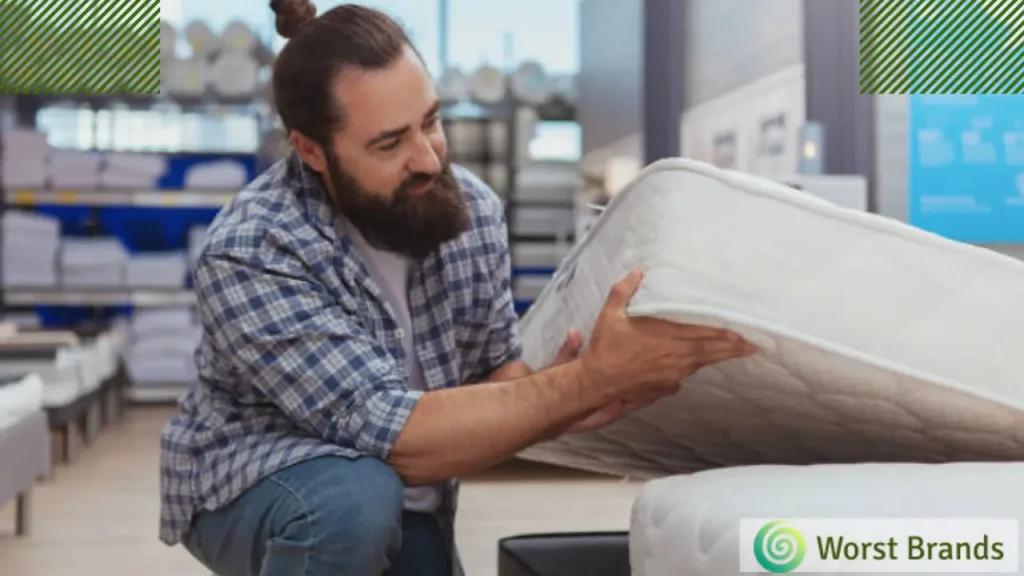 We went through some of their mattress descriptions, and the 5-layers, high-density foam, and heavy steel coils seem appealing but believe us, it is too good to be true.
Unfortunately, the springs that help you sleep better can very easily poke you after a few months of usage, and we are just as taken aback by it as you are. It was mainly an issue in Olee Sleep 10-inch Pocket Spring Mattress.
The customer service doesn't seem very responsive. Their return policy is a pain, too, since they don't refund your shipping charges, so there goes 30% of your money.
Customers even found bugs as soon as they received their orders, and as disgusting as it sounds, it also makes us wonder how ignorant a brand can be.
Why Is It Not Worth Your Money?
Uncomfortable due to poking springs
Poor customer service
Bugs found in mattresses
4. Sleep Innovations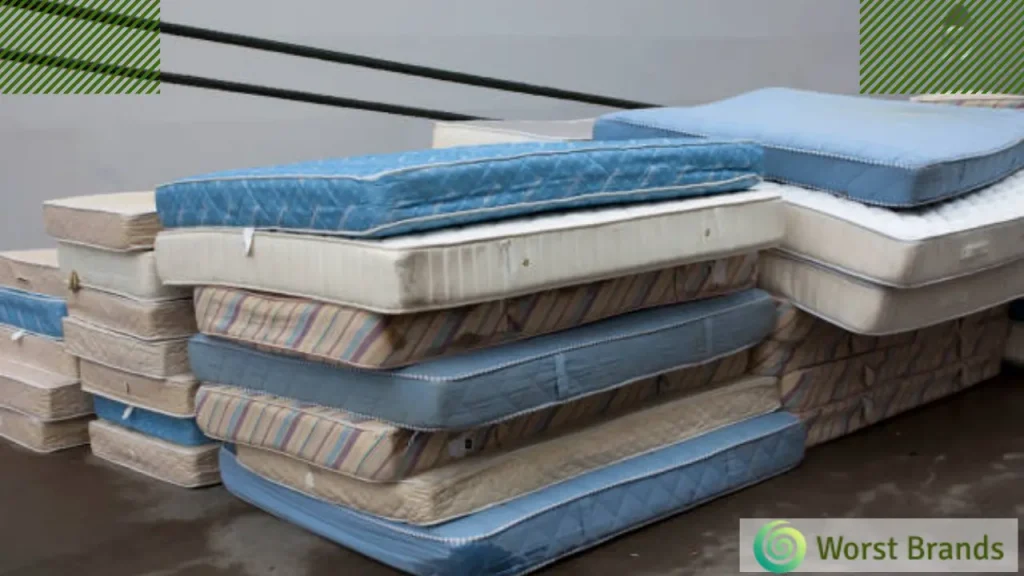 Sleep Innovations is known to have invented the memory foam mattresses in a box. They say they cater to all types of sleepers and provide comfort on a budget.
On the contrary, we couldn't help ourselves but gain some insight from the reviews.
Massive outrage is shown by those who bought a particular mattress from them and wanted to exchange the product. It was because Sleep Innovation's product exchange policy was considered displeasing.
Their mattress's support runs out concisely, which is a huge question mark on the longevity expected from a mattress.
Furthermore, because of the mattress's unexpected humps, people have been experiencing unbearable aches.
Reasons to Avoid
Unsatisfactory exchange policy
No longevity
Leads to body aches
5. Oliver Smith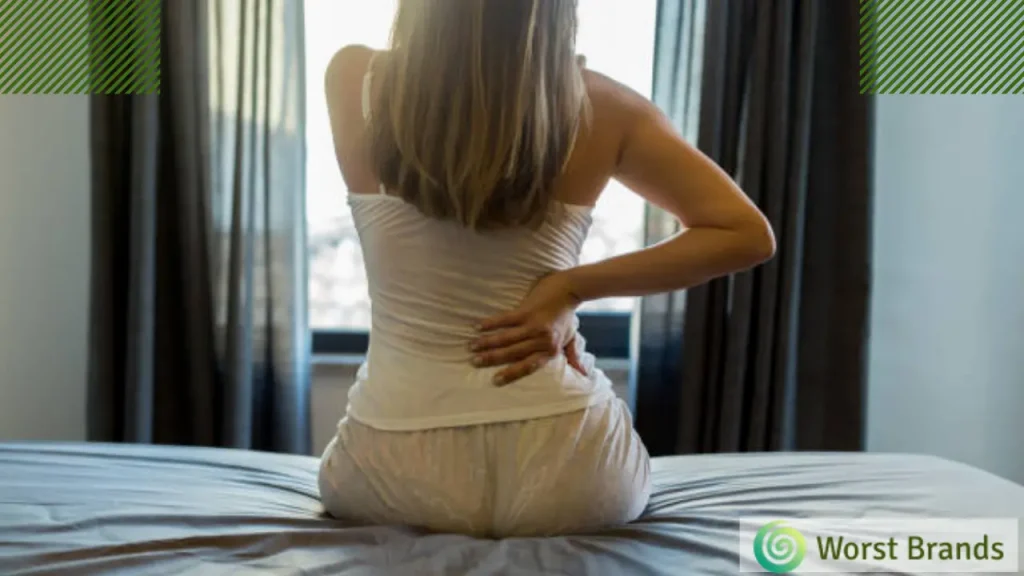 Oliver Smith also deserves a miss since customers are utterly disappointed in them. The mattress covers are displayed as 100% organic cotton covers, but many customers reported that it's mostly polyester.
Consumers are rightfully displeased by the false claims about the product's material.
Also, several people complained about the cheap quality their products offered, especially the Cool Memory Foam & Pocket Spring mattress.
It is said it feels as if there is just a piece of cloth attached to springs in the name of the mattress.
We would suggest you opt for some other brand that keeps its word to its customers.
Why Is It Not Worth Your Money?
False claims about the material being organic
Poor quality
Reliable Mattress Brands in 2022
After examining customers' demands and analyzing all aspects of what is meant by "comfort" in a mattress, we've decided on our top picks.
These brands are premium quality, durable, aptly ticking all the columns of customer satisfaction, and not meant to make noises when your spouse tosses and turns.
1. IKEA
Ikea has perfected the variety required by all types of sleepers, including all sizes and thicknesses. They are ideal for people looking for a comfortable option but not something that costs a fortune.
People can't stop raving about how their products are suitable for arthritis and hit the right spot with their firmness.
These mattresses are easy to assemble, which again vouches for their popularity. After all, who doesn't love a user-friendly product?!
The rule of thumb for any mattress brand is their warranty. IKEA has mastered this demand and offers a 25-year warranty. We couldn't be any more impressed.
Do yourself a favor and go through their options; we are sure they'll live up to your expectations.
Why Should You Buy This?
Great variety
Suitable for arthritis
User-friendly
25-year warranty
2. Tempur
Tempur has bagged thousands of five-star reviews like it's no big deal. The hefty price tag might scare some away, but the products speak for themselves.
Their quality is commendable and is achieved by decades of innovation. NASA made the Tempur material in the first place. Tempur material is known for its durability since it never loses its stiffness and justifies the price it comes.
Their mattresses give 2x pressure relief, which can be crucial in getting solid sleep after a tiresome day.
If you want to buy from their range and are looking for a relatively affordable option too so will highly recommend the Tempur-Cloud. It has a comfort layer topped with a firmer support layer.
Plus, 100 points for the environment-friendly packaging it comes in – a reusable canvas bag or box composed of recyclable material.
They added Tempur-Pedic breeze as a response to memory foam mattresses and successfully achieved 3 degrees to 8 degrees of cooling.
Why Should You Buy This?
Five-star reviews
Quality and durability
Pressure relief
Environment-friendly packaging
Suitable for hot climates too
3. Zinus
This mattress brand needs no introduction whatsoever; it is the #1 best seller on Amazon for mattresses. It can be your best friend for wondrous sleep.
Zinus offers a 10-year warranty and a 100-night trial and is CertiPUR US certified. Plus, the independent coil system in their hybrid mattresses is especially favored by people for its support.
The secret behind a refreshed sleep is a comfortable mattress, and if it's combined with revitalizing green tea extract upon pressing the mattress, it can't get any better.
Suitable for someone who suffers from slipped discs and soreness the first thing in the morning since Zinus seems to know how to make that less of a problem.
Aircool cover, along with the cooling gel memory foam, has the potential to be a holy grail for someone in hot climates.
Why Should You Buy This?
100-night trial and 10-year warranty
Green tea extract adds a refreshing effect.'
Suitable for people with slipped discs
You may like to know:
Conclusion
We hope this comprehensive guide on the worst mattress brands to avoid helps you.
Here's the catch, no matter what we say about the mattress specifications, it all comes down to your preferences.
Keep in mind your weight, the kind of sleeper you are, the material you'd like to rest on, and then choose a mattress in your budget.
Plus, always give time to your body to get used to the new purchase and then shape your views.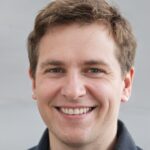 Steven Settles is a professional content writer with over 7 years of experience in writing for different niches, including brand reviews, technology, fitness, and more.
Currently, he is working as a content writer for WorstBrands, where he provides insightful reviews of different products, including home appliances, outdoor gear, fashion, and kitchen products. In his free time, Steven enjoys traveling and exploring new places.