Are you on a mission to add a cozy feel to your bedroom and a cheerful vibe in your living room by painting it?
We know it seems like a draining chore, but it will elevate the decor of your space, and you'll fall in love with the change.
But it's not easy to find great quality paint and paint brushes as you are more likely to bump into a brand that lacks durability. 
So, to save you from the struggle, we'll guide you about a few of the Worst Paint Brands that aren't worth your attention.
After reading this, nobody can stop you from choosing the best paint to customize your dream room look that'll speak for its quality.
So, without further ado, let's get right into it.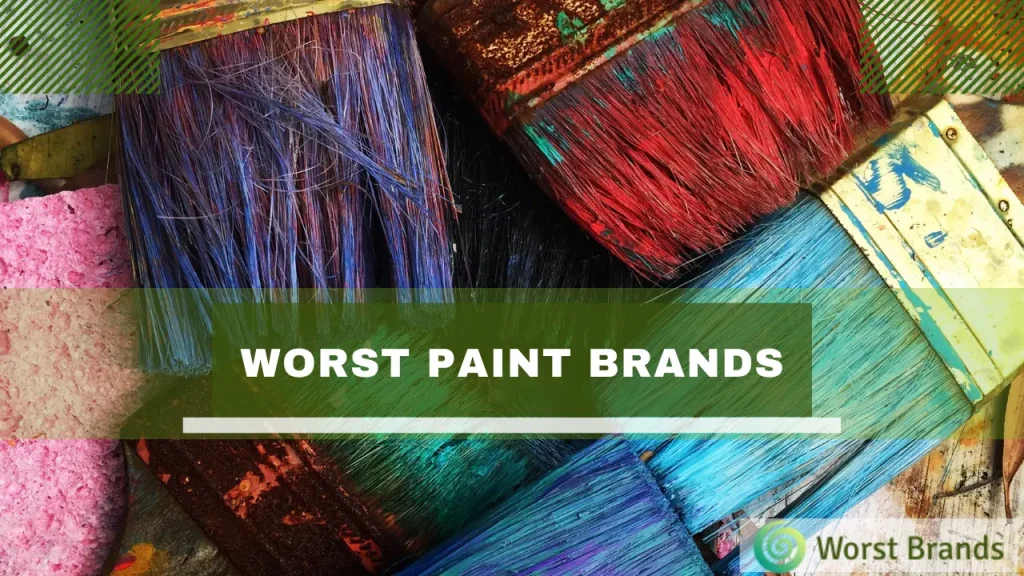 How To Spot The Worst Paint Brand?
The worst paint brand is the one that offers poor coverage, exhibits peeling off too soon, and gives an uneven finish.
So, the best way to identify the worst paint brand is :
Check Reviews.
Read the Warranty of the paints.
Look out for the smell factor.
Check if it does offer washable options.
Compare prices of the competitors.
Paint Brands to Avoid
As per our team's research, Dulux, Asian Paints, GoodHome Paint, Fired Earth, and Glidden is some of the worst paint brands you should avoid.
Because the paint peels off, requires many coats for coverage, gives a patchy finish, and is on the pricier side.
Some of them also require a lot of time to dry and do not value customer demands.
Let's dive deeper to know more about these brands and why you should avoid them.
1. Dulux
The brand name Dulux comes from the terms "durable and luxury." It provided one of the first Alkyd-based products and got a lot of attention. Let's discuss the brand's credibility at present.
Firstly, the paint takes a lot of time to dry out. So, if you are planning to paint multiple coats, it will take an ample amount of time. This also means that you'll have to pay extra if labor is involved.
Also, it offers substandard quality. The weather shield paint is meant to withstand harsh temperatures, but it doesn't. Customers said it got peeled off within three months.
"Dulux Matt" starts fading when you clean the dirt roughly. Imagine spending so much on renovation but not being able to keep it presentable due to it fading off of color.
Plus, container and catalog colors were significantly different. People couldn't be more upset once they bought a container and figured the color was not the one they chose.
The 'Dulux Matt Emulsion Pure Brilliant White' letdown customer expectations the most.
It had a patchy finish and an orange tint to it. You sure don't want your white walls to have an orange accent.
Their "Velvet Touch Coating" had no shine. Even though it's claimed to be the best this brand has to offer.
Also, fumes are potent when you paint walls with Dulux. Even after two days, the strength of the smell gave people headaches.
Some reviews mentioned how their paint could be a breeding ground for fungus. They noticed that when it rained, so fungus started growing all over their exterior walls.
Reasons to Avoid:
Poor coverage
Paint fades out
Peeling visible
No shine
Takes time to dry
Patchy finish
Strong fumes
Fungus grows on the paint after rain
2. Asian Paints
It stands as India's most prominent and Asia's third-largest paint company. Apart from paint, it manufactures wall primers, stainers, and wood primers. But, let's discuss what their paints bring to the table.
One of the significant issues with this brand is its third-party contractors. They've ruined the brand image with their practices.
Mostly, they misguide you about the time required to complete the job and trap you into hiring them.
Plus, the painters are not skilled at all. They have no expertise in painting, and it is almost like they are learning by experimenting on your walls.
Color selection is very crucial when choosing this brand. People select one color, and the painters mix it with others to give you the opposite one.
You have to monitor them so that they don't mess up the colors. Blistering and black spots are visible within a year.
Crack filling is not done professionally either, so they are prominent too. Worst paint brand for sure!
Their Damp-proof paint claims 6 degrees of heat reduction. But, it doesn't deliver it.
When people complained about it, the brand representatives mentioned that it only meant surface heat reduction.
The after-paint clean-up involves washing with water. This made customers angry since it ruined the polish of their doors and windows.
Reasons to Avoid:
No value for customer satisfaction
No sanding of the wall if left unmonitored
The paint peels off in no time
Painting is completed in more time than mentioned
Lack of skilled labor
Black spots are seen on the paint
False claims
Clean-up messes with the polish of windows
3. GoodHome Paint
It is B&Q's brand. This brand set foot in the market to provide affordable options to the ones refreshing the look of their homes on a budget. Let's see if the brand provides good quality on a low budget.
To be honest, it doesn't. This brand is especially disliked because of the smudging it undergoes upon slight wiping.
People said they couldn't stop their pets from rubbing past their walls, so it's the brand that should have considered it.
Plus, the smell is suffocating. It settles in your system and makes you feel nauseous. It would be best to look out for other brands since this smell will make you feel sick.
The consistency is so thin that it's inconvenient to use. You have to put up multiple coats, and the paint splatters all around the wall area.
Surprisingly, even after multiple coats, the finish isn't even. You sure don't want your well-decorated living room to be spoiled by the uneven finish of the paint.
Also, cracks are visible for 24 hours. after applying the paint. Not just that bubbles pop up, and patchiness overtakes. Can it get any more disappointing?
Some people voiced their thoughts that the color of the walls appears darker than the guide.
Many people chose the wrong color, and the customer service didn't resolve the issue.
Another issue was the damage it did to brushes. Buyers said it couldn't be removed from the brushes whatsoever. So, it's almost like you are signing up for losses only.
Reasons to Avoid:
Says it's washable but isn't
Undercoat peels off
Smell causes nausea
Uneven finish
Bubbles pop up
Can't remove paint from the brushes
4. Fired Earth
The Fired Earth collection includes 120 colors and paints for wood, wall, ceiling, and metal.
There are multiple reasons behind considering this company among the worst paint brands; let's lay those down.
As soon as customers opened the container, they saw a thick paint buildup near the lid.
This thickened and stiff buildup in the paint was seen once the paint was applied to the wall too. It didn't give a smooth finish.
Plus, the coverage is too less. It doesn't look wholly opaque even after applying several coats. They ignore the customer's concerns.
If you hire a home painting service, they'll also mess up your valuables. You surely don't want your antique pieces to get spoiled just like that.
Also, the area representatives commit to a time to resolve customer complaints. But then some reported that they never show up. It's like fooling customers with their money and time.
Fired Earth is heavy on the pocket. It's not something you could try out to check how it looks on your walls since it costs hefty.
The paint claims to be washable; however, it starts coming off once you wipe it. What was the need to advertise it that way if your brand can't fulfill it?
Reasons to Avoid:
Bulging seen on painted walls
Less coverage
Customer demands are not a top priority
Representatives do not show up
Pricier
Not washable
5. Glidden
PPG Industries manufacture Glidden. It introduced the first water-borne latex paint. But ever since, it has disappointed many buyers.
Here are all the reasons why Glidden is one of the worst paint brands.
This brand uses the tactic of increasing its profits by adding a lot of water to the paint.
That way, the volume increases. As a result, you have to cope with a runny consistency.
Upon drying, their paint leaves stains and looks clumsy. It looks as if the owners applied the paint for many years due to the untidiness. Plus, the clumsiness looks ugly too.
Some customers reviewed their paint has poor wear resistance. This means it wears off quickly on exposure to the sun or any environmental changes.
Good brands offer durability since people let their paints remain the same for years.
Like other worst brands, it dries slowly. You have to tolerate the long tiresome process of getting your house painted, and the odor is another pain while using this.
Regarding the odor, many people complained that it caused a burning sensation in their throat and led to continuous sneezing too.
This happened when people used their ceiling paint. They went to the doctor, and the doctor confirmed it was due to the paint.
Reasons to Avoid:
Not a very captivating range of colors
Watery product
Untidy finish
Poor wear resistance
Dries slowly
Health Hazard
Some other worst brands that you might want to avoid:
Conclusion:
Painting your rooms to freshen up the look is a good choice. It enhances your mood and cover marks.
Surprisingly, it also improves the air quality in the interior and gives you the confidence to host new guests.
But, sometimes, all this can lead to loss instead of an investment. Hence, we wrote this article to ensure you know the worst paint brands that are a waste of your money.
This way, you won't stare sadly at your chipping wall. If you have any queries, let us know in the comments section below.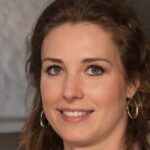 Crystal Hafley is a dedicated writer and content creator for WorstBrands, where she specializes in writing insightful reviews about kitchen appliances and fashion products.
With her expertise, Crystal provides readers with accurate and reliable information to help them make informed decisions about the brands and products they use every day. When she's not researching or writing, Crystal enjoys cooking and exploring the latest fashion trends.