Professionally treated hair looks captivating, but everyone knows how burdensome it can be to our pockets.
Finding an affordable and effective alternative seemed impossible. But then my good friend introduced me to Sebastian Shampoos.
What a game-changer for my hair game! Read more about it in this Sebastian Shampoo Review!
Sebastian Shampoo Review
In this blog, I will review a few of my favorite Sebastian Shampoos.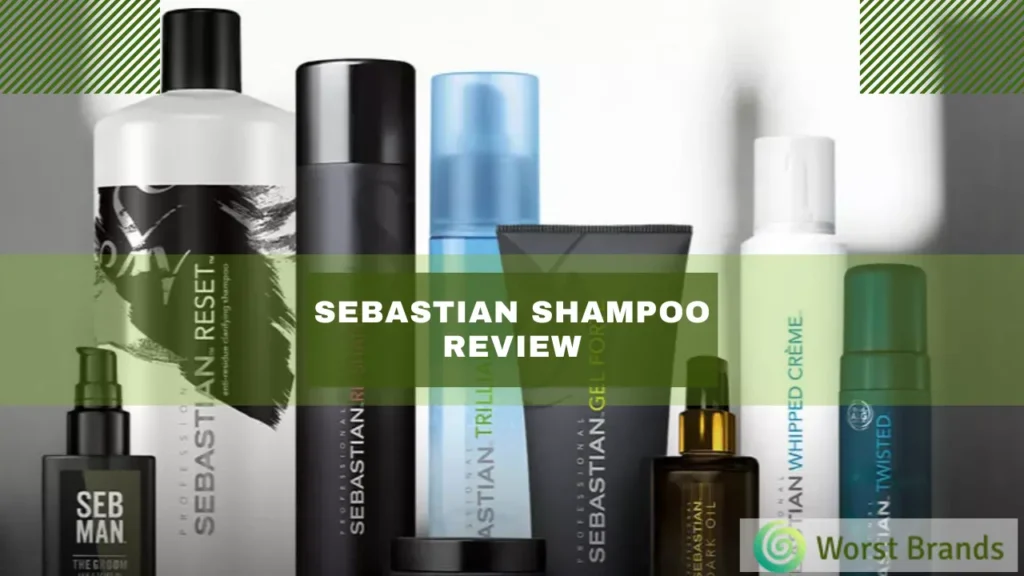 Similar Blog: SachaJuan Shampoo Review 2023 – My Experience
1. Reset Anti-Residue Shampoo
Whether you lead a busy outdoor life or have a stubborn buildup, eliminating the residue from your hair can be challenging.
I used to face this same issue, and every option I tried was short-lived. Things changed when my friend recommended this Reset Anti-Residue Shampoo.
It provides a deep cleanse, gently removing all sorts of residue, even the clingy styling products, in a single wash, leaving your hair naturally smooth and shiny.
The formula is also color-safe, with its color-retention properties. My hair has become manageable and easy to style with each wash.
Note that this is a clarifying shampoo that helps clear the excess buildup with a deep cleanse.
Due to its potent formula, this shampoo is not recommended daily, which might lead to a dry scalp or strip the hair of its natural oil.
Pros
Eliminates residue
Smoothing
Adds shine
Cons
2. Penetraitt Shampoo For Damaged Hair
Most people live in constant worry due to their dry and damaged hair.
My friend was one of them; after a few chemical treatments and dyes, her hair started to get severely damaged.
Her hair was saved by a thoughtful stylist who recommended this Penetraitt Shampoo.
Penetraitt Shampoo drastically lathers up well, and improves hair texture, leaving them healthy, moisturized, and soft without weighing hair down.
Its deeply moisturizing formula helps strengthen each damaged strand with an effective restore and rescue system. It also reduces breakage and protects hair against impurities.
This repairing shampoo works heavenly on color-treated hair by enhancing the radiance.
However, this shampoo is not sulfate-free, which may cause irritation and itchiness to some users. Take a patch test before you make the purchase.
Pros
Strengthening
Moisturizing
Repairs Damage
Cons
3. The Boss Hair Thickening Shampoo
Thinning of hair and persistent hair fall are becoming common amongst men. My brother's hair was getting thinner than his patience with each passing day.
This issue had to be solved, so I decided to get him this Hair Thickening Shampoo.
We noticed a visible change in a few weeks as his hair became more voluminous and fuller.
This shampoo gives a refreshing and deep cleanse, leaving the hair smooth, nourished, and healthy with an appealing scent.
The formula is packed with Guarana extract that stimulates hair growth, while bergamot works as an antioxidant to smoothen the hair.
However, this shampoo contains propylparaben that, with daily use, can strip the hair's natural oil.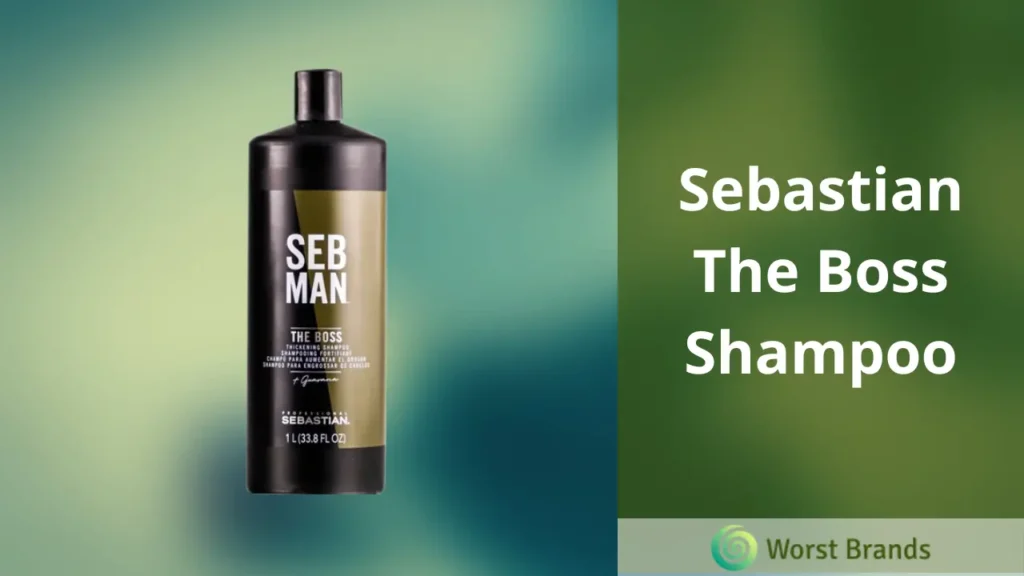 Pros
Thickening
Deep Cleanse
Nourishing
Cons
Comparison Table of Different Sebastian Shampoos
| Products | Treats Damaged Hair | For All Hair Types | Sulfate Free |
| --- | --- | --- | --- |
| RESET ANTI-RESIDUE SHAMPOO | Yes | Yes | No |
| PENETRAITT SHAMPOO FOR DAMAGED HAIR | Yes | Yes | No |
| THE BOSS HAIR THICKENING SHAMPOO | Yes | Yes | No |
| | | | |
| --- | --- | --- | --- |
| Product | Treats Damaged Hair | For All Hair Types | Sulfate Free |
| RESET ANTI-RESIDUE SHAMPOO | Yes | Yes | No |
| PENETRAITT SHAMPOO FOR DAMAGED HAIR | Yes | Yes | No |
| THE BOSS HAIR THICKENING SHAMPOO | Yes | Yes | No |
Customers' Review on Sebastian Shampoos
Customers worldwide have shared their gratitude for its professional and effective shampoos.
Sebastian Shampoos are declared Top-notch hair care by its user. Most shampoos have impressive ratings of 4.6 out of 5 on different platforms.
The majority don't feel the need to go to the salons as often as before.
Consumers with different concerns claim their hair is left smooth, nourished, and thick.
People with quick buildup and residue issues praise its anti-residue shampoo for its incredible results.
However, some shared their concerns about the potential damage of sulfate included in these formulas, as most people opt for sulfate-free shampoos these days.
But these Shampoos are not for daily use, so the risk of your hair getting damaged is minimized.
Are Sebastian Shampoos Good?
Sebastian Shampoos, with its Professional range, are recognized around the world. These shampoos target all kinds of hair concerns.
High-performing ingredients provide a deep cleanse that strengthens, volumizes, and moisturizes the hair.
As a result, hair becomes more manageable and easy to style. For being a professional brand, Sebastian retails its shampoo at an affordable price. You can get a 33.8 FL OZ bottle at $40 ($1.18/FL OZ).
Hence, in our opinion, Sebastian Shampoos are worth the try.
Also, read our following blogs to know more about other shampoo brands:
Common Ingredients Found in Sebastian Shampoos
Here are some common ingredients found in every Sebastian Shampoo.
Aqua/Water/Eau
Sodium Laureth Sulfate
Cocamidopropyl Betaine
Citric Acid
Fragrance/Parfum
Cocamide-Mea
Sodium Benzoate
Sodium Chloride
Salicylic Acid
Tetrasodium-Edta
Sodium Hydroxide
Methylparaben
Glycerin
Benzyl Salicylate
Linoleamidopropyl Pg-Dimonium Chloride Phosphate
Propylene Glycol
Guar-Hydroxypropyltrimonium Chloride
Hexyl Cinnamal
Linalool
Limonene
Tocopheryl Acetate
Why Choose Sebastian Shampoos?
There are many reasons for choosing Sebastian Shampoos, but here are a few.
Sebastian's targets all hair concerns with its wide range of effective shampoos.
It helps Strengthen hair strands and adds thickness to the hair.
These shampoos dramatically eliminate the buildup and residue.
After every use, the hair is left smooth, soft, and shiny with its deep moisturizing formula.
It also prevents breakage and persistent hair fall.
Sebastian Shampoos help to repair damaged and dry hair.
These Shampoos are formulated with the help of qualified professionals.
Where to Buy the Sebastian Shampoo?
There are some of the common stores that retail Sebastian shampoos.
Amazon
eBay
Walmart
Target
Walgreens
CVS
Ulta
Riteaid
Drawbacks of Sebastian Shampoos
Here are some possible side effects of the ingredients used in Sebastian Shampoo.
Propylparaben is known to strip out your hair's natural oil and moisture, dry the scalp, and eventually cause hair loss.
Sodium Laureth Sulfate can cause skin and eye irritation and acne in people with sensitive skin.
Cocamide Mea can cause an allergic reaction, itchiness, rash, and mild dermatitis.
Salicylic Acid can cause dry skin, burning of the skin, stinging, and redness.
Frequently Asked Questions
Q1: How Often Should You Use Sebastian Shampoos? 
These shampoos are safe for daily use. However, they are recommended to use twice or thrice a week due to their long-lasting and potent formula. 
Q2: Is Sebastian Shampoo Color-Safe? 
Yes, all Sebastian shampoos are color-safe and do not strip the color. It enhances the color and makes them look bright and radiant. 
Wrapping Up
To conclude this Sebastian Shampoo Review, we would like to say a few things.
Sebastian Shampoos provides the finest treatment for hair and makes them strong, thick, and strengthen.
I had a positive experience with Sebastian Shampoo. The Reset Anti-Residue Shampoo deeply cleansed my hair and eliminated residue, leaving it smooth and shiny.
However, I did notice that some of these shampoos contain sulfates and propylparaben, which may be a concern for some users.
It is important to do a patch test and consider your hair needs before using any hair care product.
Overall, I have been satisfied with the results I have achieved with Sebastian Shampoos.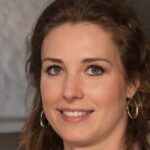 Crystal Hafley is a dedicated writer and content creator for WorstBrands, where she specializes in writing insightful reviews about kitchen appliances and fashion products.
With her expertise, Crystal provides readers with accurate and reliable information to help them make informed decisions about the brands and products they use every day. When she's not researching or writing, Crystal enjoys cooking and exploring the latest fashion trends.