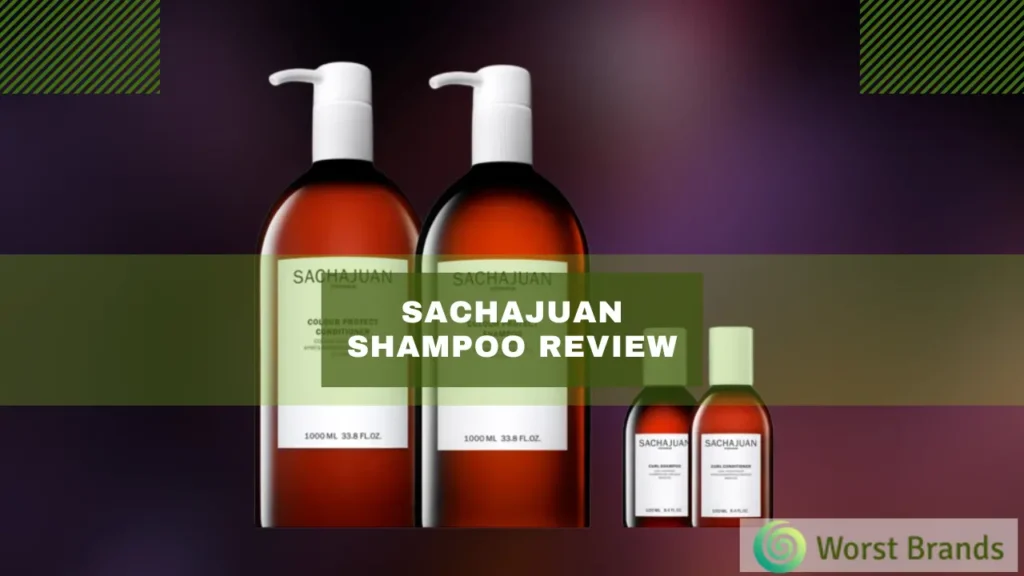 SachaJuan is a well-known brand known for premium hair care products such as shampoos.
This brand is quite popular worldwide, and several people in my family use it, including my cousin.
Since these products started rising in popularity, I have considered reviewing them.
Without wasting any time, let's dive right into this SachaJuan Shampoo Review and see what these shampoos offer.
SachaJuan Shampoo Review
Here are some of the most popular shampoos sold by Sachajuan.
1. Thickening Shampoo
This shampoo uses a special formula with ingredients that can have a pumping effect on your hair.
The Glycereth-2 Cocoate used in the Thickening Shampoo is a coconut ester. It is an effective moisturizer that nourishes your hair while thickening each strand.
This product's vegan and cruelty-free formula can expand your hair to increase its overall volume and texture.
Moreover, this shampoo can protect your hair from environmental damage, such as heat and pollution.
However, this product contains sulfates such as Sodium Laureth Sulfate, which may strip the moisture and natural oils from your hair.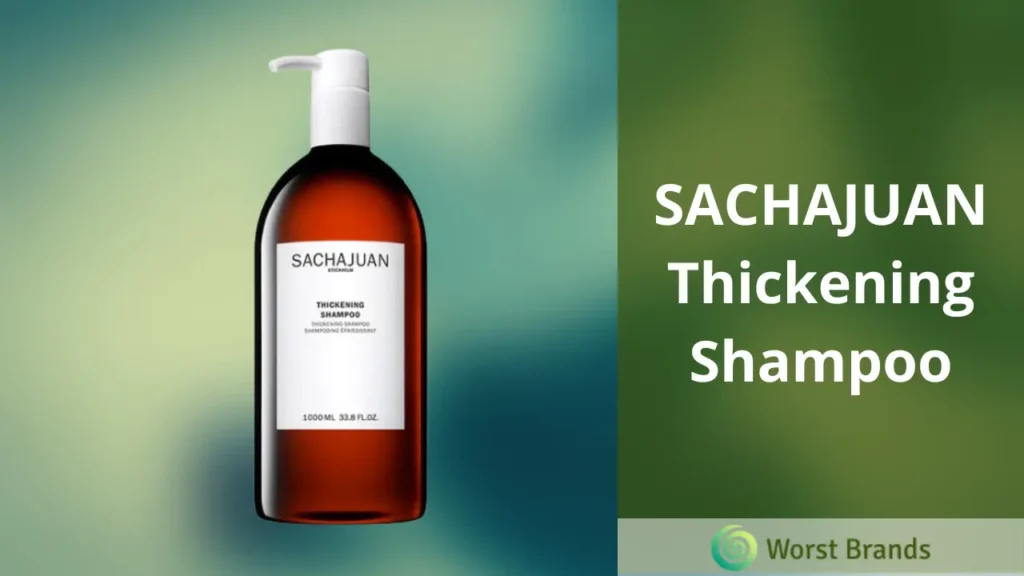 Pros
Thickens hair
Increases volume
Protection from environmental damage
Cons
2. Moisturizing Shampoo
The SachaJuan Moisturizing Shampoo is one of a kind. It contains multiple humidifiers that can prevent your hair from going dry.
The formula is made with natural ingredients that do not contain parabens and is safe to use.
Like other SachaJuan shampoos, this product also contains a vegan composition and is a cruelty-free shampoo.
The unique combination of Citric Acid and Citronellol nourishes your scalp and provides significant hydration to your hair.
Moreover, this shampoo has a pleasant smell that will leave you refreshed.
The one thing I don't like about this shampoo is its price. The 32 Fl Oz bottle can cost almost $100, which makes this product a bit expensive.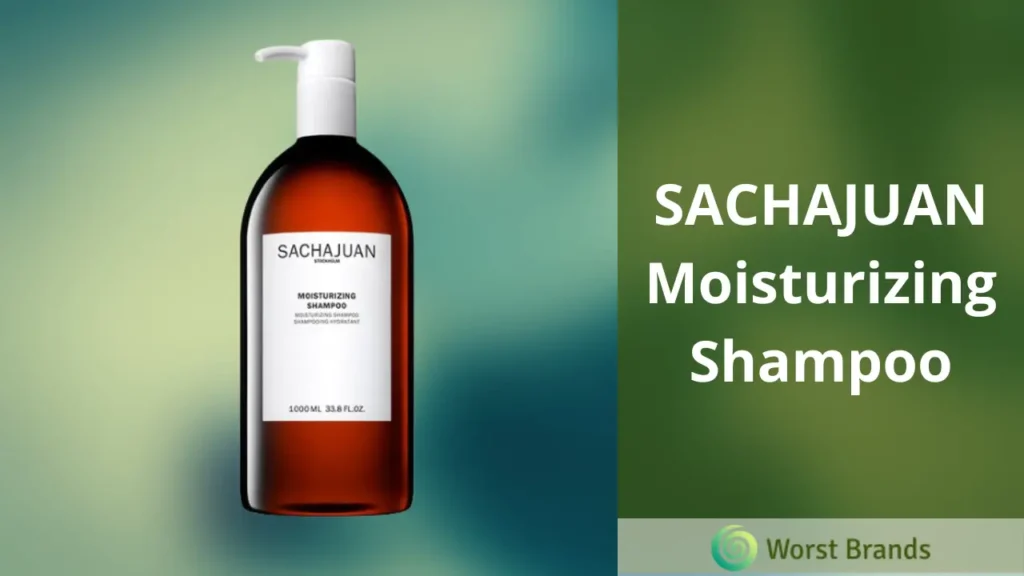 Pros
Parabens free
Moisturizes hair
Great smell
Cons
3. Scalp Shampoo
The Scalp Shampoo, developed and sold by SachaJuanis an all-in-one solution for anyone with an irritated scalp.
This product contains the ultimate combination of menthol, Rosemary Oil, and Ginger extracts that can completely treat your irritation and itching.
These ingredients can also have a soothing effect, and you can enjoy soft, smooth hair.
The SachaJuan Scalp Shampoo contains salicylic and lactic acid, which can improve your scalp health, remove dead skin and reduce dandruff.
This shampoo is a great option to combat dandruff and have cleaner, healthier hair.
My cousin has been using this product for months, and I have significantly improved her dry and damaged hair.
However, this formula may be strong and unsuitable for everyone, especially people with color-treated hair.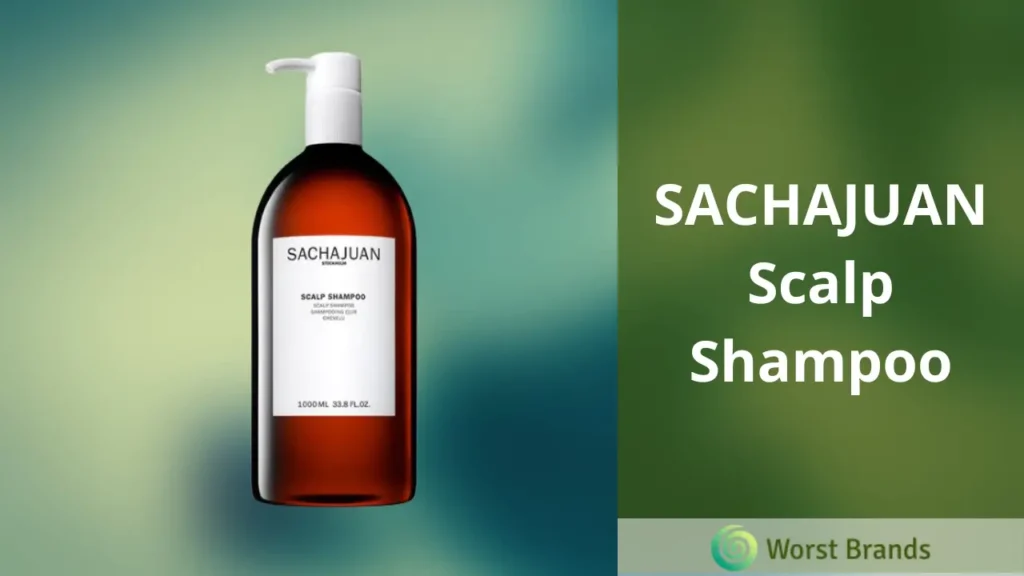 Pros
Reduces scalp irritation and itchiness
Combats dandruff
Soft, smooth hair
Cons
Comparison Table of Different SachaJuan Shampoos
| Products | Treats Damaged Hair | For All Hair Types | Soft, Shiny Hair |
| --- | --- | --- | --- |
| Thickening Shampoo | Yes | Yes | Yes |
| Moisturizing Shampoo | Yes | Yes | Yes |
| Scalp Shampoo | Yes | No | Yes |
Similar Blogs:
Customers' Feedback about SachaJuan Shampoos
This SachaJuan Shampoo Review would be incomplete without some honest words from customers.
With an Amazon rating of 4.7 and above for each product, this brand is loved by thousands of customers worldwide.
Most of these comments show positive reviews for the product. Some customers claimed that the shampoos improved their damaged and dry hair in less than 2 weeks.
On the other hand, some consumers loved the smell of the shampoos, claiming that the gentle fragrance is long-lasting and keeps them fresh throughout the day.
I also asked my cousin, who has been using these shampoos for a long time.
According to her, these shampoos offer incredible nourishment while reducing split ends and hair breakage.
However, she didn't like the price and packaging of the product. Some consumers on Amazon had similar remarks as their product leaked during shipping.
Common Ingredients of SachaJuan Shampoos
Let's look at some of the ingredients used to make these shampoos.
Water
Sodium Laureth Sulfate
Salt
Glycerin
Cocamidopropylbetaine
Citric Acid
Salicylic Acid
Rosemary Oil
PiroctoneOlamine
Sorbic Acid
Fragrance
Citronellol
Hydrolyzed Wheat Protein
Phenoxyethanol
Glycereth-2 Cocoate
Climbazole
Salicylate
Sodium Benzoate
Potassium Sorbate
Ginger Root Extract
Linalool
Benzalkonium Chloride
Menthol
Limonene
It is important to note that these ingredients might change at any time.
Is SachaJuan Shampoo Worth It?
The unique formula is highly beneficial to improve the quality of your hair. This makes SachaJuan Shampoo completely worth it.
A lot of people consider these shampoos to be expensive. A single 1-liter bottle can cost up to $100. However, we cannot judge a product based on price alone.
The nourishment and benefits provided by these shampoos outweighed the price.
7 Reasons to Buy SachaJuan Shampoo
Here are some reasons you should consider changing your everyday shampoo to SachaJuan.
The products contain a vegan formula and are cruelty-free.
SachaJuan shampoos can moisturize your scalp while improving the texture and quality of your hair.
These shampoos are free of harmful chemicals such as Parabens and silicones that can damage your hair.
The shampoos are extremely accessible, and you can purchase them worldwide.
With the great nourishment provided by these products, you can experience soft, shiny hair.
The products have a refreshing scent that can last all day.
These shampoos protect your hair from environmental damage, such as heat and pollution.
Where to Buy SachaJuan?
Here are some of the popular stores where you will find SachaJuan Shampoos.
SachaJuan
Amazon
Walmart
Target
Ubuy
eBay
Sephora
Nordstrom
Apart from these, some local supermarkets, pharmacies, and beauty stores may also be able to sell you these shampoos.
However, you should call and confirm its availability before going.
Is SachaJuan Shampoo Sulfate Free?
Unfortunately, the shampoos developed by SachaJuan do contain sulfates. However, the quantity of these surfactants is controlled.
Possible Side Effects of SachaJuan Shampoos
No product is perfect, and potential side effects can be expected from any shampoo, including Sachajuan.
Let's take a look at some of them.
All the shampoos made by SachaJuan consider Sodium Laureth Sulfate, which can strip the moisture from your hair and cause dryness.
Excess usage of Climbazole on your scalp can cause redness, itching, and irritation.
Linalool is a common ingredient used in many shampoos for fragrance. However, many people are allergic to this chemical compound and may experience irritation.
While menthol is a great way to experience a cool head, it can cause a burning sensation if you have sensitive skin.
Frequently Asked Questions
Q1: Is SachaJuan Shampoo Safe? 
Yes, SachaJuan shampoo uses vegan ingredients that are quite safe to use. The formula is not too strong, and the quantity of sulfates is controlled, which makes them safe. 
Q2: How to Use SachaJuan Shampoo? 
SachaJuan shampoos are developed for regular usage. You can use the shampoo by taking a small amount of product and applying it to your wet hair. Massage your scalp for 1-2 minutes before rinsing it out. 
Bottom Line
SachaJuan products offer one of the finest hair care solutions and are used by people worldwide.
These shampoos greatly benefit your hair and improve your beautiful strands' texture, quality, and health.
While they may be expensive products, they can significantly improve your damaged hair.
We have decided to try these shampoos and recommend you do the same.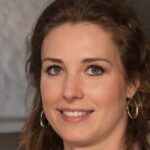 Crystal Hafley is a dedicated writer and content creator for WorstBrands, where she specializes in writing insightful reviews about kitchen appliances and fashion products.
With her expertise, Crystal provides readers with accurate and reliable information to help them make informed decisions about the brands and products they use every day. When she's not researching or writing, Crystal enjoys cooking and exploring the latest fashion trends.