Are you scared of washing your hair every day?
You are not alone. When I embarked on my fitness journey, I was drenched in sweat. Consequently, I had greasy hair.
To solve this, I washed my hair daily. We all can guess how that must have gone.
Seeing my damaged hair, my trainer introduced me to Calia Shampoos. Miraculously, they saved me! Walk through my journey in this Calia Shampoo Review.
Calia Shampoo Review:
When my trainer introduced me to Calia Shampoo, I was skeptical. She had straighter hair, while my curls needed more love.
Still, I ordered a shampoo suitable for my high-maintenance hair. Within 8-10 weeks, I could feel a visible difference in texture. I even recommended it to my friends!
In this blog, I will review my 3 favorite Calia Shampoos.
1. Calia Organic Hydrating Shampoo
When I first researched, the Calia website was a big help. They have filters to show products by specific concerns.
So, I ordered the Calia Organic Hydrating Shampoo. This is typically what beginners should use during their transition.
This shampoo essentially "detoxes" the scalp. Thereby removing any synthetic build-up from other shampoos.
The results did not start showing immediately; however, after the recommended time, my texture improved.
The shampoo infuses essential oils from Lavender, Rose Geranium, and Bergamot. Organic tree sap from BC's Forest maintains a natural preservative shelf life.
The shampoo works for all hair types and has a more scalp-focused formulation.
Some of the main ingredients I see are horsetail extract, olive oil, and Chamomile extracts,
This help to cleanse the scalp and leave a soothing feeling. It carries antioxidants like nettle leaf extract and clover flower extracts.
I bought the 240 ml bottle. You can also get this in 360 ml, 1 liter, and gallon sizes. You can also use Calia Organic Moisturizing Shampoo for similar results.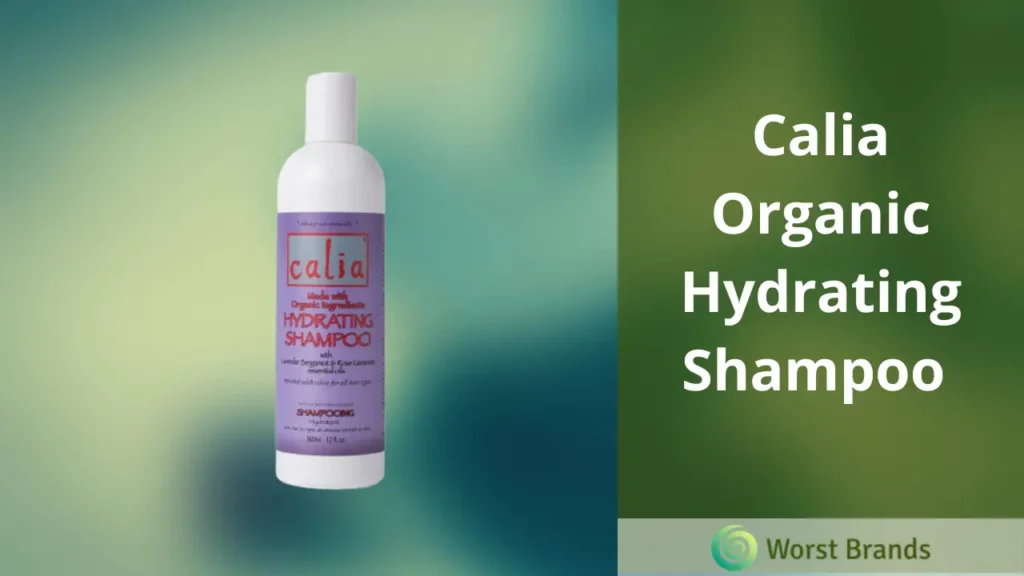 Pros
Sulfate-free
Silicone free
For All Hair Types
Cons
2. Calia Organic Balancing Shampoo
After the transition period, I was ready to try out some targeted formulations.
Though I had no complaints with the hydrating formulation, I did experience dry hair and a dry scalp.
The changing weather lifted the cuticles, and I was prepared for the imminent shedding spree.
So, as a countermeasure, I ordered the Calia Organic Balancing Shampoo.
This shampoo works primarily for dry scalps and dry hair. The shampoo also countered my seasonal dryness.
Your hair will be nourished and moisturized, and the shampoo will also repair split ends. The main ingredients at work are Moroccan Cedarwood and Rosewood oils.
The shampoo is also packed with antioxidants and soothing ingredients. Like the other shampoo, I used it consistently before seeing any results.
It reduced my fizziness, added shine, and made my hair more manageable. I used it with the Balancing leave-in Conditioner for better results.
You can also use this shampoo if you have a normal scalp and hair. You should also opt for this shampoo if your scalp is oily with dry ends.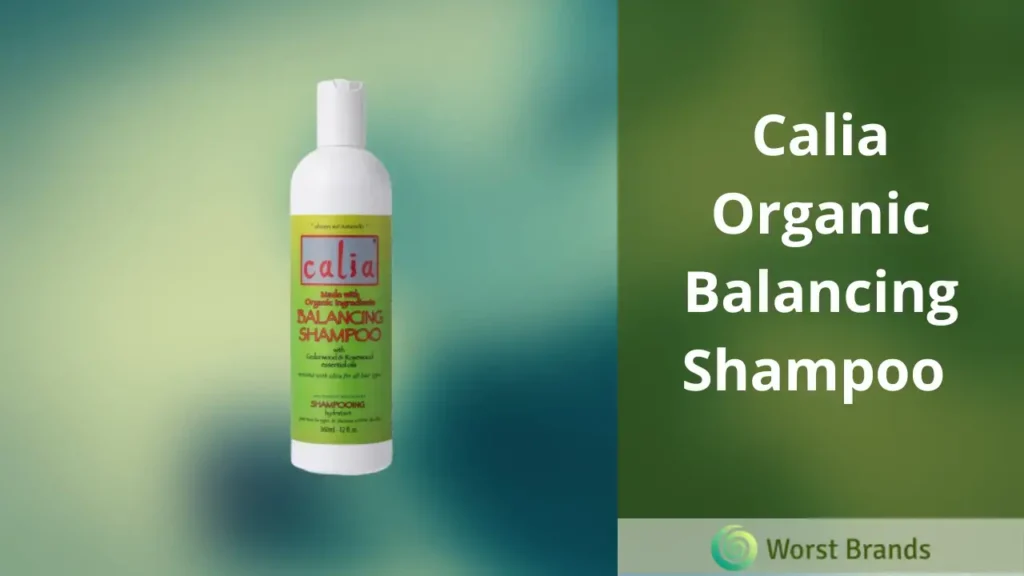 Pros
Sulfate-free
Parabens free
No Propylene Glycol
Cons
3. Calia Organic Curative Shampoo
Remember the trainer who sent me down the rabbit hole? She uses the Calia Organic Curative Shampoo.
She had an Oily scalp and greasy hair. When paired with back-to-back workout sessions, the build-up is insane.
This Salia Shampoo makes the hair soft, shiny, and manageable. You can also use this if you have especially dry and damaged hair.
My favorite ingredients are Silica and Olive Oil. Each of these helps to lessen hair loss and improve texture respectively.
The other natural ingredients are nettle leaf, Chamomile flower, and Pine extracts. This is an incredibly gentle formulation.
You can blend in 20 to 30 drops of your favorite essential oils and invert the bottle. Shake well and apply to wet hair.
It leaves your hair smelling like the scent of your choice. The notes can be woody, citrus, or floral.
Make sure not to skip the conditioner to seal the cuticles. This reduces split ends and curbs oil production.
Pros
For especially Oily or Dry Scalp
Sulfate-free
No DEA
Cons
Does not have a Conditioner yet
Comparison of Different Calia Shampoos
| Products | Sulfate Free | For All Hair Types | Parabens Free |
| --- | --- | --- | --- |
| Calia Organic Hydrating Shampoo | Yes | Yes | Yes |
| Organic Balancing Shampoo | Yes | Yes | Yes |
| Calia Organic Curative Shampoo | Yes | No | Yes |
Customers' Review on Calia Shampoos
Customers of different niches have different beliefs to uphold. Calia fans are not shy to promote the product.
Since the shampoo is not retailed at major e-marts, we cannot give you exact ratings.
However, we have found multiple comments by Calia users under other product reviews.
One fan says," I used Calia Shampoo due to a delivery error, and it is my best shampoo yet!"
Others just love the packaging. I love how the formulations and the packaging too. However, the product takes a long to show any results.
Still, I would not want it any other way.
You might also like to read:
Are Calia Shampoos Good?
Yes, Calia Shampoos are worth it.
We review multiple natural shampoos marketed as "organic' and 'green." However, most of them have harsh, plant-based surfactants and preservatives.
Calia shampoos are free of parabens, sulfates, silicones, DEA, Propylene Glycol, etc.
The company demonstrates greater transparency in disclosing its ingredients. So, I would rebuy it.
The shampoos are under $13! This is a drugstore option, and you can make significant savings on bundle deals and bigger sizes.
Common Ingredients in Calia Shampoos
Calia formulates different shampoos for different hair concerns hair types. Though serving a unique purpose, Calia shampoos usually contain the following ingredients.
Aqua (water)
Coco Glucoside
Potassium Cocoate
Fruit Oil Extracts
Wood Extracts
Leaf Extracts
Glycerin
Citric Acid
The company uses a variety of natural sources for extracting compounds. Here are a few of the raw materials for Calia shampoos.
Pine
Coconut Oil
Alfalfa
Chamomile
Nettle Leaf
Clover Flower
Horse Tail
Olive oil
Lavender Oil
Rose Geranium Oil
Green Tea
Rosewood
Rosemary Oil
Clary Sage Oil
Where to Buy Calia Shampoo?
Calia Naturals, based in Canada, can only sell its products through limited options.
While you may get Calia shampoos at retail stores in Canada, you can only try your luck online elsewhere.
You can buy Calia Shampoos through the official website. The company uses third-party shipping services for orders worldwide.
European customers can also get their hands on Calia Shampoos through So Natural Beauty, an online retailer. This collaboration gives European Customers faster access.
Reasons to Choose Calia Shampoos
Here are some of the reasons to choose this shampoo.
Calia Naturals uses certified organic oils and botanicals. These are tailored into different formulations for different concerns.
They are safe for color-treated hair. These gentle formulas help to rejuvenate hair without affecting its color.
Calia Naturals makes 100% vegan products. They have removed beeswax from the formulation. The labels are yet to be updated.
The brand is cruelty-free. It does not employ animal testing.
All ingredients are ethically sourced.
The preservatives and other ingredients do not cause build-up. You can use these in the long term.
The formulations are Hypoallergic and environmentally friendly.
Possible Drawbacks of Calia Shampoos
Quite rarely, such a situation arises when the product is so good we cannot find any side effects.
In the case of Calia Shampoos, the formulations are benign. However, some essential oils in shampoos are not safe for pregnant women.
If you are pregnant, you should avoid aniseed, thyme, cinnamon, rose, basil, fennel, and clary sage oils.
These can potentially cause uterine contractions. This harms the early development of the baby.
Frequently Asked Questions
Q1: Will Calia Ship to My Country?
Calia Naturals ships to most countries worldwide via third-party shipping services. You can also choose between different ways to get faster delivery.
Unfortunately, Calia does not ship to Spain due to customs restrictions.
Q2: Are Calia Shampoos Sulfate-Free?
Yes, All Calia Shampoos are free of harsh SLES/SLS surfactants. The surfactants dry out the hair.
The shampoo did not form a rich lather when I used it but was very gentle.
Conclusion
To sum it up, Calia Naturals is a vegan, cruelty-free, and organic brand. They are free of harsh sulfates, parabens, and other irritants.
Calia Shampoo can be the solution you've been searching for if you struggle with maintaining healthy hair.
From hydrating shampoos that detox the scalp to curative shampoos that help with oily or dry scalps, Calia offers a range of options to suit your specific needs.
These shampoos are a good value for money. However, it is tricky to get them. Even through website ordering, the products get mixed up at customs.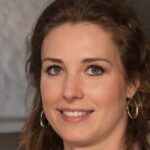 Crystal Hafley is a dedicated writer and content creator for WorstBrands, where she specializes in writing insightful reviews about kitchen appliances and fashion products.
With her expertise, Crystal provides readers with accurate and reliable information to help them make informed decisions about the brands and products they use every day. When she's not researching or writing, Crystal enjoys cooking and exploring the latest fashion trends.