Many people in the world experience dry and dull hair as it is very common for moisture to escape your scalp.
This leads to problems such as thin and fragile hair or dandruff, eventually leading to hair fall.
I was experiencing the same problems until I found the perfect product to treat the root cause.
Ever since I started using the Nexxus Shampoo, my hair has improved. Hence, I decided to write this review.
Let's get right into this Nexxus Therappe Shampoo Review without wasting any time.
NEXXUS Therappe Shampoo Review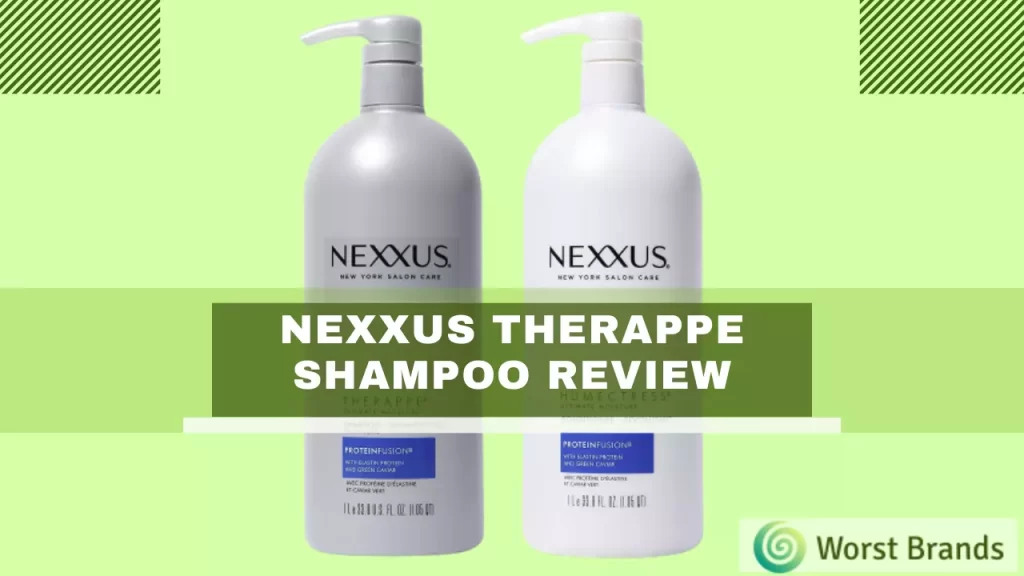 Related: Worst Shampoos
It is an all-in-one solution for dry hair that many customers worldwide use.
Nexxus Therappe shampoo contains ingredients that revitalize your hair and leave them silky, smooth, and beautiful. It gets rid of dry fibers, and also possesses a great scent.
Furthermore, Coconut oil in the shape of Cocos Nucifera improves damaged strands and encourages healthy hair growth.
Coconut oil can also strengthen thin hair, reducing hair fall.
It contains several hydrolyzed ingredients that keep your hair hydrated as the shampoo retains moisture.
Hydrolyzed Keratin is responsible for nourishment and hair growth, while Hydrolyzed Wheat Protein moisturizes your hair.
This wheat protein can go through your hair and moisture the roots deeply. It can also form a layer around your hair to protect it from heat damage and pollution.
Moreover, this product can add thickness and volume to your thin hair and make them look beautiful and natural.
This is a unique shampoo with natural ingredients and essential oils that adds shine and gloss to your hair.
However, everything good comes with a concern. This shampoo depends on sulfates to create a lather.
It may also be considered an expensive product for the same individuals, priced at $1.1 per Fl Oz.
Customer Reviews on NEXXUS Therappe Shampoo
With an Amazon rating of 4.5 stars out of 5, this shampoo is loved and consumed by people worldwide.
It has thousands of reviews, and many like to share their stories and talk about how great this hair product is.
I say this because more than 90% of consumer comments have been positive.
According to some users, the shampoo increased the volume and texture of their hair.
It was also beneficial for them as the moisture improved damaged strands.
While some consumers liked the fragrance of this shampoo, others fell in love with the nourishment formula.
I have been using this shampoo myself, and after months of use, I can say that the smell is just as good as the benefits.
It feels like a light coconut scent that leaves you refreshed throughout the day.
However, some consumers were unhappy with the use of sulfates in the product.
Another complaint that a few customers had was the packaging.
According to them, the packaging was not satisfactory, and in some cases, the shampoo leaked out.
Pros:
The shampoo is perfect for dry or frizzy hair.
The Nexxus shampoo revitalizes and replenishes the damaged strands.
It gives hair silky, smooth, and shiny look.
It hydrates the strands well.
It deeply cleans the scalp and removes all impurities.
It makes lather well.
Cons:
Doesn't reduce hair falls.
The shampoo is not suitable for daily use.
Ingredients of Nexxus Therappe Shampoo
Now let's discuss some of the beneficial, and harmful ingredients of Nexxus Therappe Shampoo.
Harmful Ingredients
The Nexxus Therappe shampoo is not manufactured 100% of vegan or organic products.
Almost 10% of ingredients are harmful to the hair and can stop hair growth used during its production. Let's discuss the:
Sodium Laureth sulfate – this ingredient strip off all the nutrients and moisture from the scalp leaving hairs unhealthy and dry. It may also cause prone to irritation and redness. It's a bit risky to use sulfates.
Perfume – It has the potential to damage your hair. This ingredient contains ethyl alcohol which has a drying effect on the skin.
Sodium chloride– if this ingredient is used in excess quantity, it can cause hair loss or dryness.
Effective Ingredients
Besides harmful ingredients, some effective ingredients are also used in its preparation.
Hydrolyzed elastin – It is a protein that is necessary for your skin and scalp. Along with collagen, it fortifies or nourishes the strands of follicles.
Hydrolyzed Caviar extracts – It protects the hairs against breakage and minimizes the effects of heat styling, sun rays, and chemical treatments. The ingredient is 30% protein, which contains lipids and helps reduce water loss and maintain hydration at the surface level.
Glycerin – it's a good ingredient for frizzy, curly, or thick hairs. Glycerin is a helpful ingredient for damaged hairs and tries well to stop breakage. It promotes faster growth and prevents split ends. Moreover, it makes hair silky and shiny.
Citric acid – it is known to remove sebum or debris from the scalp and give hair a shiny look. It improves blood circulation, prevents moisture loss, and hydrates the roots well.
Gluconolactone is derived from sugar beet and is a poly-hydroxy acid. It helps to hydrate, soothe, or soften the scalp and hair.
Is Nexxus Therappe Shampoo Worth It?
The Nexxus Theappe Shampoo comes in several denominations. You can get 3 Fl Oz or 5 Fl Oz to try this fantastic shampoo.
For consistent, long-term use, 13.5 Fl Oz and 33.8 Fl Oz bottles are there for you.
The price per Fl Oz varies between the denominations as the smaller bottles are much more expensive.
However, using the shampoo daily becomes a little bit affordable as the 33.8 Fl Oz bottle sells for around $25-$30.
The nourishment provided by this unique shampoo is terrific as it contains highly beneficial ingredients.
When considering the price against the quality of the product, I can confirm that this shampoo is worth every penny.
The benefits of this product far outweigh the retail price, and if you can afford it, you should try it out.
Also Read: Macadamia Shampoo Review 2023 – Is it Really Good?
Why Choose Nexxus Therappe Shampoo?
Here are some reasons why Nexus Therappe Shampoo is a great product.
Improves Damaged Hair
Nexxus Therappe Shampoo moisturizes your scalp and helps clean any harmful chemicals that can damage your hair.
The shampoo provides a silky smooth touch to the hair, making it look shinier and amazing.
The customized formula for each type of hair will make your hair look naturally excellent and healthy. To get rid of your dry hair, you should try Nexxus shampoo.
The Salon Look
Want to get rid of the expenses of the salon?
Nexxus Therappe shampoo offers top quality, which helps its customers have the hair of their choice. It helps increase the hair's volume and repair any damage.
The shampoo creates a look like you get after visiting any other salon and reduces the expenses of going to the salon every week.
Reduces Hair Loss
Nexxus Therappe shampoo works great for reducing hair loss. It provides all the necessary nutrients for your hair needs and reduces the oil, which can damage your hair.
The ingredients are good for adding volume to the hair and reducing thin hair.
Where to Buy Nexxus Therappe Shampoo?
The Nexus Therappe Shampoo is available all over the world. You can check out their official website and use their store locater to find an affiliated store.
You can buy the shampoo in person from your nearest store, as you will also get the address and contact number.
Moreover, you can check out some of these popular stores where you will find this shampoo
Amazon
Target
Walmart
Walgreens
CVS
eBay
RiteAid
Ulta Beauty
CaretoBeauty
Apart from these, some local supermarkets, pharmacies, and convenience stores may also have this shampoo.
Frequently Asked Questions
Q1: Does Nexxus Therappe shampoo strengthen the follicles?
No. If you've thin hair or falling hair and opt for the Nexxus Therappe shampoo as a solution, it will be a waste of money. The Therappe shampoo doesn't strengthen the hair or not control hair fall issues.
Q2: Is Nexxus Therappe Shampoo Safe?
Nexxus Therappe Shampoo is a unique product with natural ingredients that are completely safe for regular use.
It does contain sulfates, but they are used in a controlled quantity to create lather.
Conclusion
It is clear that the Nexxus Therappe shampoo has both potential benefits and drawbacks for hair care.
I have found that the Nexxus Therappe shampoo has been helpful in improving the health and appearance of my hair.
It contains ingredients like coconut oil, hydrolyzed keratin, and hydrolyzed wheat protein that can nourish and moisturize the hair.
However, it's worth noting that the shampoo contains sulfates, which can be harsh on the hair and strip it of its natural oils.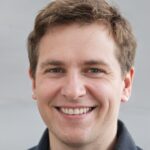 Steven Settles is a professional content writer with over 7 years of experience in writing for different niches, including brand reviews, technology, fitness, and more.
Currently, he is working as a content writer for WorstBrands, where he provides insightful reviews of different products, including home appliances, outdoor gear, fashion, and kitchen products. In his free time, Steven enjoys traveling and exploring new places.