We all know that a good shampoo is an absolute necessity. But with all the different brands and products on the market, it can be hard to find a shampoo that's right for you.
So if you are in the market for a shampoo, let's see how the NEXXUS Therappe Shampoo holds up against the competition.
It is well known for treating fragile or damaged hairs. So, in this NEXXUS Therappe Shampoo review, we'll discuss whether this shampoo deeply nourishes or strong the follicles? And what are their effects on oily, dry, or frizzy hairs?
If you're going to buy this shampoo, this review can add to your knowledge.
NEXXUS Therappe Shampoo Review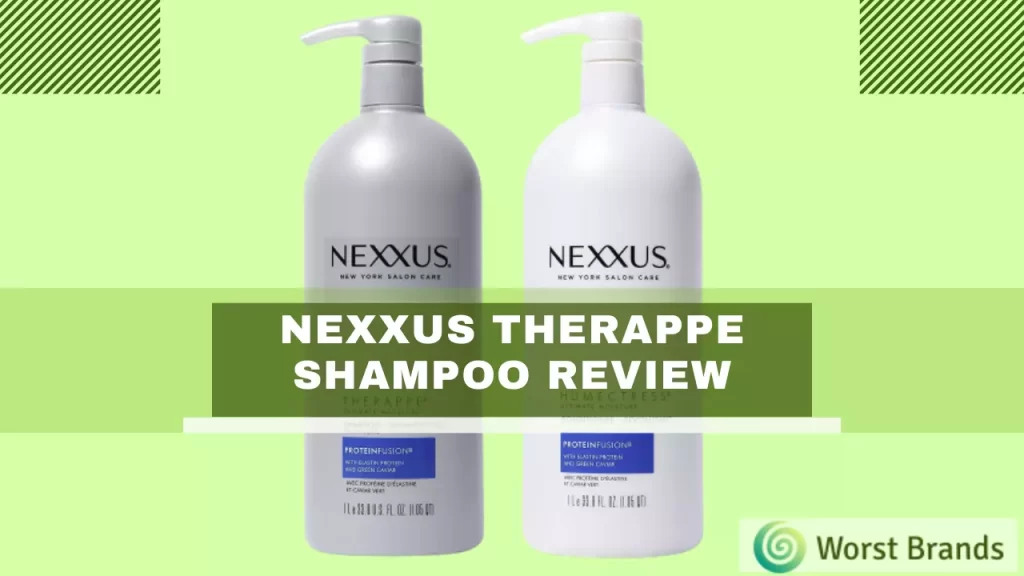 Related: Worst Shampoos
Nexxus Shampoo with elastin protein and green caviar fortifies the strands' anchor and helps maintain hair healthy and good looking. The shampoo is designed to rescue the visibly repaired dry hairs.
The Therappe shampoo claims it gives a hair salon-like look to transform damaged or dry locks into smooth or shiny ones.
It hydrates the follicles, restructures broken hairs, and nourishes the hairs, making them simple to style, manageable, smooth, and shiny.
The shampoo also revitalizes or refills the follicles and renews the hairs without weighing them down.
Water, sodium Laureth sulfate, Cocamidopropyl betaine, sodium chloride, hydrolyzed elastin, glycerin, and coconut oil were used to make NEXXUS Therappe Shampoo.
Our View on NEXXUS Therappe Shampoo
Let's start with positive facts, then will come to negative. The Nexxus shampoo is suitable for dry hair, especially in winter. It rescues the dry hairs, prevents them from split ends, and fights with static or detangled hairs, making them bouncy.
Makes bubbles up nicely; remove impurities or dirt from its first wash. The Nexxus shampoo hydrates well and gives smoothness and shine without getting rid of natural nutrients.
However, it does not work well on super thin hairs and doesn't make hair strong.
Now, if we talk about the negative points, shampoo price is not affordable, and the packaging is not too attractive. Almost 10% of ingredients are chemicals and can irritate the scalp.
As per customer's reviews, the shampoo doesn't eliminate excess oil, so not suitable for oily scalp.
Benefits:
The shampoo is perfect for dry or frizzy hairs.
The Nexxus shampoo revitalizes and replenishes the damaged strands.
It gives hair silky, smooth, and shiny look.
It hydrates the strands well.
It deeply cleans the scalp and removes all the impurities.
It makes lather well.
Drawbacks:
The shampoo is not suitable for oily or thin hairs.
It is not 100% chemical or sulfate-free.
The Nexxus shampoo doesn't have a solution for hair falls.
The shampoo is not suitable for daily use.
Ingredients of NEXXUS Therappe Shampoo
Harmful Ingredients
The Nexxus Therappe shampoo is not manufactured 100% by vegan or organic products.
Almost 10% of ingredients are harmful to the hairs and can stop hair growth used during its production. Let's discuss them:
Sodium Laureth sulfate – this ingredient strip off all the nutrients and moisture from the scalp leaving hairs unhealthy and dry. It may also cause prone to irritation and redness. It's a bit risky to use sulfates.
Perfume – it has the potential to damage your hair. This ingredient contains ethyl alcohol which has a drying effect on the skin.
Sodium chloride– if this ingredient is used in excess quantity, it can cause hair loss or dryness.
Effective Ingredients
Besides harmful ingredients, some effective ingredients are also used in its preparation.
Hydrolyzed elastin – it is a protein that is necessary for your skin and scalp. Along with collagen, it fortifies or nourishes the strands of follicles.
Hydrolyzed Caviar extracts – it protects the hairs against breakage and minimizes the effects of heat styling, sun rays, and chemical treatments. The ingredient is 30% protein, which contains lipids and helps reduce water loss and maintain hydration at the surface level.
Glycerin – it's a good ingredient for frizzy, curly, or thick hairs. Glycerin is a helpful ingredient for damaged hairs and tries well to stop breakage. It promotes faster growth and prevents split ends. Moreover, it makes hair silky and shiny.
Citric acid – it is known to remove sebum or debris from the scalp and give hair a shiny look. It improves blood circulation, prevents moisture loss, and hydrates the roots well.
Gluconolactone is derived from sugar beet and is a poly-hydroxy acid. It helps to hydrate, soothe, or soften the scalp and hair.
Frequently Asked Questions
Q1. Does Nexxus Therappe shampoo strengthen the follicles?
The answer is No. If you've thin hair or falling hair and opt for the Nexxus Therappe shampoo as a solution, it will be a waste of money. The Therappe shampoo doesn't strengthen the hairs or not control hair fall issues.
Q2. Is Nexxus Therappe shampoo worth buying?
The Therappe shampoo definitely works on dry hairs or rough hairs to make them smooth and silky. Moreover, it prevents the lack of moisture and also from split ends.
Conclusion
Every product has some positive and negative facts, and the Nexxure Therappe is not suitable for all types of hairs but effective for dry, frizzy, or damaged hairs. Now it's up to you whether you opt for this or not?
The shampoo hydrates, nourish, and revitalize the unhealthy strands. 70% organic ingredients are used in its production. It cleans the hair well and doesn't irritate the scalp, so suitable for sensitive skin.