We all know that great hair requires great care. But what does it mean by great care? Is it using great hair products or customized hair products?
I might be confusing you, but custom hair care is very different from all. And that's what all Prose has to offer.
When we think of custom hair care, Prose is on the top of the list.
For the first time, I tried out personalized hair care with Prose. If you are curious about Prose custom hair care or you are just are confused about whether to get one for yourself or not, here is a detailed Prose shampoo review for you.
Let's get into it
Prose Shampoo Review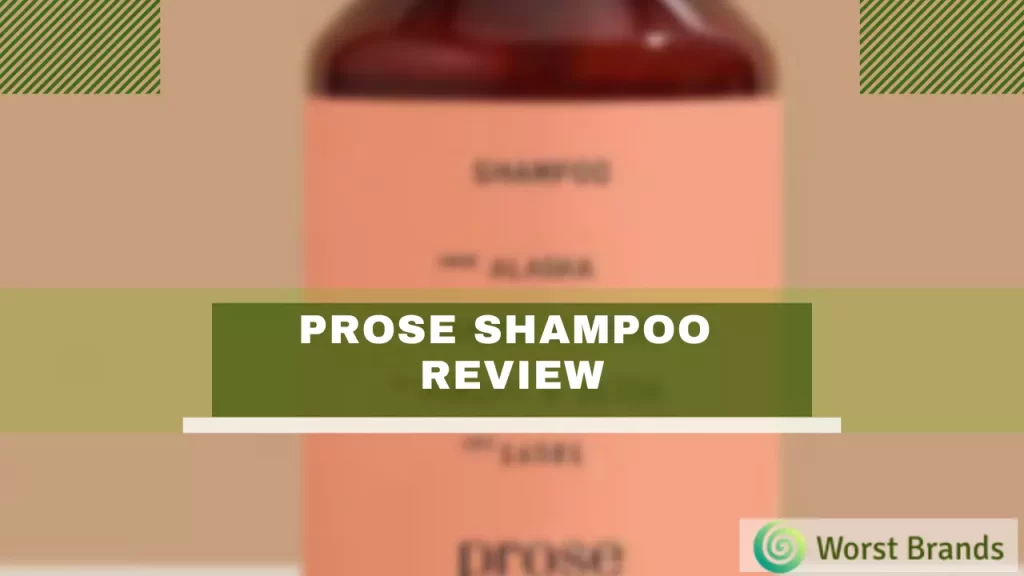 What Is Prose Shampoo?
The Prose is a custom hair care company founded in France back in 2017 and currently operates out of Brooklyn, New York.
Prose firmly believes that one size isn't for everyone. The company aims to provide custom hair care to its clients and is differently made for everyone according to their needs.
The products by Prose are said to be sulfate-free, Cruelty-free, paraben-free, and alcohol-free. Prose shampoos contain rightful ingredients maintaining the balance of cleansing and conditioning agents.
Prose shampoo is also known to produce lightweight lather. The shampoo is reported to be safe for sensitive scalps as well, as the brand claims to use natural ingredients for the most part.
Prose products are popularly known for preventing hair loss. Many customers even associate hair loss prevention with prose hair care products.
The company encourages regular use of prose shampoo for softer, healthier, and shinier hair. This is very true as I have seen the magnificent results myself after using the shampoo.
Is Prose Personalized Shampoo Worth It?
How much do you think is the power of personalization?
Undoubtedly, many customers, including me, have found prose products really helpful and beneficial. Prose shampoo has saved and transformed my hair, prevented hair fall, and worked really well on my split ends.
Prose hair care reviews report how many other users believe that Prose has saved their hair by making it softer, healthier, and stronger. It is also reported to be excellent for dandruff, and customers claim to observe significant results with regular use.
To some people, it's found that Prose hair care affected oppositely to what was intended. However, the brand makes it clear by saying that different people experience different effects from different ingredients. That is absolutely true, but what would be the use of getting really expensive custom hair care?
You might not like Prose because it is pricy than other hair care brands, but that's the price to pay for personalization dude! However, the high-quality formulation makes it absolutely worth it.
Related: Worst Shampoos
How Does the Process Work?
To get your personalized formula, the process is quite smooth. Firstly, you need to visit their website and start with a hair quiz.
The quiz revolves around your hair type, appearance, hair care routine, and all the factors that can possibly affect your hair health. This also includes your diet, medication, stress levels, and physical activities.
After you are done with your hair profile, you are shown all the ingredients that will be present in your formula.
Prose claims to use completely clean, non-toxic, safe, and natural ingredients. I advise you to do a little research on all the ingredients before you order. Not every natural ingredient is helpful, and not every man-made ingredient is bad!
Prose has got you all covered no matter what phase you are in. Just because you already have a customized product, it does not mean that you need to use the same formula every time.
Whenever you reorder from Prose, you are asked to provide your feedback and answer some further questions that help to enhance your formula.
Just to let you know, Prose does not offer international shipping. Now that's a sad point for outsiders.
Can You Choose the Fragrance of Your Prose Shampoo?
Yes, you have the complete command over the fragrance of your not just prose shampoo but any prose product.
In total, Prose makes a total of seven fragrances. After taking your hair quiz, they usually offer their signature fragrance followed by two more, depending on your quiz results. If you prefer fragrance-free, you can also go for that.
I chose their signature fragrance and loved it! The fresh and floral scent on my hair made me quite obsessed with my hair!
Is Prose Shampoo Safe for Color-Treated Hair?
Yes, the brand claims it to be really safe for color-treated hair. As Prose focuses on personalization, they make sure that every ingredient in your formula is safe and beneficial for your hair type and hair needs.
Prose shampoo or any other prose product tends to be safe for color-treated hair. You can use prose shampoo without any worries.
I have used it on my color-treated, and the shampoo didn't do any harm to my hair. In fact, I notice the color of my hair becomes shinier and looks softer.
Does Prose Use All Natural Ingredients?
The Prose is quite selective when it comes to ingredients. It is known that Prose selects its natural ingredients from a collection of over 75 ingredients for your formulation. The brand claims that each ingredient they use is tested and ensured by in-house chemists for safety, quality, and efficacy.
Some of the ingredients and their purpose that Prose use is listed here:
Oils of Argan, Sacha Yoshi, and jojoba. These help in the nourishment of hair.
Pea sprout extract. This is to stimulate the growth of hair.
Sunflower seed extract and oat lipid. These ingredients help with the protection of hair color.
Just to make it clear, none of their formulas contain parabens, sulfates, mineral oil, dye, or GMOs. They also let you specify if you want to be vegan, gluten-free, or silicone-free, and you can decide all that you want in your formula!
Pros and Cons of Prose Shampoo
Let's have a quick look at the pros and cons of prose shampoo.
Pros:
Customized products according to your needs.
Prevents hair loss.
Cleans thoroughly.
Silicon-free
Made from natural ingredients.
Cons:
Expensive than other hair care brands.
Does not support international shipping.
Conclusion
So, what have you decided now?
Considering all points, you cannot deny the fact that custom hair care is one of the best options. Prose can surely do wonders for you with an accurate and suitable formula. Prose shampoos have proved to be great for almost all types of hair.
I hope this Prose shampoo review has cleared all of your confusion regarding prose shampoo and helped you decide whether to get yourself or not.
If you can't find any suitable shampoo for your hair, I would highly recommend you to try Prose. Maybe a personalized formula is all that you need!