Nexen is a tire brand whose sales touch $2 billion annually. Many automobile makers often trust this company as their OEM supplier, thus making Nexen an uncrowned king of this industry.
Nexen was established in 1942 as a Heung-A tire company. They officially adopted the Nexen name in 2000.
In America, this brand put its feet in 2005; since then, it has been ruling America's tire industry.
With its top-notch products and customer service, customers often look for Nexen tires. But does this brand fit your preferences?
Today, we have come up with the Nexen tires review guide. This guide will help you choose the best tire as per your requirements. So, let's dive into it.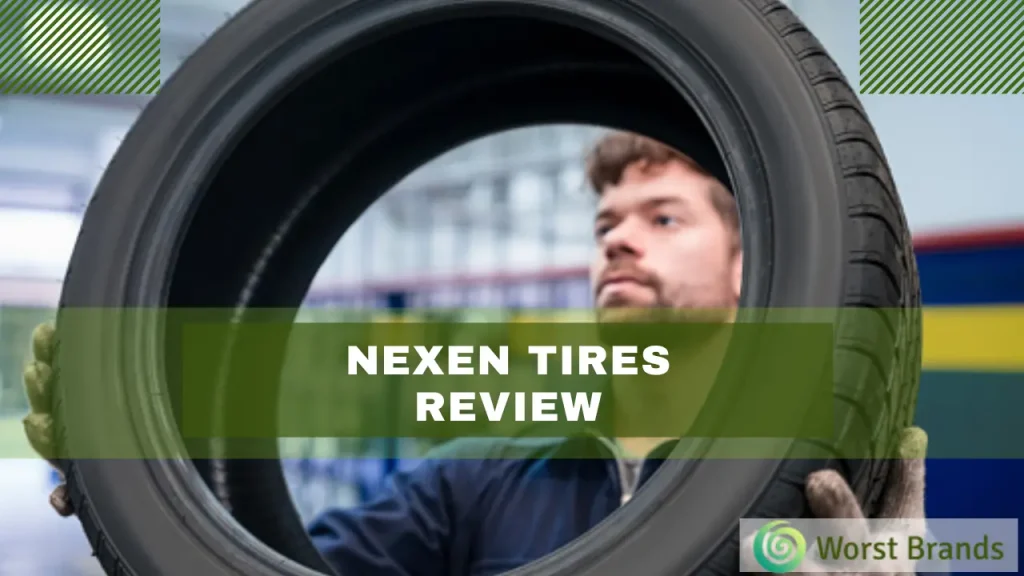 Nexen Tires offers quality products with advanced technology, recognized by multiple design awards. They deliver good dry performance but struggle in wet and snowy conditions.
How Do We Test The Nexen Tires?
It's a general rule of thumb that we should be experts whenever we claim authority in any niche. So, let us address a burning question here how do we test the tires we review?
We have been in the tire industry for more than 7 years, and during that time, we've tested a lot of tires.
Our garage is situated in Carolina, and as you know, the weather is quite versatile there. Our team members use the tires throughout the year in different conditions.
We assess these tires' performance on dry, wet, and snowy roads. Then, we jot down a review article to help you know how that tire will perform.
| Tire Model | Dry Road Performance | Wet Road Performance | Snow Performance | Additional Remarks |
| --- | --- | --- | --- | --- |
| Nexen Roadian AT Pro RA8 | Excellent grip, good braking, may shudder at high speeds | Good traction, average braking on slippery road | Okay in light snow, not recommended for heavy snowfall | Excellent for 2WD and 4WD pickups, trucks, and SUVs |
| Nexen Roadian HP | Excellent traction and grip, good braking even at high speeds | Excellent traction and stability, understeering may occur at high speeds | Good in light snow, not recommended for deep snow | Designed for sports trucks/SUVs, coupes, and crossovers |
| Nexen N7000 Plus | Exceptional dry performance and cornering, fast responsiveness | Okay, in light snow, not recommended for heavy snowfall | Performs well in light snow, not recommended for deep snow | Suitable for sporty coupes, luxury sedans, and other vehicles |
You may also want to know:
Top 3 Nexen Tires Review:
After testing many tires from the brand, we have selected the top 3 Nexen Tires for review.
1. Nexen Roadian AT Pro RA8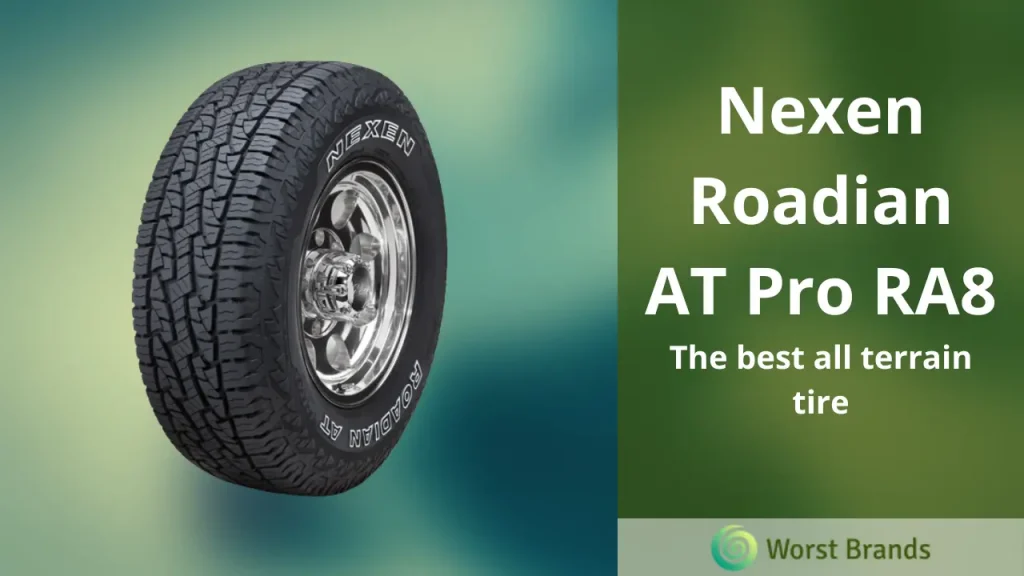 Roadian AT Pro RA8 is rewarded for being an OEM tire for RAM trucks due to their all-terrain performance and the ability to carry heavy loads seamlessly.
This tire holds a 4.8/5 rating from buyers, making it one of the favorite all-terrain tires. The target market of Roadian AT Pro RA8 is 2WD and 4WD pickups, trucks, and SUVs.
Dry road performance:
Nexen Roadian AT Pro RA8 is a grippy tire, which means it has a solid grip over the road.
We drove these tires 50,000 on my 2016 Ram 1500, and I'm quite satisfied with their performance.
Traction is excellent, with a very good braking time. The wide dual block prevents the tire from being damaged when driving over uneven surfaces and gravel.
However, the vehicle shudders at high speeds and gets quite noisy. It is undoubtedly a powerful tire that gives an aggressive look, but it is not built for throttling your vehicle.
Also, using the tire on sandy roads, we found that Roadian AT Pro RA8 hunts for traction. Similarly, the braking distance was also below average.
Wet road performance:
The use of microgrooves in tire manufacturing has improved traction and grip on the wet road.
Also, the dual block design prevents the piling up of debris and water and self-cleans the tire. Tested the tire on rainy and watery roads; traction was not an issue.
The only point where Roadian AT Pro RA8 suffered was the braking on the slippery road. The braking distance was also more than average.
Similarly, the tires may suffer from traction and braking if you think of pushing the vehicle on a watery road.
Snow performance:
Roadian AT Pro RA8 performs okay on snowy roads. Micro-grooves in the tires provide enough traction and grip on the snow but become useless if heavy snowfalls occur.
Although AT Pro RA8 is a Three-Peak Mountain Snowflake-certified tire, you'll only enjoy driving it on light snow. In case you are looking for a tire for snow, you better go for a winter one.
Pros
Excellent grip on dry and wet surfaces
Comfortable driving experience
Not-so-high noise levels
Cons
Suffers from traction and grip at high speeds
It can be noisy at high speeds
Verdict:
Overall, Roadian AT Pro RA8 has a pretty satisfactory performance. The noise levels are also okay, excluding fast driving on highways.
Yes, it may show a lack of control at high speeds. Besides, using 2-ply polyester enhances the tire's comfort during off-road driving. So, are you in or not?
2. Nexen Roadian HP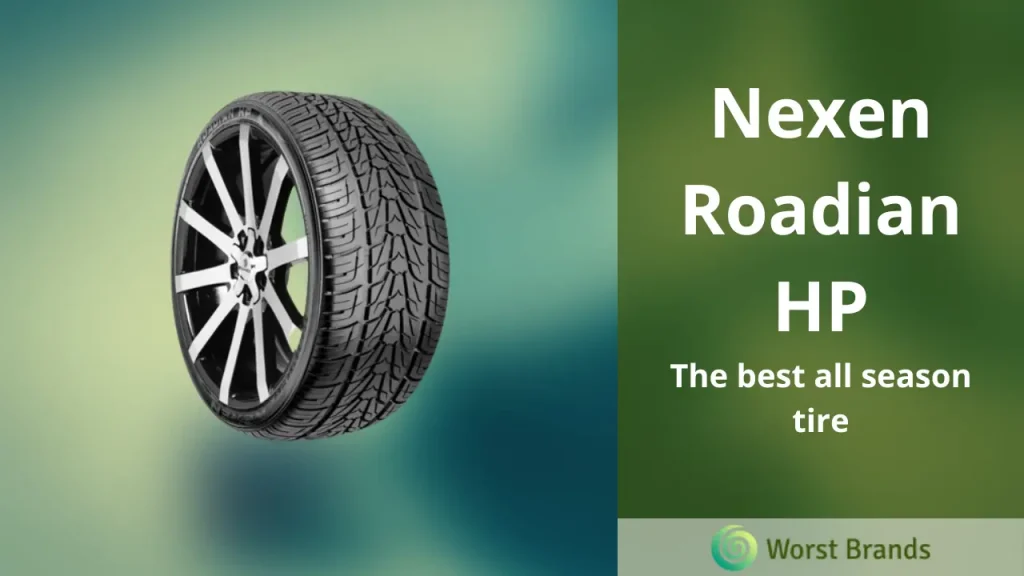 Next on the list of Nexen tires, review is Roadian HP. This tire is designed for sports trucks/SUVs, coupes, and crossovers.
It is an all-season tire that delivers a high-performance driving experience with its excellent handling and cornering grip. So, how does this tire perform on the road? Let's find out in this review.
Dry road performance:
An amazing blend of high-performance silica-based tread compound coupled with a V-shaped directional tread pattern increases the traction on the road.
Besides, advanced rubber has enhanced the tire's stability on the dry road.
The traction and the grip were excellent. Even at high speeds, the tire didn't show any lags. The braking time of the tire was also quite satisfactory. No complaints at all.
Wet road performance:
Nexen has employed anti-hydroplaning technology in this tire that channels away from the excess water and dries the tire by removing the water quickly. The braking time was also in the range, thus saving your money on fuel.
Another advantage of Roadian HP is that a large shoulder block design enhances its stability, cornering, and traction in deep water.
Wide, deep grooves on the tire help create resistance against aquaplaning and provide excellent drainage and braking.
However, the minor problem is that you may observe understeering in the vehicle at high speeds, and the car may wobble. But, considering the road was too watery, we gave an edge to the tire.
Snow performance:
After praising the Roadian HP in the wet and dry road department, snowy driving is an area where it may fail to maintain its performance. The tire wins the trophy on light snow by giving good grip and braking.
But as soon as you take it in the deep snow or during heavy snowfalling, you'll see a lack of grip and traction.
Braking time was also not good enough. Although Roadian HP is an all-season tire, we recommend you go for a special winter tire for heavy snow falling to avoid any mishap.
Pros
Excellent traction over wet and dry roads
Braking performance was also satisfactory
Comfortable ride
Tread life is outstanding
Cons
It can be expensive for budget-conscious drivers at $238
Winter traction in deep snow
Verdict:
It is easy to see why this tire is pretty popular among the owners of SUVs and crossovers. Simply, it offers excellent performance in every kind of weather.
The steering was excellent, braking time was satisfactory, driving was comfortable (thanks to the polyester rubber in the body), and noise levels were not too high.
Nexen Total Coverage Warranty offers a free replacement if the tire gets damaged during the first year of normal wear.
The tire may suffer in the deep snow, but getting a stud may resolve the issue. Other than that, I don't think that you want to skip this tire for the specs it offers.
3. Nexen N7000 Plus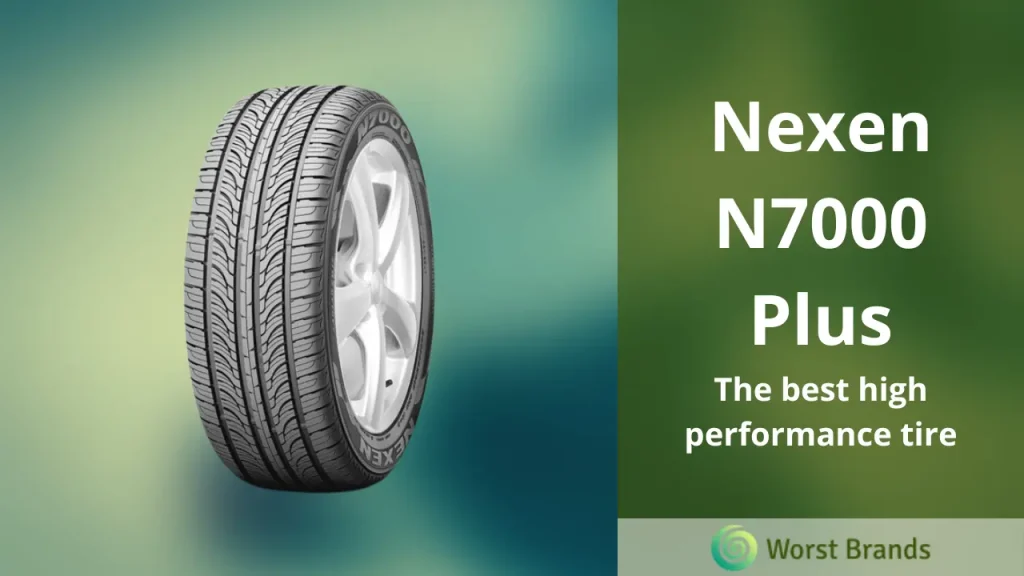 Are you looking for a tire that gives sporty handling and fast responsiveness?
N7000 plus can be your next shot. It is a high-performance tire that comes with excellent tread life.
This tire is an up-gradation of Nexen N7000 and offers more longevity and resilience.
Another plus point of this sports model is its much higher UTQG rating of 560 AA with a V, W, and Y. speed rating.
The target class of N7000 plus is sporty coups, luxury sedans, and other vehicles.
Dry road performance:
The company has provided a silica-enhanced tread compound that matches its symmetric tread pattern design.
The benefit of this technology is that the tire's overall performance has increased with exceptional traction and grip over the road.
Even at high speeds while taking sharp turns, the tire didn't lose its momentum for a second.
As an ultra-performance tire, We expected an excellent presentation from the tire, and I'm glad it did.
The cherry on top is the presence of round shoulder edges. A continuous center rib has enhanced the tire's cornering grip and also increased the overall response, especially for drivers who are more into highspeed fun.
Wet road performance:
Coming to the wet performance, things have started to change dramatically. Yes, N7000 plus delivers a good performance on wet roads. But it can't match other high-class tires.
You should expect excellent traction, grip, and stability from the tire at normal speeds. Braking time was quite okay.
But, as soon as you push the accelerator and take the car from its comfort zone, the tires give away.
You feel the vehicle wobbling, and the tires are hunting for grip and traction on the watery roads.
In general, N7000 plus didn't perform the best in the class, but the performance was not the worst.
Snow performance:
The tire's performance in the snow was quite similar to the wet performance. It performs exceptionally in light snow but suffers in deep snow. Heavy snow and freezing rain can cause problems for this tire.
Pros
Exceptional dry performance and cornering
Use of silica-enhanced tread compound to increase the stability of the car
Cozy ride with low noise levels
50,000 tread life
Cons
Mediocre performance on wet and snowy roads
Verdict:
Ultimately, I'll say N7000 Plus has impressed me with its overall performance. Yes, it did suffer in the wet conditions.
But, as it is a high-performance tire meant for speedy driving, slippery roads obviously will be a problem.
Other than that, this tire has low noise levels. The bonus part is that the company offers a 50,000 treadwear warranty that assures a long-life performance from the tire.
The following table summarizes the results of our tests conducted on Nexen Tires:
Why Should You Choose Nexen Tire?
There could be many reasons to choose Nexen tires, including:
The price:
Although Nexen tires are not the cheapest ones in the market. But they have reasonable prices as compared to other brands.
Quality:
Nexen has joined hands with many car brands like Hyundai, Chrysler, and Kia. These companies often use Nexen tires as OEM in their newest SUVs, sedans, and other cars. This speaks of the quality and trust of the company.
Advanced technology:
Nexen is often known as the company that introduced innovations. It was the first company that introduces V-shaped directional tires and replaceable tire blocks.
Best in class design:
Nexen has often been awarded for its best and most reliable tire design. It is also the first company to pick the top 4 trophies consecutively, including IF Design in 2011, Dot Design in 2012, G-Mark in 2013, and IDEA in 2014.
Nexen became a tire company selling products worldwide based on the abovementioned factors. And automakers feel proud, including its tires in their latest cars.
Where Are Nexen Tires Made
Nexen Tires have their manufacturing plants in Korea and China. They also have their Research and development center in Ohio, US, and Germany.
Nexen Tire Problems
Nexen tires cause trouble in wet and snowy conditions. Poor road grip in a high-speed environment.
Final Verdict:
The review of the Nexen tires has revealed several aspects of the tires. It shows no match for Nexen regarding providing quality, comfortable ride, excellent traction, and grip.
You have already reviewed the Nexen tire review guide, and the decision is yours.
Tens of brands in the market offer the same product line. But, the difference lies in the company's mission and the quality of its products.
So, keep Nexen tires on your buying list, whatever your intentions and preferences are.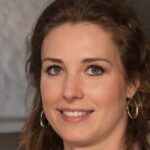 Crystal Hafley is a dedicated writer and content creator for WorstBrands, where she specializes in writing insightful reviews about kitchen appliances and fashion products.
With her expertise, Crystal provides readers with accurate and reliable information to help them make informed decisions about the brands and products they use every day. When she's not researching or writing, Crystal enjoys cooking and exploring the latest fashion trends.