I have been hooked since my first taste of extra virgin olive oil. The fruity, peppery flavor is like nothing else. I love using it in salads, soups, and even baked goods.
Recently, I had the opportunity to try a new oil with a lot to offer. I am talking about Kosterina Olive Oil, and here is my review.
So, keep in touch and read my Kosterina Olive Oil Review to know more.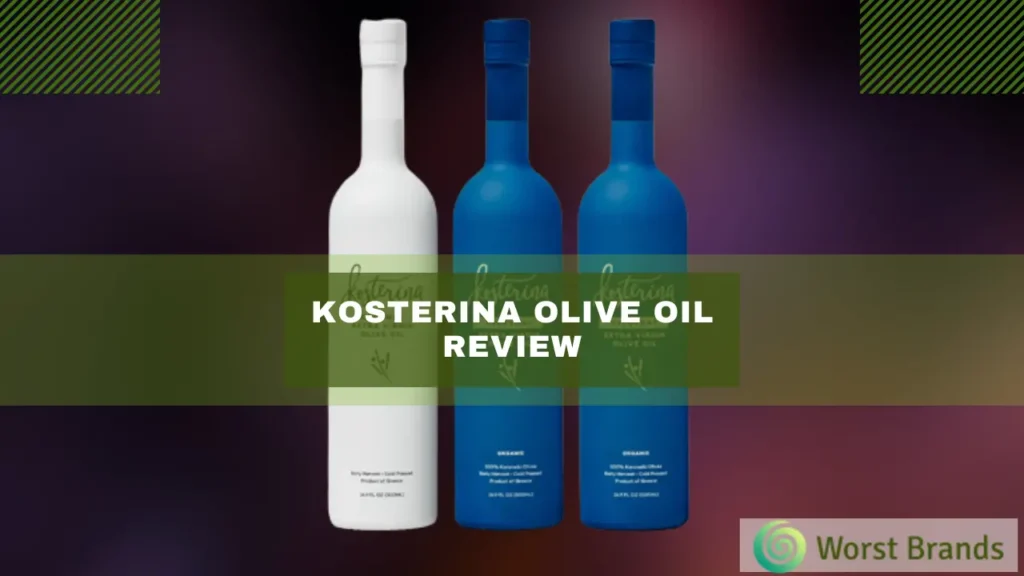 Kosterina Olive Oil Review
As a food editor, I have tried my fair share of olive oil brands, but most have not lived up to the standard.
Kosterina Olive Oil offers a truly unique sensory experience with its fresh, earthy flavor and high polyphenol content.
This brand only offers EVOO. So, you get different options in this segment, like:
Organic Everyday Extra Virgin Olive Oil
Original Extra Virgin Olive Oil
Half Case: Original Extra Virgin Olive Oil
Extra Virgin Trio, and others
The aroma of Kosterina EVOO is intensely vibrant and sharp. The taste has notes of pepperiness and citrus acidity that are refreshing and satisfying. I love using Kosterina as a finishing oil for salads, soups, pizza, pasta, and more.
It adds an unmistakable depth and nuance to any dish, making it the perfect way to elevate your cooking and take your meals to the next level.
What really sets Kosterina apart from other olive oils is its high concentration of polyphenols.
It has over 300-400 mg/kg compared to average levels of 55 mg/kg in many other brands.
Therefore, this oil is not only a delicious, versatile option but also a real powerhouse regarding health and nutrition.
On the downside, this oil is a bit expensive compared to its competitors. Moreover, some of its products, like Garlic Olive Oil, are not 100% pure.
Nonetheless, it still has more benefits compared to other so-called pure brands.
With its one-of-a-kind flavor and high polyphenol content, Kosterina is unmatched in quality and taste.
You can definitely go for it if you are thinking of trying a higher-end olive oil brand.
Things We Liked
Overall taste and aroma
Packaging is aesthetically pleasant
Healthy and nutritious oil
Things We Didn't Like
The oil could be expensive
It has additives in some of its products
Read the following blogs to learn about customer reviews of other popular olive oil brands:
Customers' Review About Kosterina Olive Oil
Customers love the quality of Kosterina olive oil and its delicious flavor.
They find that it's great for cooking or as a salad dressing. Some customers say it's the best olive oil they've ever tasted. The overall rating of the oil is 4.7/5, which is pretty decent.
A few consumers claim that the oil packaging is not up to the mark and the bottle is transparent.
But we have found that it has one of the most aesthetic containers, and the bottles are well-colored.
Is Kosterina Olive Oil Good?
Kosterina olive oil is a quality product. It has a mild and peppery flavor and is great for salad dressings, dips, or drizzled-over food.
It is also cold-pressed, meaning the oil is extracted from the fruit without heat or chemicals. This preserves the flavor and nutrients of the olives.
However, because it's a natural product, quality variations can vary from batch to batch.
Also, some items, like Garlic Olive Oil or Greek Herb & Lemon Olive Oil, may contain additives to enhance the flavor. So pay attention to the label before buying.
Who Makes Kosterina Olive Oil?
Kosterina itself makes its olive oil.
This company was founded by entrepreneur Katerina Mountanos and her husband, Kostas, in 2016.
They started this company as an alternative to the low-quality olive oils in the US market.
Since then, this brand has bloomed and is considered a top-notch business. Even Forbes highlighted their success story.
Is Kosterina Olive Oil Real or Fake?
Obviously, Kosterina Olive Oil is a real thing.
It's made with Greek Koroneiki Olives and is said to be some of the best olive oil in the world.
The oil is cold-pressed from ripe olives that are hand-picked from local groves, and it has a rich, green color and a fruity aroma.
Also, this oil is healthy, having a high concentration of polyphenols. These compounds not only make oil resistant to high flame but also impart valuable health benefits.
Is Kosterina Olive Oil Pure?
Yes, almost 90% of their products are pure, i.e., they are made from only Greek Koroneiki Olives. These olives are selected by hand and are manually cold-pressed.
However, a few products are not 100% pure, as listed below:
Garlic Olive Oil
Greek Herb & Lemon Olive Oil
These items have lemon or garlic oil in addition to the olive oil in it. Though these additives don't impart the overall nutritious values of olive oil, they make it less pure.
Where is Kosterina Olive Oil Made?
Kosterina olive oil is made in the Peloponnese region of Greece. This area is known for its sunny weather, fertile soil, and rolling hills covered in olive trees.
Kosterina Olive Oil Ingredients
Kosterina olive oil is made from a unique blend of Mediterranean olives. Some of the key ingredients in this olive oil include:
Oleic acid: a monounsaturated fatty acid that has anti-inflammatory properties
Vitamin E: an antioxidant that helps protect cells from free radical damage
Polyphenols: beneficial plant compounds that have been linked to a reduced risk of heart disease and cancer
Beta-sitosterol: a compound that may help control levels of bad cholesterol in the blood
Water, additives, and salts
Kosterina Olive Oil Uses
Kosterina olive oil is a great choice for cooking and dressing salads. It has a fruity, peppery flavor that goes well with most dishes.
The oil is also high in antioxidants, which can help protect your body from free radicals.
Additionally, the oil is rich in monounsaturated fatty acids, which can improve heart health by lowering cholesterol levels and reducing the risk of heart disease.
Final Words
Kosterina Olive oil is one of the fine-notch brands that even Forbes likes to discuss.
A couple single-handedly manages this brand, and their products are made from one of the finest olives in the world.
Kosterina Olive Oil claims to be an organic oil, but they don't have a certificate.
Though they declare that the company doesn't use synthetic fertilizers or pesticides on their olive fields, we can't assure you it is 100% organic.
However, the overall quality of the oil gives quite satisfactory results. So, what's your take on Kosterina Olive Oil? Please share with us.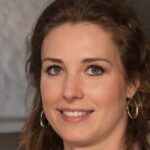 Crystal Hafley is a dedicated writer and content creator for WorstBrands, where she specializes in writing insightful reviews about kitchen appliances and fashion products.
With her expertise, Crystal provides readers with accurate and reliable information to help them make informed decisions about the brands and products they use every day. When she's not researching or writing, Crystal enjoys cooking and exploring the latest fashion trends.