Are you extra careful about what chemicals are there in your hair products? Do you want a shampoo that is natural and organic?
Even though I was going through the same issue, but then my friend introduced me to Jason Shampoo. My hair has been thriving ever since!
So, I'm excited to share this Jason Shampoo Review for everyone going through the same issue. Keep reading!
Jason Shampoo Review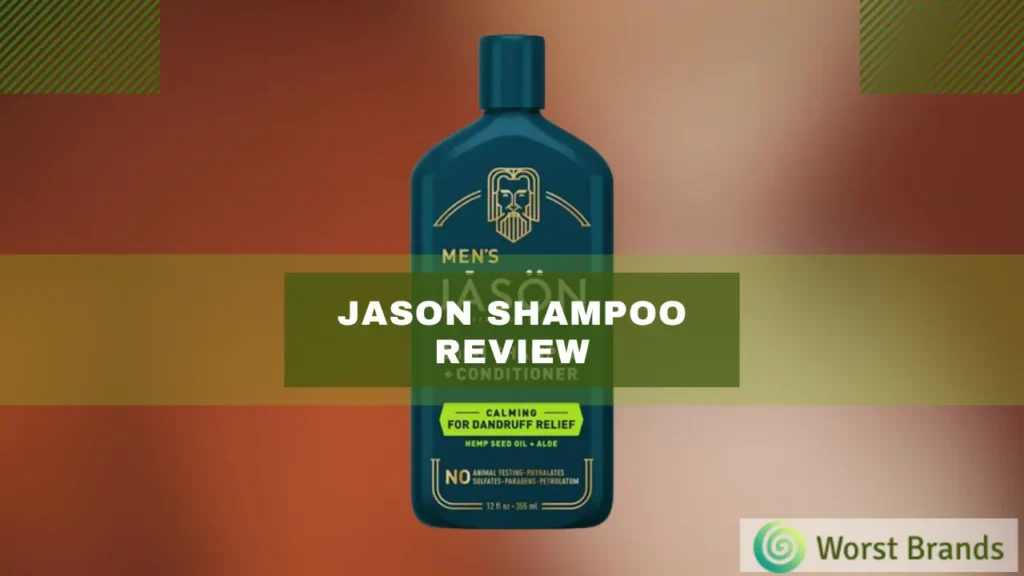 Jason's has an aggregate of the finest shampoos free of harsh chemicals like parabens and sulfate. Each shampoo targets different hair conditions.
But we will discuss a few of them based on my personal experience.
1. Jason Smoothing Grapeseed Oil + Sea Kelp Shampoo
Taming frizzy hair is something people struggle with daily. Just like others, my friend was in great nuisance with her hair.
She decided to jump online and search different websites. There, she landed on Jason's Sea Kelp Shampoo and finally felt that this was it.
Ever since the first use, she noticed how smooth and silky her hair turned out.
Sea kelp is Vitamin-rich and hydrates the hair. At the same time, plumeria and ginseng roots help tame the frizz without a sticky residue.
Kukui nut oil fights humidity and makes hair soft and smooth. No artificial colors are added to preserve your hair's moisture and natural state.
Somehow, there are some complaints regarding the smell of the shampoo. Some believe that it's not that pleasant to most people.
So, if you are sensitive to strong scents, we suggest you do a patch test before purchasing. 
Pros
Gentle cleansing
Effective for Frizzy hair
Sulfate-free
Cons
2. Jason Kids Extra Gentle Shampoo
Jason's is a family-friendly brand that provides safe and appreciable shampoo for kids. After finding that out, I was tempted to get it for my youngest brother.
He often complained about allergic reactions and burning eyes after washing his hair. After the use of this shampoo, he enjoys a tear-free bath.
Jason's shampoo is gentle on the scalp and skin yet gives a thorough cleanse to remove all that dirt from the scalp. It makes your hair soft and thicker.
Marigold, Chamomile, and Hydrolyzed wheat protein are vital ingredients that comfort the scalp and make hair tangle-free.
Moreover, it is infused with Grapefruit, Calendula extracts, Quinoa Protein, and Jojoba Oil to provide numerous other benefits.
It comes with a sweet strawberry and banana scent, which is exciting for the kids.
However, some complained that the parcel was received with an open bottle or spilled. Also, it's just for kids. So, no strawberry-banana scent for adult consumers.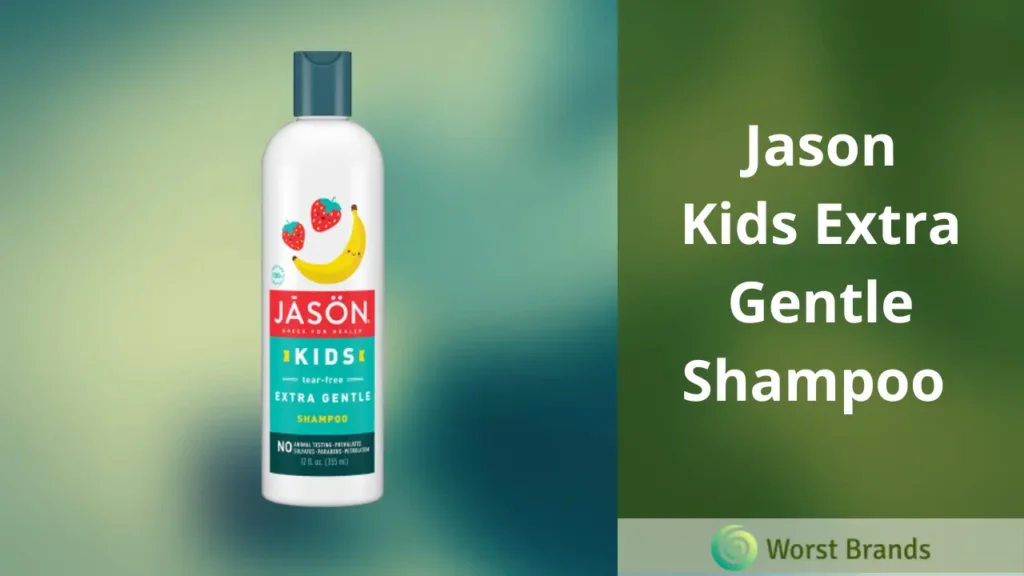 Pros
Sweet scent
Deep cleanse
Tear-free wash
Cons
3. Jason Repairing Jojoba + Castor Oil Shampoo
I struggled with significant hair breakage, split ends, and thinning of hair!
All I could think about was how to control the situation before it got out of my hands.
When I shared the problem with my friend, she suggested I try Jason's Castor Oil shampoo.
Believe it or not, that's the most beneficial decision I've ever made for myself.
There was a visible difference in my hair's volume and state after 3 to 4 washes. My hair became much healthy, strong, and long.
The shampoo's formula is safe, gentle, and effective ingredients. Jojoba seed oil restores long-gone moisture; chamomile-mile and extra grapefruit lead to healthy hair growth. 
Other botanic and organic ingredients like yucca extract, quinoa protein, and pro-vitamin B5 strengthen hair to help prevent breakage and split ends.
Even though I have encountered some online dryness concerns from users, the shampoo works just fine for me.
Some even complained that it makes their scalp dry and itchy. So, patch testing is recommended, just in case. 
Pros
Stronger hair
Prevents split ends
Improves growth
Cons
Comparison Table of Different Jason Shampoos
| Products | Treats Damaged Hair | For All Hair Types | Sulfate-Free |
| --- | --- | --- | --- |
| Smoothing Grapeseed Oil + Sea Kelp Shampoo | Yes | No | Yes |
| Kids Extra Gentle Shampoo | No | No | Yes |
| Repairing Jojoba + Castor Oil Shampoo | No | Yes | Yes |
Common Ingredients Found in Jason Shampoos
Every Jason Shampoo Is infused with unique oil extracts and different organic ingredients.
Even so, there are some common ingredients found in Jason Shampoos. Let's take a look at them below.
Water (Aqua)
Cocamidopropyl Hydroxysultaine
Sodium Cocoyl Isethionate
Glycerin
Butyrospermum Parkii (Shea) Butter Unsaponifiables
Soybean Glycerides
Ascorbyl Palmitate
Chenopodium Quinoa Seed
Panthenol
Citric Acid
Guar Hydroxypropyltrimonium Chloride
Maltodextrin
Phenethyl Alcohol
Sodium Chloride
Sucrose Laurate
Terpineol
Triethyl Citrate Alcohol
Benzyl Alcohol
Phenoxyethanol
Potassium Sorbate
Sodium Benzoate
Lavender
Rosewater
Aloe Vera
Tea Tree
Coconut
Hemp Seed Oil
Ocean Minerals
Vitamin E
Customers Feedback on Jason Shampoos
Everyone has their own opinions and experience to share, and it would be unfair not to share reviews from Jason's Shampoo users worldwide.
So let's hear it from them in this Jason Shampoo Review.
The brand's shampoos have a rating of 4.5/ 5 on Amazon. Moreover, it has 81% appreciative remarks from 20,000 plus feedback.
It says a lot about the quality and results of the shampoo.
Customers said that they had a drastic recovery from breakage and split ends. It helped their hair get stronger and healthier after every use.
They are also impressed by how careful the company is with chemicals and how focused it is on natural botanicals and organic oils.
Not only has it made a tremendous impact on the well-being of the hair but also on the earth, and people are here for it.
The frizz and buzz have gone from consumers' lives, and they are happy with the results.
However, the shampoo's fragrance is not highly appealing to the customers. Also, some stated that the packages were delivered leaked or with an open seal.
Similar Blogs:
Where to Buy the Jason Shampoo?
You can easily find Jason Shampoos on their official website.
Other than that, some authorized stores also retail Jason's Shampoo. Here is a list of them.
Target
Walmart
Amazon
CVS
E-Bay
HSN
Kroger
RiteAid
Ulta
Is Jason Shampoo Worth It?
Most shampoo companies often overlook the side effects of the chemicals they add.
Moreover, the lack of organic ingredients in the products is threatening to the hair.
However, Jason Shampoos are the opposite; the brand is exceptionally cautious and considerate regarding the products' ingredients.
It prioritizes botanic and organic ingredients in the products, which are nothing but beneficial for our hair. For example, the shampoos are free of sulfate and parabens.
So, if you are searching for healthy ingredients for your hair at reasonable prices, we recommend Jason Shampoos.
Why Choose Jason Shampoo?
Jason is derived from the Greek word Healer, and the brand's motto is to celebrate the power of the earth's botanicals.
They continue evolving their products with the help of nature, showing effective and promising results.
With that being said, here is why you should choose Jason Shampoo.
Makes your hair stronger, thicker, and longer.
Prevents split ends
Fights breakage
Restore moisture
Sulfate-free
Parabens free
Organic
Nature friendly
Long-lasting effect
Possible Side Effects of Jason Shampoos
If you are sensitive to the ingredients used in the Jason Shampoos, you might face some possible side effects. Here is a list of them.
Sodium Cocoyl Isethionate can cause eye irritation on accidental contact with the eyes.
Panthenol side effects are rare, but it can contact dermatitis or gastrointestinal distress.
Guar Hydroxypropyltrimonium Chloride causes a mild allergic reaction on sensitive skin.
Maltodextrin can cause rashes, skin irritation, asthma, or difficulty breathing. 
Potassium Sorbate might cause skin and organ system toxicity.
Frequently Asked Questions
Q1: Is Jason Shampoo Sulfate Free?
YES, The Jason Shampoos Are 100% free from harsh chemicals like sulfate and parabens that severely damage your hair. 
The absence of sulfate makes this shampoo more effective and beneficial. 
Q2: Is Jason Shampoo Vegan? 
You'll be glad that Jason is a brand known for making 100% vegan products. So, if you are against animal cruelty, consider trying out Jason!
Q3: How Often Should You Use Jason?
Jason Shampoos are safe for everyday use. The gentle and organic Ingredients of the shampoo make it advantageous for solving our hair concerns.
Summing Up
if you're looking for a shampoo that is free from harsh chemicals and is natural, then Jason Shampoo is definitely worth considering.
With a range of shampoos for different hair conditions, you're sure to find one perfect for you.
Whether you're struggling with frizzy hair, have a sensitive scalp, or have damaged hair, Jason has a solution for you.
However, do keep in mind that some customers have had mixed experiences with the shampoos, so a patch test is recommended before purchasing.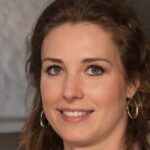 Crystal Hafley is a dedicated writer and content creator for WorstBrands, where she specializes in writing insightful reviews about kitchen appliances and fashion products.
With her expertise, Crystal provides readers with accurate and reliable information to help them make informed decisions about the brands and products they use every day. When she's not researching or writing, Crystal enjoys cooking and exploring the latest fashion trends.