Switching to Korean Skincare has been one of the greatest decisions in my 20s.
While we may not have the genes, we can rely on their scientifically advanced formulations.
Extending from skincare to hair care, I recently searched for an excellent Korean Shampoo. I dashed to various K-town shops and major retail chains.
I was faced with a significant problem, which one to buy. The formulations were similar, and almost all products had good online reviews.
Eventually, the Atomy Shampoo caught my eye, and I gave it a shot. Before even getting into this Atomy Shampoo Review, I would like to term it the "Elixir of Hair."
Common Ingredients in Atomy Shampoos
These shampoos are carefully curated to target different hair concerns. Therefore, other shampoos will have different ingredients.
Here, we managed to round up some of the common ingredients in shampoos from Atomy.
Acrylates
Ammonium Laureth Sulfate
Ammonium Lauryl Sulfate
Cocamidopropyl Betaine
Disodium EDTA
Fragrance (Parfum)
Hexyl Cinnamal
LauramideDea
Limonene
Linalool
Menthol
MidopropylHydroxysultaine
Nut Oils
Oriental Herb Extracts
PanthenolPolyquaternium-10
Propylene Glycol
Salicylic Acid
Sodium Benzoate
Sodium C14-16 Olefin Sulfonate
Sodium Laureth Sulfate
Sodium Lauryl Sulfate
Tocopheryl Acetate
Water (Aqua)
Atomy Shampoo Review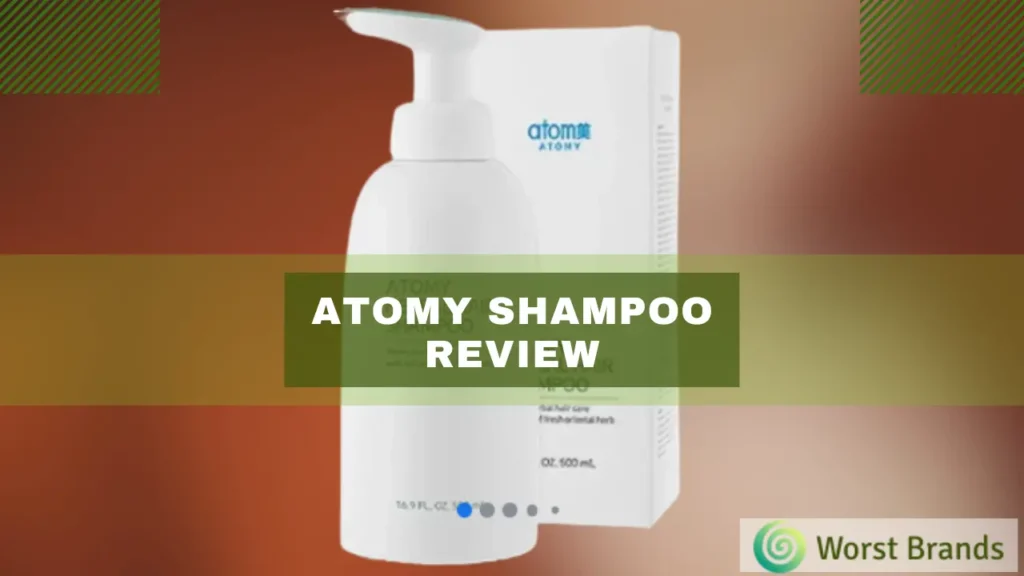 We review countless shampoos here. However, there has never been such a baffling situation.
When we skimmed through the ingredient list, there were some controversial ingredients and allergens.
However, the product details flag the shampoos as free of harsh ingredients. On almost all variants, such was the case.
Dismissing it as a printing error, I incorporated the shampoo into my routine. I have never been happier with a product like this.
So, let us get into this one-of-a-kind Atomy Shampoo Review.
1. Atomy Absolute Shampoo
Itwas my favorite out of all Atomy Shampoos.
After using Atomy Absolute Shampoo, I saw a visible reduction in hair loss and thinning due to breakage. It gave me shiny hair and a healthy scalp with a great scent.
The 3 key ingredients are Salicylic Acid, Panthenol, and Menthol to unclog pores, remove sebum deposits, act as an antibacterial, and treat dandruff.
We discovered the formulation extracts the active ingredients from Herbal nutrient water, Jinsaengmodan, Chrysanthemum, and deep seawater.
This moisturizes the scalp for hair growth and essential blood circulation.
I know; this intrigued us too. So, we found that the first set of herbs treats the scalp, and the next ensures thermal circulation.
These are differentiated based on extraction methods. The herbal water and deep-sea water ensure scalp penetration. The latter infuses herbs thriving 10,000 meters below sea level!
I used it with the Atomy Absolute Conditioner and saw enhanced results. I would say the Zinc Pyrithione in conditioner and treatment helps with dandruff.
So, if you suffer from Seborrheic issues, you will love this. The notes of this shampoo transition from citrus to floral to woody.
Pros
Free of Silicones
Eco-friendly Fragrance
Free of harsh SLS/SLES
Cons
2. Atomy Cerabebe Shampoo and Bath
Baby Sara teared up a little, but momma knew it was suitable for her.
My friend was devastated after Johnson's lawsuit on DMDM Hydantoin inclusive formula.
She had put her baby Sara on that since birth, and now she was puzzled about which shampoo to choose.
I recommended Atomy Cerabebe Shampoo and Bath to her.
At this point, anything without the DMDM Hydantoin compound would do for her. She was satisfied with the added benefits of this product.
While this may not be a "No More Tears" formula, it is moisturizing and gentle for the baby.
A healthy skin barrier is the foundation of healthy growth. This shampoo caters to soft and shiny baby skin. The 2-in-1 combo makes this a hypo-allergic total cleanser for the baby.
When I held baby Sara, her skin was hydrated and showed no irritation.
The standard active ingredients I see here are Ceramides, Phytosphingosine, Natural HG, Molokhia, and Lotus leaf extracts.
The formulation also infuses Lactobacillus Fermented Bean Extract and adds Amino Acids and Vitamin E. This locks in moisture efficiently.
Thus, leaving the baby with moisturizing, soothing, and healthy barrier-maintained skin.
Pros
Uses Mild, Plant-based Surfactants
Uses Free Lipid Method
Free of Parabens and Silicones
Cons
Contains Low-Rank Allergens
3. Atomy Scalp Care Shampoo
Hair care begins at the scalp. We often review scalp-focused products. However, we encounter a single common problem.
The formulation is too strong. A gentle clarifying shampoo does not come by easily.
However, Atom Scalp Care Shampoo combines 28 natural herbs to cleanse the scalp. These include fennel, sage, rosemary, etc.
Results typically show after 2 weeks. The scalp impurities, sebum levels, and keratin levels fall significantly.
I found three essential impurity-fighting agents. These are Neem, Arnica, and Shikakai.
It was refreshing to see the Ayurvedic ingredients in the formulation. Ultimately, the scalp feels cleansed and allows more hair growth.
Pros
No Silicones
No Parabens
Balances the Scalp
Cons
Does Not Improve Hair Texture
4. Atomy Herbal Shampoo
I did not have satisfactory results from using this. It is for extremely dry and damaged hair. So, it is not for all scalp types.
It is a milder form of the Atomy Absolute Care Shampoo. It enriches the scalp with a slightly acidic ph.
We were slightly taken aback by the HGSC complex infusion. This is mainly for hair subject to over-processing from frequent heating appliances and coloring.
If your scalp type is oily with dry ends, you should avoid this one. If your ends are too dry, then you should pair this with a clarifying shampoo to remove build-up.
Pros
Silicone Free
Parabens Free
Color Safe
Cons
Comparison of Different Atomy Shampoos
| Products | Free of Sulfates | For All Hair Types | Improves Texture |
| --- | --- | --- | --- |
| Atomy Absolute Shampoo | Yes | Yes | Yes |
| Atomy Cerabebe Shampoo and Bath | Yes | Yes | Yes |
| Atomy Scalpcare Shampoo | No | Yes | No |
| Atomy Herbal Shampoo | No | No | No |
Customers' Feedback on Atomy Shampoos
Customers love to leave reviews on products they like or dislike.
From a total of 1,000 reviews on Amazon, 75% give the product 4.5 stars out of 5. This is a positive rating.
Even though they consider it a high-end product, they still love it.
Some consumers even mention the number of bottles they have gone through and keep updating as a trophy.
I love the Absolute Care Shampoo from this range. The fragrance does not irritate the consumers, and they find it soothing.
Is Atomy Worth It?
Yes. We approve the Atomy Shampoos. The variants are gentle and strong depending on consumer needs.
However, we find it remarkable that the shampoos are not too harsh and keep the use of harsh ingredients minimum.
The brand states that the ingredients are EWG grade 4.
You might be having trouble sourcing them, so asking a personal shopper can be a burden.
The cost and shopper commissions sum up to a material amount. Typically, a bottle would cost you $1.42 per Fl Oz.
Similar Blogs:
Why Choose Atomy Shampoo?
As a distribution pioneer in multiple countries, we had no problem gathering data.
We also discovered some other gems as we searched their product mix of over 400 products.
Sticking to the shampoos, here are some reasons why we love Atomy Shampoo.
The shampoo is free of parabens. These compounds can disrupt hormonal activity in the body, causing fertility issues. These also expose consumers to the risk of cancer.
It makes use of traditional herbs and incorporates conventional methods of extraction. This maintains the validity of useful traditions and connects us to cultures.
The company also does not make use of silicones which can cause build-up. Weighing down the hair.
The shampoos release an eco-friendly scent.
Where to Buy Atomy Shampoo?
You can get Atomy shampoos in some major retail stores. First, you should check for availability on the Atomy official website.
Next, you should turn to these retailers.
Side Effects of Atomy Shampoos
Here are some of the possible side effects of using Atomy Shampoos.
Acrylates in the shampoo can cause irritation and redness around the eyes. The compound is also known to be a carcinogen.
Cocamidopropyl Betaine can cause Contact Dermatitis. This can cause mild irritation around the eyes and hairline.
According to a source, Hexyl Cinnamal in shampoos irritates and can be toxic to aquatic life.
Limonene and Linalool in the shampoo are used as fragrance components. These can cause potential skin irritation. The latter can also trigger breathing difficulties.
Salicylic Acid allergy can be sensitizing. It is also a potential carcinogen and an inflammatory compound.
Sodium Benzoate can also be an allergen to users.
Frequently Asked Questions
Q1: Are Atomy Shampoos Sulfate free?
No, Atomy Shampoos carry sulfates in some variants. Atomy Absolute Care and Atomy Cerabebe Shampoo and Bath contain milder surfactants.
Q2: Is Atomy a Chinese Company?
No, Atomy originates from South Korea. It uses natural ingredients and distributes them in many countries, including China.
Q3: How to Contact Atomy?
You can contact Atomy through its official website. The brand can be reached via hotline, WhatsApp chat room, and Email.
When I contacted the brand for a return, I could conveniently process it through WhatsApp chat.
I was able to reach a customer support representative within a few minutes.
Conclusion
This concludes our Atomy Shampoo Review. I enjoyed this product and how efficiently it delivered results.
The carefully formulated shampoos are a bit pricey, but they are effective. The shampoo leaves your hair looking shiny, strong, and cleansed.
So, I urge you to give them a shot if you can get your hands on them. Make sure to look out for scammers or faux products.
Many fake Atomy shampoos sell in regions where the brand does not operate directly.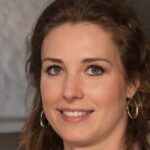 Crystal Hafley is a dedicated writer and content creator for WorstBrands, where she specializes in writing insightful reviews about kitchen appliances and fashion products.
With her expertise, Crystal provides readers with accurate and reliable information to help them make informed decisions about the brands and products they use every day. When she's not researching or writing, Crystal enjoys cooking and exploring the latest fashion trends.