Damaged hair is a significant concern for anyone. Hair contributes to the aesthetics of our looks, and it is crucial to have nice, beautiful, and healthy hair.
Natural and healthy hair often requires good hair care products such as an effective shampoo.
My best friend recommended the Aesop Shampoo to me, and I used it for quite some time before deciding to review it.
Let's get into this Aesop Shampoo Review and see what the product is all about.
Aesop Shampoo Review
Let's talk about some of the most popular shampoos made by Aesop.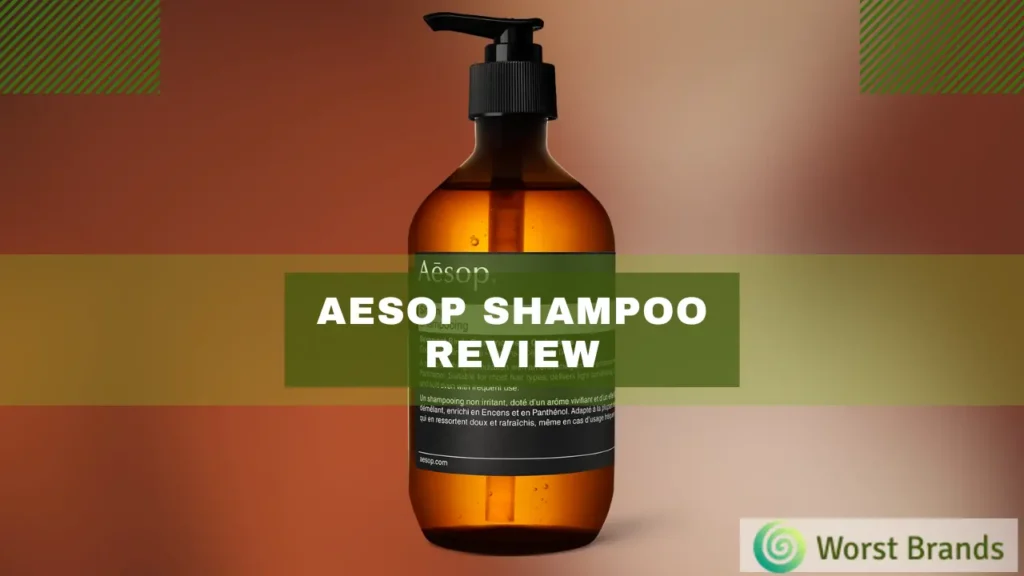 1. Aesop Nurturing Shampoo
Aesop Nurturing Shampoo is a mix of grape seed oils and borage that provides your hair with deep nourishment.
The natural ingredients in this shampoo create a healing effect on your hair and scalp.
Grape seed oil is a high-functioning hydration agent that provides moisture to your hair and scalp.
On the other hand, Lavender oil adds more value to the product as it creates a relaxing fragrance.
This shampoo is primarily intended for people with dry hair, but everyone can use it.
However, it is not meant to be applied on color-treated hair as it contains some sulfates.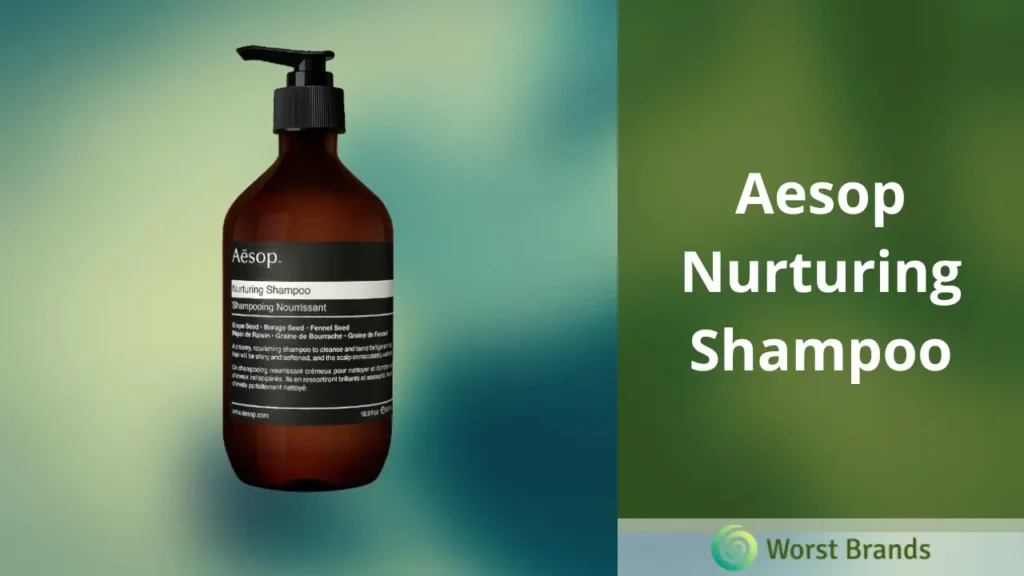 Pros
Great smell
Moisturizes hair
Healing effect
Cons
Not suitable for all types of hair
2. Aesop Volumizing Shampoo
This shampoo contains Polyquaternium 67 as the primary active ingredient.
To understand the formula, you must know that Polyquaternium 67 is an antistatic synthetic chemical.
This chemical has a separation effect on your hair. Hence, it separates every strand and adds volume and texture to your hair.
Aesop Volumizing shampoo also contains botanical oils that nourish your hair and bring a shiny, glossy finish. It has drastically improved my thin hair.
However, this shampoo, like many other Aesop products, contains sulfates that might strip the moisture from your hair and contribute to dryness.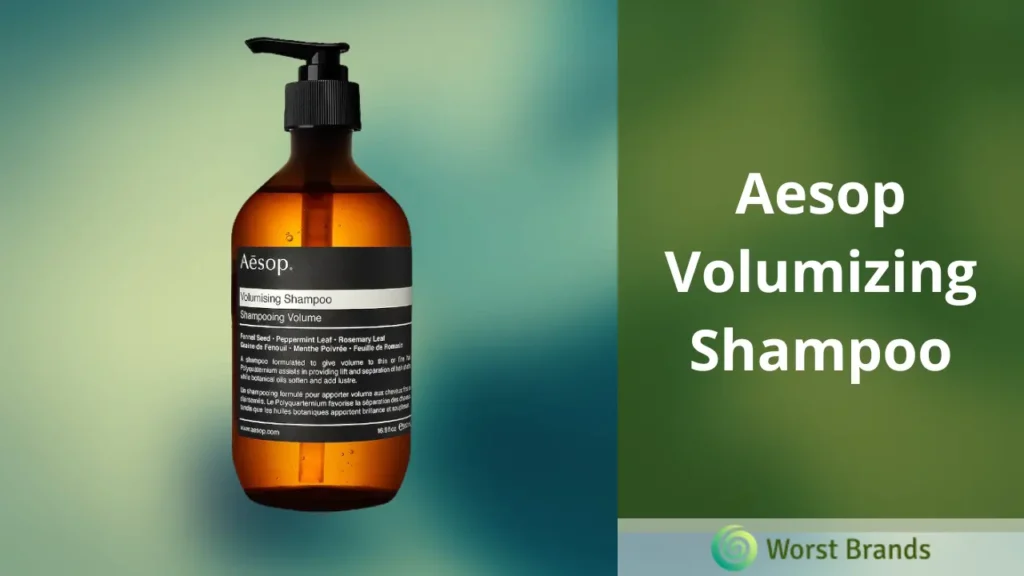 Pros
Increases volume
Shiny hair
Highly nourishing
Cons
3. Aesop Classic Shampoo
Aesop Classic Shampoo is a popular product that contains a unique formula for deep cleansing and moisturizing.
This shampoo contains multiple sulfates, creating a thick lather to clear off dust and dirt buildup.
Hydrolyzing Vegetable Protein moisturizes your hair so that the sulfates don't cause a drying effect.
Suitable for all hair types, this shampoo is a great everyday product.
It also contains tea tree oil that is highly beneficial for your hair and improves the natural health of your scalp.
However, it is a relatively expensive product compared to other everyday shampoos.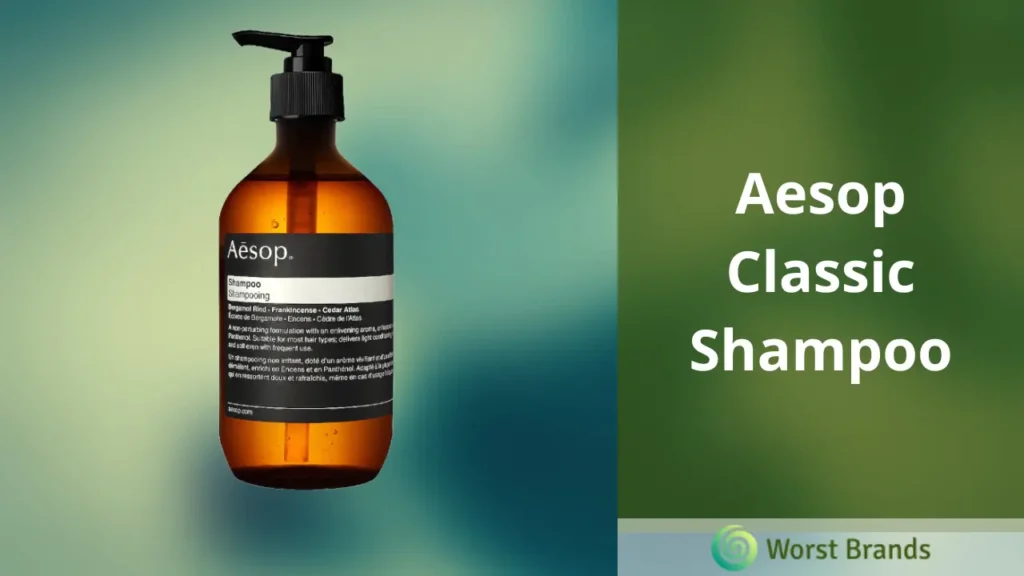 Pros
Deep cleansing
Contains tea tree oil
Improves damaged hair
Cons
Comparison Table of Different Aesop Shampoos
| Product | Treats Damaged Hair | For All Hair Types | Sulfate Free |
| --- | --- | --- | --- |
| Nurturing Shampoo | Yes | No | No |
| Volumizing Shampoo | Yes | Yes | No |
| Classic Shampoo | Yes | Yes | No |
Similar Blogs:
What Do Customers Say About Aesop Shampoos?
Many people who requested this Aesop Shampoo Review asked me to talk about customers' experiences and feedback.
As a consumer, I can tell you that the Aesop shampoos work exceptionally well.
I started with the Classic Shampoo but moved to the Volumizing one as it was more suitable for my hair type.
The results I have achieved with this product are beyond belief. I could notice the difference in my hair volume just after a few washes.
It also improved damaged strands and gave me beautiful, shiny hair.
Many customers on Amazon had similar experiences as reviews were flooded with positive comments.
More than 90% of the people had something positive to say, and thousands gave the products high ratings.
Customers who purchased the product online claimed that it was well packaged, and the quality of the shampoo was exceptional.
It greatly impacted their hair as it reduced split ends and hair fall.
Some customers loved how the shampoos nourished their hair and gave them a beautiful look.
Consumers couldn't miss out on talking about the incredible lavender smell of Aesop.
One customer even claimed this was the most relaxing and refreshing fragrance she had ever seen in a shampoo.
However, a few customers complained about the product's high price and their concern about its authenticity.
This was because the official Aesop brand did not sell the Shampoos on Amazon.
Is Aesop Worth It?
There is no doubt that Aesop is one of the most expensive brands in the world.
Some of the products sold by the company, including these shampoos, are given a high price tag.
The Shampoos are priced at $50 for a 16.9 Fl Oz bottle, giving us the product at a staggering $3 per Fl Oz.
This is slightly higher than most consumers would like to spend on shampoo.
However, I believe these shampoos are defined by their quality, as they contain effective formulas that are highly beneficial for your hair and scalp.
They provide all the nourishment your hair requires and create a soft, shiny texture.
Hence, for me, the product's price is not as important as its quality. Therefore, Aesop shampoos are worth every penny.
Why Choose Aesop Shampoo?
Here are some of the reasons why you should give this shampoo a try.
It is mainly made up of natural ingredients and essential oils. This includes tea tree oil which is extraordinarily nourishing.
The shampoo will give you silky, smooth hair that increases your beauty.
Aesop Shampoo can obtain aesthetically pleasing, healthy hair after a few washes.
These shampoos can nourish and moisturize your hair to improve dry and dull hair.
It can improve damaged strands and add volume, thickness, and strength to your hair.
These shampoos are entirely free of parabens that can damage your hair.
Where to Buy Aesop?
Aesop Shampoos can be purchased from several locations around the world. You can use their online store locator to find a nearby Aesop outlet.
Other than that, you can also buy these shampoos from the following stores.
Amazon
Walmart
eBay
John Lewis
Ubuy
Spacenk
Ingredients Used in Aesop Shampoos
Aesop is a brand that uses different ingredients for different products. Let's look at some of the ingredients used in their shampoos.
Water
Sodium Laureth Sulfate
Sodium Trideceth Sulfate
Cocamide MEA
Ammonium Laureth Sulfate
Salt
Olive Oil
Glycerin
Phenoxyethanol
Hydrogenated Castor Oil
Propylene Glycol
Ammonium Sulfate
Citric Acid
Peppermint Oil
Tea Tree Leaf Extract
Lavender Oil
Sodium Dehydroacetate
Ammonium Chloride
Potassium Sorbate
Linalool
Sodium Benzoate
Disodium EDTA
Limonene
Potential Side Effects
Here are some of the possible side effects of using this shampoo.
Sulfates in the products can damage your hair as they are known to steal moisture.
Propylene Glycol can cause skin irritation and redness. It may also make your hair dry and lead to dandruff.
Potassium Sorbate is another harmful ingredient in some shampoos that may cause organ toxicity.
Phenoxyethanol used in the shampoo can cause an allergic reaction that leads to red spots on the skin and irritation.
Ways to Contact Aesop
You can call Aesop at +852 3001 6734 and speak to a customer service executive for support and assistance.
Another option to reach Aesop is through Whatsapp. Their WhatsApp number is +852 9865 2812.
As a consumer, you can also contact the company by sending in an inquiry by filling out the online form on their official website.
For customers who prefer to chat, there is also the live chat option on their website.
Frequently Asked Questions
Q1. Is Aesop Shampoo Sulfate Free?
No, all the shampoos developed by Aesop contain multiple sulfates. These are used as surfactants to create a good lather.
Q2. How to Use Aesop Shampoo?
You can use the Aesop shampoo like any other regular shampoo. It can be used every day. 
All you have to do is apply a small amount of product to your wet hair and massage it for 1-2 minutes before rinsing it.
Q3. Is Aesop Shampoo Safe?
Aesop shampoos are mainly created with a mix of botanical oils and natural ingredients.
Despite containing some sulfates, these shampoos are safe for daily use.
Conclusion
Aesop is a luxurious brand that offers shampoos with unique formulas, including natural ingredients and synthetic chemicals, to cater to different hair types and concerns.
From deep cleansing to volume-boosting and nourishing, Aesop shampoos have proven to improve hair health and reduce split ends and hair fall. It also provides a relaxing fragrance.
Overall, if you are looking for a high-end shampoo that delivers results, Aesop shampoos are definitely worth considering.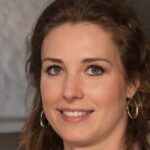 Crystal Hafley is a dedicated writer and content creator for WorstBrands, where she specializes in writing insightful reviews about kitchen appliances and fashion products.
With her expertise, Crystal provides readers with accurate and reliable information to help them make informed decisions about the brands and products they use every day. When she's not researching or writing, Crystal enjoys cooking and exploring the latest fashion trends.