Like most of us, I wanted to find the perfect product to keep my hair healthy, smooth, and soft and to smell good.
After trying many options, when I finally found the Cake Shampoos, I knew this was exactly what I needed.
This is why I am so glad to share this Cake Shampoo Review for everyone with a similar hassle as me. Keep reading to discover more!
Cake Shampoo Review: Product Comparison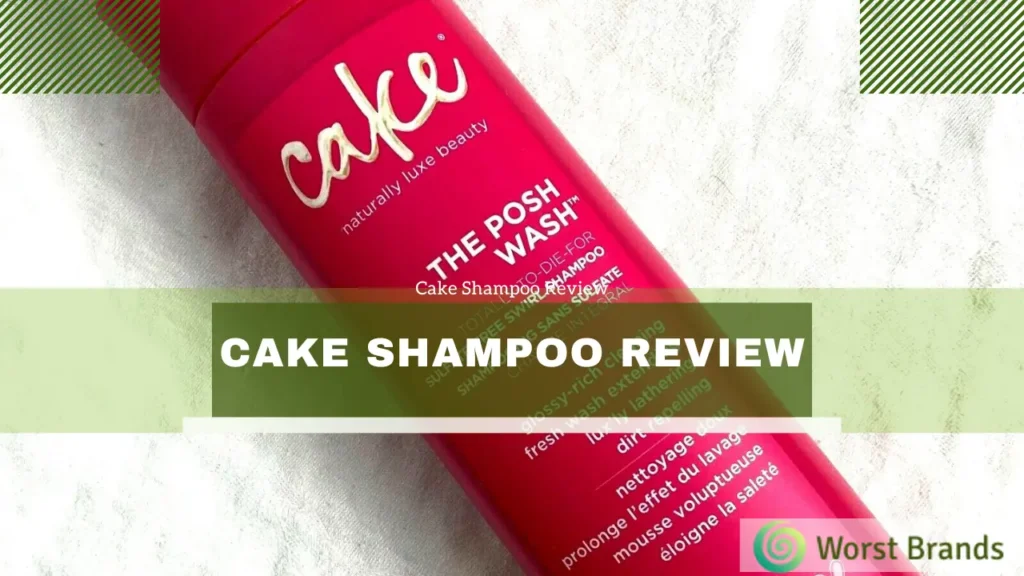 Here is a review of the top-most Cake Shampoos I've encountered.
1. Cake Posh Wash (Sulfate-Free Swirl Shampoo)
As the name states, this Posh Wash shampoo is sulfate free, which is good because sulfate leaves your hair damaged and weak.
It is determined to give your hair a Posh look, leaving it healthy, sleek, and with the most divine scent.
This was the first shampoo that I tried from Cake beauty. The results were there from the very first use.
After using Cake Shampoo, I noticed it removed the grime and dirt build-up in my hair. The deep cleansing effect is long-lasting, and the scent is light and refreshing.
The formula is infused with apple vinegar, moringa seed micro protein, and aloe leaf juice.
That helped strengthen my scalp, resulting in stronger hair and improved growth.
The fun part is that this product is comparatively more affordable than other brands.
However, I would propose patch testing before purchasing, especially if you have a sensitive scalp.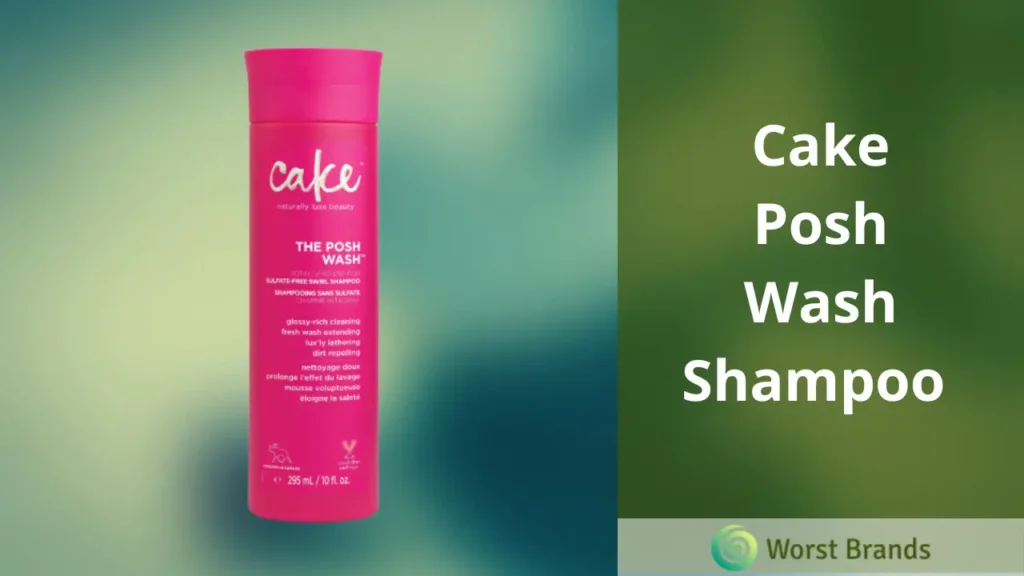 Pros
Deep cleansing
Affordable
Great smell
Cons
2. Cake The Curl Girl Shampoo
Maintaining your natural curls and keeping them lush and bouncy throughout the day is no easy task.
My mother struggled with this very issue having 3c hair type. The frizz and tangled curls became constant worry.
She decided to give the Curl Girl a try about 1 year ago and instantly loved the results and has continued using it ever since.
This blend is ideal for keeping your curls bouncy, hydrated, and anti-frizz with lasting moisture.
The creamy texture is lightly infused with hydration and butter, locking the moisture and shine for a long time.
The organic ingredients used in this formula are Sunflower Seed Oil and Argon Oil, which focus on breakage control and dry hair.
However, the product is infused with moisturizing agents and butter that may not be ideal for people with oily scalps and greasy hair.
Therefore, patch testing is suggested. It's better than complaining later!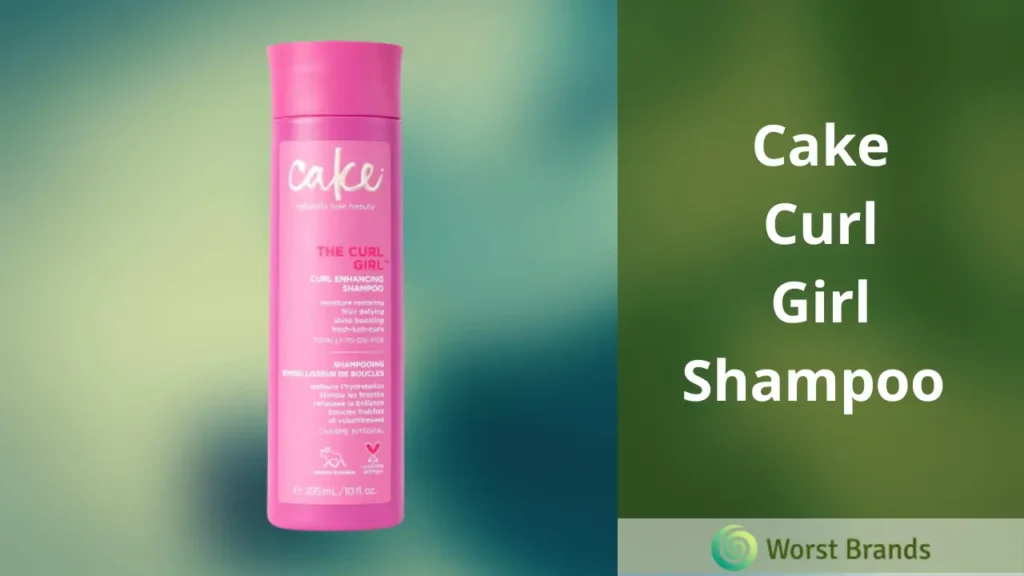 Pros
Hydrating
Curl Enhancing
Sulfates free
Cons
Not suitable for oily hair
3. Cake The Gentle Giant Shampoo
Often, beauty products are not gentle on your hair. As a result, they leave them worn out and weaker than before.
My friend loves to dye her hair, but it leaves them damaged, and nothing seems to work.
It was before she came across the Gentle Giant, and it worked wonders for her.
The formula targets explicitly gentle cleansing, preserving the color and keeping naturally produced oil for stronger hair. The subtle ingredients make it safe for everyday use.
Unique Micelles agents work as magnets that attract residue. They restore and revive the shine in the hair, leaving them healthy.
The note of Lemon peel extract in this blend effortlessly cleans the scalp and provides a relaxing scent.
On the other hand, this light and airy formula might not provide thorough cleansing for thick hair.
Compared to other products, this is only suitable for sensitive scalps and color-damaged hair. 
Pros
Gentle cleansing
Free of sulfate
Color safe
Cons
Not suitable for all hair type
Comparison Table of Different Cake Shampoos
| Products | Treats Damaged Hair | For All Hair Types | Sulfate-free |
| --- | --- | --- | --- |
| Posh Wash | Yes | Yes | Yes |
| The Curl Girl | Yes | No | Yes |
| The Gentle Giant | Yes | No | Yes |
You may like to read our reviews on some other popular shampoo brands:
Customers Review 
The Cake Shampoo Review is not complete without the reviews and feedback from the users of this product globally.
With an average rating of 4.3/5 on almost every product of The Cake beauty on Amazon, this brand is loved.
Out of estimated 10,000 reviews, 71% of them are in favor. According to the reviews, the users noticed promising results after using it.
Many consumers state that their hair texture has improved drastically, and the hair is now much more soft, shiny, and bouncy.
Customers love the long-lasting cleansing effect that it provides. Not washing their hair every day is a blessing for them.
That also makes the product long-lasting; hence it's not a burden on the consumers' pockets.
There is a debate in the reviews about the smell of the products. The majority of them love the fragrance of vanilla and lemon cookie.
However, some of them are not big fans of the strong scents. So they tend to disagree.
Some suggested that you might not like this product if you are sensitive to scents or have sensitive skin. A few of them mentioned that it made their hair dry and itchy.
But I find The Cake Shampoo to be the best for my hair, and I will purchase it again. 
Common Ingredients Found in Cake Shampoos
Different ingredients are used for each cake shampoo dealing with specific concerns.
There are a few common ingredients that are found in the majority of their products, listed below.
Water (aqua)
Sodium C14-16 Olefin Sulfonate,
Cocamidopropyl Betaine,
Acrylates Copolymer,
Glycerin,
Sodium Hydroxide,
Sodium Chloride,
Citric Acid,
Sodium Benzoate,
Sodium Glycolate,
Dimethylaminopropylamine,
Benzyl Benzoate,
Eugenol
PEG-4 Rapeseed amide,
Glycol Distearate,
Polyquaternium-7,
Amodimethicone,
Parfum (Fragrance),
Polyquaternium-10,
Polyquaternium-55,
Phenoxyethanol,
Ethylhexylglycerin
Is Cake Shampoo Worth It?
The prices of Cake Shampoo are reasonable compared to other sulfate-free shampoos available in the market.
The shampoo retails for $8.99 per 10 FL Oz, making it less than $1 per Oz ($0.90/ounce).
What's more, the Cake Shampoos are cruelty-free and vegan. Free of parabens and sulfate, they are always a safe option to treat your hair well.
Considering all the benefits of the Cake shampoo at this price, I would say it is worth it.
Why choose Cake Shampoo?
Here are a few reasons why you should opt for cake shampoos.
Cake shampoos are carefully formulated to provide the scalp and hair with deep yet gentle cleansing.
Active ingredients found in different products of cake shampoos are known to be highly beneficial for stronger and thicker hair.
Sulfate-free formula and moisturizing agents help restore the shine and softness of the hair for days.
Cake Shampoos are relatively low in price.
Where to Buy the Cake Shampoo?
You can get your hands on Cake Shampoos from the official website. Apart from this, you can also buy them from nearby stores.
Here is a list of popular stores that retail these shampoos.
Walgreens
Ulta
Rite Aid
CVS
Amazon
You can also find these shampoos at a local supermarket or convenience store. However, make sure the products are authentic.
Possible Side Effects
Every product comes with its fair share of plausible side effects. So, it is better to look for your personal concerns before deciding.
Here are some possible side effects of using Cake Shampoo.
Cocamidopropyl betaine can be the cause of allergic reactions in some users.
Excess amounts of sodium chloride can reduce natural oils in the hair, leading to a dry, itchy scalp and possible hair loss.
Sodium benzoate is safe for use if the concentrations are up to 5%; anything higher than that can cause inflammation in consumers.
Potential harm from fragrance in your shampoo can cause nausea and headaches.
If you have sensitive skin, avoid products with higher concentrations of Phenoxyethanol.
Is Cake Shampoo Sulfate Free?
Yes, Cake shampoos are sulfate-free. They come without harsh chemicals like parabens, phthalates, sulfates, or talc.
All the natural ingredients used in the shampoo are used to keep your hair healthy and soft.
How Often Can You Use Cake Shampoo?
You will be glad to know that Cake Shampoos are safe for everyday use.
However, they provide such thorough and lasting cleanse that you might not have to use them daily. 
Is Cake Shampoo Good For Thin And Weak Hair?
Cake Shampoos specifically target thin and weak hair. Active ingredients in these shampoos work surprisingly well, as they restore the volume and moisture of the hair.
This is what makes your hair stronger with every use.
Frequently Asked Questions
Q1. Is Cake Shampoo Color Safe?
Ingredients used in cake shampoos have color-preserving properties. Therefore, they are color safe.
Q2. How to Contact the Company?
Any Queries related to the brand will be answered on its Cakebeauty website.
Apart from this, you can also contact the brand through its contact number: (416) 201-0486.
The team is also active on social platforms like Instagram, Facebook, and Twitter. 
Conclusion
All said, finding a shampoo that covers all your hair concerns is nearly impossible.
But I have been lucky to come across this brand that helped me, making my hair better.
Cake shampoos offer various options to meet different hair needs, whether for color-treated hair, curly locks, or simply for a deep clean.
So if you're in search of a shampoo that truly delivers, give Cake Shampoo a try and experience the difference for yourself.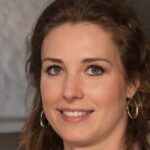 Crystal Hafley is a dedicated writer and content creator for WorstBrands, where she specializes in writing insightful reviews about kitchen appliances and fashion products.
With her expertise, Crystal provides readers with accurate and reliable information to help them make informed decisions about the brands and products they use every day. When she's not researching or writing, Crystal enjoys cooking and exploring the latest fashion trends.