Do you shed more hair than your furry pet these days? Even after eating well and sleeping fine?
Like many of us, I, too, fell into spiraling despair as I started losing more hair than ever. The issue seemed persistent, and nothing worked.
That was until a good friend recommended shampoos by Carol's Daughter to me.
I am so excited to share this Carol's Daughter Shampoo Review with you. Keep reading to discover this brand and its shampoos.
Carol's Daughter Shampoo Review
Hair thinning due to breakage is common for frizzy, dull hair. They often lose shine in that state.
Hair types 2 and above already know where this is going. When I discovered Carol's Daughter, it was one of the few beauty brands for ethnic hair.
Out of 7 shampoos to target different concerns, let us start this Carol's Daughter Shampoo Review for the top-rated shampoos.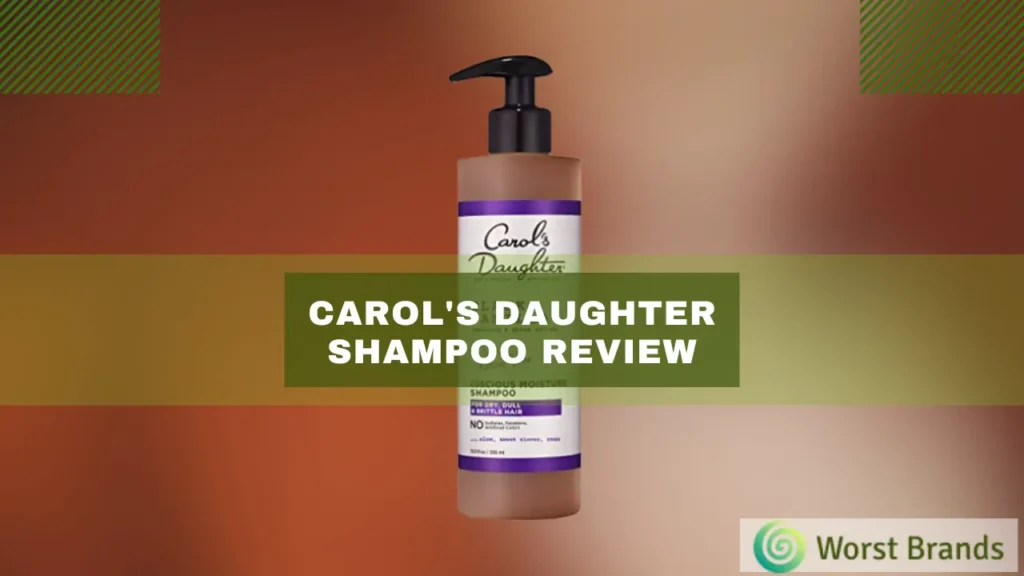 1. Carol's Daughter Black Vanilla Moisture Shampoo
As stated in the name, the shampoo is free of harsh sulfate-surfactants. Surfactants help to cleanse the scalp by forming a rich lather.
This is detrimental to dry hair. So, the shampoo comes without it.
My first shampoo from Carol's Daughter was this one. It worked to restore shine and moisturize my hair.
The actives that worked for me include aloe leaf, calendula flower, rose extract, and sweet clover.
The Aloe infused formula of Carol's Daughter Shampoo helped to restore moisture to my dry, brittle, and dull hair. It gently cleanses your hair and makes them shine.
The formula is very gentle; hence, you might not experience a thorough cleansing.
Compared to other formulae, this one is suitable for scalps that do not secrete considerable oil.
Pros
No Parabens
No Sulfates
No Petroleum
Effective for Dry Hair
Color Safe
Cons
Not Suitable For Hair Types above 4A
Does Not Cleanse Deeply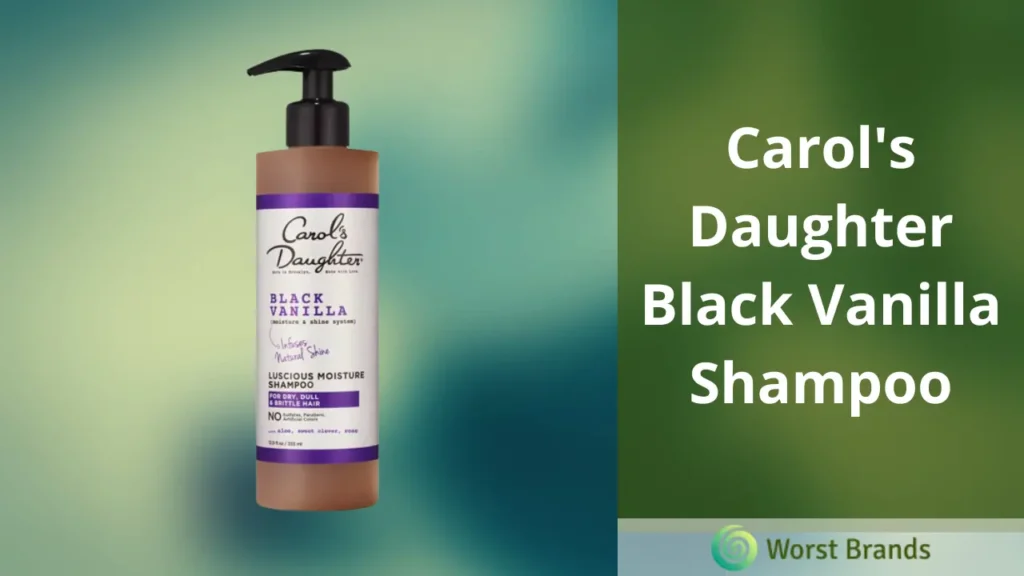 2. Carol's Coco Crème Sulfate Free Shampoo
Again, to no surprise, this shampoo is free of harmful Surfactants. My friend, whose hair type stands 4C, particularly loved this gentle formula.
Our curls need extra love. This shampoo changes the routine drastically. This is your one-stop solution to extremely dry and damaged hair.
The formula deeply nourishes and restores shine to dry hair. My friend's journey with this shampoo began around 3 years ago. She has never looked back ever since.
Coconut milk, Vitamin E, and Mango butter provide the essential nourishment to restore shine to the hair.
The salicylic acid helps to deeply cleanse the scalp.
Though, I do have one concern with this. The formula is highly hydrating. Hence, it can weigh down hair types that do not require such intense hair repair.
Lastly, while this formula did work for my friend, I can see many potential irritants and harmful preservatives.
I would recommend patch testing before adoption. In case of irritation, cease use and consult your dermatologist as soon as you can.
Pros
Restores Moisture to Dry Hair
Parabens Free
Petroleum Free
Sulfates free
No Artificial Colors
Cons
Not Suitable for All Hair Types
Contains Propylene Glycol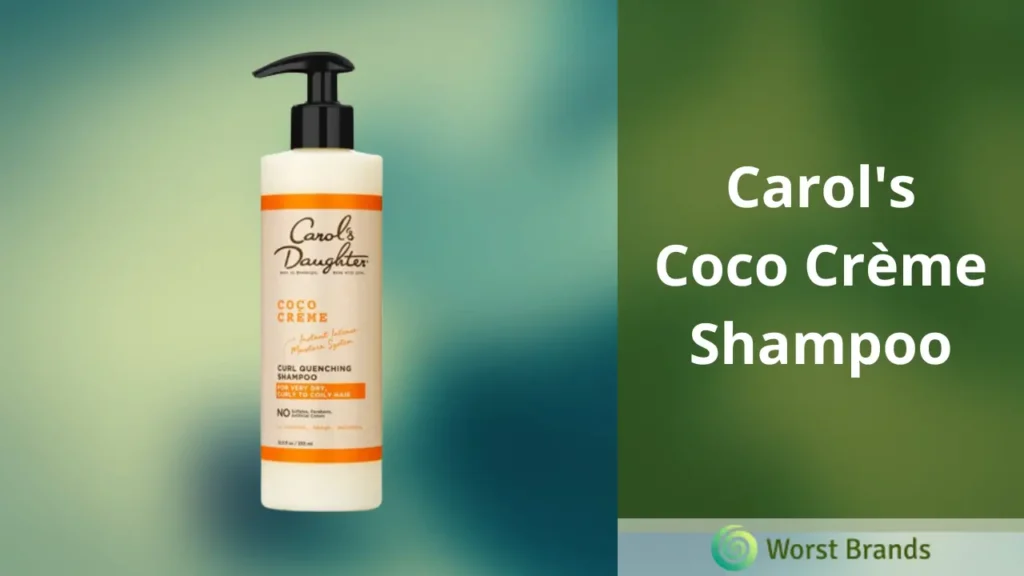 3. Carol's Goddess Strength Fortifying Shampoo
This formula seals the deal for me. While Black Vanilla Shampoo was my pick, this one has better efficacy by ingredients.
With this shampoo, you can expect an immediate impact on the strength of the hair. The formula claims to fortify the hair strands 15x post-wash.
In addition, you may also experience 94% less breakage with its use why we do assume this formula to work well because it is tested on participants with type 4C hair.
So, the active ingredients I see here are Castor Oil, Black Seed Oil, Flax Seed Oil, and Ginger.
Overall, I would rate this shampoo the best out of any of the others from CD.
A few preservatives seem concerning; however, they are doubtful to be affected by them. The amounts added would be suited to consumers.
Make sure to patch test; better safe than sorry.
Pros
No parabens
No Petroleum
For All Hair Types
Cons
Contains Propylene Glycol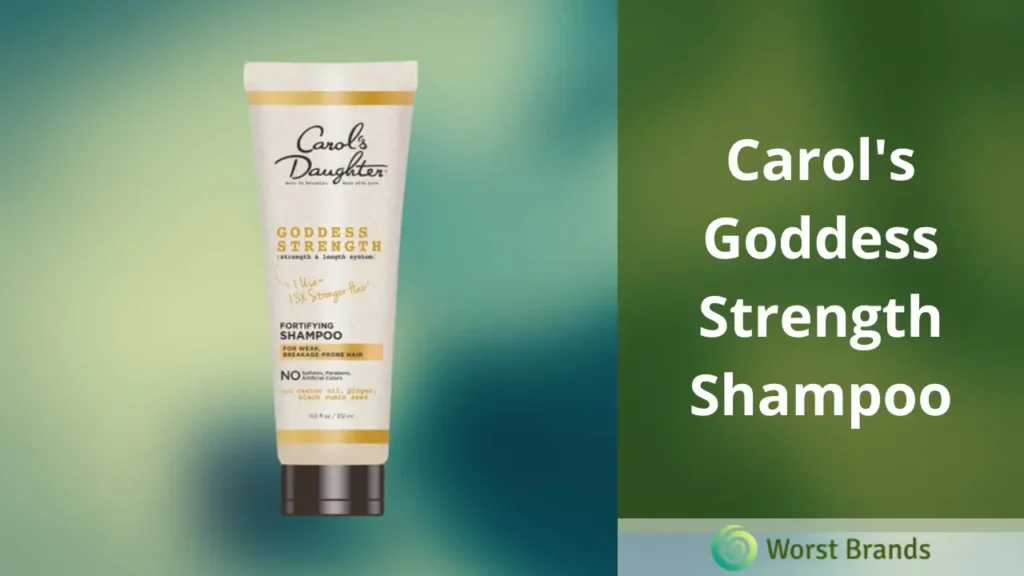 Carol's Daughter Shampoos Comparison
| Products | Improves Hair Texture | Sulfate Free | For All Hair Types |
| --- | --- | --- | --- |
| Black Vanilla Moisture & Shine Sulfate-Free Shampoo | Yes | Yes | No |
| Coco Crème Sulfate Free Shampoo | Yes | Yes | No |
| Goddess Strength Fortifying Shampoo with Castor Oil | No | Yes | Yes |
Customers' Feedback about Carol's Daughter Shampoos
With an Amazon rating of 4.6 stars out of 5 on most of its products, this brand works well.
Customers love the texture of their hair after using this. The silky, soft strands make them review it thoroughly.
For others, the fragrance is a plus point. While the customers love the gentle sulfate-free formula, they often complain about build-up.
So, if your hair is not significantly damaged, you might need a slightly stronger formulation.
I love the pump that comes with it. It is very convenient and does not spill.
If you have Caucasian hair, you might be displeased to know that it leaves your hair greasy and frizzy in parts.
So, while it applies to the majority, some outliers exist.
You may also love to read the following:
Is Carol's Daughter Worth It?
Unfortunately, while Carol's Daughter's shampoos are effective, they are slightly expensive.
The shampoos retail for $11.99 per 12 Fl Oz. This comes down to almost $1 per Fl Oz.
This is not an extreme burden on the pocket. However, other brands like Cantu are cheaper options in the Sulfate-free range. These are, in fact, competitors in the market.
Formula-wise, it is an excellent purchase. So, if you do not mind the price tag, you can expect shiny, smooth hair with use.
Why Choose Carol's Daughter Shampoo?
Here are some reasons why you should use these shampoos.
Provides Moisture to Hair
The active ingredients that provide moisture to damaged strands help rejuvenate damaged hair.
Cleanses Gently
Mild surfactants prevent the drying of hair. In this case, a gentle cleanse helps to improve hair elasticity.
High porosity hair can significantly benefit from this formulation. These types are prone to thinning due to breakage.
Removes Dandruff
Some variants carry dandruff-treating compounds. So, hair health begins at the scalp. This brand caters to it all.
Carol's Daughter Shampoo Ingredients
Different CD shampoos are designed to target different hair types and different hair concerns.
For you, I have rounded up a few common ingredients in Carol's Daughter Shampoos.
Water (Aqua)
Cocamidopropyl Betaine
Disodium Laureth Sulfosuccinate
PEG-2 Cocamide
Citric Acid
Hydrolyzed Soy Protein
Flower Extract
Phenoxyethanol
Fragrance (Parfum)
Leaf Juice
Glycerin
PEG-200 Hydrogenated Glyceryl Palmate
PEG-150 Distearate
Potassium Cocoate
PEG-7 Glyceryl Cocoate
Polyquaternium-10
Caprylyl Glycol
Hexylene Glycol
Potassium Sorbate
Salicyclic Acid
In broader terms, the company lists the organic products these compounds come from. These include:
Acai berries
Agave Nectar
Cocoa Butter
Coconut Milk
Almond Oil
Aloe Vera
Avocado Oil
Coconut Water
Honey
Mango Butter
Shea Butter
Wheat Protein
Vanilla Bean
Reasons to Choose Carol's Daughter Shampoo
You can buy Carol's Shampoos from the official website. You can also buy these from authorized stores near you.
Here is a list of popular stores that retail these shampoos.
Target
Walmart
Amazon
CVS
eBay
Bed Bath and Beyond
HSN
Kroger
RiteAid
Vons
Ulta
Potential Drawbacks of Carol's Shampoos
While these shampoos are very inclusive and strong, there are some possible side effects you can experience. Here are a few of the side effects.
Cocamidopropyl Betaine, a coconut derivative of surfactants, can cause eczema, irritation, and hair loss. All these manifest in Immunotoxicity.
Fragrance in these shampoos is unpleasant for some consumers. They report nausea and a terrible itch.
Sodium Chloride is a possible irritant that causes bumps around the hairline.
Mild formulae do not support deep cleansing and often lead to build-ups.
Salicylic acid causes asphyxiation-like feelings in some customers.
The presence of Phenoxyethanol causes a rash on the scalp for some users.
Cocamide Dipa in the shampoo also leads to irritation.
Is Carol's Daughter Suitable For All Hair Types?
Yes, Carol's line has a range of shampoos that cater to different porosity and hair types. So, you can find a match for yourself in this range.
You should use the Black Vanilla Shampoo if your main concern is frizzy hair and a dry scalp. I used this and saw an instant shine.
Is Carol's Daughter Shampoo Sulfate Free?
Yes, all shampoos by Carol's Daughter are sulfates free. They make use of mild surfactants from substitutes like coconut for their shampoos.
By nature, these shampoos do not produce a rich lather due to the absence of sulfates.
Frequently Asked Questions
Q1: How Often Should You Use Carol's Daughter?
You can use these shampoos daily or every other day. The hair wash decision falls to your scalp's needs. The bottom line is that the gentle formula will not dry out your hair.
Q2: How to Contact Carol's Daughter?
Quality customer support lays the foundation of this brand. All feedback, product inquiries, and other queries can be lodged in the "Contact Us" section of Carol's official website.
Conclusion
Are you tired of hair fall and dullness? Carol's Daughter might just be the solution you need.
Their sulfate-free and nourishing shampoos, like Black Vanilla Moisture & Shine and Coco Crème, work wonders for dry and damaged hair.
But the real winner is the Goddess Strength Fortifying Shampoo with Castor Oil, whose impressive ingredients strengthen hair strands and reduce breakage.
While there are some concerns about the presence of certain preservatives, many satisfied customers have praised the brand for its effectiveness and pleasant fragrances.
So, if you're struggling with hair breakage or frizz, give Carol's Daughter a try and see the difference for yourself.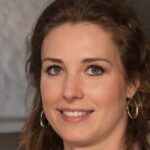 Crystal Hafley is a dedicated writer and content creator for WorstBrands, where she specializes in writing insightful reviews about kitchen appliances and fashion products.
With her expertise, Crystal provides readers with accurate and reliable information to help them make informed decisions about the brands and products they use every day. When she's not researching or writing, Crystal enjoys cooking and exploring the latest fashion trends.