We hardly come across any company that makes tires for almost every type of vehicle.
Well, that was the same discussion in our meeting where we discovered Delium Tire.
This company is from Indonesia and is not pretty well-known in the West. So, we decided to give it a shot to their tires, and here we are with the Delium Tires Review.
Therefore, spend your couple of minutes learning some nonpareil deals from the company.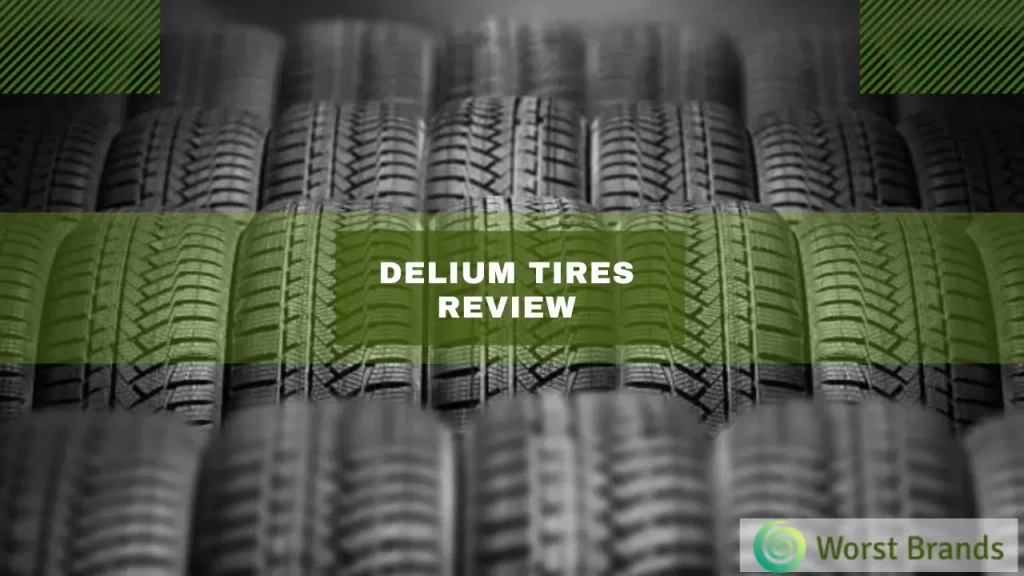 You might also like to read:
Why Should You Choose Delium Tires?
You should choose Delium tires because:
They offer a wide range, including trucks, cars, and bike tires
Their tires often give the best value for money
Delirium tires are famous for providing a comfortable ride
How Have We Tested Delium Tires?
Before moving forward, hold on a sec. We would love to tell you how we test our tires. We have reviewed hundreds of tires as a well-established authority in this niche.
We have a multilevel tire-checking system to ensure you read a transparent review.
Here we test the tires from A-Z, including quality and performance, so that you won't miss anything.
Delium Tires Review:
We know you are eager to read a review of Delium tires. So, let's get it without further ado.
1. Delium IA-182: Great Passenger Tire
Delium IA-182, a tire with a stylish appearance, is a high-performance tire designed for older automobiles, SUVs, and trucks.
It is also an all-season tire that gives your vehicle grip and stability on different roads.
This tire has a W speed rating, and the rim diameter is 18. The load index is 95, while the load range is XL.
But does Delium IA-182 provide more than just a nice appearance and on-paper specs? Let us investigate: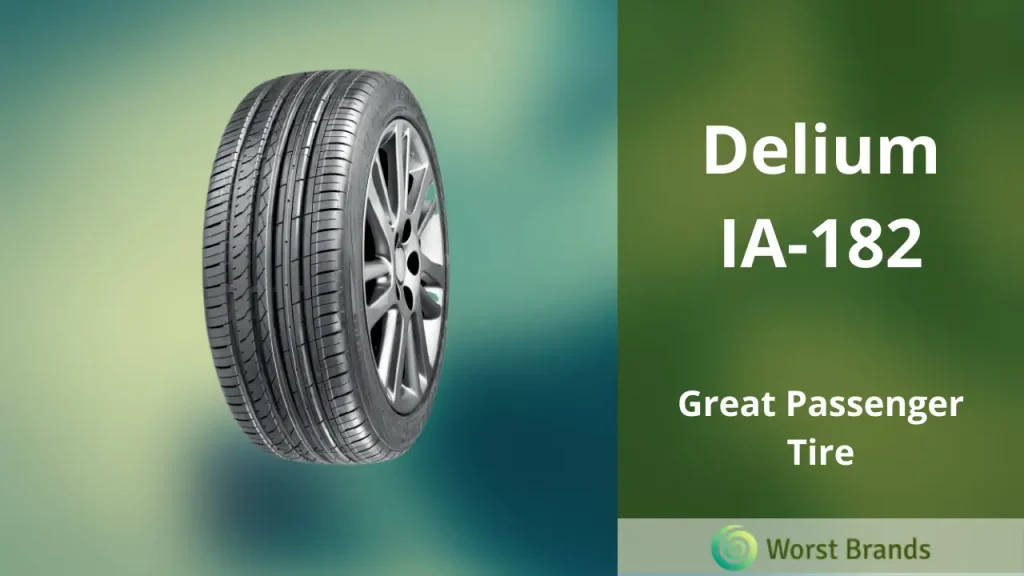 Dry Road Performance:
The Dry Road Performance of Delium IA-182 is excellent. It provides everything in terms of grip and handling.
An ideal tread design helps to promote tire-to-road contact. It also has the advantage of improving treadwear and handling.
Forgot to add how stunning the braking time was. Even at high speeds, the automobile stopped as soon as we applied the brake.
The shoulder blocks design works together with the lateral blocks of Delium IA-182 to enhance the overall traction on the road.
This thing also increases the overall cornering grip.
Wet Road Performance:
Delium IA-182's performance on wet roads is likewise excellent.
The tire's shoulder slots are not only functional, but they also enhance grip on wet roads and avoid uneven wetness.
Because of its asymmetric tread pattern design, water quickly exits the tire, providing you with essential traction on the road.
There is, however, one flaw. You can have some issues with braking time.
When you press the brakes, the vehicle may slide. But that only happens at high speeds so that you can take care of it.
Snowy Performance:
There are 4 grooves on the tire. 2 are deepened and broader, while the others are narrower and shallower.
The later grooves play their roles on snowy road driving. They also eliminate the excess snow from the tread.
The sipe and notch design of the tire is also helpful in creating biting edges to get the necessary traction on snowy roads.
However, high-speed driving at slippery tarmacs is a glitch of Delium IA-182.
Things We Liked:
Noise-free and comfortable ride
Traction and grip on the road
Much better driving experience on the snowy roads
Things We Didn't Like:
Fast driving on the snowy suffers
Braking at high speeds is another caveat of the tire
Verdict:
The final say about Delium IA-182 is that this tire performs better than most mid-range tires.
No doubt, it has a few minor caveats. But, looking at the specs, the tire is definitely worth trying.
2. Delium SG-810: Exceptional Industrial Tire
A tire designed for trucks, light trucks, and other heavy vehicles, Delium SG-810, is an industrial-level tire.
The overall diameter* of the tire is 30.4, the load index is 134, and the load range is 10-ply. It's an all-season tire. Let's find out how this tire gives us performance:
Also, note that the diameter can vary from model to model since it is a BIASED ply construction.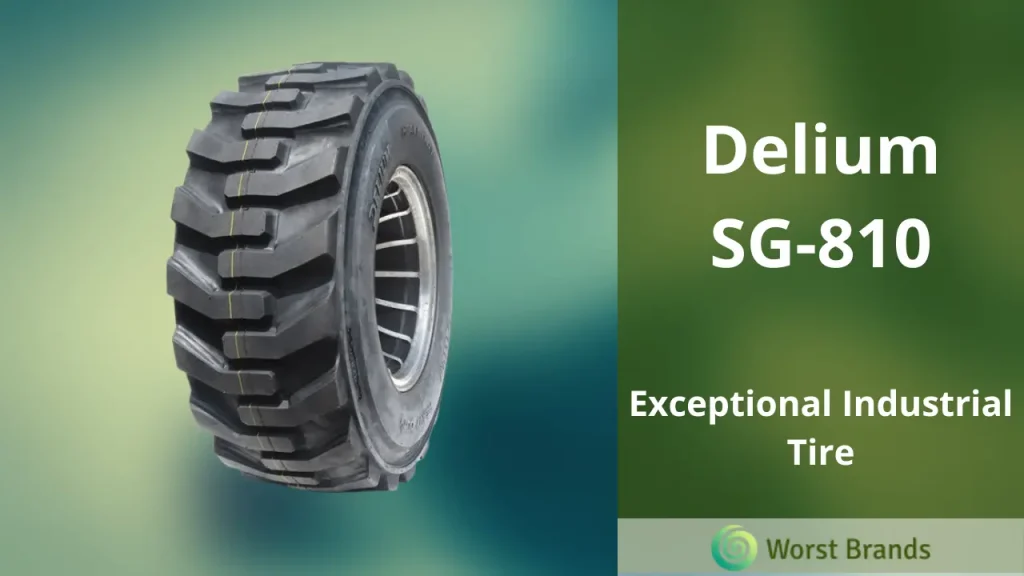 Performance on The Road:
Delium SG-810 is meant to perform in different road conditions. It has a directional pattern which increases its contact with the road.
On a dry road, it has everything perfect, including traction, grip, and handling. However, cornering is relatively underpowered.
Taking Delium SG-810 on wet roads is a whole different experience. Since it is a high-duty tire, it won't lag in handling and braking.
The reinforced bias-ply structure maintains the necessary road friction and contact, even at high speeds. However, it may suffer from cornering at the top of the speeds.
The performance of Delium SG-810 on the snow is mediocre. It will only perform on light snow, not deep snow.
Also, avoid taking your vehicle at high speeds as it may cause a loss of grip, and the tires may slip.
Things We Liked:
Design is sophisticated
Enhance load capacity
More tread life
Traction on different terrains
Things We Didn't Like:
The cornering grip is low
Snow performance is average
Verdict:
Considering everything, we can say that if you want a midrange truck tire, Delium SG-810 is your next shot.
It has a lot of things to offer, including enhanced traction road grip. You can definitely use this tire for your heavy-duty vehicle with a few tweaks.
3. Delium Raider M/T KU-255: Excellent Light Trucks Tires
Next on the list is a tire specifically meant for light trucks, jeeps, and similar vehicles.
Delirium Raider M/T KU-255 comes with an aggressive look that gives your truck a macho vibe.
This tire has a load range of E and a load index of 123. The speed rating is Q, and the overall rim diameter is 18. Below is a comparison of the tire's performance: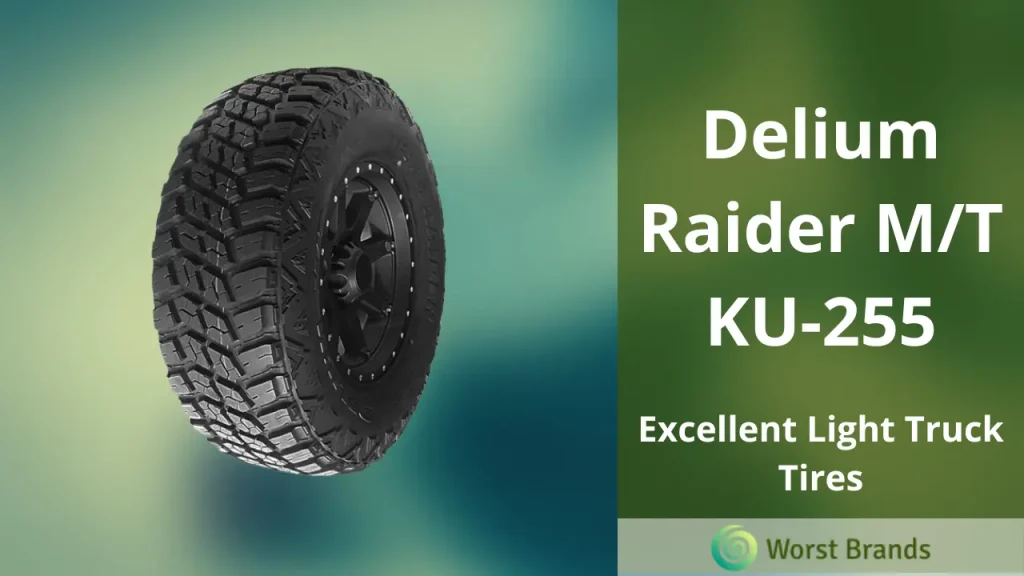 On-Road Experience:
The on-road experience of Delium Raider M/T KU-255 is good. Since it is an all-season tire, it performs every type of road.
The tread block placement of the tire allows it to find grip in dry, wet, and mild winter conditions.
The grooves of Raider M/T KU-255 are quite wider, and with the help of an open shoulder design, they eliminate the excess water and prevent tread damage.
However, this tire is not meant for highway driving as it may suffer from a cornering grip.
Off-road experience:
The off-road experience is one of the best of this tire. It is designated an M/T tire by the company, which means it is second to none in off-road driving.
The rugged tread pattern enhances the overall mud traction and grip. It will ace every terrain if you put this tire in the mud, sand, dirt, or rock.
The sidewall pattern gives the tire extra reinforcement, while 2-D rotation symmetry allows performing flawlessly.
Things We Liked:
Off-road driving is unquestionable
Traction and grip on regular roads are quite excellent
Things We Didn't Like:
At high speeds on normal roads, it may suffer from cornering grip
Verdict:
Raider M/T KU-255 is not the usual tire we often see in our garage.
It is undoubtedly powerful and makes an alias with your vehicle, allowing your car to perform.
The tire is also available in 21 different sizes, so choose the one that fits your vehicle and let's go on a road trip.
Pros and Cons of Delium Tires:
Pros
Excellent grip and Traction
Comfortable ride
Wide variety of tires
Who Makes Delium Tires?
Deli Tire is a parent company that makes Delium tires in Indonesia.
Delium Tires Warranty:
Delium offers 1 year of workmanship and a defect-free warranty on its tires. Here they will replace the faulty tire with a comparable tire.
However, this option is not available for all tires. Consult the company to know more about their warranty services.
Delium Tires Complaints:
Here are a few tires from customers related to Delium:
Customer service is not the best
Some of their models wear out too quickly
Braking time is a big issue in most of their tires
Conclusion:
The summary of the guideline is that Delium may not be a famous company.
But it makes tires for almost every kind of vehicle. In fact, they even have tires for your cycle and motorcycle.
In this guideline, we have reviewed some of the hot-selling tires from the company. Check them out.
If you have any questions, don't hesitate to ask us. We would love to answer it.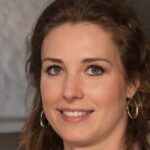 Crystal Hafley is a dedicated writer and content creator for WorstBrands, where she specializes in writing insightful reviews about kitchen appliances and fashion products.
With her expertise, Crystal provides readers with accurate and reliable information to help them make informed decisions about the brands and products they use every day. When she's not researching or writing, Crystal enjoys cooking and exploring the latest fashion trends.