Finding the right shampoo for your hair is the first step you need to take in your hair-care regime.
It may sometimes get difficult to find a shampoo that suits your hair type. This is because some shampoos may give your hair hydration that is not very appetizing in odor.
In contrast, some shampoos may give you shiny-looking hair but cause dry and brittle roots. It all starts with doing a little research.
I myself have tried a few shampoos from this brand and have some feedback to give.
If you have complained about under-nourished, damaged, and unhealthy-looking hair, then you are at the right place for Aveda Shampoo Review.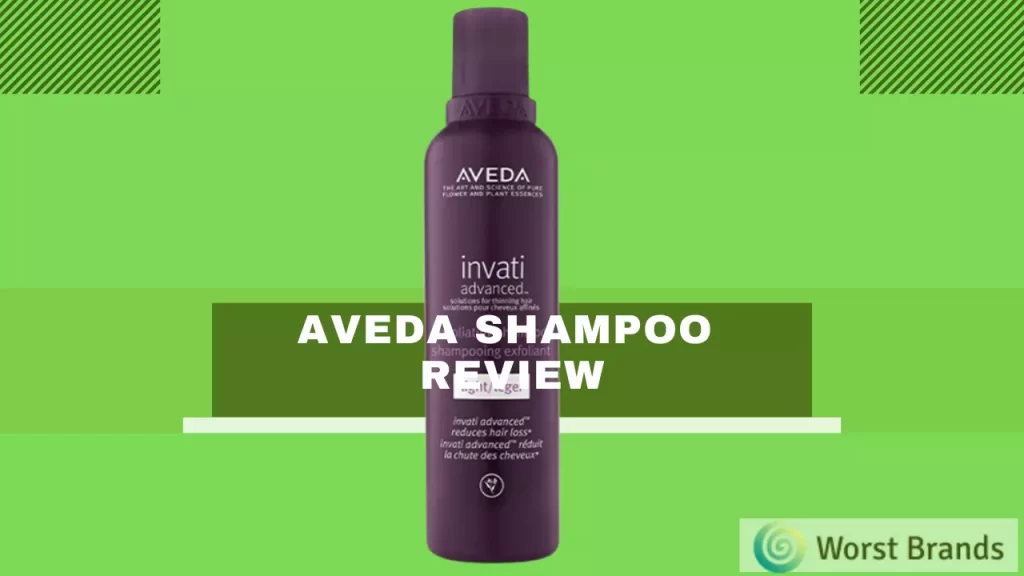 Related: Bad Shampoos
What is Aveda Shampoo?
Aveda is a brand that provides nourished, fresh and nutritious-looking hair as its formulas are 100% vegan. Aveda Shampoo comes in a variety which is a big win as it tackles all hair problems.
Whether you are worried about frizziness and dryness or whether you are worried about oily and greasy hair.
Aveda has it all. They are also infused with the healing properties of Ayurveda that help restore hair.
Aveda Shampoo Review
So let's dive right into reviewing 3 shampoos of this brand.
1. Aveda Cherry Almond Softening Shampoo Review
To start with, the shampoo consists of Almond Oil and Cherry Blossom that give hair a fascinating and sweet fragrance.
It is infused with magical ingredients of Coconut and Babassu that will help clean your hair deeply without stripping off its natural oils.
The Aveda Cherry Almond Softening Shampoo will also instantly provide your hair with smoothness and shine.
But what's even more interesting is that the shampoo contains almost 38 flower essences.
Moreover, the shampoo is suitable for almost all lengths of hair, mostly longer hair.
Our View on Aveda Cherry Almond Softening Shampoo
4.5 out of 5 users give positive feedback to this product. Customers love the instant shine and smoothness it gives to hair.
The softening shampoo also has a nice texture which helps lather evenly on hair.
The enjoyers of this shampoo love the shimmer and gloss it gives to the strands and love the delightful fragrance that stays on the hair for days.
Besides, this shampoo is perfect for normal to dry hair. Sometimes also aids in managing curly hair and is extremely user-friendly.
However, some customers notice no difference in their hair after using this shampoo.
They claim that it is a waste of money, not budget-friendly, and does not provide the hair with the benefits the shampoo mentions.
In return, it made hair oily and left an itchy scalp due to the chemicals present in the product.
2. Aveda Nutriplenish Shampoo Deep Moisture
Is your dried-up hair making you go crazy? The Aveda Nutriplenish Deep Moisture Shampoo, perfect for dry hair, has coconut oil, plant butter, and 5 pomegranate oil.
This combination aids in nurturing brittle hair and providing each strand of hair with the right amount of nutrients to keep it away from looking rough and unhealthy.
The shampoo also gives the hair strong moisture and helps it from dehydrating. Wow! This deep moisture is perfect for normal hair.
So just apply to hair, lather, and rinse for breathtaking results.
Our View on Aveda Nutriplenish Shampoo
4.4 out of 5 users have given positive reviews on this shampoo. They claim that the shampoo is rich in nutrients that help moisturize each tress deeply.
Personally, I am a fan of this moisturizing shampoo as it instantly made my hair smooth and protected it from breaking out.
Moreover, the shampoo did wonders for my curly hair and made it immensely manageable and free of knots.
Users of this shampoo also loved how healthy it made hair look without excessively using it.
On the other hand, this shampoo has a few disadvantages as well. Firstly the product is a bit expensive and not budget-friendly.
The shampoo has also caused reactions such as an itchy scalp and provides discomfort.
Personally, the shampoo did not cause any adverse effect on my hair but made me feel fresh throughout the day.
This proves that shampoo works differently for everyone. It is a bit over-priced but definitely worth a try.
3. Aveda Invati Advanced Exfoliating Light Shampoo
Give your hair some love with the Aveda Invati Advanced Exfoliating Shampoo.
This shampoo is sulfate-free and completely cleanses your hair by removing any build-up residue and dirt from the scalp.
Furthermore, the shampoo is rich in herbs such as Ginseng and turmeric that remove any hair impurities.
It doesn't end here! The Aveda Invati Advanced Exfoliating Shampoo contains milk that nourishes parched hair providing durable comfort.
If you're worried about thinning hair and excessive hair loss in the shower, then the exfoliating light shampoo may be the right pick for you.
Through the use of this product, you will be able to see the results in just 12 weeks and be able to create those crazy hairstyles without losing any more hair.
Product Review
4 out of 5 users feel confident after using this shampoo. Customers claim that they do not require everyday washing as the product exfoliates the scalp thoroughly, leaving it clean for a few days.
In addition to that, the shampoo is perfect to use in dry weather as it deeply gets rid of dirt and prevents scalp itchiness. I personally agree with this 100%.
My hair felt a lot cleaner and free of impurities in humid weather conditions. It also reduced my hair loss problem by up to 80%. It is user-friendly and suitable for hair types.
On the contrary, some users complained that the shampoo caused more hair loss than before and gave a scratchy scalp.
It also has a watery-like texture that makes it difficult to lather on hair. It is also extremely overpriced and not that budget-friendly.
Verdict: Aveda Shampoo Review
The range of Aveda Shampoos comes in a variety, suiting all hair types. Most of the shampoos are free of harmful chemicals, as Aveda aims to produce cruelty-free products.
Overall, the feedback on the different shampoos of Aveda is good. It reduces hair fall, makes hair smooth, and deeply cleanses the scalp.
Despite the benefits, Aveda Shampoo has a few cons as well. The shampoo may cause allergic reactions causing itchiness and dryness.
Secondly, the brand's products are mostly expensive, making them difficult to afford.
However, the positive reviews on this shampoo brand are far more than the negative ones, so you can use this shampoo freely without worrying.
In my opinion, this range of Aveda Shampoos is definitely worth the money!
You may like to read: