We all have heard of KFC using 11 herbs and spices in its recipe. But what about shampoos?
VO5 Shampoos combine the goodness of 5 essential vitamins and oils to bring you more than 10 different shampoos.
I was searching the internet for an affordable shampoo when I came across VO5. I was intrigued and ordered a few.
In this VO5 Shampoo Review, I will discuss my personal experience as well as the customers' feedback regarding these products.
VO5 Shampoo Review
When I first came across VO5 Shampoos, I was simply looking for a good shampoo at an affordable price.
I had just been laid off, and I was looking to ensure my savings lasted enough until I landed a job.
In this blog, I will review my 3 favorite VO5 Shampoos for you.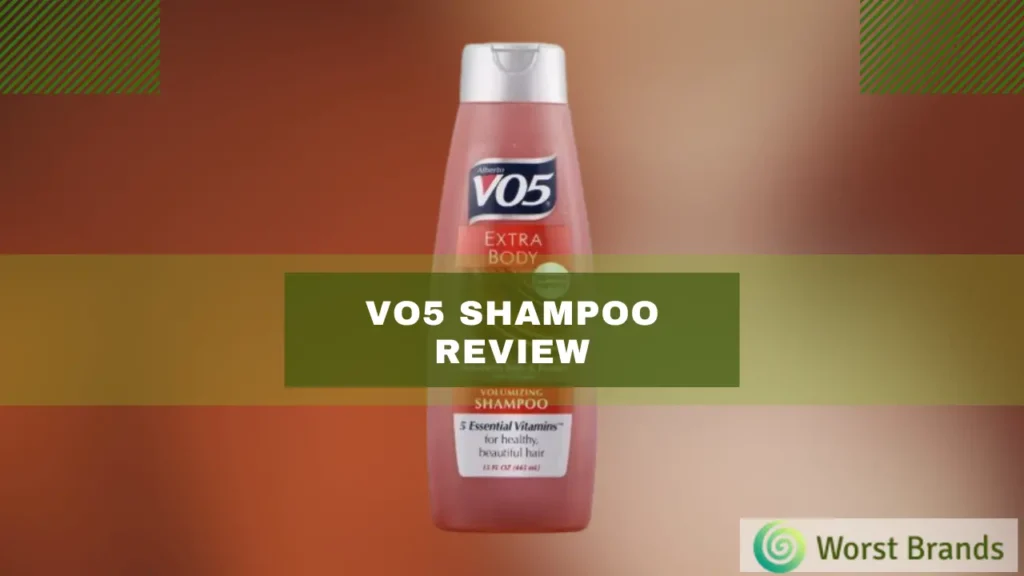 1. Alberto VO5 Kiwi Lime Squeeze Clarifying Shampoo
Transitioning your Shampoo is never easy on the hair. So, before switching to VO5 completely, I paired my regular Shampoo with the Kiwi Lime-infused Clarifying shampoo.
I was amazed at how fast it removed the dullness from my hair. I was an avid fan of using styling gels to make the hair-do last.
The buildup from which made the appearance of my hair dull. I did not realize how bad it was until I used this Shampoo for a while.
In addition to the five essential vitamins and oils, it also contains Rosemary, Lemongrass, and Lime.
The Shampoo revitalizes the hair leaving it soft, silky, manageable, and cleansed.
While it is a cheap option, it comes with the cost of pairing it with regular Shampoo.
So, this might be a hindrance to some. Thus, making it a less cost-efficient option.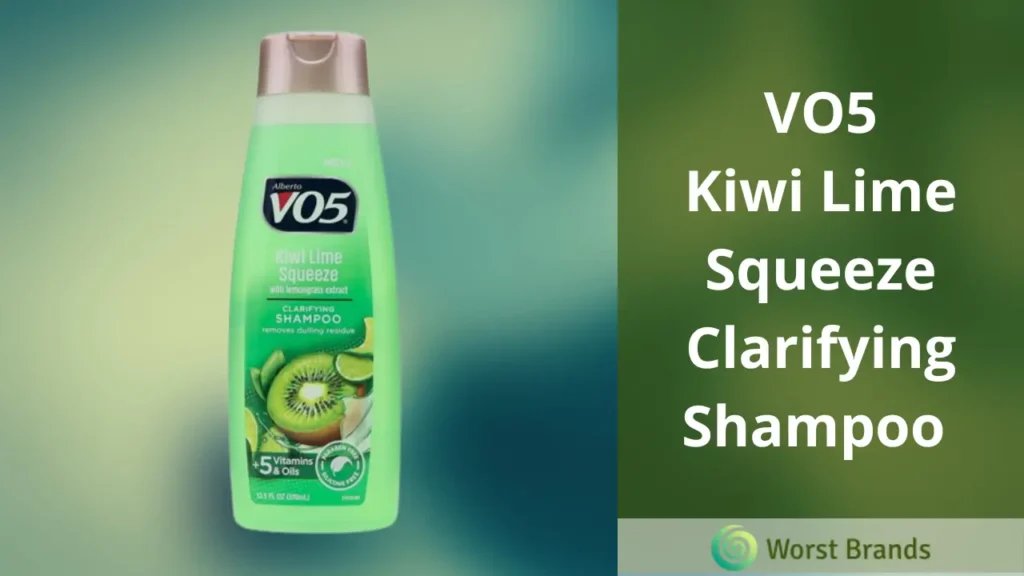 Pros
Great For Damaged Hair
Deeply Cleanses
Adds Shines
Cons
2. Alberto VO5 2-in-1 Shampoo and Conditioner
As my finances added more pressure, I had to choose between Shampoo or conditioner on my next purchase.
I got the VO5 2-in-1 Shampoo and Conditioner. It improved my dry and damaged hair to a visible extent.
Starting, the 2-in-1 combo provides extra hydration and moisture to the hair. It is suitable for all hair types.
I found the Shampoo to reduce my hair thinning. The detangling properties reduced the damage from combing and wind.
I would not recommend you buy this Shampoo if you have especially dry hair with a dry scalp.
The Shampoo does not provide enough hydration to last you for longer periods.
Pros
Softens Hair
Adds Shine
Affordable
Cons
Might Weigh Down Thin Hair
3. Alberto VO5 Extra Body Volumizing Shampoo
As the name suggests, this particular variant adds body to the hair. The Shampoo carries Collagen for that extra bounce.
Using the goodness of 5 oils and vitamins also helps to add shine to the hair. The detangling properties of the Shampoo soften the strands.
I like the scent of this variant. Rather than feeling like a whiff or a breeze, it is a long-lasting scent.
However, it is not potent enough to fight serious cases of dandruff. In such situations, you need to rely on special formulations.
Also, while I like the fragrance, some customers find it appalling. Moreover, the strong fragrance also irritates the scalp. So, be sure to patch test.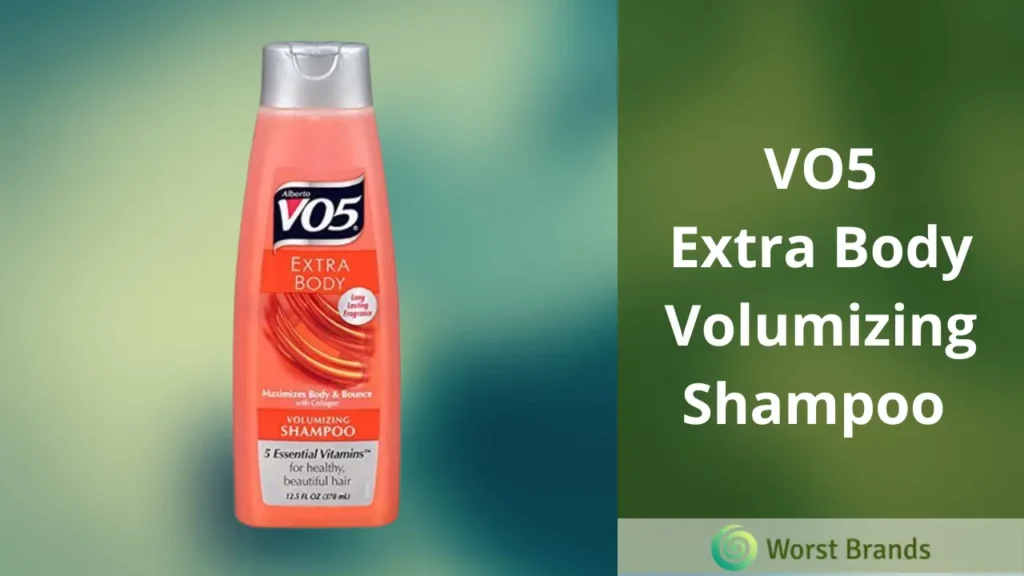 Pros
Makes Hair Bouncy
Affordable
For All Hair Types
Cons
VO5 Shampoo Comparison Table
| Products | Free of Sulfates | Improves Texture | For All Hair Types |
| --- | --- | --- | --- |
| VO5 Kiwi Lime Squeeze Clarifying Shampoo | No | No | No |
| VO5 2-in-1 Shampoo and Conditioner | No | Yes | Yes |
| VO5 Extra Body Volumizing Shampoo | No | Yes | Yes |
VO5 Shampoos Customers' Feedback
Customers love this product. The overall rating for VO5 shampoos is 4.5 stars out of 5.
Out of 1000+ reviews, 79% rate it 5 stars. The Extra Body Volumizing Shampoo is a cult favorite.
Some customers call VO5 a "Hair Elixir." Others claim it works better than high-end products for them.
I love the clarifying shampoos more. They help to remove buildup from styling. My scalp feels cleansed, and there is a better environment for new hair growth.
Is VO5 Worth It?
Yes, VO5 shampoo is totally worth it. We suggest you use this Shampoo if you are looking for a quality formulation on a budget.
The shampoos cost $0.5 per fl. Oz. This is a good value for money. The formulation was created to cater to the hair damage the women of Hollywood had.
The constant styling damages the hair to the point of no return. The Shampoo alone will not undo the damage. However, it can assist in cleansing the process.
Why Choose VO5 Shampoo?
Here are a few reasons to choose VO5 Shampoo.
It does not contain many allergens like alcohol and mineral oils. These inhibit healthy hair growth by irritating the scalp.
It is also free of Parabens that cause cancer.
You can get the benefits of five essential vitamins: Vitamin B3, Vitamin C, Vitamin E, Vitamin B5, and Biotin.
You also get goodness from five vitamin oils. These come from sunflower seeds, mango seeds, sweet almond seeds, chamomile flowers, and rosemary.
Common Ingredients in VO5 Shampoos
Different VO5 shampoos essentially contain the basic 5 vitamins and oils. Here is a list of common ingredients in VO5 Shampoos.
Ascorbic Acid (Vitamin C)
Biotin (Vitamin H)
Blue 1 (Ci 42090)
Citric Acid
Cocamidopropyl Betaine
Cymbopogon Schoenanthus Leaf Extract
Disodium EDTA
Fragrance
Glycerin
Guar Hydroxypropyltrimonium Chloride
Hydroxypropyl Methylcellulose
Methylchloroisothiazolinone
Methylisothiazolinone
Niacinamide (Vitamin B3)
Panthenol (Vitamin B5)
Polyquaternium-7
Polysorbate 20
Propylene Glycol
Rosemary Extract
Sodium Chloride
Sodium Laureth Sulfate
Sodium Lauryl Sulfate
Tocopheryl Acetate (Vitamin E)
Water
Yellow 10 (Ci 47005)
Where to Buy VO5 Shampoo?
Here are the official retailers of VO5 shampoos.
Amazon
Target
CVS
Walmart
Walgreens
Rite Aid
Meijer
Albertsons
Family Dollar
Publix
Dollar Tree
Kroger
H.E.B
You might also like to know the following:
Possible Side Effects of VO5 Shampoos
Here are possible side effects of using this Shampoo.
Preservative Disodium EDTA is used in the Shampoo. This has formaldehyde in it, which irritates consumers. The scalp, eyes, and respiratory tract are all irritated.
These shampoos include a surfactant called Cocamidopropyl Betaine which can lead to contact dermatitis. Users of the substance have been reported to have immunotoxicity.
Propylene Glycol increases the shelf life at the expense of Contact Dermatitis. Rashes and pimples appear along the hairline for users.
Customers who use this shampoo experience allergic reactions because of the phenoxyethanol. Eczema to hives is among the responses. The substance is also recognized as a carcinogen.
Some consumers may experience nausea and discomfort from the Shampoo's fragrances.
Frequently Asked Questions
Q1: Does VO5 Have Sulfates?
Yes, VO5 shampoos contain sulfates. These are harsh surfactants that cause hair damage.
Q2: How to Contact VO5?
You can contact VO5 on their official website. You can also contact the company on its Facebook messenger chat.
When I approached them through the official website, I had to fill out a form stating my product issue. I also had to wait a business week before I was contacted back.
Bottom Line
To summarise this VO5 Shampoo Review, we would like to say it is well-spent money.
VO5 shampoos are a budget-friendly option that provides excellent results to its customers.
From revitalizing dull hair to adding extra body and shine, VO5 has a solution for all.
Combining 5 essential oils and vitamins added to other natural extracts leaves your hair healthy. We recommend you buy it if you experience a lot of buildups.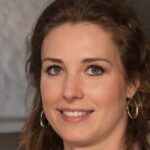 Crystal Hafley is a dedicated writer and content creator for WorstBrands, where she specializes in writing insightful reviews about kitchen appliances and fashion products.
With her expertise, Crystal provides readers with accurate and reliable information to help them make informed decisions about the brands and products they use every day. When she's not researching or writing, Crystal enjoys cooking and exploring the latest fashion trends.