Until a few weeks ago, untamed hair made me lose confidence. Changing weather has always been brutal for me.
A few hair strands shoot up on my head whenever a leaf falls in the distance.
To top it off, I also had extreme hair fall. Collectively, the issues just added to the problems on my plate.
I feared stress triggering the hair fall, so I looked up remedies. Most results indicated changing shampoos for first aid remedies.
So, I landed upon Suave Shampoos. Let us get into this Suave Shampoo Review without any further ado.
Suave Shampoo Review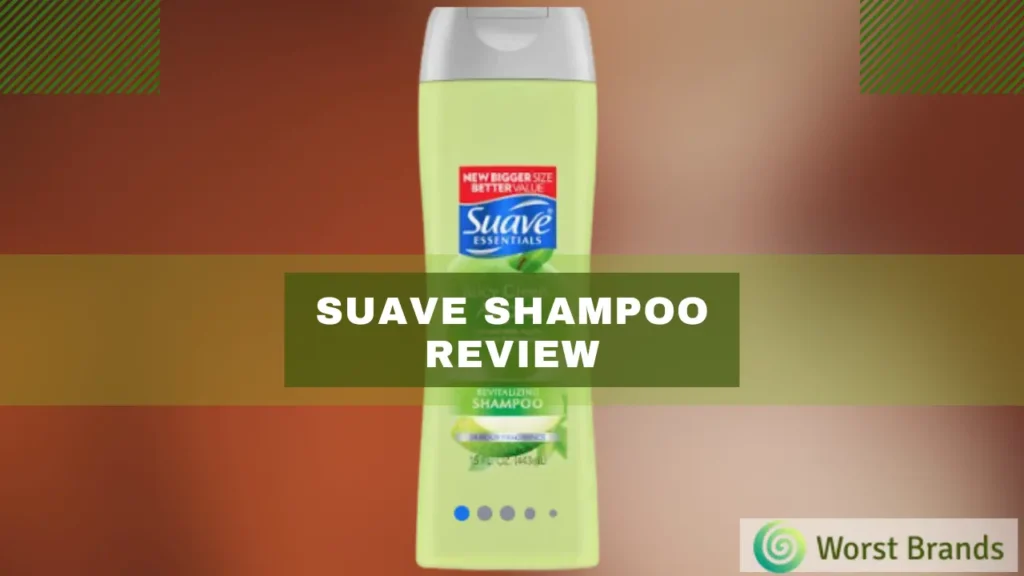 Overall Suave shampoos are in 4 collections:
Professionals
Essential
For Natural Hair
Pink Line.
You can find further distinctions in men, women, and kids formulations. Out of 34 shampoos, here are the 3 top shampoos by Suave.
During my hair journey, I was desperate to the extent that I tried more than 15 shampoos in 3 months.
Due to their affordability, I could easily switch between different Suave Shampoos.
1. Suave Professionals Almond Shampoo
I will begin this Suave Shampoo Review with my favorite shampoo in the collection.
This particular shampoo significantly improved my hair texture with consistent use.
The formula contains highly potent ingredients: Almond, Shea Butter, Rosemary Oil, Jojoba Oil, and Other flower extracts.
I was hesitant at first, but the shampoo improved the texture of my strands. It did not weigh my hair down and restored its natural shine.
The formulation was gentle and cleansed my scalp well. The formula is curly girl friendly as well!
The formula is especially effective for dry and damaged hair. It comes in 12.6, 15, 18, and 28 Fl Oz sizes.
However, I felt that it made my scalp itch upon daily use. Overall, the scalp felt irritated, and there were bumps along the hairline.
The notes of the scent are long-lasting. The best part is that it infuses the scent without carrying Phthalates in the formula.
Pros
Suitable For All Hair Types
Pocket-friendly
Free of Parabens and Dyes
Cons
Contains Sulfates and Harmful Preservatives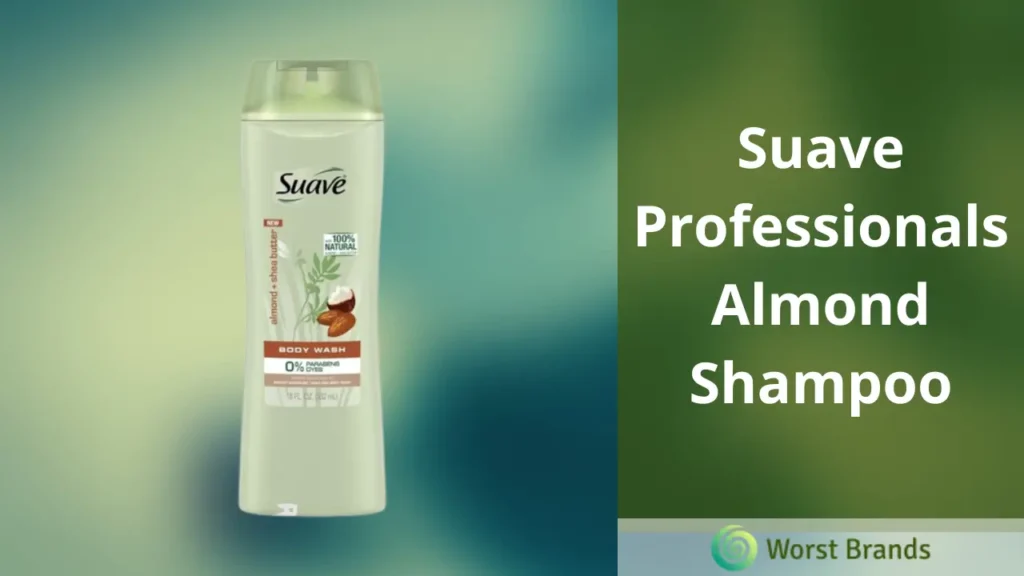 2. Suave Daily Clarifying Shampoo
My second shampoo from Suave was the daily clarifying shampoo by Suave. Rightfully so, it is a part of the Suave Essentials line.
Unfortunately, I fall under the class of people who have oily scalps and dry ends. This formula worked pretty well to gently cleanse my hair.
My hair was significantly dry and brittle when I adopted this shampoo. Previously, any shampoo I used for scalp cleansing dried my ends.
The active ingredients are pretty simple; it contains many surfactants like Sodium C12-13 Pareth Sulfate, Cocamidopropyl Betaine, and Hydroxypropyl Methylcellulose.
The formula is especially effective for normal to oily scalp types. Usually, clarifying shampoos can be a bit stripping.
With this, my experience was not out of the world. The scalp cleansing was perfect.
However, the hair strands retained their existing texture without showing any improvements.
Tocopheryl Acetate in this shampoo is the purest form of Vitamin E.
The label claims to provide 2x more moisture than a non-conditioning system, but it was not the case for me.
Moreover, the formula is pH balanced. A difference in pH between the scalp and the product irritates.
Unfortunately, the formula was too harsh for me, and I had to discontinue use after a while.
If your scalp type is very oily, then this formula is effective for you to get rid of residue. However, for dry scalps, I would not recommend it.
Pros
Free of Parabens and Dyes
Color Safe
Pocket-friendly
Cons
3. Suave Moroccan Infusion Shine Shampoo
This formula from Suave Professionals is my favorite one yet. I have to say it shocked me the most out of any moisture-locking shampoos in the line.
The main ingredients I see are Moroccan Argan Oil, Coconut Oil, and Almond Oil. The formula cleanses gently and leaves the hair shiny, silky, and frizz-free.
It did not switch up my recently colored hair when I used it. So, it is as color safe as it claims to be.
The Quench lock Technology in this formula delivers enhanced shine and moisture. I did feel a slight rash along the scalp upon frequent use.
The line also comes with Suave Professionals Moroccan Infusion Dry Shampoo and conditioner.
Argan oil is proven to bind the oil proteins to hair strands and provide enhanced moisture. It also fights radicles as it is packed with antioxidants.
Overall, I like the product, and I like the packaging. The price tag is also pretty decent.
Pros
For All Hair Types
Gives Long Lasting Shines
Free of Parabens and Phthalates
Cons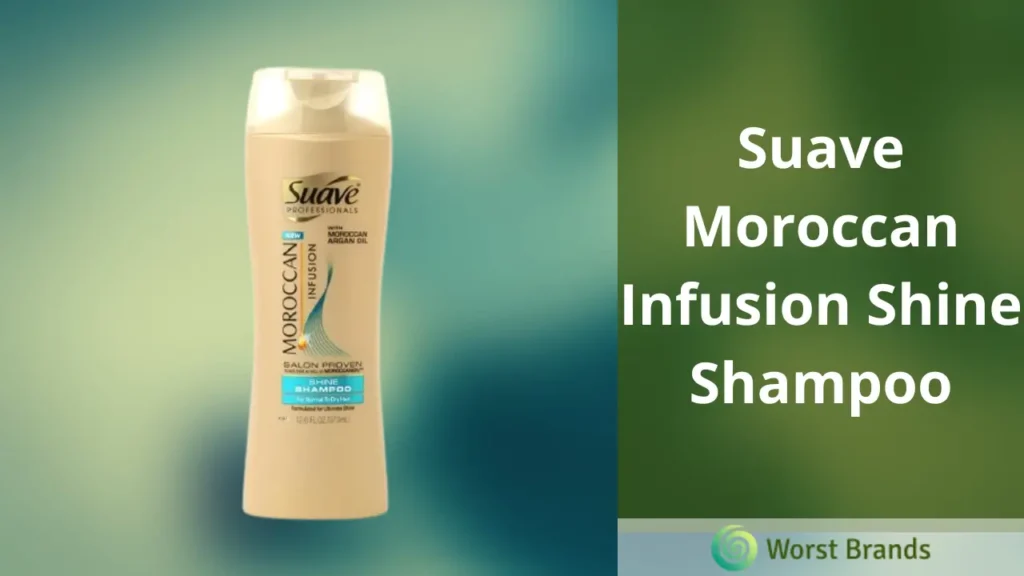 Comparison Table of Different Suave Shampoos
| Product | Sulfate Free | Improves Hair Texture | For All Hair Types |
| --- | --- | --- | --- |
| Suave Professionals Almond and Shea Butter | No | Yes | Yes |
| Suave Essential Daily Clarifying Shampoo | No | No | No |
| Suave Moroccan Infusion Shine Shampoo | No | Yes | No |
You may also love to read about our reviews on other brands of shampoos:
Customer Feedback on Suave Shampoos
Customers can make or break a brand. Lucky for Suave, almost all its products have a positive rating of 4.7 stars out of 5.
Out of some 10,000 reviews, 81% are positive. This is a considerably positive statistic for brands to achieve.
The majority of the customers love the brand for its drugstore price. While others simply swear by the formulation.
Some consumers find the multitude of options a convenience. They have familiar formulations with a little adjustment to choose from.
While this is true, the other end of the spectrum resents the product. They believe that it has many allergens that should be eliminated.
I also agree with the latter. All suave shampoos irritated my scalp a little upon use.
Is Suave Worth It?
Suave has been a professionally certified hair care brand since the 30s. While every 1 out of 2 households in America has this shampoo, I would not.
The shampoo has some harsh surfactants that strip my scalp of natural oils. The conditioners leave my hair glossy but not hydrated enough.
With a lot of competition in the market, the brand can work to re-engineer the formula to bring back its edge.
Until then, if you are really on a budget, you should opt for this shampoo. On average, it costs $0.18 an ounce.
The shampoos are under $20 and are an excellent value for the price. However, if you have sensitive skin or any significant allergies, you should avoid this.
Why Choose Suave Shampoos?
Here are some of the reasons why you should choose Suave Shampoos.
They are incredibly affordable. Selling under $1 per ounce, this will be a relief for you on a tight budget.
Suave is a cruelty-free brand. There are proofs to support the claim, and they do not test on animals.
The anti-dandruff range has a targeted formulation to systematically cleanse the scalp and prevent flakes from forming.
There are several formulations to choose from. So, if one does not work out for you, the brand has other options for you to explore.
Potential Side Effects
Suave shampoos are heavily criticized for their controversial ingredients.
There are many potential allergens and other health-deterring ingredients in the shampoos.
These are some of the side effects of using Suave shampoos.
Suave's infamous class-action lawsuit for containing DMDM Hydantoin is an ick for many. The said preservative causes hair loss in users and irritated scalp.
Suave shampoos contain harsh sulfates for surfactants. These irritate the scalp in users.
Cocamidopropyl Betaine in shampoos is another surfactant that irritates. You can call this Contact Dermatitis, which is enhanced in eczema patients.
Propylene Glycol can irritate if you are allergic to it. You will develop a rash and bumps along the hairline and face.
Linalool in shampoo is a fragrance in this shampoo that causes Contact Dermatitis as it oxidizes.
Dimethiconol in Suave shampoos is another name for Silicones. Silicones cause breakout and Irritation.
Sodium Chloride in shampoos can irritate the scalp.
Common Ingredients in Suave Shampoos
Shampoos by Suave come in different formulations for different hair types. Here are some of the common ingredients in Suave shampoo.
Zinc Sulfate
TEA-Dodecylbenzenesulfonate
Sodium Laureth Sulfate
Sodium Chloride
Propylene Glycol
PPG-9
Linalool
Guar Hydroxypropyltrimonium
Fragrance(parfum)
DMDM Hydantoin
Dimethiconol
Cocamidopropyl Betaine
Cocamide Mea
Citric Acid
Carbomer
Aqua(Water)
Where to Buy Suave Shampoo?
You can buy Suave products from its official website and get them delivered with express delivery.
Suave also retails through multiple third-party retailers. These are the common retailers of Suave Shampoos.
Amazon
Walmart
eBay
Ulta
Walgreens
CVS
Kroger
Rite Aid
Vons
Bed Bath and Beyond
Are Suave Shampoos Sulfate-free?
No, Suave shampoos have harsh ingredients for foaming. However, the Suave Naturally Derived range is their line of sulfate-free shampoos.
Frequently Asked Questions
Q1. How Often Should You Use Suave Shampoos?
The formulae by Suave are very harsh. So, you should not go over the prescribed frequency of the bottle.
Moreover, if you have dry hair or a dry scalp, you should wash it every other day or later.
Q2. How to Contact the Company?
You can contact the company through the official website of Suave. You will find their email address in the "Contact Us" section.
Moreover, the brand also lists its hotline here.
You can use the store locator option to find your nearest store by entering your zip code.
Conclusion
You should try Suave Shampoos if you have stubborn scalp oil production.
The formula cleanses well and comes in 34 different formulations with a mix of ingredients you can benefit from.
I had shinier hair after using Suave Moroccan Shine Shampoo. This had Argan oil which specifically helped me with hair thinning and breakage.
You can find the formula that best suits your skin concerns.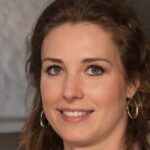 Crystal Hafley is a dedicated writer and content creator for WorstBrands, where she specializes in writing insightful reviews about kitchen appliances and fashion products.
With her expertise, Crystal provides readers with accurate and reliable information to help them make informed decisions about the brands and products they use every day. When she's not researching or writing, Crystal enjoys cooking and exploring the latest fashion trends.