If you are searching for the answer to the question "What are the most common Samsung refrigerator problems"?
Well, you've come to the right place. There are several issues that need your attention.
The most common Samsung refrigerator problems are Not Defrosting, Uneven Temperatures and Ice Maker not Working.
However, if you are planning to buy a new fridge then make sure to first check out the list of refrigerator brands to avoid.
List of 5 Samsung Refrigerator Problems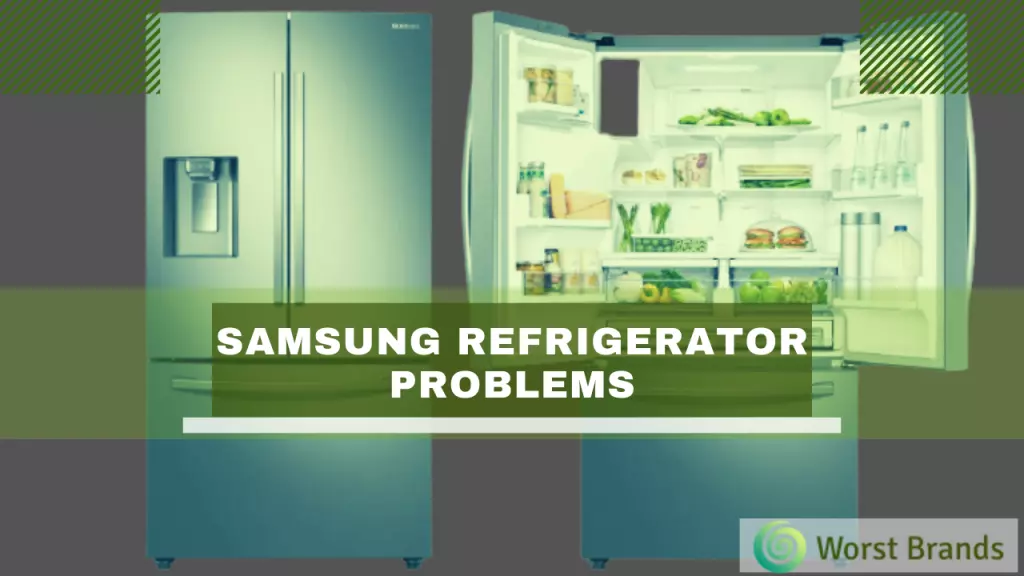 Continue reading to learn about all of the problems that Samsung fridges have and how to troubleshoot them.
1. Samsung Refrigerator Ice Maker not Working
Samsung is allegedly involved in a legal battle over its substandard ice makers.
Many homeowners have problems with the quality of the ice makers, and they have complained about it on consumer forums and in social media surveys.
Here are the following ice maker issues reported by the owners.
Water leakage under the crisper trays of the refrigerators
Ice crystals, water droplets, and slushy ice form at the bottom of the ice maker
The ice buckets are stuck and hard to remove, probably as a result of clogged drains
Ice maker is over freezing while in some cases it is not freezing and homeowners need to put extra ice bags in the refrigerator
The Refrigerator is not Defrosting at all. The ice makers will freeze into huge blocks of ice. Some homeowners are using steam mops or hair dryers to melt their icemakers.
Here is our complete guide on how to troubleshoot the Samsung Refrigerator Not Making Ice.
Video:
2. Food Spoilage Due to the Uneven Temperatures
Along with the other common issues, Samsung refrigerators are notorious for having uneven temperatures.
The refrigerator's thermostat is extremely unreliable, and many consumers have reported this problem.
So, the uneven temperature has the potential to spoil your food. Keeping food at temperatures above 40 degrees Fahrenheit puts you at risk of food contamination.
How Can You Check if Your Refrigerator has a Proper temperature inside?
If you are not sure about the refrigerator's temperature, you must do the following things to preserve your food from the dangerous bacteria growth that is not visible to the naked eye.
Check the air damper control. If it is broken, replace it because it allows too much air into the refrigerator, causing it to freeze.
Check the thermistor using a multimeter. The thermistor's resistance should change along with the refrigerator's temperature. If it doesn't, replace the thermistor because it will overrun the fan and compressor, causing the refrigerator too cold to freeze the stuff.
Examine the temperature control board for damaged solder points. If the board is damaged or burnt, you must replace it.
Check the temperature control thermostat from the lowest to the highest point and wait for an audible click sound. If there is no click sound, use a multimeter to test the thermostat's consistency. Replace it if there is no temperature consistency.
3. Samsung Refrigerator is Not Defrosting
The failure of defrosting the device has caused a lot of frustration among its users.
Many users have claimed that their refrigerators are not defrosting at all.
They have to use the steam mops to melt the frozen ice formed on the evaporator coils, which are responsible for allowing cold air to freely circulate in the refrigerator.
If defrost heater assembly is not working properly, there will be an excess frost build-up on the evaporator coils.
It will restrict the airflow which will cause the refrigerator to stop cooling.
What to do if your Samsung refrigerator is not defrosting?
Examine the defrost heater with a multimeter to see whether it provides enough heat to the evaporator coils to melt the ice buildup. If it doesn't replace it.
Related:
Samsung Dishwasher Problems
Samsung Washing Machine Problems
4. Samsung Refrigerator Not Cooling
It is another prevalent issue found in Samsung refrigerators.
Many consumers have complained about Twin Cooling Plus technology failure, evaporator fan failure, and compressor failure, which ultimately ended in cooling failure.
The causes of the Samsung Refrigerator not cooling are as follows:
The frost build-up on the evaporator coils

The evaporator fan frosted over
Defrost heater is not working
The temperature sensor or thermistor is defective
Failure of the Defrost Thermostat
Here is our complete guide on how to fix your Samsung Refrigerator Not Cooling issue.
5. Samsung's French Door Refrigerators Have Issues
Samsung's French door refrigerators have received a lot of negative reviews from users.
If you have recently bought the latest Samsung French Door refrigerator model, then good luck to you because the excitement will not last long.
French door refrigerators, according to the homeowners, last less than a year. Even after 6 months of use, some users have reported that their refrigerator has died.
The followings are the most common problems with the Samsung French Door Refrigerators:
Malfunctioning ice maker
Fluctuation in temperature
Misaligned doors
The refrigerator makes a loud noise
Not trusted for longevity
6. Getting a Refund is Challenging
If you have all of these problems with your Samsung refrigerator, obviously you would like to replace your appliance or get a refund.
But, getting a refund is not that simple, even if you are still under warranty.
Asking for a refund is always a long-term process, and too much delay or no response from customer services will make you frustrated.
So, if you don't get a positive response from the customer support department, you can forget about the refund.
You may also read:
LG Refrigerator Problems
Frigidaire Refrigerator Problems
Frequently Asked Questions
How long do Samsung refrigerators last?
On average, a Samsung refrigerator can last up to 15 years. After that, it will start increasing your repair expense. However, the lifespan is highly dependent on how well you maintain it.
Do Samsung refrigerators have any issues?
The Samsung refrigerators have a number of issues reported by its users, especially in the French door models, such as water leakage, misaligned doors, loud noises, uneven temperature, and malfunctioning ice maker. In 2017, there was a lawsuit against Samsung for making shoddy ice makers.
Final Words:
In this guide, we have discussed the most common Samsung refrigerator problems to help you troubleshoot them.
No doubt that Samsung is one of the most reliable home appliances brands.
Many homeowners have complained about a number of issues on various customer forums, especially about French door refrigerators.
If you already own a Samsung refrigerator and are having problems with it. In that case, you must contact Samsung to request a service to help you in resolving the problem.