Rusk Shampoos are a perfect fit if you are looking for a professional touch in your daily hair routine at an affordable price.
My work requires me to meet many people daily; I used to be quite uncomfortable due to my dull and greasy hair.
But since I started using Rusk Shampoo, my hair has looked lush, rich, and volumized.
So dive into this Rusk Shampoo Review to know all about this product.
Rusk Shampoo Review
Rusk Shampoos are globally known for its professional hair products. I have a few favorites myself that I will be reviewing in this blog.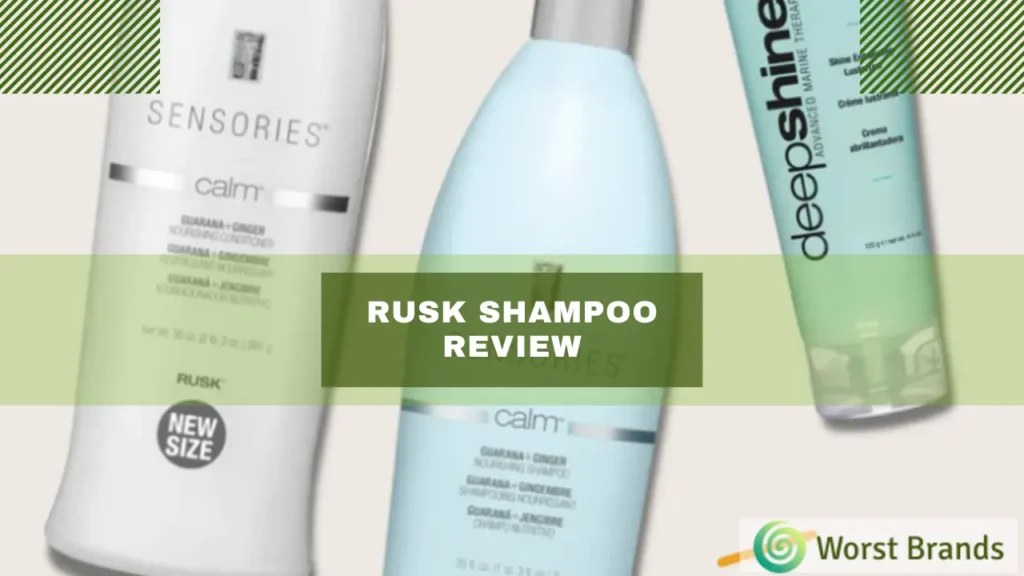 1. Sensories Calm Guarana And Ginger Nourishing Shampoo
My hair had a quick build-up, so it used to get dull and limp in a short time.
In addition, they were damaged, and the growth was stuck like I hadn't been washing them in a long time.
But I had a drastic change in my hair since I started using Guarana and Ginger Nourishing Shampoo on my stylist's recommendation.
My first shampoo from Rusk Shampoos was this one, and it made my hair luscious, nourished, and long.
Guarana extracts consist of high-level fatty acids and protein, improving growth, working through your hair follicles, and keeping the scalp clear of dandruff.
Ginger has numerous minerals, vitamins, and fatty acids that strengthen your hair strands.
This helps in reducing hair loss and also contributes to restoring moisture loss.
However, I have noticed a difference in the scent of the shampoo compared to my previous bottles; it used to be more subtle and relaxing.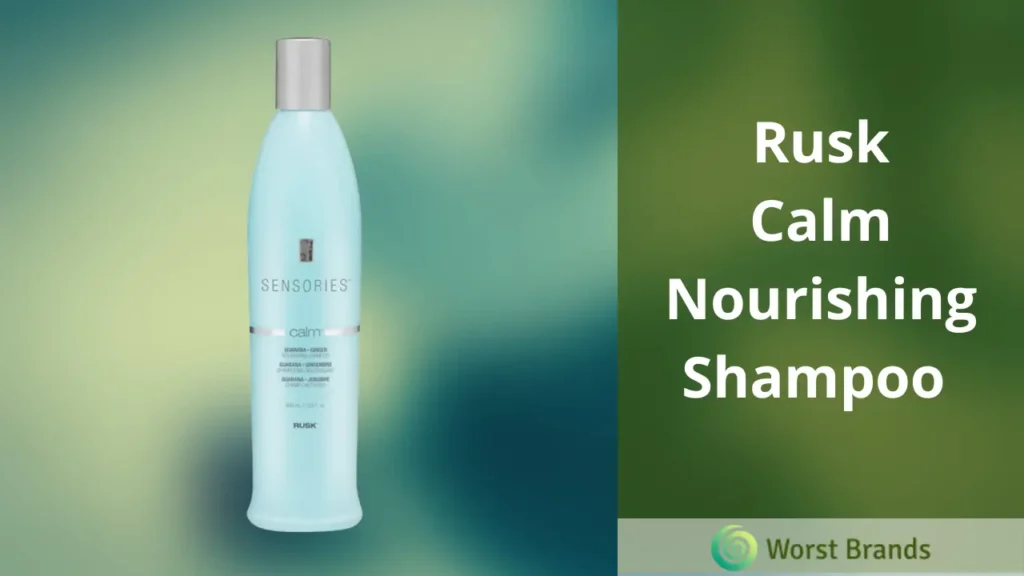 Pros
Nourishing the hair
Moisturizing
Cons
2. Sensories Smoother Passionflower Shampoo
Out of all hair concerns, frizzy hair tops the list. The manageability seems impossible, and styling them is another hassle.
My friend was tired of managing and taming her frizz and static hair down every season.
Her hair and mood calmed down when our stylist suggested she try Passionflower And Aloe Smoothing Shampoo.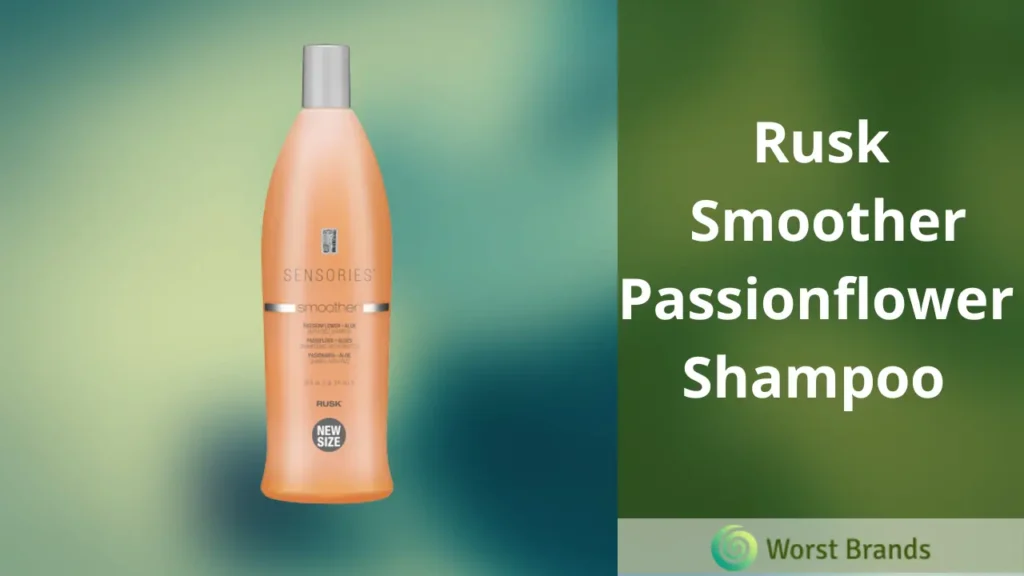 This formula eliminated her static and frizz while adding shine, manageability, sun protection, and texture.
Passionflower extract is full of nutrients, including vitamins A and C. Furthermore, essential fatty acids protect and calm the dry, itchy scalp and restore moisture.
Aloe Vera is also added to this formula for UV protection and strengthening and softening of hair.
However, people with severely damaged hair or sensitive skin should avoid using this shampoo. That's because it contains some strong ingredients that may cause some irritation.
Pros
Anti-frizz
UV protection
Smoothing
Cons
3. Sensories Full Green Tea And Alfalfa Bodifying Shampoo
My sister was struggling to style her thin and delicate hair. Tying up a high pony, wearing a bun or loose hair – nothing seemed to look good.
She tried using strong volumizing shampoos or getting a blowout now and then, but it was damaging her hair more and more.
This Rusk shampoo contains Green Tea and other ingredients that repair damaged hair and makes your hair thick, healthy, and strong.
Then she landed on Green Tea And Alfalfa Bodifying Shampoo, which made her hair thick, healthy, and strong.
Green tea promotes the growth and re-growth of hair.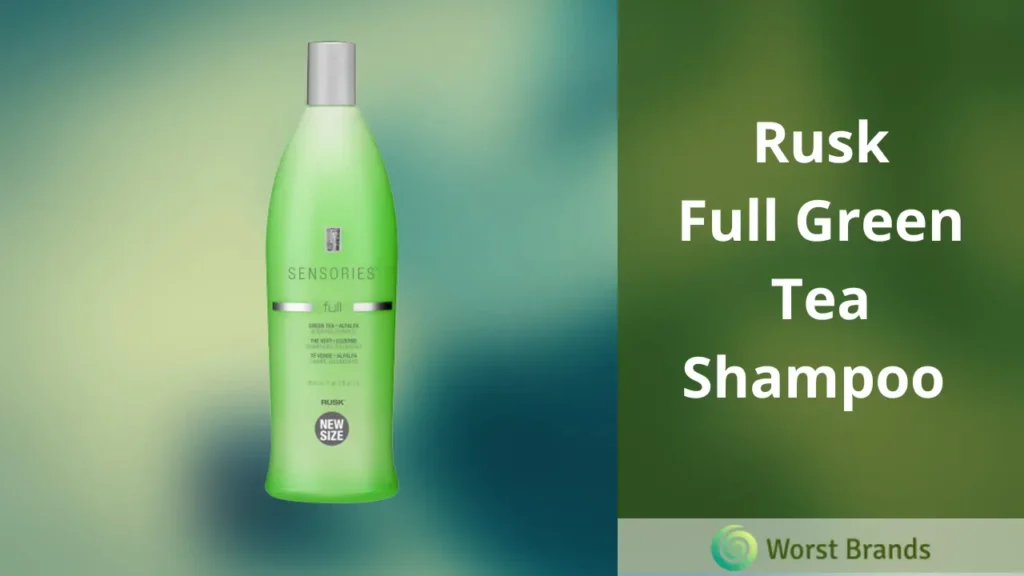 Elements in green tea, such as carotenoids, zinc, ascorbic acid, and selenium, help prevent damage to the hair and increase hair follicle stimulation.
Alfalfa extracts fight oxidative stress and restore a shiny, healthy, youthful look. This formula helped my sister regain healthy and bouncy hair.
But, this shampoo might not provide a deep cleanse for everyone as it is formulated to target fine and thin hair.
Pros
Volumizing
Adds shine
Promotes hair growth
Cons
Comparison Table of Different Rusk Shampoos
| Products | Treats Damaged Hair | For All Hair Types | Improves Growth |
| --- | --- | --- | --- |
| Calm Guarana And Ginger Nourishing Shampoo | Yes | No | Yes |
| Full Green Tea And Alfalfa Bodifying Shampoo | Yes | No | Yes |
| Smoother Passionflower And Aloe Smoothing Shampoo | Yes | No | Yes |
Also Read:
Rusk Shampoos: What do Customers Say?
Customers have ecstatically expressed their gratitude for the concept behind Rusk shampoo.
People from all around the world are getting professional care through these products.
The Rusk Shampoo has a rating of 4.6/5 on known platforms. Customers are awed by the results after using Rusk Shampoos.
Some shared how thick and long their hair turned out after using the Bodifying shampoo.
People with frizzy hair are thankful for Smoothing shampoo for its excellent balancing and smoothing formula.
Consumers state that managing and styling their hair is now easy, and its aromatic scent is a win-win.
However, people were disappointed by the shortage of the products; as most of the time, the products were unavailable.
Is Rusk Shampoo Worth It?
For us, Rusk Shampoos are worth it in every aspect. The unique formulations provide undivided care to the hair.
The professional advice added to every Rusk Shampoo makes it stand out in the market.
To our surprise, they are also highly affordable, as you can get a 35 FL OZ bottle for just $23.
It's rare to find professional care at such prices. Therefore, we recommend you Rusk Shampoos.
Why Choose Rusk Shampoos?
There are many reasons to choose Rusk Shampoo. Some are listed below; let's check them out.
Improves Growth
The ingredients used in Rusk Shampoos, like Aloe, ginger, and green tea, are known for their growth and re-growth properties. Hence, Rusk Shampoos promote fast growth.
Repairs Damage
Rusk Shampoos are carefully formulated to provide maximum care to chemically damaged hair.
This helps the users repair the damage and protect it from further damage.
Highly Affordable
Given the benefits packed in each Rusk Shampoo bottle, the prices are very affordable, even for people with a low budget to get fine treatment.
Common Ingredients Found in Rusk Shampoos
Here is a list of some common ingredients used in every Rusk Shampoo.
Water (Aqua, Eau)
Sodium Laureth Sulfate
Sodium Lauryl Sulfate
CocamidopropylBetaine
Cocamide MIPA
Fragrance (Parfum)
Panthenol
Polyquaternium-10
Disodium EDTA
Citric Acid
Alcohol
Magnesium Nitrate
Niacinamide
Sodium Starch Octenylsuccinate
Calcium Pantothenate
Maltodextrin
Sodium Chloride
Propylene Glycol
Sodium Ascorbyl Phosphate
Magnesium Chloride
Tocopheryl Acetate
Pyridoxine HCL
Glycerin
Phenoxyethanol
Potassium Sorbate
Sodium Benzoate
Butylene Glycol
Benzyl Benzoate
Citronellol
Limonene
Hexyl Cinnamal
ButylphenylMethylpropional
Linalool
Where to Purchase the Rusk Shampoo?
The Rusk shampoo collection is available on its official website. Other than that, here is a list of common stores that retail Rusk shampoos.
Amazon
eBay
Walmart
CVS
Ulta
Kroger
Riteaid
Target
Sally Beauty
Walgreens
Potential Hazards of Using Rusk Shampoos
Niacinamide may cause burning, skin irritation, and redness.
Calcium Pantothenate can be the reason for blistering and peeling of skin, Diarrhoea, and Stomach upset.
Linalool (fragrant ingredients) can cause eczema.
Citronellol causes severe eye skin irritation and may cause an allergic skin reaction.
Final Words
To conclude this Rusk Shampoo Review, we would say that these shampoos have made our lives much more manageable.
They save us from salon trips, provide manageable and smooth hair at home, and whatnot!
These shampoos contain nourishing ingredients that can help improve the health and appearance of the hair.
Thus, it will not be wrong to say that Rusk Shampoos offer the utmost care and the finest treatment for our hair at an affordable price.
Frequently Asked Questions
Q1: Is RUSK a Professional Brand?
RUSK is a trusted and professional brand that has launched different shampoos to deal with your respective hair concerns.
Q2: Are Rusk Shampoos Suitable for All Hair Types? 
No, all Rusk Shampoos targets different hair type and concerns. So, before purchasing randomly, check out which product will suit you best. 
Q3: How to Contact Rusk Hair?
You can reach them on their official website or call them at 1-800-873-7875. I once called them on their official number, and their representatives were very helpful.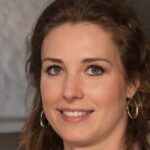 Crystal Hafley is a dedicated writer and content creator for WorstBrands, where she specializes in writing insightful reviews about kitchen appliances and fashion products.
With her expertise, Crystal provides readers with accurate and reliable information to help them make informed decisions about the brands and products they use every day. When she's not researching or writing, Crystal enjoys cooking and exploring the latest fashion trends.