My mother was determined to find the "right" product for hair. So, when her dermatologist friend recommended Oneka Shampoos, she decided to give it a try. 
After 2 to 3 washes, she noticed the results and was surprised at how incredible they were.
Her hair turned out to be smooth, nourished, and healthier. I started to use it as well and couldn't stop.
So here I am, excited to share this Oneka Shampoo Review with everyone.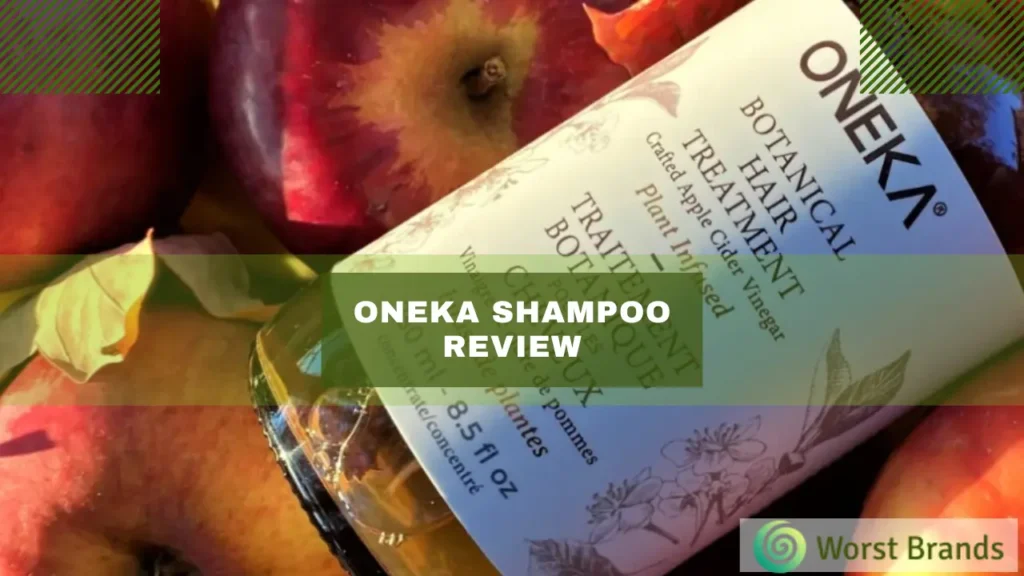 Oneka Shampoo Review
Oneka elements have created a range of the finest shampoos targeting all hair concerns with gentle ingredients.
We will share our experience with those shampoos we have tried ourselves.
1. Cedar and Sage Shampoo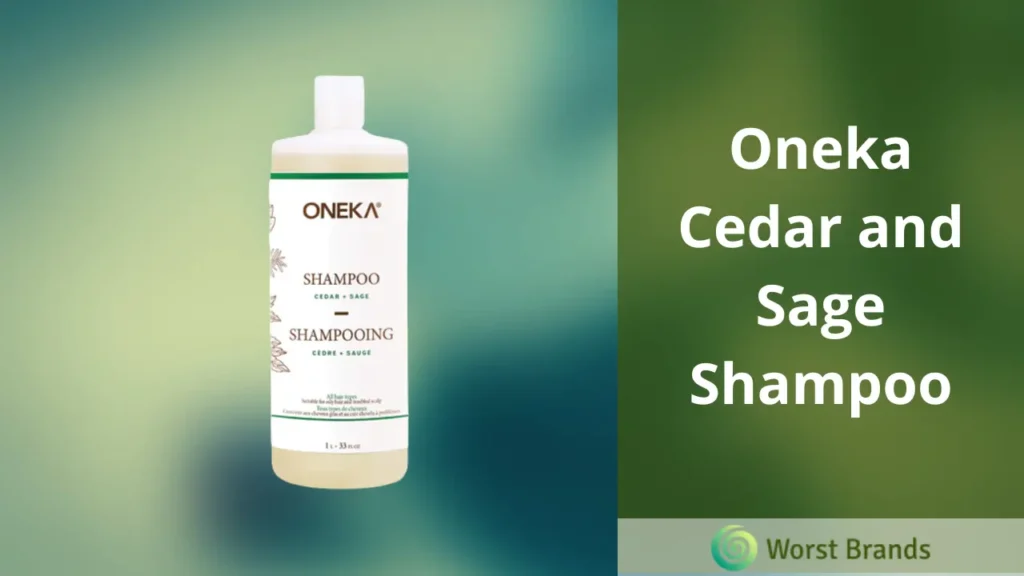 I've always struggled with controlling my hair fall and greasy hair. Due to my excess sebum production, they used to get greasy daily.
I tried strong formula shampoo to eliminate that, but it made my scalp itchy, leading to hair fall.
My mother got me out of that situation when she discovered Oneka Shampoos. The Cedar and Sage shampoo helped me control both of my worries.
Sage has sebum-balancing properties mixed with horsetail, and nettle leaves extracts that balance sebum and the PH levels of my hair. This made my hair bouncy and volumized.
Cedar is an antibacterial agent that soothes my scalp, providing a gentle cleanse and helping reduce my hair fall.
The formula is also infused with tea tree essential oil that works as a toning and antifungal agent and provides the most relaxing scent.
However, this shampoo does not lather well, so I have to use more quantity each time.
Pros
Reduce hair fall
Relaxing scent
Controls sebum production
Cons
2. Angelica and Lavender Shampoo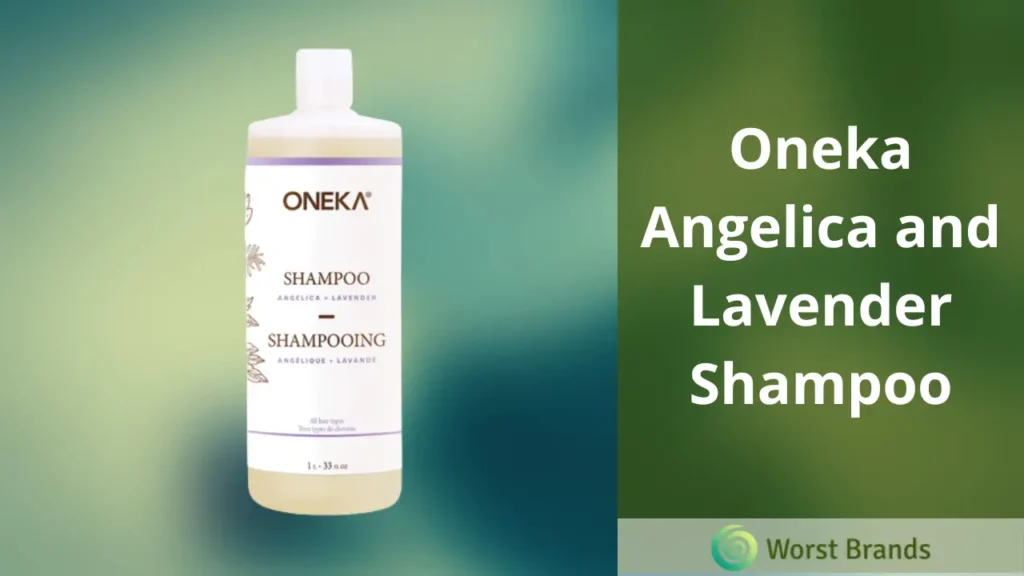 My mother had an itchy and dry scalp, making her strands brittle and lifeless.
Oiling helped soothe her scalp for a short time, but it wasn't a permanent solution.
As you grow old, your roots start to weaken, and it's pretty hard to repair that damage.
But Oneka's Angelica and Lavender Shampoo proved us wrong with its incredible formula.
Angelica root extracts have potent relaxing properties that help her soothe her constantly irritated scalp.
The Oneka Angelica and Lavender Shampoo has plant essence and effective regenerating properties resulting in improved growth. It provides calming scent.
Lavender essential oil restored her hair strength and repaired dry and damaged hair.
After 3 to 4 weeks, her hair became noticeably healthy, fuller, and shiny.
But, this formula can be too strong for people with sensitive skin due to sodium c14-16 olefin sulfonate. So, a patch test is recommended before you purchase it.
Pros
Repairs damage
Improves growth
Soothes itchy scalp
Cons
3. Oneka Unscented Shampoo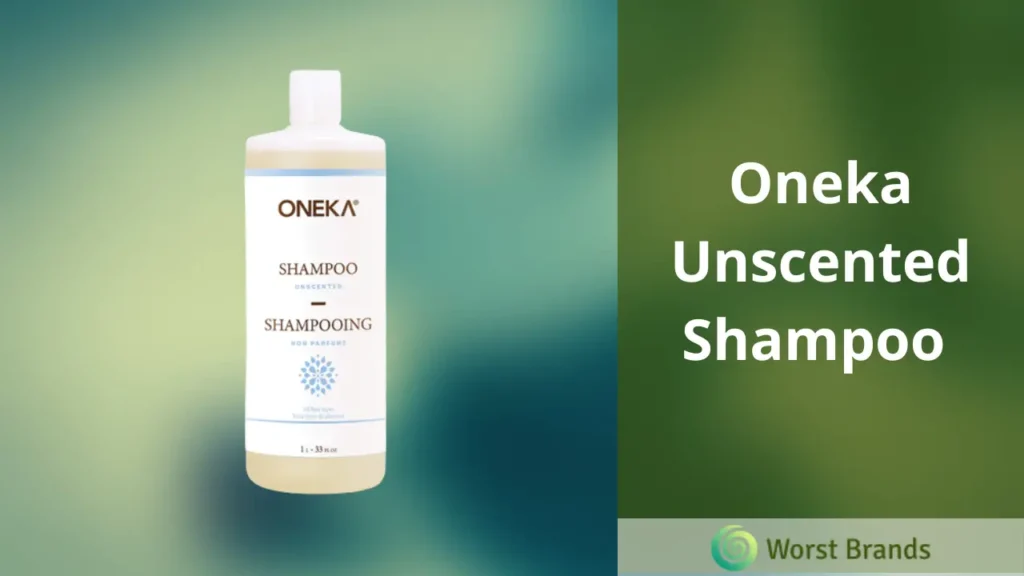 My younger brother has a fragrance allergy and is sensitive to strong scents. Therefore, it's hard to find subtly scented shampoos for him.
This problem of ours was solved when Oneka introduced its Unscented Shampoo. So, we had to grab our bottle.
The formula is extremely gentle but still provides a thorough cleanse for sensitive scalps and is safe for daily use.
The unscented shampoo also works great for people with colored hair; the natural ingredients in the formula lock the shine and radiant colors.
It leaves your hair soft, silky and nourished, and you are safe from fragrance allergies.
Calendula and Dandelion extracts are effectively helpful for sensitive scalps while ensuring the growth of dense and robust hair.
Also, people with severe acne are safe from this shampoo because of its natural ingredients.
However, if you don't have sensitive skin or scalp, you are better off shampooing with stronger formulations.
Pros
Unscented
Soft and silky hair
Gentle
Cons
Not suitable for all hair types
Oneka Shampoos: What do Customers Say?
Oneka is winning people's hearts with its excellent collection of natural shampoo with countless benefits. Customers from all around the world love Oneka's Shampoo.
Many positive reviews were shared on how this shampoo had made their hair healthier, increasing volume and shine.
People are pleased with the natural ingredients and essential oils used in these shampoos that provide softness and sootiness to scalps.
Also, shampoo prices are very affordable, and people are here for it.
Even though Oneka Shampoos have a remarkable rating of 4.6/5 on Amazon, some complained about Olefin Sodium Sulfonate, which causes redness for a few hours on the skin.
So if you are allergic to the ingredients or multiple plant extracts used in this shampoo, this product may not fit you.
Related Blogs:
Comparison Table of Oneka Shampoos
| Products | Treats Damaged Hair | For All Hair Types | Improves Growth |
| --- | --- | --- | --- |
| Cedar and Sage Shampoo | Yes | Yes | Yes |
| Angelica and Lavender Shampoo | Yes | No | Yes |
| Unscented Shampoo | Yes | No | Yes |
Is Oneka Worth It?
Oneka Shampoos are worth every penny! The authenticity of this product is impressive, and the results are ever so promising.
Natural ingredients and essential oils in these shampoos are a great addition to your hair care routine.
They also retail their shampoos at an affordable price of $16.99 for a bottle of 500 ml or 16.5 FL OZ. The number of benefits this shampoo provides at this price is surprising.
We also admire how each bottle helps the cause of protecting oceans. Hence, we recommend you Oneka shampoos.
Common Ingredients Found in Oneka Shampoos
Oneka Shampoos are packed with natural and beneficial ingredients to produce a gentle formula.
Here are some common ingredients found in every Oneka shampoo.
Arctium lappa (Burdock Root)
C14-16 Olefin Sodium Sulfonate
Cannabis Sativa (Hemp Oil)
Caprylyl Glycol
CocamidopropylBetaine (Coconut Derived)
Coco-Glucoside
DecylGlucoside (Plant Source)
Equisetum Arvense (Horsetail)
Ethylhexylglycerine
Glycerine
GlycerylOleate
Hydrastis Canadensis (Goldenseal)
Hydrolyzed Rice Protein
Lauryl Glucoside
Organic Mix of Calendula Officinalis (Calendula)
Panthenol (Vitamin B5)
Polyquaternium-10
Purified Water
RosmarinusOfficinalis (Rosemary)
Salvia Officinalis (Sage)
TaraxacumOfficinale (Dandelion)
8 Reasons to Choose Oneka Shampoos
Here are some reasons you should add this shampoo to your hair care.
This shampoo is free from harsh chemicals that have the potential to bring damage to your hair.
Ingredients like sage and horsetail balance the sebum and PH levels that prevent your hair from getting greasy daily.
Refreshing essential oils used in the formula of these shampoos provide a fabulous and relaxing scent and sootiness to your dry scalp.
Angelica roots are known for its repairing and regenerating damaged hair.
Oneka Shampoos are very affordable compared to other shampoos.
They also provide a refill of your previous bottles that helps reduce plastic wastage.
The brand supports the cause of the protection of the ocean, and purchasing every bottle helps the cause.
The shampoos are 100% vegan and cruelty-free.
Where to Buy the Oneka Shampoo?
You can directly get your bottle from their website, "Oneka Element." Other than that, multiple stores listed below retail Oneka's Shampoos.
Amazon
eBay
Walmart
Walgreens
Target
RiteAid
U-Buy
CVS
CareToBeauty
Ulta
They also refill bottles at multiple locations; you can check out details on the website.
Drawbacks of Oneka Shampoos
You never know what might trigger your allergy if you are unaware of the possible side effects of the ingredients used.
Here are some possible side effects of the ingredients used in the Oneka Shampoos.
SODIUM C14-16 OLEFIN SULFONATE can dry and irritate your scalp, especially since it can be severe for people with sensitive skin.
COCAMIDOPROPYL BETAINE irritates your eyes and causes rashes.
Possible side effects of COCO-GLUCOSIDE include dizziness, nausea, headaches, or drowsiness.
DECYL GLUCOSIDE can cause burning skin and redness in rare cases.
Is Oneka Shampoo Sulfate Free?
Yes, all Oneka Shampoos are sulfate and paraben-free.
These chemicals cause severe damage to your hair, affect the growth of hair, and dry out the hair of its natural hair. So, Oneka Elements keep their Shampoos Free of these chemicals.
Summing Up
If I look back a few years back, my hair was a lost cause. So, I can say that over the past 2 years, my family and I have been getting excellent hair treatment at an affordable price.
Oneka's unique formula gives your hair the finest texture, making it voluminous, soft, luscious, and healthy with an incredibly soothing scent.
Before we conclude this Oneka Shampoo Review, we recommend you grab a bottle and give it a try.
Frequently Asked Questions
Q1: Is Oneka Shampoo Color Safe? 
The natural ingredients and gentle formula used in Oneka Shampoos are safe for your colored hair. 
Q2: Is Oneka Shampoo Good For Sensitive Scalp? 
Yes, Oneka's Unscented Shampoo works wonderfully for people with sensitive skin or scalp. 
As the name states, it's unscented and safe for people with fragrance allergies or those who don't prefer strong-scented products.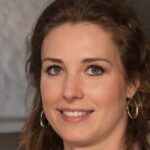 Crystal Hafley is a dedicated writer and content creator for WorstBrands, where she specializes in writing insightful reviews about kitchen appliances and fashion products.
With her expertise, Crystal provides readers with accurate and reliable information to help them make informed decisions about the brands and products they use every day. When she's not researching or writing, Crystal enjoys cooking and exploring the latest fashion trends.