WorstBrands.com is a participant in the Amazon Services LLC Associates Program, an affiliate advertising program designed to provide a means for sites to earn advertising fees by advertising and linking to Amazon.com
The Midea refrigerators are one of the most popular refrigerators in the market because they are affordable and easy to operate.
But what is it really like when you open the door and look inside?
In this Midea refrigerator review, we will go through its features, pros & cons and give you an in-depth look at what you need to know before you buy one.
Midea refrigerators have adjustable temperature controls, these are easy to clean and have good storage compartments.
Are Midea Refrigerators Good?
Yes, Midea Refrigerators are good.
The best fridge is all about performance, ease of use, and affordability.
It is something that will serve you well for years to come and make your life much easier at the same time.
And that's exactly what the Midea Refrigerator delivers. It is packed with smart features, easy to use, and easy to maintain, making it a perfect choice for anyone looking for a top-of-the-line fridge.
The downside of Midea refrigerators is that not every full-size model is energy efficient, so you should choose your model wisely after reading our full review.
However, if you are looking for an affordable and durable refrigerator, the Midea Refrigerators are worth considering.
They are a little bit bigger than other brands, but they're still very affordable and can easily fit in your kitchen.
They have a large storage capacity, an attractive design, and high-quality materials.
And you can even install them yourself if you have some basic carpentry skills.
Related:
Midea Refrigerator Customer Reviews
Midea refrigerator styles are very commonly used because of their spacious and well-organized in-built.
You will see plenty of options in each fridge style to choose your perfect cooling machine.
Let us help you by explaining each type of refrigerator to help you choose the right one.
Category
Our Pick
Key Features
Pros
Cons
Full-Size Refrigerators
Midea MRS26D5AST
In-door dispenser, Auto-defrost, 10-year compressor warranty
High capacity, Affordable
Noisy ice maker, Not energy efficient
Compact Refrigerators
Midea WHD-113FSS1
Adjustable legs, Reversible door, Energy-star certified
Small spaces, Energy-efficient
No ice tray
Upright Freezers
Mide MRU17F6AWW
Convertible, External control panel, Sealing technology
Organized storage, Temperature control
Chest Freezers
Midea MRC09M4AWW
Removable basket, Multi-angle hinge, Defrost drain
Large capacity, Good for outdoor use
Stops freezing without warning
Wine Coolers
Midea WHS-64W1
16-bottle capacity, Adjustable temperature, Sleek design
Ideal for beverages, Temperature control
1. Full-Size Refrigerators – Good for Family Use
You will see a lot of diversity in these full-size models. All of them vary in their accommodation capacity, door style, freezing ability, and list goes on.
But all of them are known because of the perfect output in retaining the food fresh and excellent ice-making features.
The perfect chill drawer, dual ice maker, two large crisp drawers, LED interior, and gallon bottle storage are the common features you will find in all full-size refrigerators.
The premium shelves and electronic touch are the big pluses of these fridges.
However, these full-size refrigerators come in 5 basic styles that every high-end company offers, these are:
French door refrigerators
Top-mount freezer style
Bottle mount freezer style
Side-by-side refrigerators
Counter-depth style fridges
Our Pick for Full-Size Refrigerator- Midea MRS26D5AST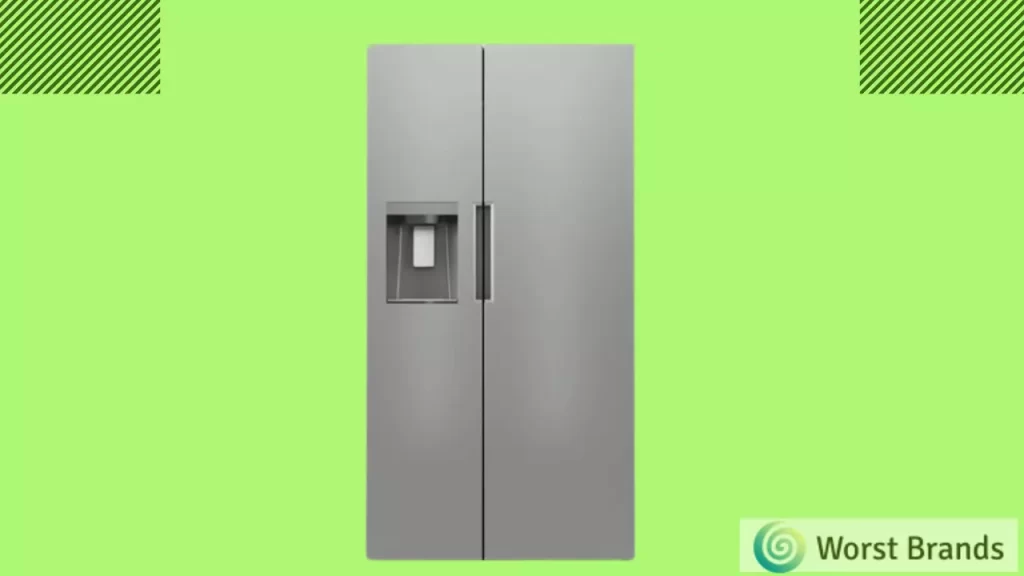 Winning Specs:
In-door water dispenser
Auto-defroster
Wide crisp drawers
Removable bin basket
10 years compressor warranty
This side-by-side refrigerator with the highest capacity of 26.3 cubic feet is one of the best-selling items from the full-size series.
It is because of its amazing features and reasonable price. Some of the winning features are:
We love the MRS26D5AST because it has many useful features normally found in higher-end refrigerators, and they have made it affordable.
It has got an indoor water dispenser and a nice-looking, easy-to-use control panel.
The water is pumped from the refrigerator into the dispenser and then into the spout so that you don't have to pull out the whole fridge to fill up a glass. This is great for keeping your kitchen clean and clutter-free.
It also comes with an auto-defroster, which is handy if you're having a party and want to make sure your guests' glasses stay frosty.
The MRS26D5AST has wide crisper drawers, so you can store a lot of food. It also has a removable bin basket, so you can take out the bin and use it as a serving tray.
This refrigerator is easy to keep clean because there's no ice maker, and all the panels are easily removable.
The stainless steel frame makes it look sleek, and it's even energy-efficient.
So if you're looking for a refrigerator that will last for many years, you'll definitely like the MRS26D5AST. It's very user-friendly, and you'll love how easy it is to keep clean.
Cons:
Noisy ice maker
Not energy efficient pick
2. Compact Refrigerators- Good for Small Spaces
If you are looking for a quality refrigerator design that is compact yet offers a good space range, then Midea compact refrigerators are the best choice for you.
Almost 75% of customers give it full-star reviews. You will see many buying options in this style that differ in color and a bit of outlook. But most of them possess the same in-built features.
The robust stainless steel construction adds more stars to its durability.
The reversible door style and mechanical temperature controls that are easy to use make it the perfect choice for storing a wide range of edibles for a longer span.
Moreover, spacious crisp drawers and freezer door compartments are its winning points.
You will see two options: Midea single-door and double-door compact refrigerators. These designs are the best in terms of performance and quality.
Our Pick for Compact Refrigerators- Midea WHD-113FSS1
Specs:
Adjustable legs
Left or right opening
Eliminates defrosting need
3.1 cubic feet capacity
Energy-star certified
The Midea WHD-113FSS1 is the epitome of beauty and class, and you will find it very useful for small spaces.
This fridge has a separate fridge and freezer, making it the best choice for office use and students who rush to get food without defrosting.
The Midea WHD-113FSS1 also has a left or right-hand opening, which is convenient if you have limited space.
It is energy-star certified, which means it uses less energy and saves money.
The 3.1 cubic feet capacity is big enough for a family of four, and there is also a water dispenser and ice maker.
You can add up to 12 cans of beer, and the water will not overflow. This fridge has a lot of features, but it's fairly easy to use.
Drawback:
3. Upright freezers | Convertible Refrigerators
Their best and winning feature is that these fridges can be used as the fridge, and you can change your setting to the freezer as per requirement.
Another amazing feature of this stylish Midea refrigerator is its easy access and durable in-built.
Upright freezers are spacious and organized to take up massive boxes to giant bottles for longer-term storage.
You will have a lock and key along with this fridge to secure your edibles.
At the same time, the automatic frost-free features make it easy and lessen the work of manual defrosting.
Our Pick for the Upright Freezers- Mide MRU17F6AWW
Specs:
High-quality insulation
Sealing technology
Premium design
External control panel
Durable and reliable
A good roomy fridge that changes into a freezer with a single click is surely a true innovation.
You can never go wrong with the Mide MRU17F6AWW refrigerator concerning its amazing output.
The metal shelves are organized to keep the food stored while ensuring that each corner gets the right humidity and temperature.
The Mide MRU17F6AWW is an all-in-one freezer that has a unique design that makes it look like a fridge, but it is actually a freezer.
It has a premium finish with a brushed stainless steel interior, which is both elegant and classy.
The Mide MRU17F6AWW features a sealed compressor and high-grade insulation.
This can keep food at the desired temperature for up to three days, even in the coldest of conditions.
This unit has an external control panel that lets you select the desired temperature and then adjust it up or down.
The freezer has an internal temperature indicator, so you don't have to worry about opening it every time you want to check the temperature.
All in all, this is a good freezer that won't break the bank.
If you want something that looks beautiful and works like a top-of-the-line product, then buy this.
4. Chest Freezers – Good for Basement Use
You will also find the convertible feature in Midea chest freezers. Some of the cooling machines have the capacity of up to 350 pounds of food.
A multi-angle hinge will make it more user-friendly by maximizing compliance.
This hinge can open up at a wide range of angles, i.e., 45 to 75 degrees, making it best for packing heavier giant edibles.
Our Pick for Chest Freezers- Midea MRC09M4AWW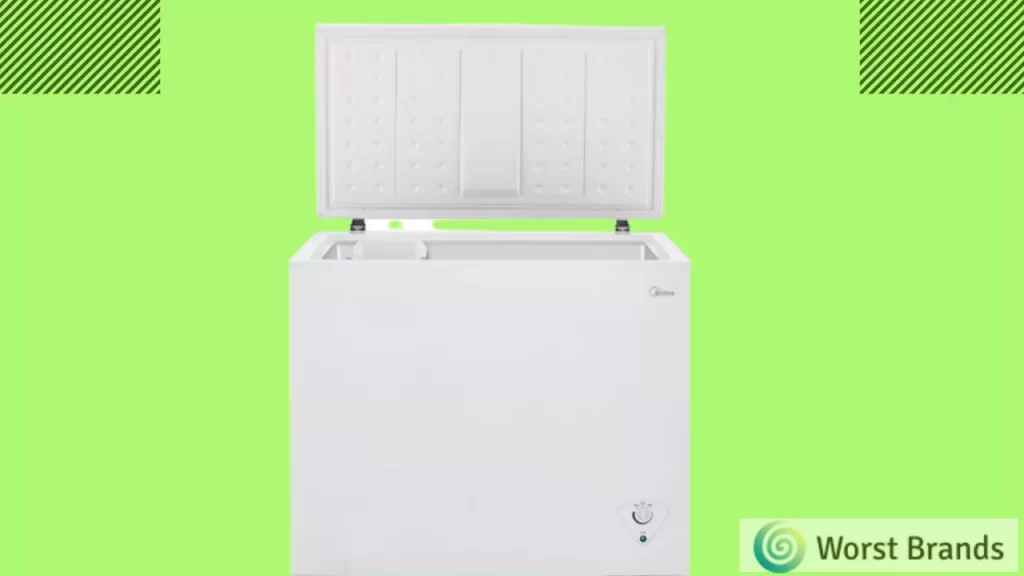 Midea MRC09M4AWW offers the best storage and has a maximum capacity of 8.8 cubic feet.
It can maintain a constant temperature irrespective of extreme conditions, and that is why it is suitable for garages and basements. However, its ability to hold various items in different temperatures is its winning point.
It has a multi-angled hinge design that allows it to be rotated for optimal access to the storage space.
Midea MRC09M4AWW also features a removable storage basket with a hinged lid and handles for easy access.
The insulation around this freezer keeps it cool, so you don't have to worry about ice buildup.
This also helps prevent condensation from dripping onto the floor, an issue with some other freezers.
The freezer has high-quality insulation that helps keep the temperature down and prevent condensation. It's great for keeping food fresh and makes it ideal for freezing water bottles.
This is a safe option if you're planning on storing your food outdoors. It's made of stainless steel, which is durable and will last a long time.
So if you want a good quality freezer that's ideal for outdoor use, then buy the Midea MRC09M4AWW. You'll be satisfied with it, and your money will go a long way.
Pros:
Removable storage basket
Multi-angle hinge design
Accessible defrost drain
High-quality insulation
Best for compartments
Con:
Stops freezing without warning
5. Wine Coolers- Good for Beverages
If you are a person that likes to have cool drinks when you come home after a tiring day, then Midea wine coolers are best for you.
There are many options to choose from as they vary in color and features.
The transparent door with an open alarm makes the fridge worth buying.
In addition, the dual temperature zone setup makes it very likable and handy to adjust the temperature according to your requirements.
Our Pick for Wine Cooler- Midea WHS-64W1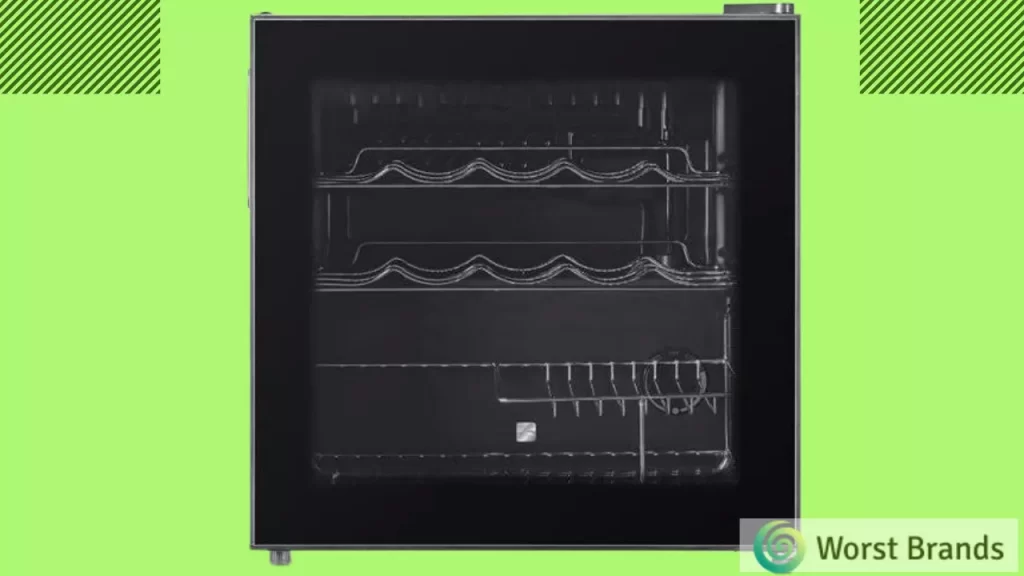 The Midea WHS-64W1 is best for storing beverages because it is suitable for holding up bottles and can take up large-sized bottles.
It comes with 16 bottles of wine and will keep it at the perfect temperature for many hours. The stainless steel body will last for many years and won't rust.
The temperature can be adjusted to between 40°F and 46°F (4°C and 9°C), which makes it suitable for almost all types of wines.
It's quite easy to install and comes with a DIY kit, so it's ready to go as soon as you get it.
This is a great product for anyone who wants to have a wine cooler on their patio or balcony.
It has a sleek and modern design, with an LED lighting system that can be adjusted to match the time of day.
So if you want to have a wine cooler in your home, then you should check the Midea WHS-64W1 cooler. It'll make your patio or balcony more enjoyable and relaxing.
Pros:
Premium quality fridge
Sleek design
Adjustable temperature
16 bottles capacity
What We Like About Midea Refrigerators:
These refrigerators are known for their innovative design and quality. Therefore, a few points caught our attention.
Convertible models
The wide price range for everyone
Durable and long warranty
Good customer service
Variable size range
What We Don't Like About Midea Refrigerators:
Despite being a very innovative company, we have seen 3 major drawbacks that might improve with time.
Less smart features such as Wi-Fi
Some models are noisy.
Not all models are energy-star qualified.
Who Makes Midea Refrigerators?
Midea group makes Midea refrigerators. They are a china based company having their factories all over china.
Conclusion
Yes. If you are a person that does not need an advanced-feature refrigerator, then we suggest you try their top models from each style.
They all are worth trying because of their premium quality. One thing to be taken care of is that it should be energy efficient to save your money.
Otherwise, choose the style according to your need, and you will enjoy a wonderful experience.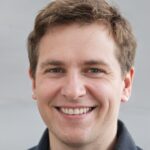 Steven Settles is a professional content writer with over 7 years of experience in writing for different niches, including brand reviews, technology, fitness, and more.
Currently, he is working as a content writer for WorstBrands, where he provides insightful reviews of different products, including home appliances, outdoor gear, fashion, and kitchen products. In his free time, Steven enjoys traveling and exploring new places.