When it comes to longboarding, the name Madrid is synonymous with quality and innovation. I've had the opportunity to ride various brands, but there's something special about these boards.
Madrid Longboards offer quality craftsmanship, unique designs, and exceptional versatility, making them ideal for riders at any skill level.
In this Madrid Longboards review, I'll take you through the brand's history, its production process, and some of its standout models.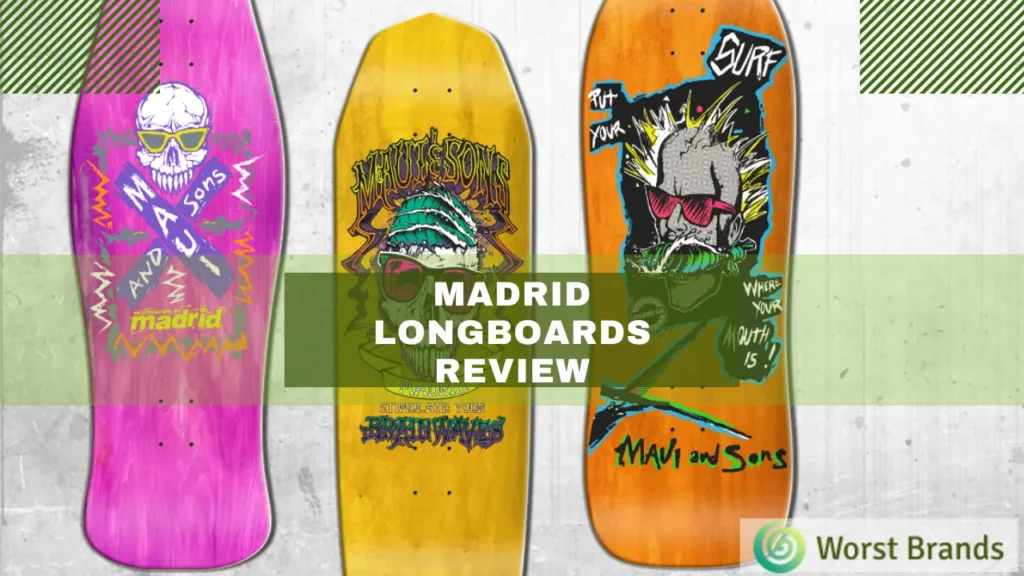 Similar Blog: Are Santa Cruz Longboard Good?
A Glimpse into Madrid's History
Madrid Skateboards was born in 1976, the brainchild of Jerry Madrid. A surfboard shaper in the 60s, Jerry started making fiberglass skateboards in his garage.
Fast forward to today, Madrid Skateboards are still handmade in their Huntington Beach facility.
The brand's evolution over the years is nothing short of impressive. Jerry Madrid played a pivotal role in helping iconic skateboard pros of the 1980s create their own innovative shapes and graphics.
Also, read our expert reviews on Globe Longboards, Magneto Longboards, or Arbor Longboards.
Madrid's Longboard Production
What sets Madrid apart is their commitment to quality and craftsmanship.
Their longboards are made from thin sheets of 100% Canadian maple, glued 7 or 8 sheets at a time, then run through presses before curing for a couple of days.
The decks are then shaped by hand, a process most manufacturers in the industry automate with CNC machines.
Top 4 Madrid Longboards Review
Madrid's longboard lineup is rich with a wide variety of styles. There's a Madrid longboard for every rider, from mini-cruisers to technical downhill/racing boards.
Let's take a closer look at some of their standout models:
Madrid DTF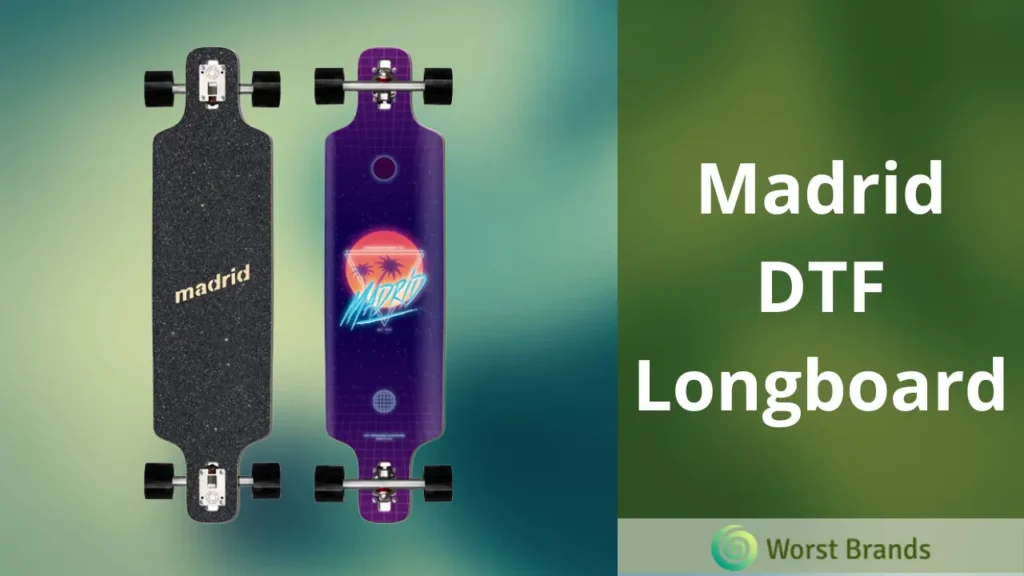 The Madrid DTF longboard is designed for high-speed freeride. Its symmetrical drop-down cutout shape makes it super low and stable, perfect for long-distance pushing.
The DTF is a great board for those who love speed. Its low profile and stability make riding a joy, especially on downhill slopes.
However, it is only available in 36″ and 39″ sizes. So if you are someone who loves riding on bigger longboards, this one is not for you.
Pros:
Designed for high-speed freeride
Super low and stable
Ideal for long-distance pushing
Cons:
Not suitable for those who prefer a bigger board
Madrid Dream Longboards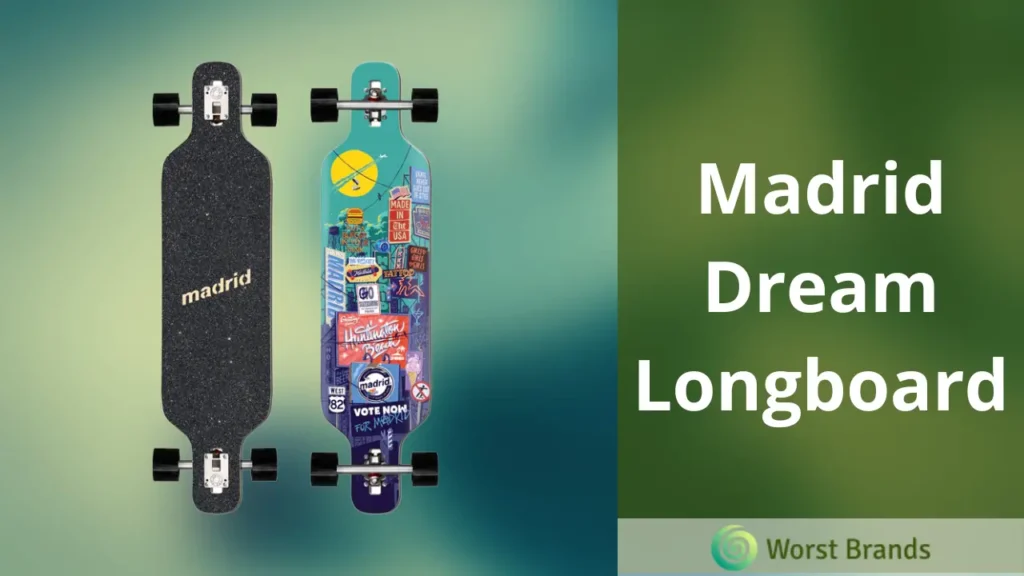 As a longboarding enthusiast, I've found the Madrid Dream to be a true dream for riders who crave stability and speed.
Its mid-sized, fully symmetrical cutout shape is designed for both drop-through or top-mount style, offering versatility in your ride.
The wheelbase, ranging from 26 to 40 inches, ensures stability for distance pushing and fast freeride.
It is my reliable companion on downhill rides, offering a smooth and controlled experience.
On the contrary, not everything is perfect. Since it is built for downhill rides and has high speeds, it might not be suitable for beginners.
Pros:
Versatile with drop-through or top-mount style
Stable for distance pushing and fast freeride
Mid-sized, fully symmetrical cutout shape
Cons:
It might not be ideal for beginners due to its speed
Madrid Dude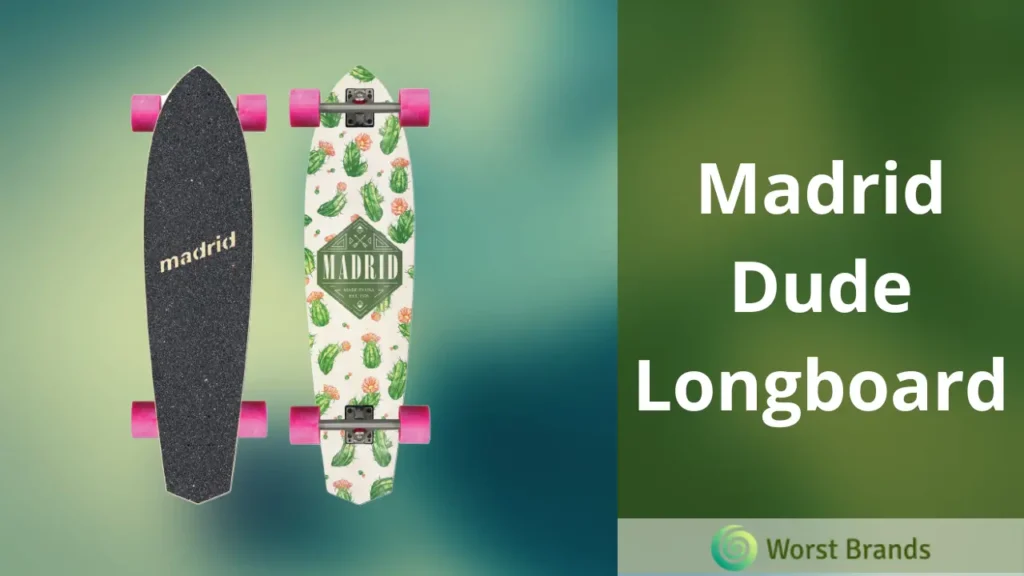 The Madrid Dude longboard is a pintail longboard with a kicktail, perfect for carving on bike trails and neighborhood roads.
Moreover, the diamond kicktail makes it easy to do kick turns and hop on and off curbs.
I've had a lot of fun with the Dude; its kicktail adds extra fun to rides, especially when navigating curbs and corners.
Although the longboard is great for carving and cruising, it is unsuitable for speedy downhill rides.
Pros:
Pintail longboard with a kicktail
Ideal for carving on bike trails and neighborhood roads
Diamond kicktail for easy kick turns
Cons:
Not suitable for high-speed downhill rides
Madrid Marty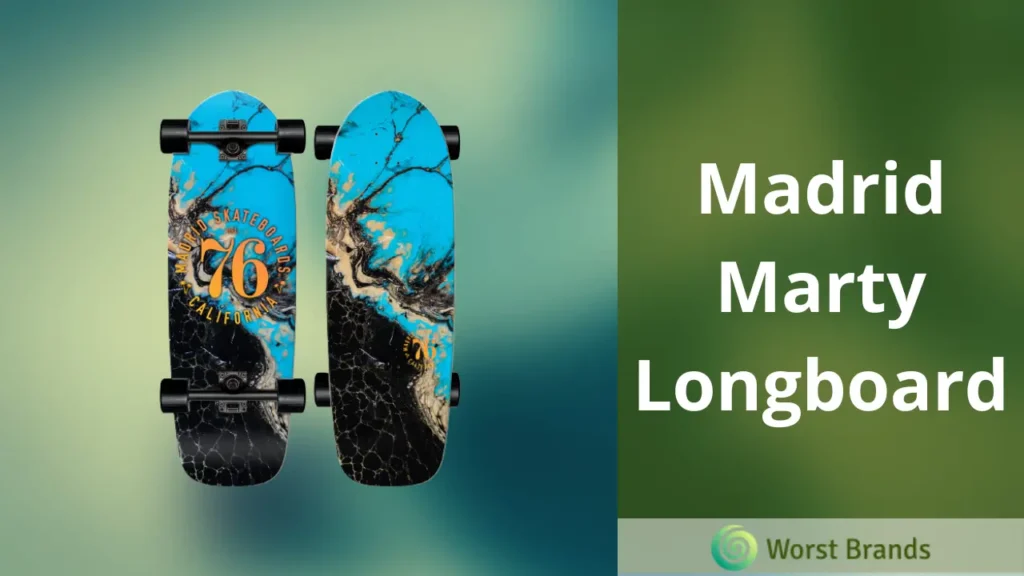 The final one on my list of top Madrid Longboards is Marty. It is a revival of the pool skating shapes from the 1980s.
It's super maneuverable and perfect for down-the-line and surf-style pool riding.
As a fan of retro designs and pool skating, I think Marty Longboard is a great choice. Its maneuverability and surf-style design make it a unique and fun ride.
Pros:
Revival of 1980s pool skating shapes
Super maneuverable
Ideal for down-the-line and surf-style pool riding
Cons:
Not great for long-distance rides
Are Madrid Longboards Good?
From my experience, Madrid Longboards are more than just good – they're exceptional.
The brand's commitment to quality and innovation is evident in every board they produce.
Each longboard is a testament to Madrid's craftsmanship, with every detail meticulously designed and executed.
What sets Madrid apart is their versatility. Whether you're a beginner finding your balance or a seasoned pro seeking adrenaline-pumping speed, Madrid has a board for you.
Their range spans from the stable and forgiving Madrid Dream, perfect for those new to the sport, to the high-speed Madrid DTF, designed for the thrill-seekers among us.
But it's not just about the ride. Madrid Longboards are works of art in their own right. Each board is visually stunning, from the retro-inspired Madrid Marty to the sleek and modern Madrid Dude.
The attention to detail extends to the graphics, with designs as unique and individual as the riders themselves.
However, while Madrid offers a variety of styles, their focus tends to be on speed and performance.
If you're looking for a longboard primarily for leisurely cruising or commuting, you might find other brands that cater more specifically to these needs.
Frequently Asked Questions
Q1: Where are Madrid Longboards Made?
Madrid Longboards are proudly made in the USA, specifically in sunny Huntington Beach, California. The brand has stayed true to its roots since its inception in the 1970s.
Q2: Where to Buy Madrid Longboards?
If you're looking to purchase a Madrid Longboard, you're in luck as they're widely available both online and in physical stores. I've personally spotted them in Dick's Sporting Goods and The Longboard Store. For online shoppers, they're readily available on Amazon, Zumeriz, and Warehouse Skateboards.
Conclusion
In wrapping up, Madrid Longboards truly stand out in the world of longboarding. Their diverse range caters to all, from beginners to seasoned riders.
Each board, crafted in Huntington Beach, California, carries a legacy of quality and innovation. Whether you're seeking speed, stability, or a bit of retro flair, Madrid has you covered.
So, if you're on the hunt for a longboard that marries performance with style, Madrid Longboards could be just the ride you're looking for. Happy riding!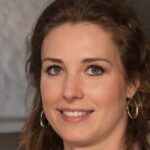 Crystal Hafley is a dedicated writer and content creator for WorstBrands, where she specializes in writing insightful reviews about kitchen appliances and fashion products.
With her expertise, Crystal provides readers with accurate and reliable information to help them make informed decisions about the brands and products they use every day. When she's not researching or writing, Crystal enjoys cooking and exploring the latest fashion trends.