If you're on the hunt for a new longboard, chances are you've come across Santa Cruz as a potential option.
Known for its high-quality boards and artistic designs, Santa Cruz has been a prominent player in the skateboarding world for years. But how does their longboard lineup measure up?
After testing their multiple longboards, I am ready to share my Santa Cruz longboard review.
I'll take a deep dive into the brand's offerings and help you decide if Santa Cruz longboards are good and worth buying.
Santa Cruz Longboard Review
Santa Cruz longboards offer a mix of aesthetic appeal, durability, and performance. It is ideal for all levels of riders, from beginners to seasoned pros.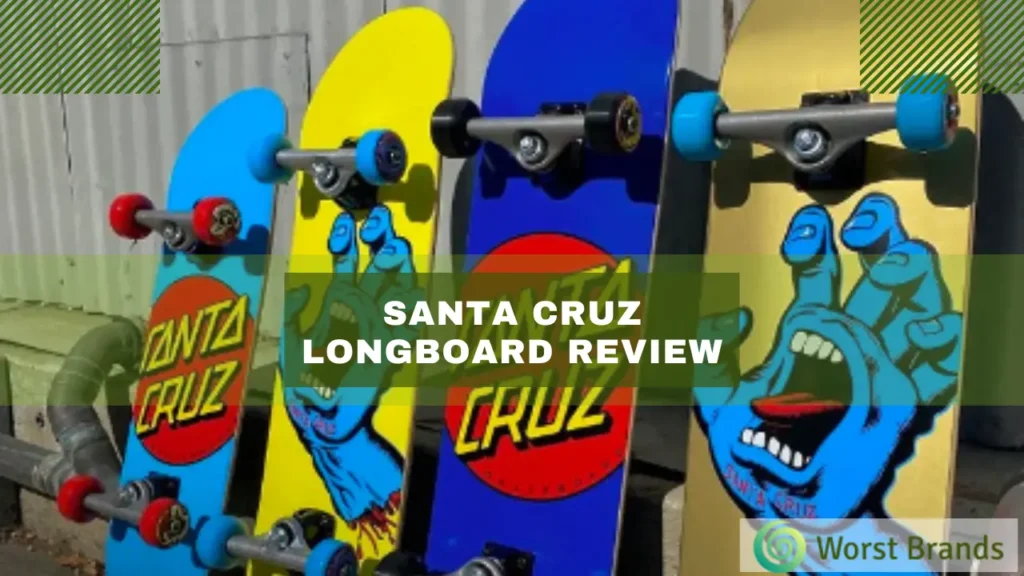 Now, let's take a look at some of their top longboards.
Santa Cruz Freeride Longboard
After using it extensively, the performance of this longboard stands out.
Made of maple wood, the deck perfectly balances firmness and flexibility, ensuring a comfortable ride even on uneven surfaces.
The 72-millimeter wheels contribute to the board's incredible stability and grip on various terrains.
One significant advantage of this longboard is its durability, thanks to the high-quality maple wood.
Additionally, the stability offered by the 10-inch deck width and 72-millimeter wheels is excellent, making it easier to control at high speeds.
Another benefit is that it comes pre-assembled with Santa Cruz trucks and wheels, eliminating the hassle of self-assembly.
However, the longboard is beginner-friendly, so if you are a pro, this product might not excite you.
Pros
Excellent durability and stability
Comes pre-assembled
Cons
Not ideal for professional longboarders
Verdict
Overall, the Santa Cruz Lion God Rasta Drop Thru Cruzer Freeride Longboard is an excellent product with a fantastic blend of durability, stability, and aesthetic appeal.
Read the following blogs for our expert reviews on other longboard brands:
Santa Cruz Mandala Hand Longboard
Next on our list is the Santa Cruz Mandala Hand Pre-Built Longboard. It is a treat for those who love cruising and carving downhill turns.
Weighing 2 kilograms, it features a 9-inch deck width and 65-millimeter wheels with a 78A durometer hardness – ideal for a smooth and controlled ride.
The Mandala Hand graphic is mesmerizing, making it a great piece to admire even when it's raining outside.
Compared to other brands, the Santa Cruz Mandala Hand longboard stands out with its unique graphics and high-quality components.
The only issue I have is the bushings are of mediocre quality. Once I replaced them, the rides were amazing.
Pros
Eye-catching design
Great for cruising
Smooth Ride
Cons
Bushings need to be replaced
Verdict
In short, it is a visually stunning longboard with high-quality components that ensure a comfortable ride.
Santa Cruz Impact Cruzer Longboard
The Santa Cruz Impact Drop Down Cruzer Complete Skateboard is a must-have for cruising enthusiasts.
I have personally used it for my urban adventures. It boasts a 40-inch deck length and 10-inch deck width, making it incredibly stable.
The 52-millimeter wheels with a durometer hardness of 90A glide smoothly over surfaces,
This longboard is built for easier turning with soft bushings, bullet trucks, and 90A OJ wheels. I found the soft bushings significantly enhanced my turning experience.
However, the 2.28 kg weight of the longboard might feel heavy to some users.
Pros
Effortless Turning
Stable Ride
Quality Components
Cons
Its weight might feel heavy
Verdict
All in all, the Santa Cruz Impact Drop Down Cruzer is a well-built longboard that offers a stable and smooth riding experience.
Are Santa Cruz Longboards Good?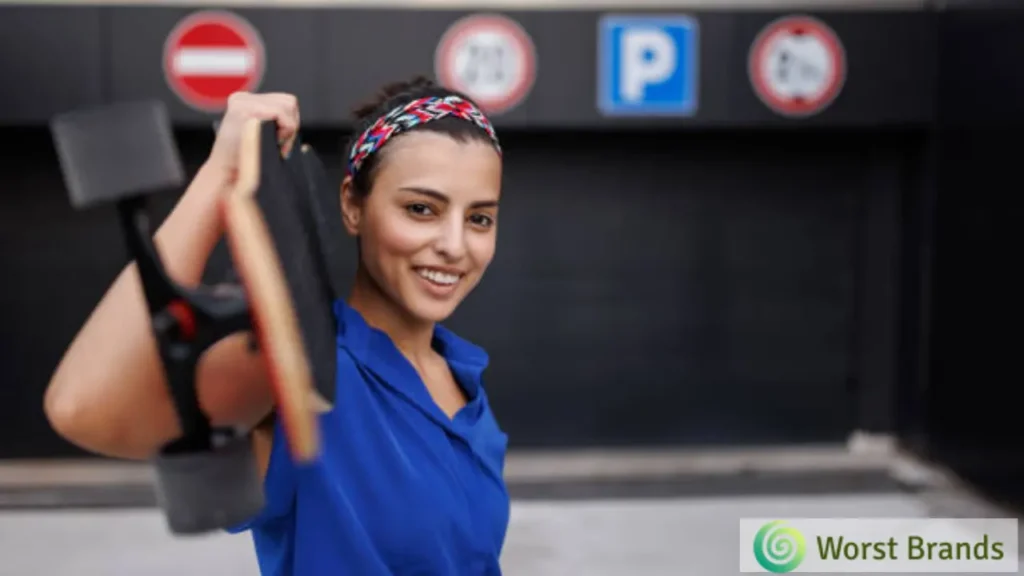 Yes, Santa Cruz Longboards are good. They offer a great combination of design, durability, and performance.
Santa Cruz is a brand that has existed for over 40 years. They are one of the OGs in the skateboarding world.
When it comes to longboards, they offer a variety that caters to different riding styles, from cruising to downhill racing.
One thing I appreciate about Santa Cruz longboards is their attention to detail. The designs are not only visually appealing but also functional.
For instance, their drop-through decks lower your center of gravity, making pushing easier and providing more stability at high speeds.
Additionally, they often use high-quality materials like maple wood, known for its durability and flexibility.
Another aspect that sets Santa Cruz apart is the quality of their components. Trucks and wheels are crucial longboard parts; Santa Cruz doesn't skimp on these.
They often equip their boards with high-quality trucks and wheels, contributing to a smoother, more controlled ride.
That being said, no product is without its drawbacks. Some riders find Santa Cruz longboards heavier, which might be better for those carrying their board around.
However, this is a minor trade-off considering these boards' durability and performance.
Summing Up
Santa Cruz longboards indeed live up to their brand's reputation – offering a mix of aesthetic appeal, durability, and performance.
From the detailed designs to the high-quality materials and components used, it is evident that a lot of thought and care goes into each board.
While they might be a bit on the heavier side, the quality of ride they provide more than compensates for it.
Whether you're a beginner or a seasoned pro, cruising enthusiast, or downhill racer, there is a Santa Cruz longboard that caters to your needs and style.
So, if you're considering investing in a new longboard, Santa Cruz is definitely a brand worth considering.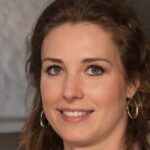 Crystal Hafley is a dedicated writer and content creator for WorstBrands, where she specializes in writing insightful reviews about kitchen appliances and fashion products.
With her expertise, Crystal provides readers with accurate and reliable information to help them make informed decisions about the brands and products they use every day. When she's not researching or writing, Crystal enjoys cooking and exploring the latest fashion trends.