I've been a longboard enthusiast for as long as I can remember. Every crack and crevice in the city was my personal playground, each downhill race a thrilling adventure.
Among the various longboards that have shared these adrenaline-filled moments with me, Sector 9 stands out.
Today, I'm eager to provide an in-depth Sector 9 longboard review to help you decide about your next ride.
Top 3 Sector 9 Longboard Review
Sector 9 longboards are sturdy. They're made with durable, multi-ply hardwood maple and co-molded urethane sidewalls for extra strength.
Riding a Sector 9, you can feel confident knowing you're atop a solid, well-built longboard. But let's talk more about how it performs.
.I've picked their top 3 boards to talk about in this review. So, let's get started.
Also, check out our expert blogs on Globe Longboard Review, Madrid Longboards, and Magneto Boards.
Sector 9 Blue Wave Longboard
The Sector 9 Blue Wave Lookout dropthrough Complete Longboard Skateboard is a testament to the company's reputation for quality, durability, and performance.
Its bright blue color and 42-inch long, 9.6-inch-wide bamboo deck offer a stylish appearance.
Build Quality
The Sector 9 Blue Wave Lookout's 5-ply bamboo deck guarantees durability and provides the flexibility necessary for a smooth ride.
In addition, the drop-through mounting, paired with the 74mm polyurethane wheels and 10″ Gullwing Chargers, equip the board for a highly technical and capable ride.
It's the kind of longboard that makes you trust its sturdiness right from the first ride.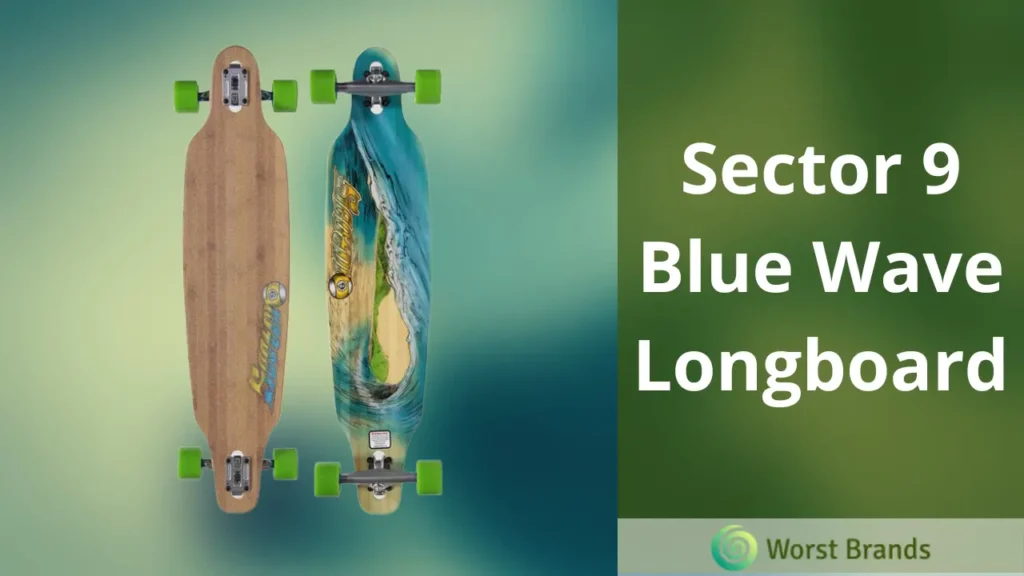 Riding Experience
Having spent considerable time on the Sector 9 Blue Wave Lookout, I can attest to its performance.
Its PDP Abec 5 bearings and 74mm polyurethane wheels lend a smooth, speedy ride that's hard to forget.
The flexibility of its bamboo deck allows me to carve and cruise with exceptional control.
Whether it's freeriding, downhill racing, or just weaving through city streets, the board's design and features deliver a thrilling yet stable ride each time.
I didn't find any issue; however, during my survey, some customers have complained that their product arrived damaged, so be vary of this shipping issue.
Pros
Excellent for freeriding and downhill racing
Durable and flexible for a comfortable ride
Stylish, eye-catching blue design
Fast and smooth ride with PDP Abec 5 bearings
Cons
Sometimes, the longboard is damaged during shipping.
In short, the Sector 9 Blue Wave Longboard presents a beautiful fusion of quality, performance, and design.
Its durability and rideability truly set it apart from many competitors in the market.
Sector 9 Chamber Vortex Longboard
Next on my list is the Sector 9 Chamber Longboard. It is a vibrant, multicolored longboard designed with adult riders in mind.
With a deck length of 33.75 inches, a width of 21 centimeters, and a weight capacity of 300 pounds, it's designed for stability, comfort, and speed.
Build Quality
Sporting an 8-ply maple build and a teak bottom veneer, the Chamber Vortex is an example of the high-quality craftsmanship associated with Sector 9.
It comes fitted with 9.0″ Gullwing Sidewinder II trucks and 69mm 78A Nineballs. The quality of these components is evident in the smooth, reliable ride they deliver.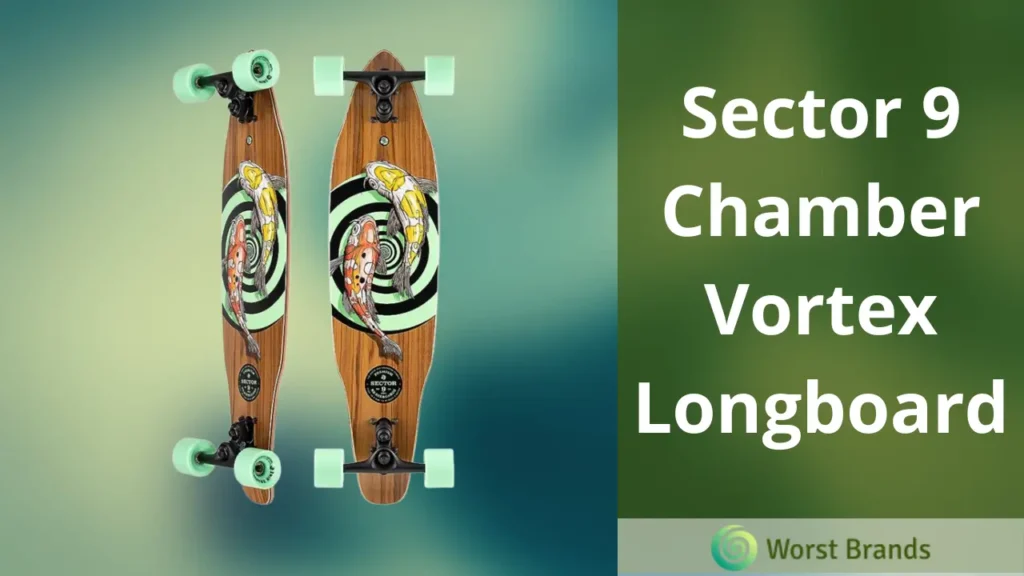 Also Read: Santa Cruz Longboard Review
Riding Experience
My time at the Chamber Vortex was memorable. This board's carving capability was exceptional, courtesy of the Gullwing Sidewinder II trucks.
But it wasn't just the carving that impressed me. The ride was incredibly smooth, even on less than perfect surfaces.
Thanks to the 69mm 78A Nineballs wheels and the ABEC 5 Greaseball Bearings, which together formed a synergistic relationship that produced a swift, frictionless glide.
The unique kicktail feature of the board added another level of fun to the riding experience. It made tricks easier and more fun to perform, adding a dash of thrill to each ride.
However, the sidewinder trucks are not ideal for higher speeds and heavy riders.
Pros
Smooth ride
Durable 8-ply maple construction
Vibrant, appealing design
Cons
The smaller size might not be ideal for larger riders
The Sector 9 Chamber Vortex Longboard Complete offers a sublime riding experience, excellent build quality, and a unique design. It stands out among its competitors with its carving capabilities and smooth ride.
Sector 9 Lookout Longboard
The Sector 9 Lookout Complete Longboard is a classic surf-inspired ride that can function as a commuter, cruiser, carver, and downhill longboard.
With a length of 42 inches and a width of 9.6 inches, this board combines stability with speed, wrapped in a stylish package featuring a beautiful green Hawaii wave graphic.
Build Quality
The build quality of the Sector 9 Lookout Longboard is impressive. The deck is a 5-ply vertically laminated bamboo, offering durability and a responsive ride.
In addition, the board's 10″ Gullwing Chargers, combined with 74mm 78A Sector 9 top shelf wheels and PDP Abec 5 bearings, make for a smooth and controlled ride.
The dropthrough trucks enhance stability and add to the overall quality of this longboard.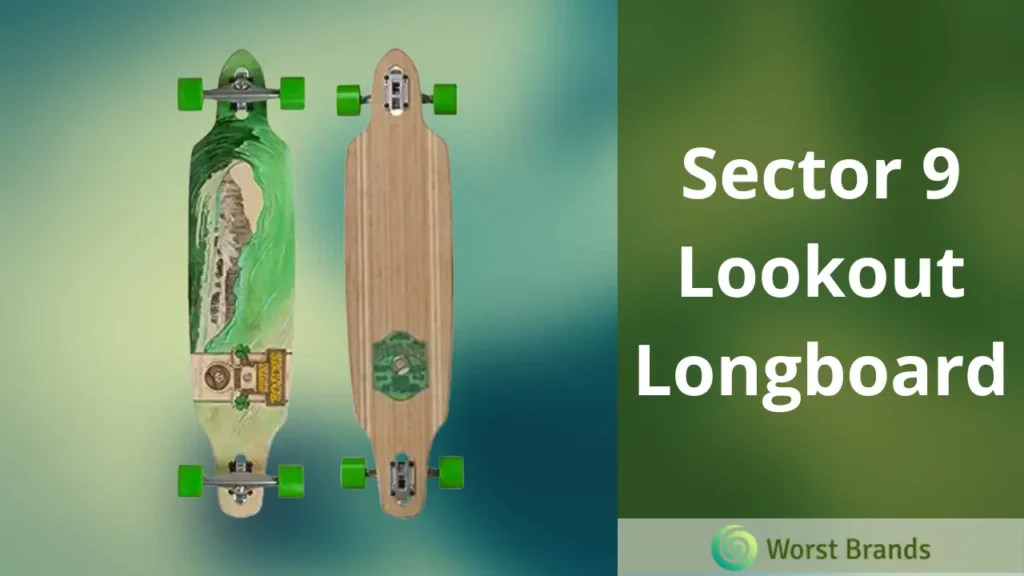 Riding Experience
Riding the Sector 9 Lookout Longboard was a truly refreshing experience. The board has a fluid and responsive ride with its surf-inspired design and bamboo build.
Whether I was carving down a hill or cruising the streets, the 74mm wheels provided a smooth ride, and the drop-through trucks offered superb control.
This board felt solid underfoot, and its beautiful green Hawaii wave graphic made it a head-turner on the streets.
However, the color in the pictures might not exactly match the original product. Moreover, if you are above 240 pounds, this longboard is unsuitable.
Pros
Versatile design suitable for various riding styles
Durable 5-ply bamboo deck
Smooth and controlled ride due to quality components
Cons
The Sector 9 Lookout Complete Longboard Skateboard delivers in both design and performance. Its versatile nature makes it suitable for various uses, while its quality construction ensures a smooth and controlled ride.
Why Should You Choose Sector 9 Longboard?
Regarding high performance, lasting durability, and a ride tailored to your needs, Sector 9 Longboards are a go-to choice.
Wide Range: Sector 9 caters to riders of all levels, with various boards fitting varying riding styles.
Unmatched Customer Service: Sector 9's stellar customer service won't let you down.
Deck Size & Style: The brand offers board sizes from 36″ to 44″, and deck styles including drop-through and top-mount, catering to your comfort and skill.
Riding Style: Whether cruising town streets or racing downhill, Sector 9's got you covered.
High-Quality Materials: Select from bamboo, maple, or fiberglass decks, all designed for a smooth, stable ride.
Performance: Sector 9 boards offer excellent response, have sturdy construction, and include quality grip tape and wheels.
Weight Limit: With a maximum weight limit of 250 pounds, they accommodate most riders.
Innovative Graphics: Sector 9's unique graphics not only look fantastic, but they also indicate the board's size, shape, and ride style.
Are Sector 9 Longboards Good?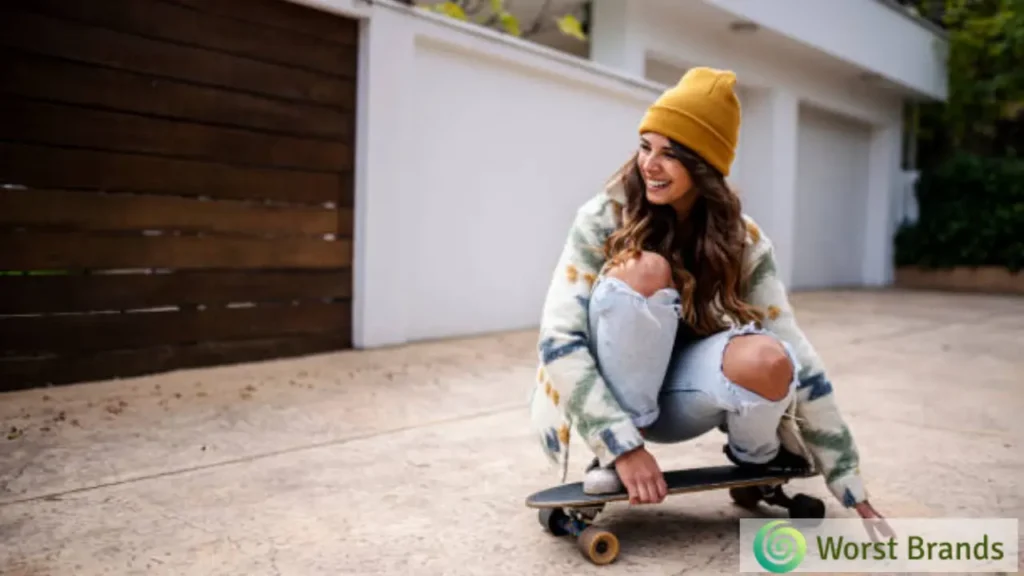 Yes, Sector 9 Longboards are worth the money.
The brand has built a reputation for offering an extensive range, catering to various rider types.
Whether navigating urban landscapes or descending steep hills, a Sector 9 board is tailored to your style.
Crafted with top-tier materials like bamboo, maple, and fiberglass, their boards promise stability and responsiveness.
The performance factor of Sector 9 longboards also deserves applause. Superior grip tape, quality wheels, and a generous weight capacity enhance ride control, ensuring a broad spectrum of riders are covered.
However, it's important to note that not all experiences have been excellent.
Some riders have reported issues with the durability of certain parts, particularly the trucks and wheels, which might need upgrading or replacement with heavy use.
Final Words
So, you've journeyed through Sector 9 longboards with us. You've seen their charm, assessed their performance, and weighed their few cons against a sea of pros.
If diversity, quality, and striking aesthetics are on your longboarding checklist, Sector 9 fits the bill.
Bear in mind, though, that the perfect longboard complements your unique style and preferences.
While Sector 9 delivers robustness and versatility, don't hesitate to modify components for your perfect ride.
In short, if you're looking for a thrilling, stylish, and reliable longboarding experience, Sector 9 awaits. So, strap in and let the ride begin!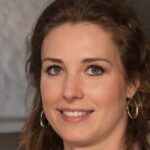 Crystal Hafley is a dedicated writer and content creator for WorstBrands, where she specializes in writing insightful reviews about kitchen appliances and fashion products.
With her expertise, Crystal provides readers with accurate and reliable information to help them make informed decisions about the brands and products they use every day. When she's not researching or writing, Crystal enjoys cooking and exploring the latest fashion trends.