Are you sick and tired of dull and flat hair? So were I and my sister!
But then we got lucky when I was introduced to Macadamia Shampoo by a colleague. Our hair has been nothing but exquisite and healthy after using it.
Macadamia shampoo's unique oil-based formula is the key to unlocking your soft and silky hair door.
Keep reading this Macadamia Shampoo Review to discover more!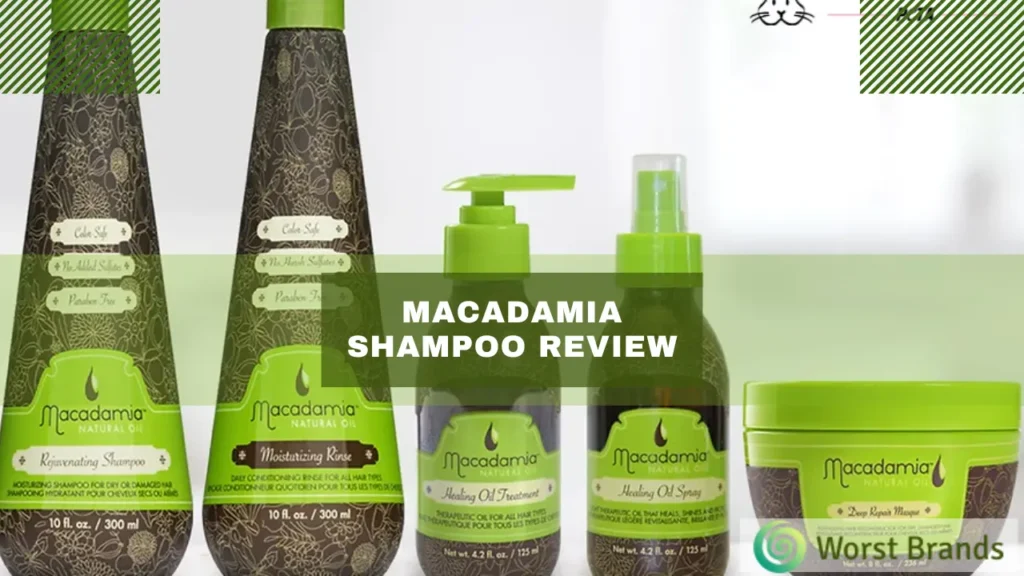 Common Ingredients Found in Macadamia Shampoos
Every Macadamia shampoo cornerstones a different concern, but some common ingredients are found in every Macadamia Shampoo.
Water (Aqua)
Disodium Laureth Sulfosuccinate
DecylGlucoside
Polysorbate 20
Panthenol
Guar Hydroxypropyltrimonium Chloride
Cocamidopropyl Betaine
Cocamide MEA
Phenoxyethanol
Fragrance (Parfum)
Laurdimonium Hyddroxypropyl Hydrolysed Wheat Protein
Glycol Distearate
Glycereth-2 Cocoate
Polyquaternium-7
Potassium Sorbate
ArganiaSpinosa Kernel Oil
Tocopheryl Acetate
Camellia Oleifera Leaf Extract
Aminomethyl Propanol
Linalool
Hexyl Cinnamal
Sodium Benzoate
LinumUsitatissimum (Linseed) Seed Extract
Sea Salt
ButylphenylMethylpropional
Macadamia Integrifolia Seed Oil
TriticumVulgare (Wheat) Germ Oil
Citronellol
Limonene
Macadamia Shampoo Review
Even though there is a diverse variety of Macadamia Shampoos, I will only review the ones we have personally tried.
1. Rejuvenating Shampoo
My utmost concern was dry and glum hair. Tried many options to get rid of the dullness, but nothing worked. To make it even worse, they made my hair more damaged.
But then my colleague, who has beautiful hair, recommended Macadamia Shampoo, and I had to give it a shot.
After a few washes, my hair started to recover. They became soft and moisturized after every use. The shampoo brought my hair back to life.
It contains omega-rich oils and potent anti-oxidants that boost shine and fight breakage.
Macadamia Oil, Argan Oil, Camellia Oleifera Extract, and Linseed Oil are key ingredients that protect the hair from damage and dryness while strengthening the roots.
You will notice an increase in volume without any heavy build-up.
However, some declared that they experienced mild skin irritation after using it. So, take a patch test to be safe before purchasing.
Pros
Shiny hair
Defy damage
Moisturizing
Cons
2. Smoothing Shampoo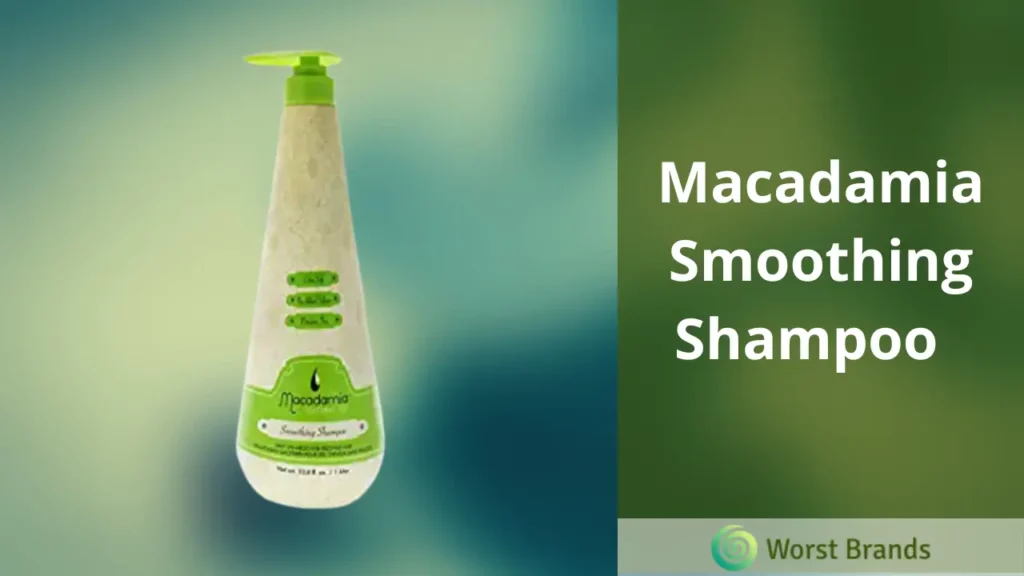 If you struggle to manage your frizzy and permed hair, then the Macadamia Smoothing shampoo is a suitable option for your problem.
Like most of you, my sister was irritated by the daily routine of taming her frizz with many products. This not only damaged her hair but also made no difference.
However, it was before she started using Macadamia's Smoothing Shampoo.
The shampoo smoothed out her naturally frizzy and curly hair, making them so manageable and luscious.
It is also ideal for chemically treated and colored hair as it helps to recover the damage and increase the healing process.
Macadamia Smoothing Shampoo has Omega 7 and 5, Camellia Oleifera Extract (Green Tea), and Macadamia Oil to prevent hair loss, improve health, and provide shine to the hair.
However, the potent formula might not be ideal for all hair types, especially for someone with a sensitive scalp.
Pros
Hydrating
Moisturizing the hair
Increased manageability
Cons
3. Weightless Repair Shampoo (Macadamia Professional)
Having a sensitive scalp and thin hair is a severe issue. Still, the bigger worry is finding a shampoo that gently treats your hair without further damage.
After multiple dyes, my friend severely damaged her hair, and recovering them seemed impossible.
I suggested to my friend the Weightless Repair Shampoo by Macadamia Professional. Believe it or not, the results were marvelous.
With each wash, she experienced a gentle cleanse, which began her journey of restoring the long-lost moisture and strength.
Every brittle strand became stronger, adding volume to thin hair.
The shampoo also promotes color retention, so you can keep dyeing your hair without worrying.
The unique combination of walnut and avocado nourishing oils hydrate and strengthen the hair.
However, the lightweight formula might not provide a thorough cleanse for people with thick or greasy hair.
Pros
Color safe
Add volume
Gentle cleansing
Cons
Comparison Table of Different Macadamia Shampoos
| Products | Treats Damaged Hair | Protect from Thermal Damage | Smooth Shiny Hair |
| --- | --- | --- | --- |
| Rejuvenating Shampoo | Yes | Yes | Yes |
| Smoothing Shampoo | Yes | Yes | Yes |
| Weightless Repair Shampoo (Macadamia Professional) | Yes | No | Yes |
Macadamia Shampoos: What do Customers Say?
Several people around the globe have shared their experiences with the shampoo, which we have included in this Macadamia Shampoo Review.
Macadamia Shampoo has an outstanding rating of 4.7/5 on Amazon. More than 85% of positive remarks have been submitted.
Customers declared how soothing each wash is and how the hair feels smooth, shiny, and silky.
They are further surprised by how effortlessly it hydrates and moisturizes the texture of the hair.
Most people pair the shampoo with its conditioner, and the results are phenomenal.
The scent of this product is also appealing and highly relaxing to the users.
Using different healthy and nourishing oils in the formula attracts customers as they repair and replenish the hair from the inside out.
This shampoo works wonders on all types of hair, especially colored and damaged hair.
Many claims that the shampoo provides fast recovery with smooth and healthy and adds shine and volume to the hair.
Alongside these positive remarks, there were a few complaints regarding the product's packaging.
Some complained the formula was too strong, so they faced skin irritations. Other than that, there were some complaints related to broken bottles too.
Is Macadamia Shampoo Worth It?
Macadamia's undeniable focus on keeping its shampoo natural and effective is sensational.
It shows that their prime goal is to keep the hair of the consumer smooth, luscious, and bouncy.
The shampoo is formulated to protect your hair from mechanical, environmental, thermal, and chemical damage, which is the cherry on top.
If you are searching for a natural shampoo to recover your damaged hair, we suggest you get your bottle soon.
Related Blogs:
Reasons to Buy Macadamia Shampoo?
There are numerous reasons to choose this shampoo; we will elaborate on a few.
Effective Formula
Each shampoo is carefully formulated to target your respective concerns, helping fast recovery.
Macadamia Shampoos' unique oil-infused formula differs from every brand out there. It is rich in vitamins, omega, and nourishing oils.
This is what makes it worth every penny!
Treats Damaged Hair
Macadamia Shampoos are known for their fine treatment of hair that is damaged and dry.
These shampoos are highly suitable for people with weak and thin hair. That's because they provide extra care to the scalp and protect the cuticles.
Affordable
Macadamia Shampoos are not the cheapest, but they are comparatively affordable to other shampoos.
Natural oil product shampoo costs around $21 for a 33.8 OZ bottle ($0.64/ounce). The benefits they provide in this price range are worth it.
Where to Purchase the Macadamia Shampoo?
You can snatch your bottle from their official website. Other than that, multiple authorized stores listed below retail Macadamia shampoos.
Walmart
Ulta
Amazon
Target
Bed Bath and Beyond
CVS
Rite Aid
E-bay
Sally Beauty
You can also find them in a convenience store near you. But make sure that the product is original.
Potential Hazards of Macadamia Shampoos
Every shampoo has plausible side effects; reading about them before using the product is better.
Here are a few possible side effects of the ingredients used in Macadamia Shampoos.
Cocamide MEA can cause mild skin irritation, itchiness, and rash.
Phenoxyethanol can trigger an allergic reaction in those with sensitive skin.
Sodium Benzoate is safe if used in little concentration. But, with high enough concentration, it can be potentially carcinogenic.
Tocopheryl Acetate in high doses can cause nausea, blurred vision, headaches, and dizziness.
BUTYLPHENYL METHYLPROPIONAL (AKA LILIAL), used as a fragrance agent, can cause bioaccumulation, organ system toxicity, and endocrine disruption.
Frequently Asked Questions
Q1: Are Macadamia Shampoos Sulfate and Parabens Free?
With many other benefits, Macadamia shampoos are also free from sulfate, parabens, or any other harsh chemicals that can be dangerous to your hair. 
Q2: Does Macadamia Shampoo Treat Damaged Hair? 
Macadamia shampoo is highly beneficial for damaged and brittle hair. The oil-infused formula works wonders no matter what the hair type is.
Q3: Is Macadamia Shampoo Color Safe? 
The color retention ingredients found in the shampoo make Macadamia Shampoos color safe. 
Not just that, they also provide extra care for chemically damaged hair strands. As a result, they become strong and hydrated. 
Conclusion
Macadamia shampoos are a range of hair care products that are formulated with a variety of ingredients to address different hair concerns.
They contain a mix of conditioning agents, surfactants, and other ingredients to nourish and moisturize the hair and scalp.
Its shampoos are effective and do a great job of giving dull hair a beautiful, healthy, and smooth new look at affordable prices.
So, if you also want a new look to your hair, we suggest you get your hands on one of these bottles at once.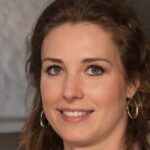 Crystal Hafley is a dedicated writer and content creator for WorstBrands, where she specializes in writing insightful reviews about kitchen appliances and fashion products.
With her expertise, Crystal provides readers with accurate and reliable information to help them make informed decisions about the brands and products they use every day. When she's not researching or writing, Crystal enjoys cooking and exploring the latest fashion trends.