We have shampoo reviews for every kind of hair, from dry to oily to color-treated. This time around, we are doing a Klorane Shampoo review, a shampoo that has been a big hit in the beauty world for many years now.
It's so popular that you can buy it in a few different countries, and you can also get it in your local grocery store. But is it the right shampoo for you?
Let's find out!
Klorane Shampoo Review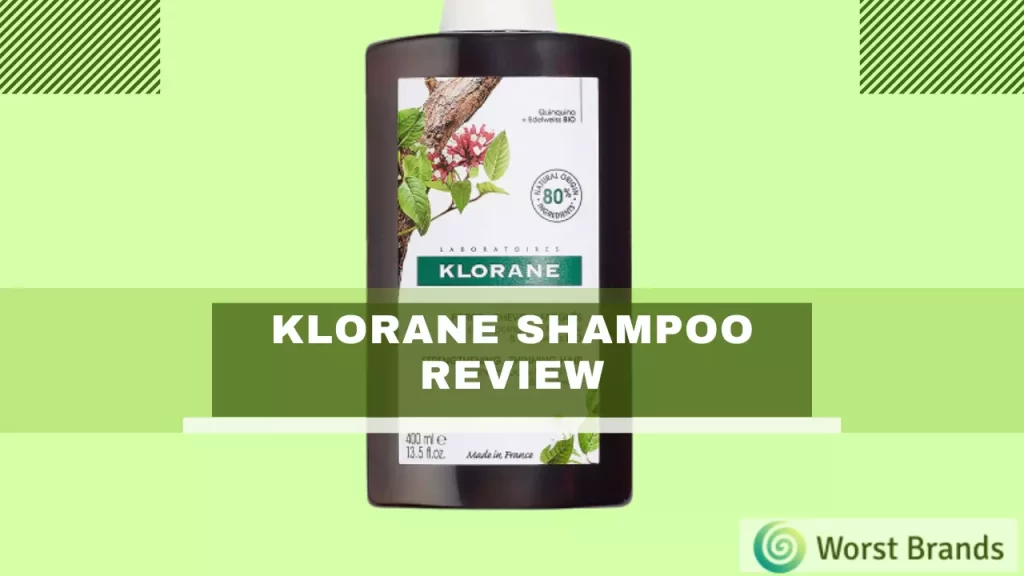 Related: Bad Shampoos
1. Klorane Strengthening Shampoo Review
KLORANE Strengthening shampoo is formulated with quinine and organic edelweiss, and this plant-based shampoo cleanses and revitalizes hair, making it stronger, healthier, and more attractive.
The KLORANE promises that it is 80% prepared with natural ingredients. The shampoo is biodegradable, and dermatologist tested. This KLORANE shampoo controls hair fall by strengthening the hair anchors.
The ingredients used in its formation are caffeine, biotin, citric acid, glycerin, lauryl betaine, and maleic acid.
Product Review
The shampoo doesn't foam up effectively, so you will have to wash your hair again to get your scalp clean. Almost 70% of customers are satisfied with the product quality.
The shampoo is for all types of hairs, but in oily hairs, it doesn't remove excess oil. The shampoo clarifies the scalp and adds shine and smoothness to the hairs.
It fortifies and strengthens the anchors and reduces hair fall up to 80%. But it doesn't work to fight itchiness and irritation.
Furthermore, this shampoo is suitable for both men and women; however, it is not ideal for regular usage.
2. KLORANE Soothing Shampoo Review
Product Description
KLORANE soothing shampoo with peony extracts has anti-inflammatory or anti-oxidant properties. The shampoo provides relief from itching and irritating scalp and comforts the scalp with gentle cleansing.
It also balances the PH level of strands and protects them from UV damage. The shampoo also provides a soothing effect against Dandruff.
KLORANE plant-based shampoo also hydrates and comforts the hairs and makes them soft and easy to detangle. The shampoo is designed for color-treated or dry hairs.
Product Review
We got customers' reviews about the product. According to them, the product does not work 100% as it claims. The formula is a bit drying for wavy hairs.
This KLORANE shampoo doesn't irritate the scalp and is suitable for sensitive skin. Its use doesn't offer much relief against Dandruff, 60% it can control, but the shampoo formula is not for all types of hairs.
The scent is chemical-like. It makes lather well, and you don't need to wash your hair a second time. It cleans and soothes the scalp without irritation or itching.
3. KLORANE Dry Shampoo Review
This KLORANE shampoo formulated with Oat milk extracts gently clarifies the scalp. The shampoo promises to be free from sulfate and paraben. This plant-based formulation eliminates excess oil, dirt, and odors and leaves hair clean.
It refreshes hair throughout the day, adds structure and volume, and extends the life of blowouts.
This is a dry shampoo with a powder foundation that cleans the scalp without using water. The shampoo is good for all hair types and equally affects both men and women.
Product Review
3 out of 5 customers are happy with the product quality. The shampoo is unscented and not fully sulfate-free. The white residue it leaves on the hairs takes much time to get off.
So, it fake advertised no white residue. This dry KLORANE shampoo cleans the scalp without itching and irritating effect and leaves the scalp soft, smooth, and shiny.
The product reduces the appearance of oil and gives a bit of a boost. The shampoo was a bit expensive.
4. KLORANE Nourishing Shampoo Review
This KLORANE shampoo is formulated with mango butter nourishes the scalp without weighing it down. This plant-based shampoo is moisture-rich that fortifies and restores the anchors, and makes hair soft, silky, and shiny.
The shampoo is perfect for dehydrated hairs. KLORANE offers sulfate and paraben-free shampoo, and it is dermatologist and clinically tested. It also retains vibrant hair color and removes brassy tones.
Product Reviews 
The fact about the shampoo is that it's not perfect for oily hairs. After using it, it smells good but doesn't have an overly strong smell.
This shampoo hydrates the anchor and doesn't peel off the nutrients from the scalp. It can break out a rush on the scalp if you've sensitive skin.
The negative point we got is overpriced shampoo. This shampoo cleans, nourish, and adds softness and smoothness to hairs. Not recommended for daily use.
5. KLORANE Shampoo for Oily Hairs
KLORANE Shampoo with nettle is designed for oily hairs. The KLORANE plant-based shampoo softly cleanses while also helping in the natural regulation of oil.
This shampoo reduces the performance of oily scalp and prevents them from being greasy.
KLORANE shampoo is 85% prepared organically. Makes hair bouncy and easy to manage. The shampoo is for daily use.
Product Review
The shampoo doesn't fulfill customers' requirements. Some customers complain that it irritates the scalp, so avoid this shampoo if you've sensitive skin or are allergic.
The smell is neither too bad nor too good. The shampoo is unisexual, and two to three days per week can be used.
The shampoo removes excess oil and provides all the essential nutrients required to the strands. Moreover, 80% of production is plant-based.
Q1. Does KLORANE relieve against flaking?
The KLORANE Soothing shampoo is designed to get rid of flaking scalp. It eliminates the signs of Dandruff, itchiness, and roughness up to 70%.
Conclusion: Klorane Shampoo Review
We've discussed all the positive and negative points of the KLORANE shampoo range in this review. The shampoo is perfect for dry or rough hairs; it gives them a silky smooth look.
Moreover, if you have a hair falling issue, then buying the KLORANE shampoo range would be wasteful because it doesn't contain a solution against hair fall.
However, their shampoos are free from any irritating or itching effect, so people with sensitive or allergic skin can use this shampoo.
For more product reviews, you must visit our website.