Nowadays, durable dishwashers with good cleaning features are easy to catch. But owning a dishwasher with the latest and most powerful cleaning technology needs a long-term commitment of hits-and-trial.
But to save you from such discomfort and tiring experience, we have narrowed down these Bosch Dishwasher Reviews that are an all-rounder pick in terms of versatility, advancement, and durability.
But what makes these dishwashers less enjoyable? Read to find out.
Related: LG Dishwasher Reviews
Are Bosch Dishwashers Reliable
Bosch dishwashers are good cleaning machines as long as features are concerned. It is the quietest dishwasher in the U.S., having an ideal noise range of 44 dBa.
The programs it offers are Economic, Heavy, Rinse, and Speed 60.
Also, its sanitize option ensures bacteria-free and dried dishes making it an elegant pick.
Its unique design is another prominent feature that gives users leverage to select the right model according to their space.
Despite its wide range in designs and price, it cannot compensate for the hard water as it lacks the water softener feature that aids cleaning.
Moreover, the drying option may prolong the cycle durations in some models.
However, the detergent tray optimization, Home Connectivity, and an extra dry option for better drying results make it appealing for users.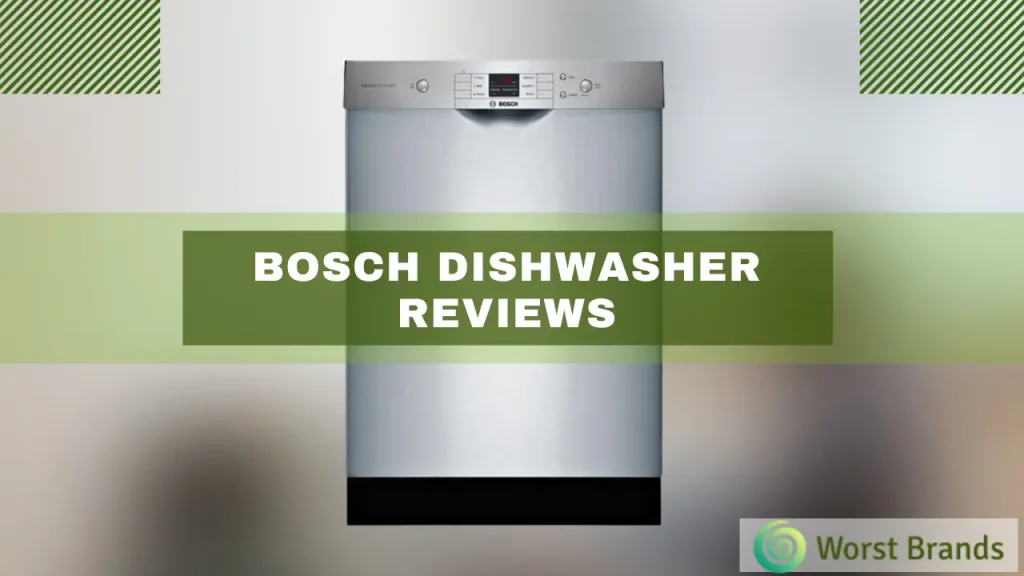 Bosch Dishwasher Reviews – Things to know
Bosch has categorized its dishwashing range in two different ways. So, you can choose, either way, depending upon your personal preferences or requirements.
We have enlisted its diverse range in both ways so that you can choose the best Bosch dishwasher for your kitchen.
1. Manufacturing Designs:
Bosch appliances are known for their quality and quantity as well. Like its refrigerator series, Bosch also offers distinctive designs of dishwashers that differ in their outlook and installation process. These are:
Front-Control dishwashers
Top-control dishwashers
Custom-panel dishwashers
Compact & ADA dishwashers
Verdict about This Range (User's Views):
The first two designs are popular among those who need more automated dishwashing machines with less manual effort.
While custom one can be adjusted according to individual needs, most users find this range slightly more costly than others.
Lastly, if you want some small dishwashers with no noise, go for the Compact & ADA dishwasher.
2. Innovating Features:
Bosch updates its performing features consistently to bring more innovative, handy, and mindful cleaning gadgets.
It reduces manual effort and improves its quality to make it super-efficient and durable. The progressive series of Bosch dishwashers are;
Bosch 100 series-Primary dishwashers
Bosch 300 series-Improved dishwashers
Bosch 500 series-Progressive dishwashers
Bosch 800 series-Award-wining dishwashers
Benchmark dishwashers-Luxurious range
Verdict about This Range (User's Views):
Its primary series, or 100, known as the Ascenta series of Bosch dishwashers, are low-priced models with decent cleaning features.
Still, if you want a more efficient working mechanism with automated features, you should switch to its other series, such as 300, 500, or 800.
You will get the same cleaning performance from each series. What makes it different is mainly its drying technology and control panel automation level.
Still, if you need assistance with the right selection, you can choose the Bosch dishwasher builder tool for the appropriate decision.
This tool helps you find your perfect dishwashing machine by asking about your preferences and then gives you all the possible options that fit your requirements to select the right product.
3. Specifications of Bosch Dishwashers:
Bosch is a well-known appliances brand serving for many years. Its innovative performing technologies are its trademark that helps it maintain its name and other high-end brands.
Despite good quality manufacturing, these are some of its amazing specs that make Bosch dishwashers an intelligent purchase.
Bosch Dishwasher Door Handle's Styles
As Bosch dishwashers come in various designs, their handle designs are unique and distinctive. These 5 designs are:
Pocket door handle
Recessed door handle
Custom panel- handle
Towel bar door handle
Scoop door handle
Different Washing Cycles:
Different Washing Styles
Bosch dishwashers offer 4 and 5 different washing options that adjust according to the load and need for washing efficiency. Two different wash cycles are;
4 Cycle Options: Delicate, drying assist, half load, and sanitize
5 Cycle Options: Delicate, extra dry, machine care, remote start, and sanitize
AquaStop® Plus:
This special feature regulates the water circulation within the system and efficiently prevents water leakage.
RackMatic®:
It has 3 height levels for 9 possible rack positions. It offers more adjustments according to utensils and other cutlery options such as large pots, dishes, bottles, etc.
Bosch Precision Wash™
Precision wash is a smart technology feature that promotes automation and enhances the user experience by lessening the burden of manual effort.
This feature allows you to do dishwashing tension free without checking on it repeatedly and set the machine to function independently.
Other Smart Features of Bosch Dishwashers:
A flexible 3rd rack increases the loading capacity of each dishwasher.
InfoLight® uses an LED light to alert you about the ongoing functioning of the machine.
One hour is all it takes to get your dishes clean and dry with Speed60®.
Home Connect handles the dishwashing chore just by your voice.
The sanitize option expels the microbes-if any and improves the drying process.
Competent Drying Technologies:
Bosch dishwashers have 3 different technologies for drying the dishes completely, ensuring clean and germ-free dried utensils.
Crystal Dry™ Technology:
In 800 series
60% better drying
Ensures the bacteria-free dishes
Auto Air® Technology:
In 500 series
40% enhanced drying
Open the door when the cycle ends to air dry
Pure Dry® Technology:
In every Bosch dishwasher
Heats the water at 162˚F
Clean, sanitize, and dry
Why should you buy Bosch Dishwasher?
We have analyzed Bosch dishwashers with the top 10 leading brands, including Samsung, Beko, and KitchenAid.
So, after going through several customer reports and spending a good amount on gathering the reviews, we have come up with the following pros and cons of these dishwashers.
Why We Love It:
Some of the over-whelming features of these smart dishwashers are:
These dishwashers are ultra-quiet and use red light indicators when the cycle ends.
These two features make it best for families with children or old-aged people because they ensure quiet yet efficient dishwashing.
A wide range of Setting Options:
Bosch dishwashers give you a wide range of setting options in temperature, wash cycles, time duration of each cycle, and loading capacity (half-load setting). It is the best privilege of Bosch dishwashers that almost every user adores.
Third Rack for Additional Space:
The third rack is a flexible compartment that can be adjusted according to the required space to accommodate the dishes. It increases the drying process and ensures better cleaning by giving 30% extra space to the utensils.
Why Should You Avoid It?
These are a few common drawbacks that users constantly complain about in these Bosch dishwashers.
Some users, such as older people or non-tech persons, find it difficult to get along with its advanced setting features. Such distinctive program settings were difficult to understand for most users.
Due to the inappropriate lower rack spacing, it is difficult to adjust large pots and dishes in some models.
However, in some models, upper racks can be a cause of troublesome for adjusting cutlery items.
There is no proper heating system in the 100 series or Ascenta series, and it uses the condensation process for drying purposes.
So, most users find it ineffective as there is still moisture left, leading to mold growth.
5 Best Bosch Dishwasher | Buyer's Top Picks of 2022
We have picked the best-selling models from the Bosch dishwashing range. Each model is known for its best qualitative performance at an affordable price. You can go for the one that suits you best. So, let's continue the Bosch Dishwasher Reviews.
1. Bosch Front-Control Dishwasher – SHE3AR75UC
If you want a dishwasher with a large capacity that can handle up to 14 place settings, then this model is a good pick.
It is one of the top-selling models from the Ascenta series, having the highest reviews among front-control dishwashers. Other winning features include;
Quietest dish cleaner
Overflow protection system
6 different wash temperatures
6 distinctive program durations
Ensures robust cleaning
Affordable dishwasher
Stainless steel strong in-built
Customer's Complaint:
Lower racks do not accommodate dishes and pots well.
2. Bosch Top-Control Dishwasher – SHPM65Z55N
This dishwasher is good for big families who want to clean their dishes. Also, the additional space due to the third rack and other versatile programs make it the best option.
This model is from Bosch's 500 series that consists of other following features:
44 dBa-super quiet
Easy-installation
Energy-star qualified
5 different washing programs
5 variable cleaning cycles
Flexible third rack
LED status indicator
Customer's complaints:
Little expensive
Leaves stain on the dish.
3. Bosch Benchmark Dishwasher – SHV89PW73N
It is one of the expensive models of the Bosch dishwasher, but this dish cleaner is one of the top-notch picks in design, performance, and output.
You will have neat and clean dishes with versatile drying technologies and the ultimate range of cleaning programs. Some features are;
Fully-integrated installation system
Sleek and stylish design
Accommodates large dishes well
Fast cleaning action with 6 cycles
Water softener feature
quickly dries out after cleaning
Quiet performing action
Customer's complaints:
Complex control panel
It doesn't dry out the dishes completely
4. Bosch (Custom-panel) Dishwasher – SHV878D3N
We have chosen this dishwasher from Bosch because of its ultimate features, including easy installation to clean out the dishes.
It makes every step very smooth and easygoing. This 800 series is a medium-priced product covering maximum innovative features.
Third rack facility
Well-accommodation of utensils
Indicator-LED lights
Full-integrated installation
Stainless steel tub
42 dBa noise level
High-grade performance
Customer's Complaint:
Lower rack accommodation is poor.
5. Bosch Compact Dishwasher – SPE53B55UC
It is one of the compact dishwashers yet performs efficiently with many advanced features.
This dishwasher from Bosch is slightly pricier than its height, but the highly-adjustable space compensates for it.
Energy-star qualified
Well-managed drainage
Adjustable racks
46dBa noise level
Remote monitoring and control
10 place settings
Good choice for small spaces
Customer's Complaints:
Inappropriate drying
Less durable
Our List of Reliable Dishwasher Brands
We have three-suitable recommendations for you that have their specifications. But all of these three are good replacement options for these Bosch dishwashers. The top-three user's favorite choices are:
1. Samsung Dishwashers:
If you want a dishwasher that solely does the best cleaning of your dishes, Samsung is a perfect choice. This brand is known for its latest dishwashers' cleaning technologies, but they do not have a proper drying system.
2. KitchenAid Dishwashers:
KitcheAid dishwashers possess almost similar features as Bosch dishwashers have but within a limited range. But its cleaning technology is more efficient than Bosch ones.
3. Beko Dishwashers:
Beko dishwashers also possess a powerful cleaning technology and many similar features as Bosch within a reasonable range.
Conclusion – Are Bosch Dishwashers Good
To sum up, Bosch dishwashers have a good reputation because of their several decent features such as a wide price range, versatile in-built styles, classic door design, etc.
Besides the inefficient drying technology in some models, these durable dishwashers do the job perfectly.
We highly recommend its 800 series depending on the user's pleasant experience, but at the end of the day, all series are worth it in their unique way.