Nobody has spare money to buy things repeatedly just because they get damaged frequently. The same is the case with HydroFlasks. Just like other things, HydroFlasks also need cleaning. And one way to clean is by washing in a dishwasher.
HydroFlasks are now the talk of the town. From Instagram to VSCO and TikTok, the brand has gained fame like a fire in the bush. The scintillating glass bottle surely makes everyone stop and stare.
But like everything, HydroFlasks need maintenance. And by maintenance, we are talking about washing them.
The most frequently asked question about HydroFlasks on social media platforms is, Are HydroFlasks Dishwasher Safe?
Yes, HydroFlasks are dishwasher safe, but before cleaning, check the label if your bottle is "dishwasher safe" or not because the HydroFlask bottles made before 2020 were not dishwasher safe.
Still, we recommend hand washing them to avoid all risks, which we have covered in detail below "why."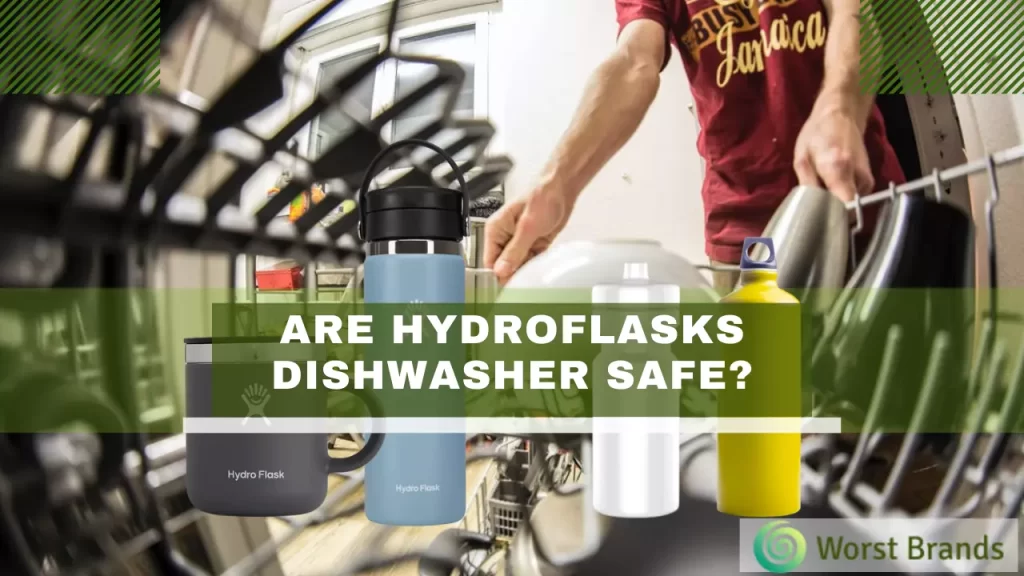 Related: Dishwasher Brands to Avoid
However, experts at HydroFlask over the years worked on making it more compatible for household users.
As a result, in 2020, the company changed the existing material of HydroFlask and started using The Color Last TM powder.
This powder is heat resistant and it can even bear higher temperatures without fading the color and appearance of your HydroFlask bottles while washing in a dishwasher.
Can you put HydroFlask in Dishwasher?
There is a mixed answer to this question. Until 2020, HydroFlask was not safe to put up in a dishwasher. The reason was the powder coating used in the conventional older HydroFlasks.
The powder used in Hydro Flasks before 2020 could not withstand higher heat, such as that of the dishwasher.
The dishwasher's heat would gradually fade away the powder coating of your Hydro Flask. And, your bottle will slowly start losing its color and completely fade away after a few washes.
Also, the dishwasher's heat directly affects the insulating property of the conventional HydroFlasks. What is even the point of using HydroFlask if it cannot retain the temperature of liquid?
So, considering the above points, the company didn't recommend washing them in a dishwasher. Previously, the company explicitly mentioned the HydroFlasks as "not dishwasher safe."
But as we have discussed earlier, now the game has changed. Use of Color Last powder has made the HydroFlasks dishwashers friendly.
You can easily identify the new ones by their stainless-steel band on the collar side, no registered trademark mark on the logo, and a rounded bottom.
How to Clean a HydroFlask? Do it Manually
As we are now on the same table that HydroFlasks made from 2020 onwards, especially those mentioned with "Dishwasher Friendly," can be put up in dishwashers, we proceed with the actual cleaning.
For washing it in the dishwasher, check the instructions label on the user guide to get further details.
The dishwasher is a good way, but experts worldwide recommend manually washing your HydroFlask.
Although the company mentions HydroFlasks as "dishwasher safe," the care instructions do not recommend doing so. But, how to wash them manually?
Following are some of the key points that will help you cleanse your HydroFlask step-by-step.
Step 1: Getting the things ready:
For cleaning HydroFlask, you will require the following supplies:
A toothbrush or water brush.
Baking Soda.
Tissues or Napkins.
Non-Abrasive Sponge
Step 2: Initial Cleaning of the Bottle:
Get yourself a soap (Dish soap will also work fine)
Make a soapy solution in mild water and pour it into your HydroFlask.
Disassemble the HydroFlask. Make sure to remove the lid, cap, and straw before pouring the solution.
Take a fine-quality long-handled bottle cleaning brush and thoroughly clean the inside of your bottle.
Remove the solution inside and pour some new soapy solution and repeat the process.
Once you are done doing it, empty the bottle and fill it with new running water.
Try not to use a cleaning brush on the outside as it can damage the bottle's exterior.
Now we are done with the initial cleaning part.
Step 3: Using Baking Soda for In-depth Cleaning: (Optional Step)
Although, following the steps mentioned above, you are good enough to use your HydroFlask. But sometimes, stubborn stains require intense cleaning.
For getting the job done, you might need a baking soda then.
Take some baking soda and mix it with some lukewarm water.
Mix both of them well so that a thick paste is made.
Put this paste on your bottle cleaning brush.
Gently rub the bottle cleaning brush on the inside of the HydroFlask.
After thorough brush rounds in HydroFlask, rinse the bottle with running warm soapy water.
Make sure to properly remove any baking soda remains from inside the Hydro Flask.
Leave the bottle for Air-Dry.
Your HydroFlask is now ready for use.
Step 4: Using White Vinegar as an Alternative Method: (Optional Method)
If you are not up for the baking soda method. Don't worry. You can also use white Vinegar for that purpose.
White Vinegar specifically helps remove tough stains and bad odor from Hydro Flask.
Household White Vinegar works as an excellent liquid removing most of the stains and killing harmful micro-organisms.
To use it in HydroFlask, follow the below-mentioned steps:
Take some white vinegar and pour half-cup of it in Hydro Flask.
Shake it gently around the bottle. This will wash away the affected area.
Leave the bottle for around 5 minutes and let the liquid solution settle down.
Clean the bottle with lukewarm water to remove the solution from the bottle.
Voila! All of your HydroFlask's odor and stains are gone.
Are HydroFlask Caps, Lids, and Straws Dishwasher Safe:
Yes, HydroFlask caps, lid, straws are top-rack dishwasher safe. But, if you put them on the bottom rack, it adversely affects their lives.
However, it would be better if you hand wash them to avoid any risk. In its manual guide, the company also prohibits washing them in the dishwasher.
Then how straws, lids, and caps should be cleaned?
Experts and even the company recommend doing it by hand wash. Manual cleaning is always preferred.
A nice solution of warm soapy water will do the magic.
Conclusion:
HydroFlaks has now become immensely famous. With so much wide use, people are often concerned about its cleaning. For dishwasher cleaning, the newer versions of HydroFlask (2020 onwards) are compatible.
But washing your HydroFlasks (purchased before 2020) in a dishwasher might be risky. You might end up ruining your HydroFlask.
So, we will always recommend you hand wash your HydroFlask.
Related Posts: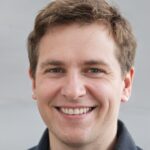 Steven Settles is a professional content writer with over 7 years of experience in writing for different niches, including brand reviews, technology, fitness, and more.
Currently, he is working as a content writer for WorstBrands, where he provides insightful reviews of different products, including home appliances, outdoor gear, fashion, and kitchen products. In his free time, Steven enjoys traveling and exploring new places.