It's no secret that olive oil is one of the healthiest oils you can consume, but it can also get expensive.
So, you've got a few different types in your mind, but you're unsure which one to buy.
Lucky for you, We are here to help. Today, we'll be offering an Aldi Olive Oil Review. Is it worth your hard-earned money? Keep reading to find out.
Aldi Olive Oil Review
Aldi olive oil is a great value for the price. The company has been on the planet for 50 years, and I got a chance to test its products.
Aldi offers different items depending on the region and area. Some of them are listed below:
Carlini Pure Olive Oil
Carlini Extra Virgin Olive Oil
Carlini Olive Oil Cooking Spray
Sicilian Extra Virgin Olive Oil
Organic Extra Virgin Olive Oil
These oils are purely made out of olives and slightly differ in their composition. The brand sells olive oil mostly in 16.9 fl. Oz. (500 mL) packaging.
When I tested Carlini extra virgin oil, I found that it has a soft and buttery taste. The savor is slightly bitter and has a peppery flavor.
Our team tasted the dressing of salads made with Carlini olive oil, and we kept licking our fingers.
The color of the oil is lighter in the shade. Most Aldi Olive Oils range from light brown to dark green shade, proof that they are extracted from olives.
The texture of the oil is less dense. It gives a feeling of mouth fullness and even flows smoothly in the pan.
Because it's cold-pressed, the oil has a moderate smoke point than other oils, so it's not good for frying, but not for high-heat cooking.
The oil is perfect for salad dressings, drizzling over roasted vegetables, or using marinades. Give it a try! You won't be disappointed.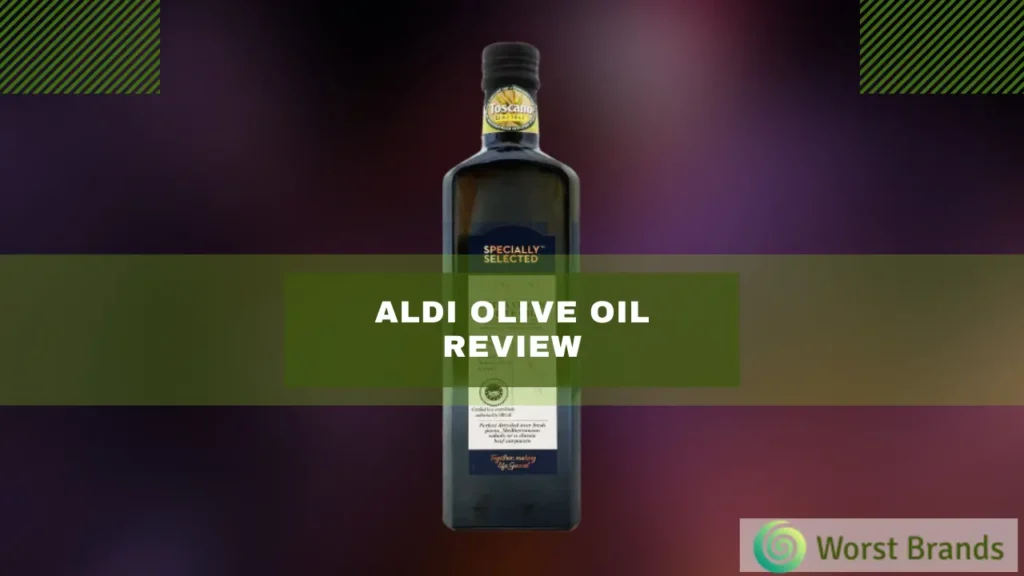 Things We Liked
Pure olive oil taste
A nice tint of aftertaste
The company offers a range of products
Things We Didn't Like
A smoking point not suitable for high-heat cooking
Is Aldi Olive Oil Good?
Yes, Aldi olive oil is good. It may not be the best olive oil on the market, but it's a great value for the price.
Aldi consistently ranks among the top grocery stores for quality and value. Their olive oil is no exception.
It's made with cold-pressed olives and a light flavor that's perfect for everyday use. Plus, the company offers a wide variety of olive oils, so you can find one that best suits your needs.
Customer Feedback About Aldi Olive Oil
The customer rating of Aldi Olive Oil was 4.6/5, which is pretty decent. The customer graded it as an authentic oil with a fantastic flavor.
A few customers were concerned about its EVOO quality, but we found it outclassed. Also, many consumers praised it.
You might also like to read Customers' Review About Frantoia Olive Oil or La Espanola Olive Oil Review.
Who Makes Aldi Olive Oil?
Aldi Corporates is the brand that manufactures Aldi Olive Oil. The Albrecht Family started Aldi in 1961 in Germany as a grocery store that can supply vegetables and other products at the doorstep.
Soon after, they stepped into the olive oil industry and have been impressing the world since then.
Is Aldi Olive Oil Real or Fake?
Aldi's olive oil is real as well as of fine quality.
They are also certified by the AOA code of ethics as being authentic, and every product carries an AOA label.
Is Aldi Olive Oil Pure?
Yes, Aldi Olive Oil is pure.
They use only olives, without any addition of additives or salts. We want to add that some people might say that all olive oils are basically the same, but that's not the case.
We've tried several different brands and found that every 10 of 30 olive oil brands are not pure. But that's not the case with Aldi Olive Oil.
On top of that, it is certified by many organizations like AOA or NAOOA. So, you can rest assured about its quality.
Where is Aldi Olive Oil Made?
Aldi Olive Oil is headquartered in Batavia, Illinois. But their oil is made from olives from countries like Italy, Portugal, and Greece.
It is made all over the Mediterranean, but the oils are mixed in a central location before being bottled and sold.
This way, Aldi can ensure that their customers get a consistently great product no matter what part of the Mediterranean they're from.
Aldi Olive Oil Uses
It's no secret that Aldi olive oil is a great value, and it also happens to be a high-quality product.
Here are some of the ways we like to use it:
As a salad dressing
To make a simple dressing, combine olive oil with vinegar or lemon juice, salt, and pepper.
In cooking
The oil has a moderate smoke point, so it's good for frying. Use it to saute vegetables or meat or to make sauces.
As a dip
Olive oil makes a tasty dip for bread or vegetables.
In baking
Use this oil in place of butter or vegetable oil in baking recipes. It will give your baked goods a delicious flavor and moist texture.
On skin and hair
It can be used as a natural moisturizer for skin and hair. Just massage it into your skin or scalp, and then rinse with warm water.
Aldi Olive Oil Ingredients
It is made of 100% pure olive oil. It is cold-pressed and never diluted. The oil is also cholesterol free.
The other ingredients may be:
Polyphenols
Fatty acids
Triglycerides
Water
Salts
Final Verdict
Here is the final deal. Aldi has proved why it is one of the good companies regarding olive oil. This brand originates from the olives of Italy, Greece, and Portugal.
All-in-all the taste, flavor, and aroma were excellent. Though this oil is not quite good for high-heat frying, you can use it to double down your taste on medium flame.