It's no secret that olive oil is good for your health. From lowering cholesterol and helping to prevent heart disease, it's one of the most nutrient-rich oils you can put on your salad.
But how much do you know about it? We're here to help. In this Brightland olive oil review, we will dive deep into the ingredients, benefits, health effects, and much more.
Brightland Olive Oil Review: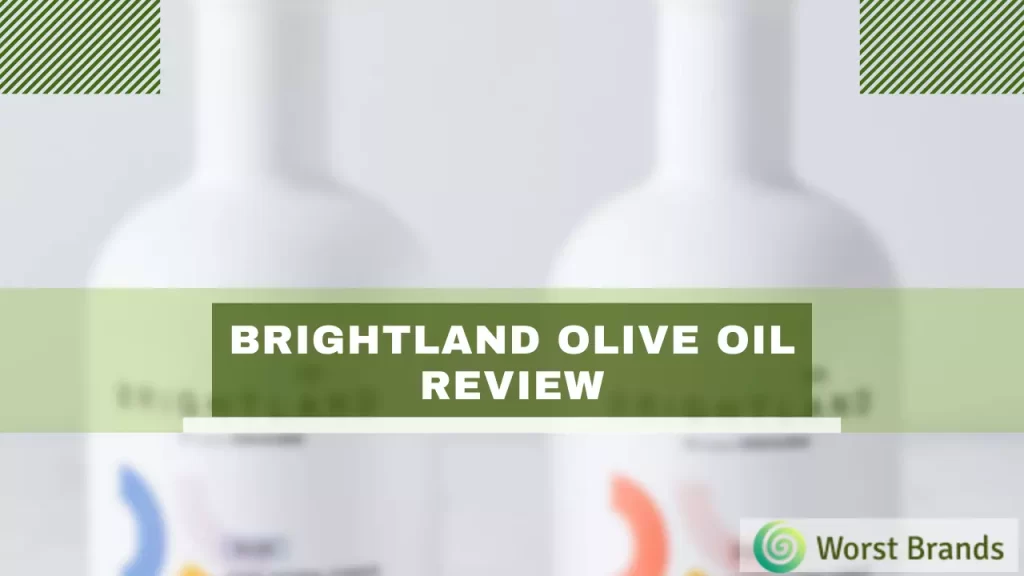 So, if you also have seen their ad somewhere and are planning to buy it, fasten your seat belts because we'll be doing an in-depth review of this brand.
Hailing from California, Brightland olive oils are made from handpicked organic heirloom olives.
The company is all about fruit, love, and sunshine. The company sources all of its olives from family-owned olive oil farms in California.
With its birth in 2018, the company managed to get decent reviews on its products and garnered the attention of a large audience.
Today, this lovely bottle-making company has spread across the US, and its products are easily accessible nationwide.
The user experience and their after-sales services considering them a small business are being admired by the public.
The company has a wide range of olive oils, honey, and vinegar. We'll be reviewing the best-selling olive oils of the company.
1. Brightland Alive Olive Oil Review:
Comes in exquisite bottle packaging, Alive is one of their flagship olive oil.
Arbequina and Arbosana olives are first cold-pressed by the experts within 1-2 hours of the harvest to maintain the product's quality, freshness, and originality.
The rigorous testing afterward makes the product ideal for consumption. A nutty flavor is dominant with a delicate essence of pears, and green tomatoes with an overall smooth feel.
UV-coating can be seen on the bottle to protect it from the harmful effects of radiation which is another point that impressed me.
Nutritional Block:
Alive Olive Oil is enriched with nutrients and filled with healthy fats, it helps in immunity and strength building. Fat-soluble vitamins help clean up the harmful toxins in the body.
Antioxidants protect the body from several infections and have a role in skin and hair care, too, resulting in longevity and youth. 
Uses and Benefits:
The bold flavor is just good enough to increase the essence of the food. I'll not be specific, but talking generally, goes well with almost everything. From salad dressings to marinades, it just works fine for me.
Baked items are another good option to try it with, or you can simply enjoy it by drizzling it over your chocolate or bread. Is skin dullness a problem for you? Alive olive oil got its fix for you as well.
After just a few applications, it started showing decent results, as the skin was shinier and softer. You can try it with your hair too.
2. Brightland Awake Olive Oil:
Alive olive oil is a smoother mixture that goes well in salad dressings, baked goods, and sweets, whereas Awake olive oil is a heavier blend that goes well in pasta, sauces, turkey, and roasting vegetables.
It generally leaves a nice crispness to the chicken and roast, with a delicate nutty touch making the whole experience absolute bliss.
The marvelous flagship bottle can be again seen here, with the first cold press to ensure the richness and quality of olive oil.
It shows the company's dedication and commitment to excellence and quality.
Nutritional Block:
Again, it comes filled with healthy nutrients, as we saw in its Alive version. The nutritional content is the same as you read in Alive olive oil.
Uses and Benefits:
It again comes packed with health benefits and can be used in various ways. Very helpful for your skin and hair if you have some skin and hair problems.
More specifically, Awake is meant for frying and sauteing purposes, but it can also serve general purposes such as drizzling over bread or other stuff like that.
The taste is exceptional and healthy, the bottle is exceptionally well crafted; what else does anyone want? Hands down one of the top products I've found online.
3. Brightland Rosette Olive Oil:
This one is unique from the other two having 100% garlic olive oil made from heirloom Frantoio olives first hand-pressed by a master within the first 90 minutes of its harvest.
The zesty impression it gives is just something I have been looking for for quite a time now.
Intense aroma and pungent smoothness add flowers to the overall experience.
Another unique thing about this olive oil type is that it was made with the collaboration of Californian-based multimedia artist Lilian Martinez, known for his exceptional work in classical architecture and sculptures.
Bright, delicious, and spicy defines Brightland's Rosette's olive oil, the newest addition to their olive oil range.
Nutritional Block:
Nutrients are almost the same as seen in Brightland's Awake and Alive olive oil. So, no significant changes here.
Uses and Benefits:
The spicy flavor makes the whole dish mouth-watering. On opening, one can distinctively smell the dominant garlic infusion.
Having an ultra-high polyphenol count makes the oil packed with antioxidants. If you are a garlic lover, then this is a must-have.
Work perfectly fine with pasta recipes, mashed potatoes, bread dipping, and focaccia.
Packed with nutrients, and light on your pocket, this one is a go-to option if you look for garlic olive oil at pocket-friendly prices.
Customer Reviews About Brightland Olive Oil:
Some people complained about the bottle's mouth being inappropriate and recommended improving it as it caused some spillage whenever the oil was drizzled.
Some people appreciated its high smoke point making it easier to fry with. Others just enjoyed its addictive taste.
Finally, some people pointed out that it goes very well with their kitchen ambiance and is a great value addition to the overall décor. So, overall a complete package in itself and worth trying.
Our Rating For Brightland Olive Oil:
Taste: 7.5/10
Authenticity: 8/10
Cost: 8/10
Site Reviews: 9/10
Convenience: 9/10
Final Verdict
I am pretty much impressed by their entire olive oil range. The aesthetically good-looking bottles, their top quality and taste, and their price affordability are what make them a complete winner for me.
So, if you are looking for a high-end olive oil brand, Brightland is a must-try. I hope this in-depth review helped you a lot.