Olive oil production is presumed to have started before 4000 BC in the Mediterranean.
This bright golden liquid played an important role in the Mediterranean's cuisine throughout the centuries. It is quite healthy and delicious.
That's why olive oil is still used as an important condiment around the globe, and plenty of brands are delivering top-class olive oils.
Today, we bring you the Saporito Olive Oil Review. This is an extra virgin from the highest quality olives with their original taste and aroma.
Are you interested in knowing more? Stay tuned, and let me present you with some facts about this oil.
Saporito Olive Oil Review
I discovered Saporito Olive Oil accidentally. None of our team members were aware of it.
One Sunday, I was just casually browsing google when the name of this olive oil popped up in front of me.
The ad was lucrative as they counted many benefits of this Italian olive. I immediately put its review on my to-do list and ordered the oil the next Monday. To my surprise, the oil delivered some really good results. I'll get to it in a while.
Since the company is not quite big and popular, they don't have too many items in this category.
Some of their products are as follows: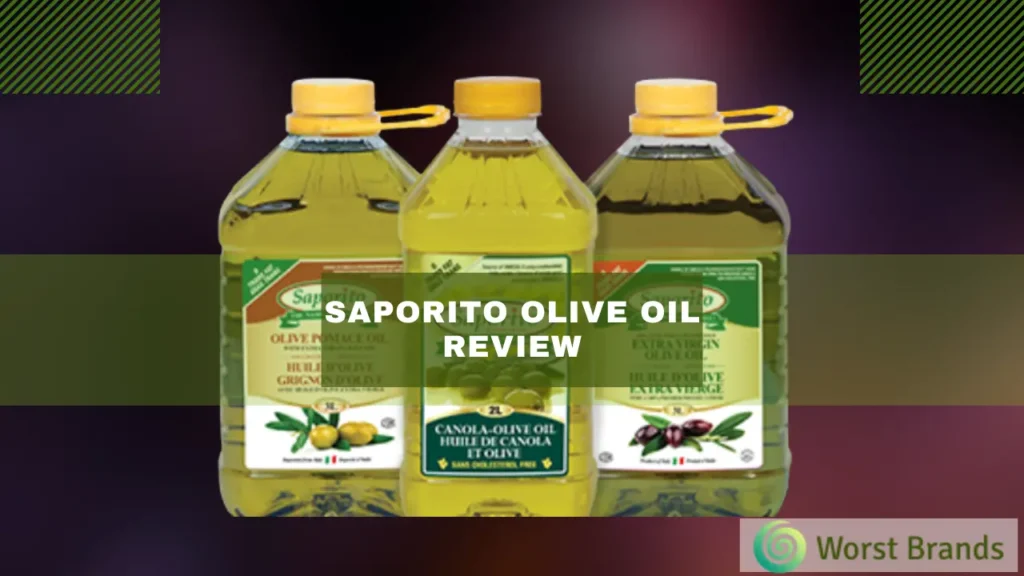 Extra Virgin Olive Oil
Organic Extra Virgin Olive Oil
100% Italian Extra Virgin Olive Oil
The first thing I noticed when I opened my 250 mL Saporito Foods Extra Virgin Olive Oil was a sweet fragrance that enchanted my brain.
I was puzzled by how great this oil smells and why it is not popular. The odor of the oil is fruity with hints of olives.
Likewise, the taste and color of the Oil are also exceptionally remarkable. Just like the advertisement said, this oil really delivers.
Since the oil has a good smoking point, you can even spray it over your food at high flame.
It allows the flavor of herbs and other seasonings to flourish when used in marinades and salad dressings.
Talking about the texture of the oil is also great. Saporito Olive Oil neither gels too hard nor flows like a thin liquid; it falls somewhere between. The oil flows nicely when you pour it into the pan.
Saporito Olive Oil is enriched with many quality components like vitamin E, antioxidants, and many more. It also has a great flavor.
Although Saporito Olive Oil may not be as famous as that other premium Italian Olive oils, this oil has all the properties to be called an excellent EVOO.
The taste, flavor, and texture are phenomenal. It blends greatly with other ingredients.
Things We Liked
Preferred in marinations.
Consistent and uniform
Availability of fresh products
Things We Don't Like
The oil is a bit expensive
Is Saporito Olive Oil Good?
Yes, Saporito Olive Oil is good.
This extra virgin olive oil is of great quality and nutrition and is low in unhealthy saturated fats. It is an excellent source of vitamin E.
One thing that differentiates it from others is that it does not gel when refrigerated. It remains clear, consistent, and free running.
Except for its poor packaging and high price, it is the good quality extra virgin olive oil available in the market.
Read our blogs about other olive oil brands as well:
Saporito Olive Oil: What Do Customers Say?
When we tried looking at customers' feedback, the majority praised Saporito Olive Oil.
Out of various reviews, many buyers even mentioned that they tried this oil for the first time and were quite happy with their purchase. This shows that oil is quickly gaining popularity.
Eventually, a few consumers mentioned its below-par packaging, which I also discussed in the review section.
Plus, a few customers have complained about high prices. But we can't say anything about this, as good things come with a price.
Who Makes Saporito Olive Oil?
Saporito Foods, an Italian company, has been making Saporito Olive Oil since 1890.
The company produces cold-pressed extra virgin olive oil from pure olives. These olives are produced and harvested in Italy.
Is Saporito Olive Oil Pure?
Yes, Saporito Olive Oil is pure.
It is 100% pure first cold pressed extra virgin olive oil. No additives or chemicals are added to it. It is also rich in antioxidants which have powerful health benefits.
Saporito Olive Oil Uses
Saporito extra virgin olive oil is an exceptional ingredient in your kitchen cabinet. It is known for its rich flavor, versatility, and numerous health benefits.
Some of its keys uses are as follows:
Use as a medium for pan frying
Suitable for baking, especially savory bread and sweets such as pastries, cakes, and other desserts.
Toss in a salad with acidic ingredients for an easy and flavorful dressing
Preferable as an oil base of marinades to balance foods with earthy flavors
Works great as a dipping appetizer for bread and vegetables
It contains a high amount of monounsaturated fatty acids, which reduces total cholesterol level in the body
Good for brain and mental health
Rich in antioxidants which reduces inflammation
Boosts immunity
A good skin moisturizer
Is Saporito Olive Oil Real or Fake?
Yes, Saporito Olive Oil is real.
The extra virgin olive oil is completely unrefined and has a low acidity level. It carries a taste of its own and significantly improves the taste of the food with which it is used.
You can immediately check the authenticity of the oil by:
Checking its online reputation
Reading labels for ingredients or EVOO
Olive estate name
Certifications
Final Verdict
Overall, Saporito Olive Oil is a good choice for those looking for high-quality extra virgin olive oil to use in their cooking.
I love the flavor and texture of Saporito Olive Oil, and it has been a consistent part of my kitchen for over a year now.
The oil has a fruity aroma, good taste, and a good texture for cooking and adding to dishes. It's also enriched with beneficial components like vitamin E and antioxidants, which may positively impact health.
While the oil may be more expensive and have mediocre packaging, many customers are satisfied with their purchase and have praised its quality.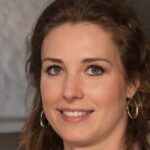 Crystal Hafley is a dedicated writer and content creator for WorstBrands, where she specializes in writing insightful reviews about kitchen appliances and fashion products.
With her expertise, Crystal provides readers with accurate and reliable information to help them make informed decisions about the brands and products they use every day. When she's not researching or writing, Crystal enjoys cooking and exploring the latest fashion trends.