When it comes to choosing a lawnmower, it seems there are many brands and models present in the market which claim to be the best.
But how do you choose the right mower for your space? Today we will give you a Ryobi lawn mower review so you can better understand whether it's worth buying or not.
Among many famous and well-equipped lawnmowers, Ryobi lawnmowers are one of the best and equipped with high technology features.
So, in this article, we will go through Ryobi's features, pros, cons, tips, and the best models available in the market.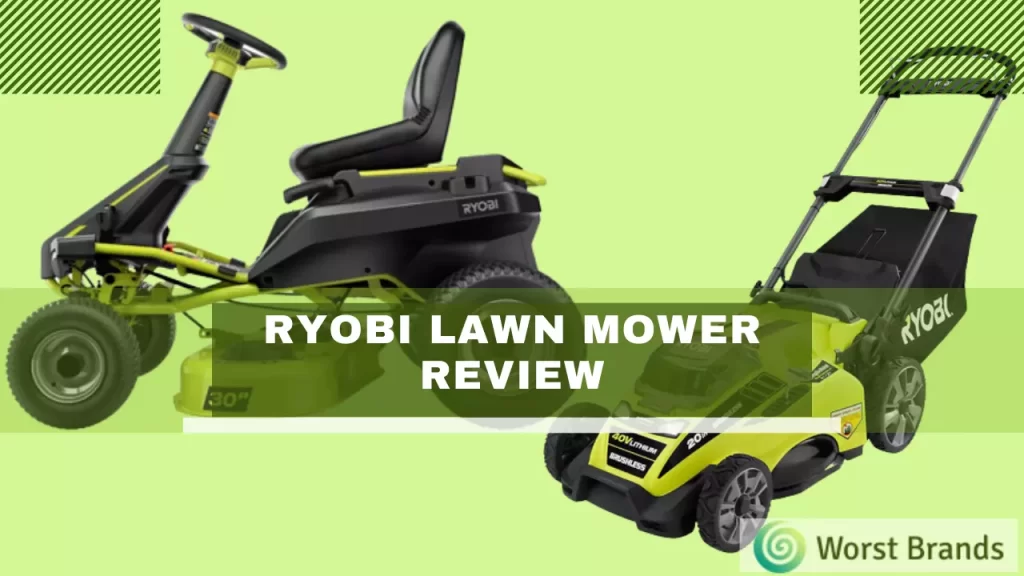 Related: Lawn Mower Brands To Avoid 2022
Ryobi Lawnmower Overview
Ryobi is a Japanese-based company and manufacturer of electronics, telecommunications, and automobile components.
This brand is a global innovator known for power tools and gardening products. Their lawn mowers are equipped with advanced and latest technology.
Ryobi offers different models depending on size, features, and designs from which you can choose. Each model of Ryobi has modern technology installed in them, making it unique from others.
Let's have a look at some of their top-notch features.
1. Lithium-Ion battery
Ryobi lawnmowers have a lithium-ion battery of 40V. Lithium battery delivers high performance from start to end of your job.
Lithium batteries extra ion cells are best for higher output tools. It helps to provide clean, reliable, and exhaust-free performance.
Ryobi lawnmowers have a handy status indicator, so you can see the battery level.
2. Torque Control
Torque is the measurement of the blade turning power. High torque means that you can tackle harder and thicker grass perfectly.
There is a torque control on blades in cordless mowers, so if you are going through some heavier gulch, blades continue to ratchet up the torque.
This torque control feature will help to compensate and prevent the battery from excessive draining.
3. Load Sensing Technology
Ryobi brushless lawnmower uses the latest load sensing technology to deliver extra power when you need it and conserve the battery for longer runtimes when you don't need it.
4. Smart Boost TM
Smart boost technology helps draw power from the second battery present in the mower to help you tackle those longer, thicker blades of grass. You will get a longer run time from using both batteries and smart boost technology.
5. Safety Features
Ryobi lawnmowers have different safety features like LEDs that let you know if the catcher or mulch plug hasn't been fitted correctly or when it might be time to change the blades.
A battery fuel gauge is also present to indicate the battery or fuel level.
Different Types Of Ryobi Lawn Mowers
Ryobi Limited provides a wide range of lawnmowers according to your need and requirement. Some of them are listed below.
Brushless Push lawn mower
Zero turns electric riding mower
Brushless Self-propelled mower
Crosscut Lawn mower
Ryobi One+ Lawn mower
Ryobi electric Lawn mower
Ryobi dual-blade battery-powered push mower
Ryobi cordless mower
There are many more available in the market with different features, power sources, and specifications.
Before buying, you should determine various factors to select the right mower for you.
Pros & Cons of Ryobi Lawn Mower:
What are the Pros of Ryobi Lawnmower?
Ryobi lawn mowers are lightweight, quiet, and reliable.
Ryobi lawnmowers are easily portable and easy to start.
Their cutting height is adjustable via a single lever, which customers highly like.
Rechargeable Ryobi lawnmowers' batteries can be used in cordless lawnmower equipment.
It is top-rated among customers because of the feature that it automatically changes speed according to the thickness of the grass.
In a rechargeable Ryobi lawnmower, a second compartment is present for batteries.
What are the Cons of Ryobi Lawnmower?
During the self-propelled feature, the batteries drain quicker than expected.
Top-end speed in Ryobi brushless self-propelled could be higher.
Speed adjustment of some Ryobi lawn mowers needs to stiffen.
Lawnmower with poor grass bag design is the general complaint by customers.
What are the factors to consider while buying a Ryobi Lawnmower?
When it comes to selecting a quality lawn mower for your yard, there are three essential factors to consider.
The size of your lawn will help you in determining the right mower capacity.
The terrain of the lawn that how level or steep your grass is.
Obstacles in your lawn like trees, stones, or garden beds you need to mow around.
These are the main factors while determining the right lawnmower because if you have a bigger lawn, you cannot do the job with a low capacity slower mower.
Mower with a bigger deck will get a big job done quicker, but if you have many obstacles in your garden, a smaller deck will be a better option. If you have a hilly lawn, then a self-propelled lawnmower will be the best option.
Which Power Source Ryobi Lawnmower Is Best?
There are petrol, corded and battery-operated lawnmowers available in the market, but these different power sources will handle different conditions.
Traditional lawnmowers have petrol-operated engines which are highly recommended for large lawns and gardens because of the long run time. But they demand more service than corded or battery-powered mowers.
 If you use a corded or battery-operated lawnmower in your large lawns, then your battery might die before completing the task, or you cannot work with that long wire.
So they are more suitable for smaller lawns and gardens. If you have a battery-operated lawnmower, you should go for a 36-volt battery range for a big lawn.
It gives you battery-level performance without the fumes, the noise, and the maintenance.
Our Top 5 Picks of Ryobi Lawnmower
Here are the best 5 recommendations for a Ryobi lawnmower.
1. Ryobi 40-Volt Brushless Lawnmower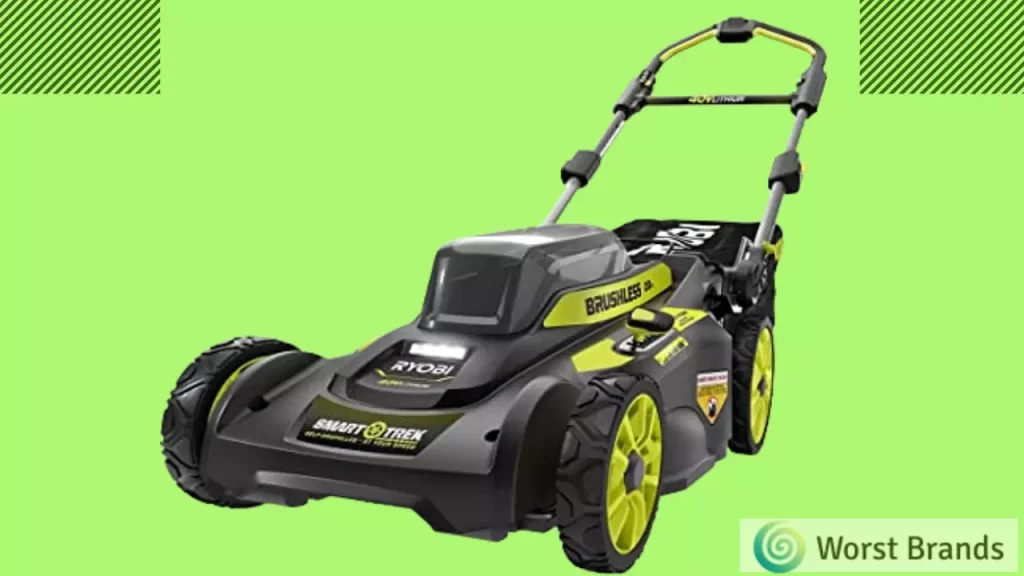 Features:
40 volt 6.0 AH battery
Mulching and bagging mower function
7 different height adjustments
20-inches deck size
5-year tool and 3-year battery warranty
A cordless mower with 30 to 50 minutes power capacity
Brushless motor with Gas like power
Easy lift technology
Ryobi makes some of the best cordless tools around, and this one is no exception.
The Ryobi 40-Volt Brushless Lawn mower is one of the most powerful cordless lawn mowers out there. It comes with a 20-inch cutting deck that has a mulching and bagging option for grass clippings. This can reduce the amount of yard waste by up to 90% in the summertime.
It also has a 7-position height adjustment for you to get the right height for your yard. The 20-inch cutting deck can cut grass up to 4 inches thick.
Ryobi also offers an easy lift feature, which is great for those with back problems. The power capacity of this mower is up to 50 minutes, so you won't have to worry about running out of power.
It has a brushless motor with gas-like power, and it comes with a 3-year tool and 1-year battery warranty.
This Ryobi 40-Volt Brushless Lawn mower is ideal for anyone looking for a powerful cordless lawn mower that will last for years. It's also very easy to use, and it's also very affordable.
Reason to avoid: Poor bag designs and battery complaints
2. Ryobi RY40190 Self-propelled Lawnmower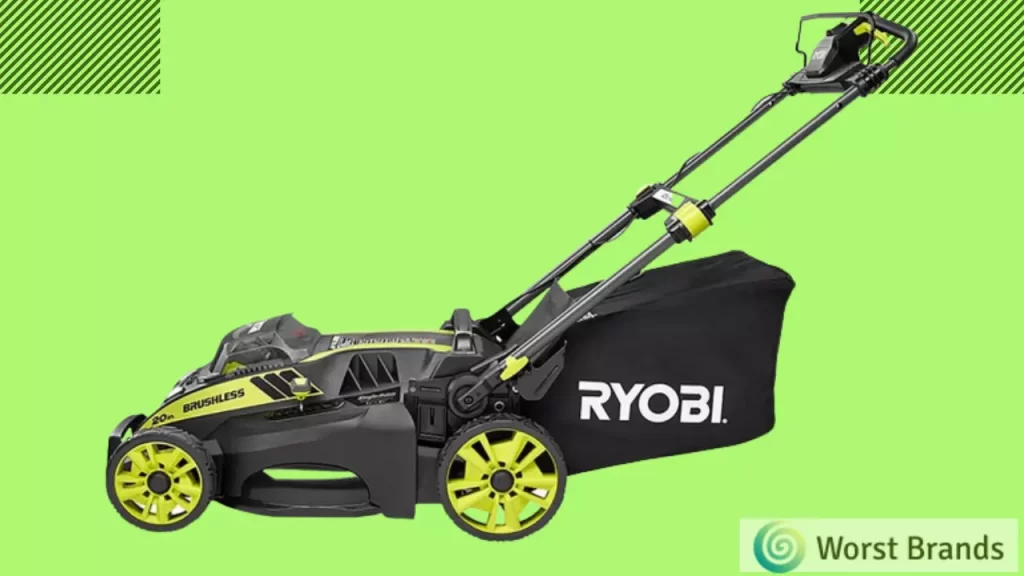 Features:
40-volt Lithium-ion battery
Electric and Self-propelled lawnmower
Wheel drive technology
Load sensing technology
Two-in-one mulching and bagging
7 height adjustment
20-inch deck
The Ryobi RY40190 self-propelled lawnmower is pretty powerful and comes with a good amount of features to help you keep your yard in tip-top shape.
It has a wheel drive system that allows it to effortlessly go up and down slopes. It also has a load sensing technology that automatically adjusts the power supply as the blades cut through the grass. This reduces the risk of overheating and improves the performance of the motor.
This Ryobi lawnmower comes with two-in-one mulching and bagging, which means that it can chop the grass into small pieces that you can then put in your garden, and it will also bag the grass and throw it into your garbage bin.
This makes it easy for you to get rid of your lawn waste and helps you to reduce the amount of trash that you have to dispose of.
The deck is 20 inches wide and can be adjusted from 5 to 13 feet long. The height adjustment allows you to get rid of the grass from any spot on your lawn.
It also has a convenient handle that you can grab to maneuver around your yard and a high-quality, powder-coated steel frame that protects it from the weather.
Ryobi RY40190 is a good choice if you're looking for a powerful, reliable, and versatile self-propelled lawnmower that won't break the bank.
Reason to avoid:  not sharped blades and glitch self-propelled feature 
3. Ryobi RLM18X36L40 Lawnmower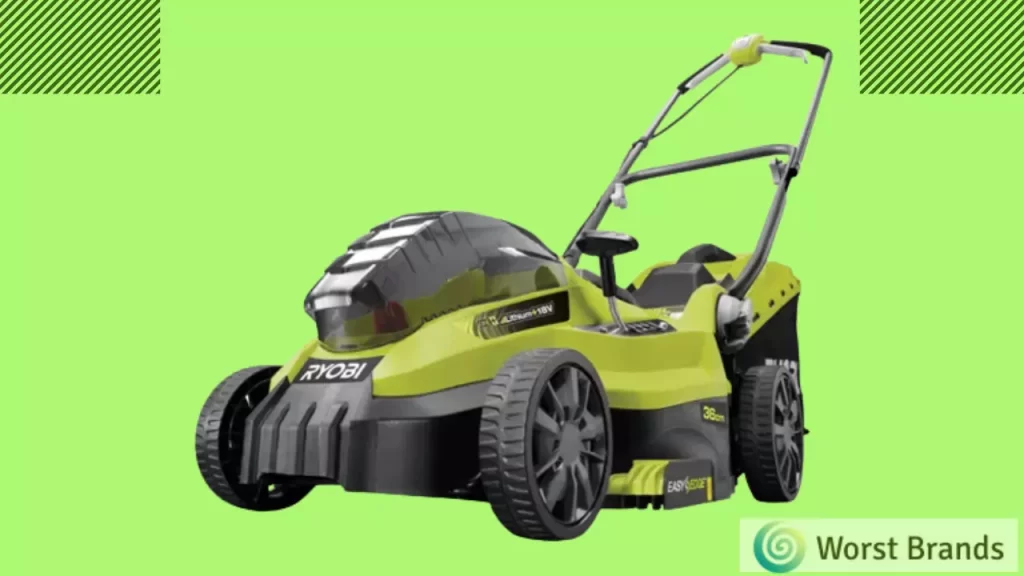 Features:
Lithium-Ion rechargeable battery and motor
Catching capacity 45 liters
Easy to use and store
Noise-free and safety features
Require less maintenance
Ryobi is one of the most popular brands of garden tools, and their lawn mowers are no exception.
The Ryobi RLM18X36L40 lawn mower is a powerful machine with a large cutting capacity of 45 liters per charge, which is perfect for people with big yards or lots of grass.
It's ideal for those who like to mow their lawn in the early morning or late evening so that they don't have to use more gas, and it cuts the grass faster.
Ryobi has designed this lawn mower with a safety feature that automatically shuts down when it detects an object on the grass, so you can mow without having to worry about the blades turning back on after you stop. The safety switch is also adjustable to accommodate different types of grass.
This Ryobi lawn mower comes with a powerful Lithium-Ion rechargeable battery that charges quickly and provides up to three hours of run time. When the battery is completely drained, the Ryobi lawn mower can be charged by plugging it into the wall for 10 minutes.
Ryobi has also designed this lawn mower to be easy to store. It comes with a storage bag that you can use to store your lawn mower in.
So if you're looking for a powerful, easy-to-use, and durable model that won't break your budget, then buy the Ryobi RLM18X36L40. You'll definitely love using it, and it'll make you feel satisfied.
Reasons to avoid: Not suitable for long, thick grass and it is not as powerful as a petrol mower
4. Ryobi RLM36X46S52 Lawnmower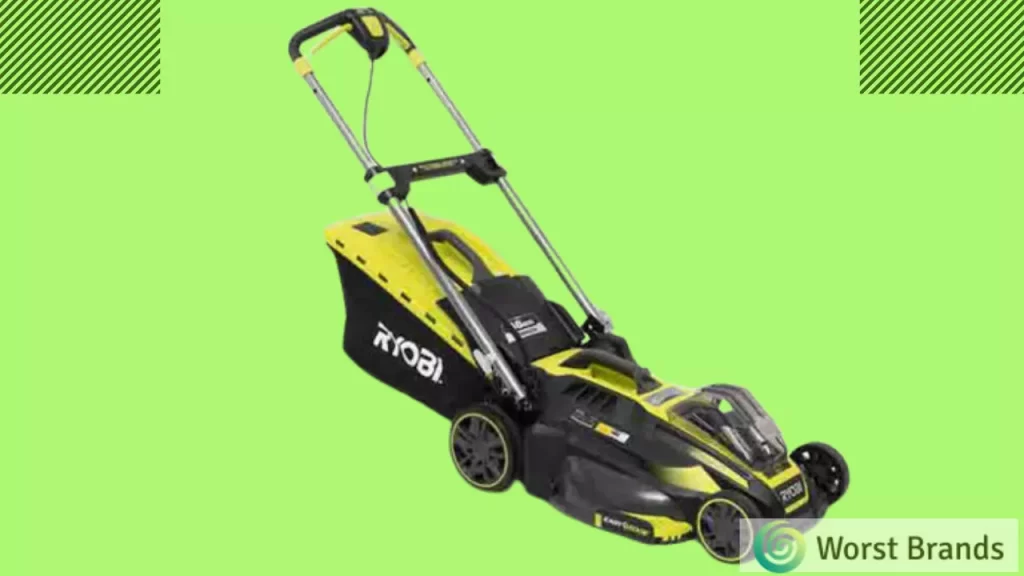 Features:
Quiet and handy
Mulching technology
Battery operated and wheeled mower
6-year mower and 3-year battery warranty
Installed safety features
Ryobi's RLM36X46S52 is quiet enough to use inside your house, and its design allows for easy transport and storage.
The mower has a mulching technology, which allows it to cut grass at a faster speed. This results in fewer passes needed to completely mow your lawn, which will save you time.
The mower also has a handy handle and swivel wheels, so you can move it around the yard without having to push it.
It's made from durable materials, and its blade is sharpened for long-lasting performance.
Ryobi's RLM36X46S52 is a great option for people who don't want to deal with gas mowers but still want a powerful one.
If you're looking for a mulching lawn mower, then buy this one; not only will it save you money, but it'll also save you time.
Reasons to avoid: Average mowing
5. Ryobi OLM1840BL Lawnmower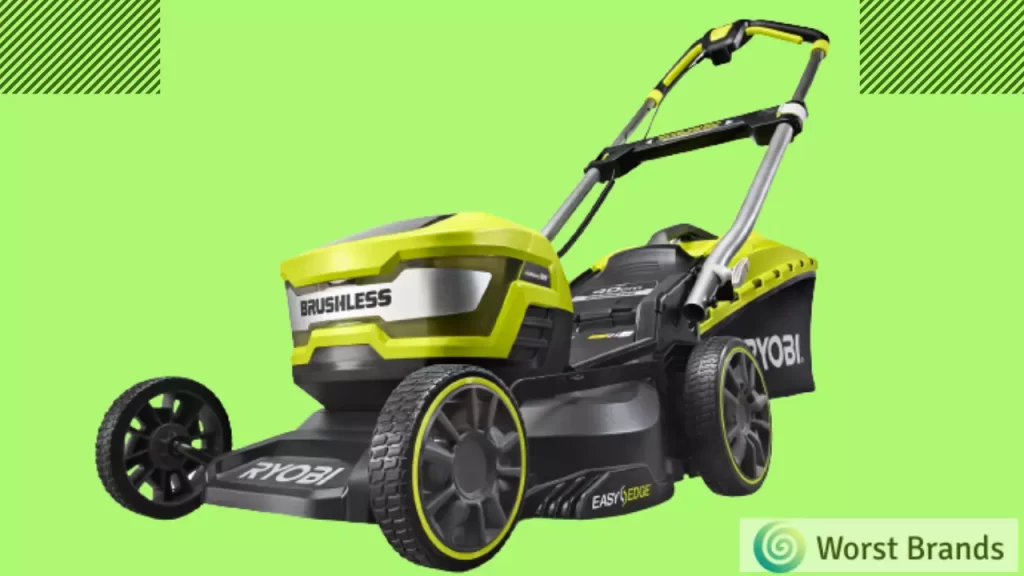 Features:
Lithium battery
Brushless 6.0 AH mower
Quick start motor
Foldable handle and low noise
50 liters capacity and best for small lawn
Battery LED indicator
Mulching feature
6-year warranty
The Ryobi OLM1840BL is the best lawn mower you can get. Not only does it deliver high quality at a great price, but it also comes with a lot of great features.
The Ryobi OLM1840BL is a brushless motor that's more than capable of cutting through any grass type. It's powered by 6.0 Ah Li-Ion batteries that will last up to 60 minutes. It's compact and easy to use, and the mulching feature is a great feature.
It's got a nice LED light, and you can easily check its battery level with an indicator. If it gets low, you can quickly charge it back up.
This is one of the best lawn mowers that you can get right now. You can even purchase a battery charger with it, making it easier to keep your battery charged.
Reasons to avoid: LED indicator shows only less than 15%, and batteries are expensive to replace
Verdict: Ryobi Lawn Mower Review
Ryobi lawnmowers have a wide range for every customer's needs. If you have a small to medium lawn, the Ryobi 18v One+ might be best for you.
But if you have large lawns, then you should go for cordless and brushless lawnmowers with petrol sources or high-performance batteries with torque control technology.
We have provided you with enough information about determining the right model for you. Just go through the whole article before buying a mower.
Stay with us to read more interesting and honest reviews about appliances.
Related: