Are you planning to buy an Ego Lawn Mower for your yard, and you are unclear whether it is the right option for your lawn or not?
Are you confused about which Ego lawn mower model is the best for your lawn?
Don't worry! I have bought an EGO lawn mower recently. So, in this Ego Lawn mower Review, I will explain all the things necessary for you to know before buying it.
Overview of Ego Lawn Mower
EGO Lawn Mower is manufactured by EGO power plus, which is a sub-brand of company Chevron. Chevron is a Chinese company established in 1993.
This company produces 10 million units every year and sells in 65 countries worldwide. The EGO power plus was introduced by Chevron in 2014.
It is one of the top-rated brands in cordless outdoor electrical appliances. These lawnmowers are powered by 56V rechargeable lithium batteries.
EGO lawnmowers have the maneuverability of a gas lawnmower and the environmental friendliness of a corded electric mower.
But one thing necessary for you to consider is that EGO lawn mowers are a bit more pricy. Moreover, the motor is less powerful than gasoline-powered lawnmowers.
EGO Lawn Mower Features
EGO lawn mowers are equipped with a variety of modern and advanced features.
Following are the most considerable features of Ego lawn mower, you should know before buying:
1. 56V ARC Lithium Battery
EGO lawnmowers are equipped with 56V ARC lithium batteries.
Its battery is called ARC because, unlike other brands, that has brick-shaped batteries; its battery is shaped into an arc that prevents overheating.
EGO mowers also have Keep Cool technology that works with each battery to maintain long-lasting performance.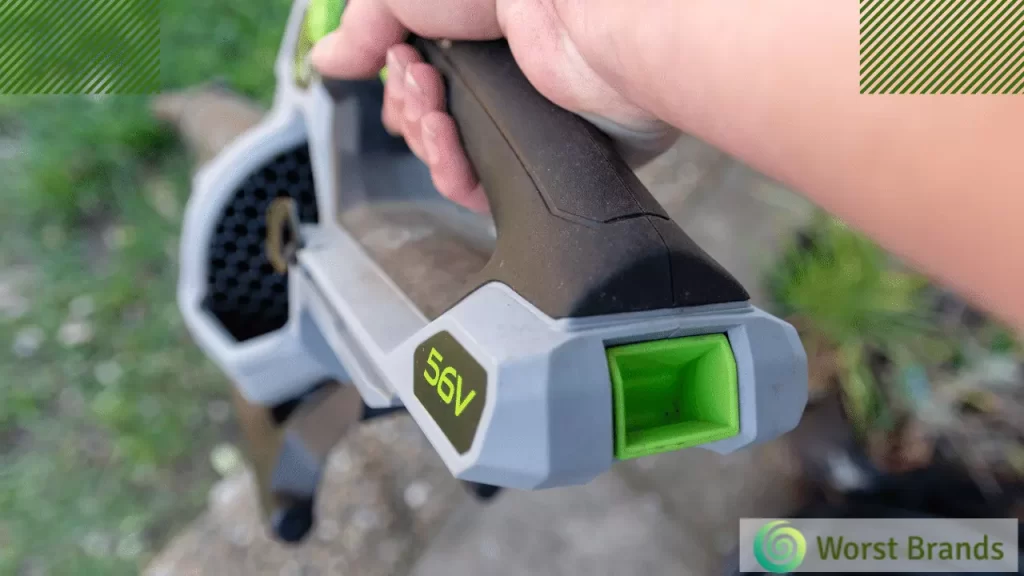 Related: Lawn Mower Brands to Avoid
2. Compact and Easy Storage
Traditional lawn mowers require gas and oil to function; therefore, you cannot store them vertically in your garage.
But since EGO lawn mowers work on batteries, you do not have to worry about spilling oil or gas.
Additionally, EGO lawn mowers are foldable, and you can easily fold them in compact form. Therefore, you can store them easily in your garage.
3. Height adjustment
You can adjust the height of our lawnmower according to your lawn requirements.
EGO lawn mowers come in adjustable height sizes between 1.5"-4" while the smaller versions have height adjustable between 1.2"-3.5".
4. Environment Friendly
Since EGO lawnmowers do not use gas or oil, so, you do not have to worry about the presence of gas fumes or the spilling of oil in your garage.
EGO lawn mowers have a quiet functioning system. It has much fewer decibels of noise than a gasoline-dependant mower.
You may also love to read about other related articles:
5. Bright LED Lights
EGO lawn mowers are equipped with two bright LED lights on the front. With these LED lights, you can mow anytime you want. You can mow at dawn or dusk without worrying.
Push in the circular LED button for turning the lights on and off.
6. Weather-Resistant Construction
Ego lawn mowers are built efficiently to bear extreme weather conditions. It is very less likely to get damaged due to the harshness of the weather conditions.
With proper and careful use, the EGO lawn mowers can be lasted for up to 10 years.
Drawbacks of EGO Lawn Mower
Despite having distinct features, EGO lawn mowers also have some drawbacks; you need to know, before buying one:
1. Battery Timing
The battery lifespan of EGO lawnmowers is slightly less than expected. Even though it is about 60 minutes in total, yards are usually big enough for a 60-minute battery runtime.
So, a battery-operated lawnmower might not be a better choice for you if you have a fairly large lawn.
2. Less Powerful
While buying a lawn mower, you must be aware of its torque rating. The torque rating is the driving force behind blade rotational movement.
EGO lawn mowers have comparatively less torque rating than traditional gasoline-dependant lawn mowers. Resultantly, Ego lawnmowers are less powerful than gas lawnmowers.
3. Difficult to Clean
The problem of difficulty in cleaning does not occur with traditional lawn mowers because you can just hose it off.
However, hosing is not recommended for EGO or any other electric lawn mower. You can clean it by wiping it with soapy water.
4. Exposed Charger Terminals
The charger has an exposed terminal that connects with the battery while charging.
Ego Lawn Mower Reviews
Following are the most popular models of EGO lawn mowers with specifications of each model. You can buy according to your lawn requirement and budget.
1. EGO 21" Self Propelled Mower with Peak Power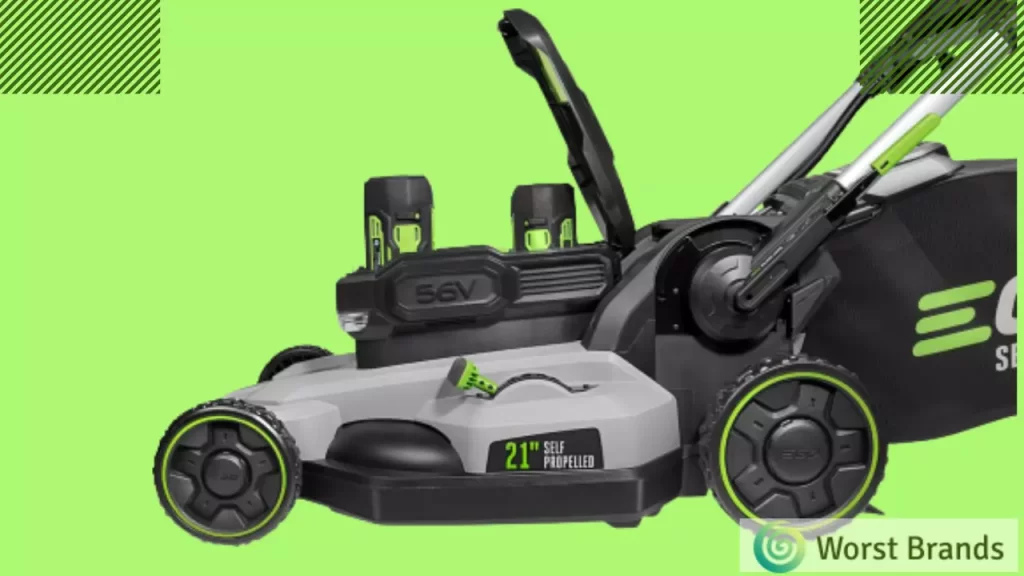 Specifications:
Model no. LM2142SP
Includes 25.0AH batteries
Peak Power technology
6 height adjustments: 1.5"-4"
Bright LED lights
Up to 80 minutes of runtime
High-efficiency brushless motor
3FT/Lbs torque of premium gas
EGO is known for its high-quality power tools, and the 21" self-propelled mower is no exception.
This EGO 21″ self propelled lawn mower features a brushless motor and a highly efficient, durable and long-lasting battery. It delivers up to 80 minutes of runtime per charge.
The peak power technology allows this mower to mow grass at higher heights and faster speeds without overheating. The 6 height adjustments allow you to choose between 1.5"-4" heights and the LED lights on this mower make it easy to see where you're cutting, which makes for more precise cuts.
If you want to cut grass at a higher height, this is the mower for you. It can cut grass at 4" tall and will be able to mow up to 5" tall grass.
It also has a 3FT/Lbs torque, which means that it's capable of pulling up to 3FT/Lbs of weight and should be able to pull weeds and other debris from your lawn.
The 21" self-propelled mower comes with a 2-year warranty, but if you buy the EGO batteries, you'll get a 5-year battery warranty. This is a great investment for any lawn or garden that needs to be cut.
2. EGO 21" Select Cut Self Propelled Lawn Mower: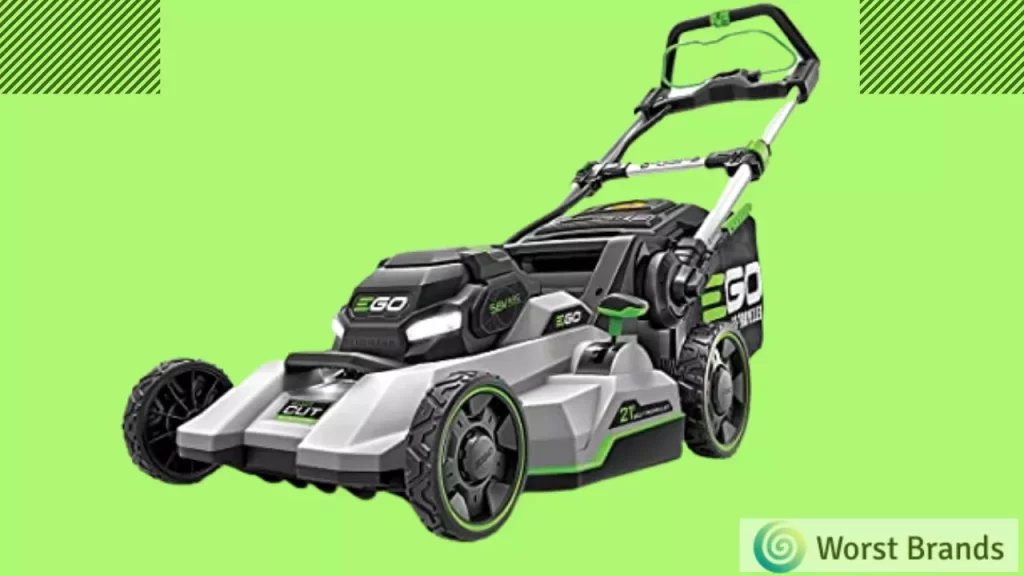 Specifications:
Model no. LM2135SP
Select cut and touch drive technology
Running time is 60 minutes.
7 height adjustments 1.5-4
High-efficiency brushless motor
Bright LED headlights
The EGO 21" Select Cut Self Propelled Mower is provided with three different interchangeable lower blades that help you to customize your lawn according to your needs.
Moreover, it has Touch Drive technology means you can engage the self-propel function with the touch of your hand.
I've had this lawn mower for a few months now and I'm really impressed with it. It's easy to use, easy to set-up, and it's very quiet too.
The motor runs so smoothly, and it's so quiet, that you don't need to use earplugs when using it.
The blades are sharp, they cut well, and the grass clippings are easy to pick up.
It has a very sturdy design and the handle is nice and ergonomic, making it easy to move around and maneuver the machine.
There are 7 height settings, which is great for varying the height of the cut, depending on the size of your lawn.
I also love how the height settings are adjustable – there's no need to guess.
This machine is lightweight too, which makes it much easier to carry around. It's definitely a top-notch product and I'd highly recommend it to anyone who wants to cut their grass.
3. EGO 21" Select Cut Push Lawn Mower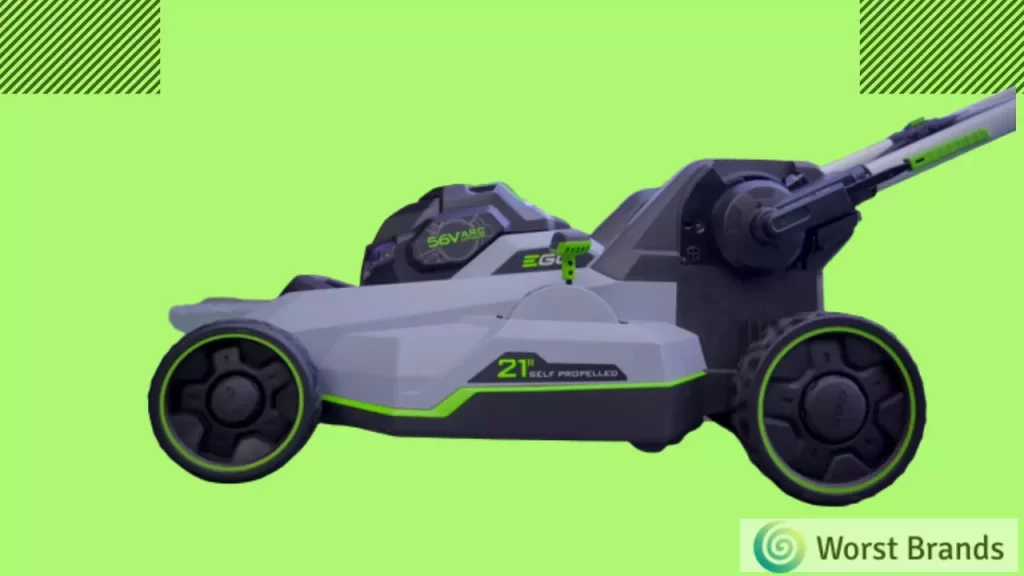 Specifications:
Model no.LM2133/LM2135
Select cut technology
45 minutes of runtime for LM2133 and 65 minutes for LM2135
7 position cutting height adjustments 1.5"-4."
21 inches deck
Weather-resistant design
The EGO 21" Select Cut Push Lawn Mower is one of the most versatile lawn mowers that we have tested.
With a compact design, this model is able to maneuver through tight spaces, and has a comfortable handle.
It's also a great performer, with a powerful engine that delivers a strong pull, and a sturdy deck.
This lawn mower is able to cut grass as short as 2 inches tall. However, it doesn't come with any attachments, so you may need to invest in a few more accessories to get the job done.
However, it's great for homeowners who want to get the job done without investing too much money.
The 21" Select Cut push mower is equipped with two interchangeable lower blades, but it is not self-propelled, so you have to push this mower on your lawn.
4. EGO 21" Self Propelled Mower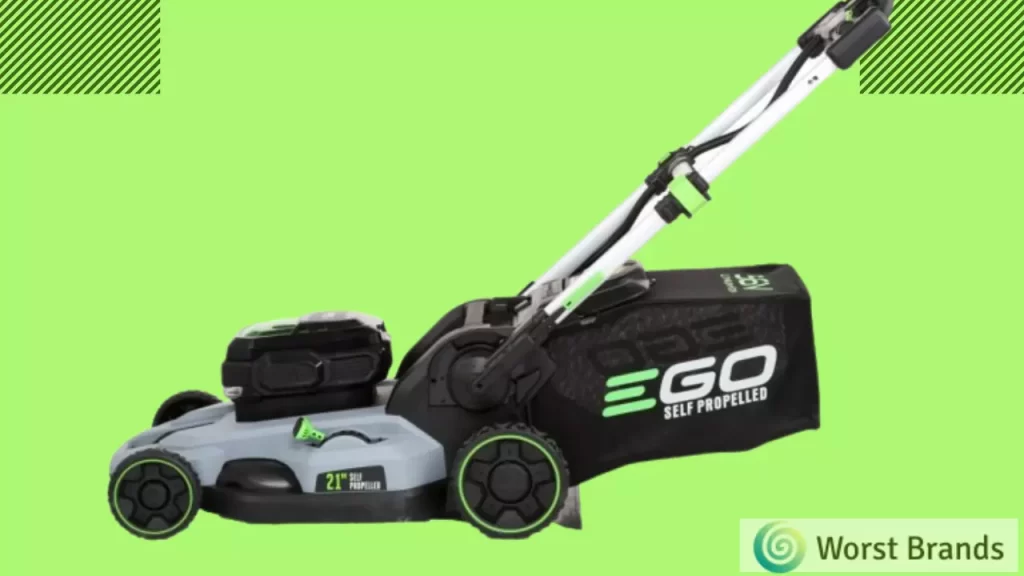 Specifications:
Model no. LM2102SP
Self-propelled lawnmower
6 height adjustments 1.5"-4."
The runtime of up to 60 minutes
Weather-resistant construction
9 ft-lb torque of premium gas
This lawn mower delivers all of the torques of a gas mower without noise, bother, or pollutants, and it folds up into a little package for simple storage.
It is powerful, yet quiet and easy to use, and it's got a long runtime of 60 minutes.
The lawnmower has a 9 ft-lb torque of premium gas, so you can expect it to get through any yard with ease.
It is made from weather-resistant materials that make it more durable for years. The battery is housed in a heavy duty, sealed case, which protects it against harsh conditions.
This lawnmower will cut through any yard without any issues, but it's not recommended for large yards with heavy grass. It is also not ideal for yards with dry, hard soil.
5. EGO 21" Push Mower
Specifications:
Model no. LM2101
Up to 45 minutes of runtime
6 height adjustments 1.5"-4"
Weather-resistant function
Bright LED lights
3 ft-lb torque of premium gas
The EGO push mower is one of the best out there, and it's also one of the least expensive too.
The EGO push mower is a great investment for those who want a well-performing, powerful, and versatile mower, but are on a budget. It has a large 21" cutting deck, which is perfect for people with larger lawns.
It's also designed to be weather-resistant, so it can handle snow and rain without any issues.
This allows it to stay outside all year round, saving you the hassle of having to bring it inside for winter.
This mower comes with a powerful engine that delivers up to 45 minutes of runtime, and with this, you'll be able to cut your grass in no time.
It's equipped with 6 height adjustments, from 1.5"-4". This allows you to easily adjust your height settings to accommodate different types of lawns and different heights of grass.
It also features LED lights, so you can work at night without any issues.
EGO 21" lawn mower is the cheapest yet has all the basic functions of a lawn mower. But you should also consider that it is not a self-propelled function and doesn't have multiple blades.
Pros and Cons of Ego Lawn Mowers
Pros
Cordless lawn mowers
56V ARC lithium battery
Compact and easy storage
Adjustable height
Environment friendly
Quiet operation
Cons
Less powerful than a gas mower
Short battery timing
Difficult to clean
Frequently Asked Questions
Q1: What is the Warranty Policy of EGO Lawn Mowers?
EGO lawnmowers come with a 5-year warranty, and EGO power plus system battery packs and chargers come with a 3-year warranty when purchased from an authorized EGO store.
Q2: Where can I find Replacement parts of EGO Lawn Mowers?
You can easily find replacement parts for your lawn mower i.e., blade, drive belt, spark plug, etc., from the EGO power plus website or from authorized EGO retail stores. You can also order it from Amazon or other websites.
Conclusion:
EGO Lawn Mower is a great option for those who want to switch to an environmentally friendly option for their lawn care.
With its cordless operation, adjustable height, and weather-resistant construction, it offers convenience and durability.
However, it is important to note that the battery life and power may not be suitable for larger lawns, and cleaning can be a bit tricky.
Overall, if you have a smaller yard and want a quieter and more eco-friendly option, the EGO Lawn Mower is definitely worth considering.
So, make the switch and enjoy mowing your lawn with ease and without worrying about any harmful gas emissions.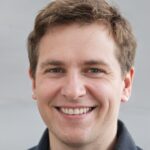 Steven Settles is a professional content writer with over 7 years of experience in writing for different niches, including brand reviews, technology, fitness, and more.
Currently, he is working as a content writer for WorstBrands, where he provides insightful reviews of different products, including home appliances, outdoor gear, fashion, and kitchen products. In his free time, Steven enjoys traveling and exploring new places.