Have you ever come across that one shampoo you cannot get enough of?
If that has already happened to you, good for you. However, if you struggle to find your Holy Grail shampoo, look for REF Shampoos.
These Swedish Shampoos have my heart. My stylist recommended this brand to me on my last dye job. I have never looked back ever since.
In this REF Shampoo Review, I will talk about my experience using REF Shampoos.
REF Shampoo Review
6 months ago, I found myself wanting to get highlights. My hair was especially damaged, and dyeing came with a major risk.
Luckily, my stylist approved the process but told me to adhere to the aftercare. The set included REF hair care products.
In this REF Shampoo Review, you will find out about my 3 favorite REF Shampoos.
1. Illuminate Color Shampoo
My first encounter with REF shampoos was right after I got highlights. I was extremely pleased with the results of this shampoo.
REF shampoo infused shine, strength, and hydration to my dry and damaged ends. It can be used for all color-treated hair, and it's free from sulfates and parabens.
It not only restored shine but also helped to tame flyaways. Frizzy hair had always made me lose confidence in formal settings.
Luckily, the REF Illuminate Color Shampoo helped to counter this problem.
The shampoo comes infused with Organic Acai Oil, Jojoba Oil, and Hydrolyzed Quinoa Protein.
These nutrient-rich oils carry vitamins, Omega 3 & 6. This help to preserve the texture of the hair strands. Thus, reducing hair thinning due to breakage.
I was especially impressed by the Color Preserve System in the formulation.
This formulation helps to enrich and preserve the color by protecting the strands from UV damage.
The strengthening Quinoa Protein coats the hair strands and strengthens the follicles. This especially helps to tame dry hair and improve texture.
However, the premium price tag made it burdensome for me to adopt it as my permanent shampoo.
Moreover, the shampoo felt a bit too mild. It felt a little stronger than daily shampoo but not good for oily scalps.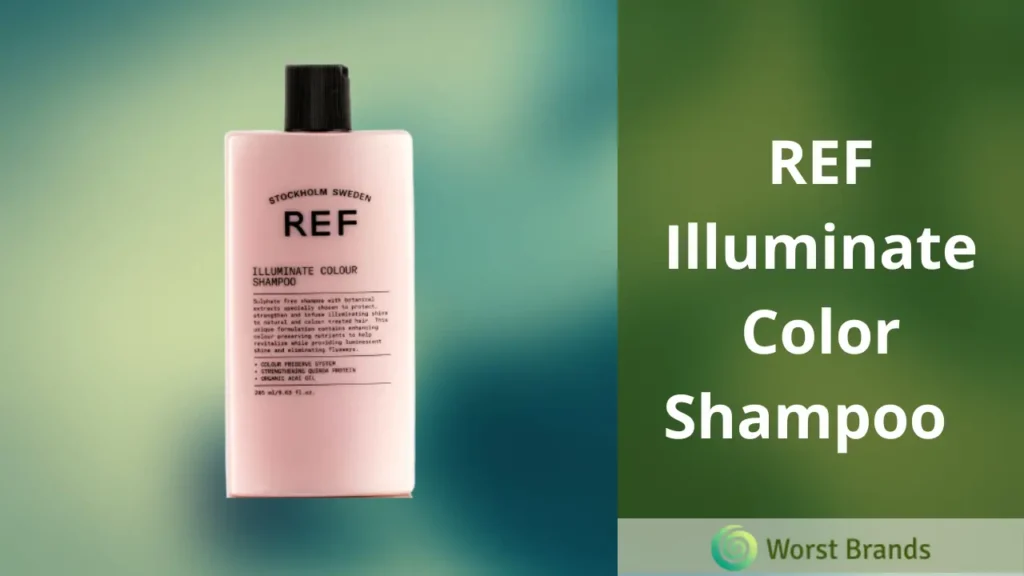 Pros
Sulfate Free
Improves Texture
For All Hair Types
Cons
2. Intense Hydrate Shampoo
When I met with my friends for drinks, they all complimented my hair. A friend of mine, dealing with dry hair, asked me to help her with hair care.
I recommended REF Intense Hydrate Shampoo to Her.
This shampoo is designed especially for dry and brittle hair. It carries coconut oil, linseed oil, sunflower oil, and bergamot extracts. Each of this help to deeply moisturize the hair.
The shampoo smoothened out my friend's hair within 3 months of consistent use. She also paired it with the Intense Hydrate Hair Mask.
She also experienced less hair thinning. The detangling properties of the shampoo help to reduce breakage.
Finally, her hair felt stronger, shinier, and smoother.
While I like the shampoo for how well it works on the hair, I have to complain about the damage it can cause to the eyes.
My friend told me she had to wash her eyes repeatedly to get rid of the burn. So, make sure to avoid getting it into your eye.
Pros
Sulfate Free
Parabens Free
Color Preserve System
Cons
3. Weightless Volume Shampoo
The last shampoo by REF that I used was the REF Weightless Volume Shampoo.
The name is self-explanatory. The shampoo caters to protect, strengthen, and add shine to thin hair.
All hair types can use the formula. However, it is especially beneficial for fine and thin hair.
The grapefruit and Jojoba oils in the shampoo help nourish the hair. The shampoo is not heavy; hence it does give a weightless finish.
It revitalized my fine hair and even reduced thinning due to breakage. The gentle formulation cleanses the scalp without drying the ends.
I like this shampoo more compared to the Illuminate Color Shampoo. The formulation feels lightweight.
It is an excellent shampoo for treated and damaged hair in the long run.
Again, the fragrance was just a big stop sign for me. It was just too much in the closed space while washing.
I had to ditch the shampoo eventually because the scent was too much. Overall, I loved the results it rendered.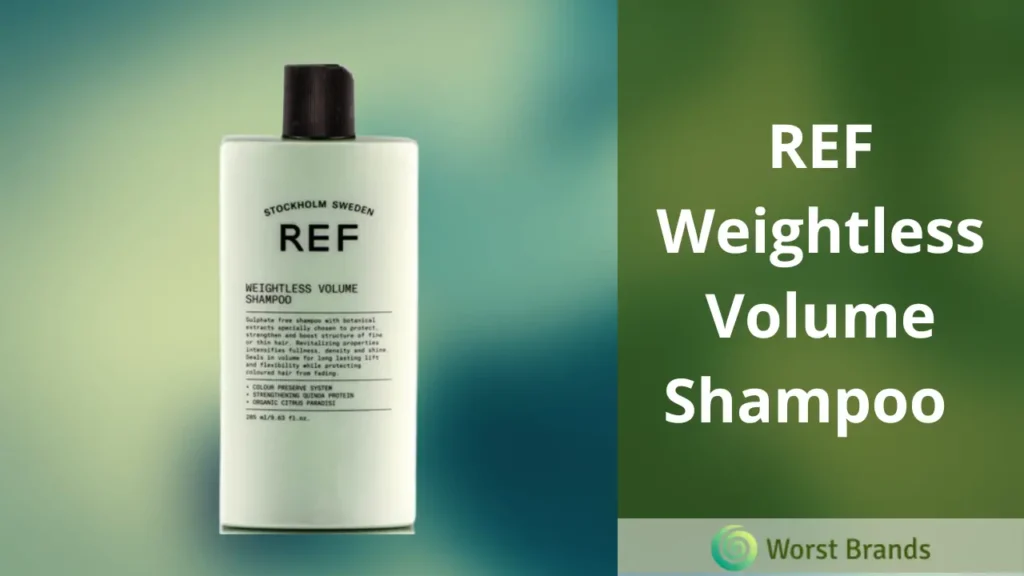 Pros
Sulfate Free
Cruelty-Free
Color Preservation Formula
Cons
Comparison of Different REF Shampoos
| Products | For All Hair Types | Sulfate Free | Parabens Free |
| --- | --- | --- | --- |
| Illuminate Color Shampoo | No | Yes | Yes |
| Intense Hydrate Shampoo | No | Yes | Yes |
| Weightless Volume Shampoo | Yes | Yes | Yes |
Customers' Feedback about REF Shampoos
A Shampoo review without customers' feedback is incomplete. On Amazon, most customers rate the shampoos 4.6 stars out of 5, on average.
Of some 500 reviews, 81% of the customers rated this 5 stars. This is a positive rating.
Salons approve it for the targeted formulations. The customers also love the results. They can feel their hair getting shiny, smooth, and strong.
Some customers say that the packaging is really what catches that eye at first. Then, the formulation just amazes them.
Others find it useless. They say it does not cleanse, smells bad, and they can find cheaper alternatives.
I do not like the fragrance of this shampoo. I also find the formulation too gentle.
In addition, read our following blogs if you want to find out about other shampoo brands:
Are REF Shampoos Worth It?
Yes, we highly recommend this shampoo to our readers. The shampoo helps to rejuvenate, strengthen, and protect damaged hair.
The shampoo mainly works for color-treated hair and illuminates them.
We find the price of $28 a little bit of a burden. This comes down to $2.5 per Fl oz.
However, the formulation is excellent and makes it a good shampoo in the long run. If you have the budget, you can splurge on it to pamper yourself.
Common Ingredients in REF Shampoos
REF Shampoos contain many salon-approved, safe, and clean ingredients.
Different REF Shampoos have different formulations using different active and supporting ingredients. Here are some of those ingredients.
Aqua [Water]
Bergamot Fruit Extract
Butylene Glycol
Citric Acid
Cocamidopropyl Betaine
CocamidopropylHydroxysultaine
Cocos Nucifera (Coconut) Oil
Dicaprylyl Ether
Dimethiconol
Disodium EDTA
Disodium Laureth Sulfosuccinate
Glycerin
Glyceryl Oleate
Hexyl cinnamal
Glycol Distearate
Hydrolyzed Quinoa and Wheat Protein
Laureth-23
Parfum [Fragrance]
Phenoxyethanol
Propanediol
Sunflower Seed Extract
Tea-Dodecylbenzenesulfonate
Tocopheryl Acetate
Reasons to Choose REF Shampoo
Here are some reasons why we love REF shampoos.
Vegan
100 % vegan formulation ensures that all customers can access the product. The shampoos are free of any animal-based derivatives.
Climate Compensated
Ethical consumerism shapes the brand choices for many consumers. With Climate preservation at the forefront of practices, REF shampoos are safe to use.
Parabens Free
Carcinogenic compounds like parabens cause damage to customers' health. The REF shampoos are free of parabens, making them safe for use.
Cruelty-Free
The brand sources the ingredients carefully and does not test on animals. The entire process is certified cruelty-free.
Salon Approved
Most salon owners in the US recommend this shampoo after heat processing and color treatments. It repairs the hair and protects them from further damage.
Where to Buy REF Shampoo?
Here are some places to get REF shampoos.
Sally Beauty
Walmart
Amazon
Brava Salons
Willow and Birch Salons
You can also check with your local salons for the availability of this shampoo. Be sure to have an authentic piece of this shampoo.
Potential Hazards of REF Shampoos
Here are some of the possible side effects of using REF shampoo.
Butylene Glycol, a solvent, in the shampoo clogs pores and causes acne along the hairline. It can also cause sensitization and consequent irritation.
Citric Acid is known to irritate users. In some cases, it may lead to Contact Dermatitis.
Cocamidopropyl Betaine causes irritation and Contact Dermatitis. It is a potential allergen that results in a rash, itch, and burning.
Dimethiconol may cause allergic reactions in some cases. The systems include rash, itch, dizziness, respiratory issues, and burning.
Hexyl cinnamal in shampoos can cause allergies. It is also a carcinogen.
Phenoxyethanol irritates the skin in the form of hives on the scalp. It can cause severe allergies in eczema patients.
Tea-Dodecylbenzenesulfonate may cause short-term health effects.
Is REF Shampoos Sulfate Free?
Yes, all REF shampoos are free of sulfates. These are harsh surfactants that can dry out the hair and cause damage to hair texture.
Summing Up
REF shampoos are a game-changer for those struggling to find their perfect hair care match.
From color-treated hair to dry and brittle hair, REF has a shampoo that caters to all hair types.
The Illuminate Color Shampoo is perfect for restoring shine and strength to damaged ends, while the Intense Hydrate Shampoo deeply moisturizes dry and brittle hair.
The Weightless Volume Shampoo is ideal for fine and thin hair, adding volume and nourishment without weighing it down.
I loved using REF shampoo because it restored the shine of my hair and illuminated the color.
Frequently Asked Questions
Q1: Is REF Shampoo Suitable for All Hair Types?
REF Shampoos are safe to use for all hair types. However, the different formulations are effective for different hair issues.
Q2: How to Contact REF Stockholm?
You can contact the company on the official website. The brand typically responds within 2-3 business days. All queries and product inquiries are catered to here.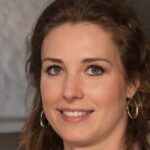 Crystal Hafley is a dedicated writer and content creator for WorstBrands, where she specializes in writing insightful reviews about kitchen appliances and fashion products.
With her expertise, Crystal provides readers with accurate and reliable information to help them make informed decisions about the brands and products they use every day. When she's not researching or writing, Crystal enjoys cooking and exploring the latest fashion trends.