Tweaking up our appearances entails booking an appointment at the salon. For what?
Color Treatment, of course! If your hair color lies on the cooler side of the spectrum, you will often find warm tones invading you.
After my botched-up Highlight fiasco, an orange tint was the last thing I needed.
So, I searched for color-balancing shampoos. One thing led to another, and here, I found Fanola Shampoos.
6 months later, here I am writing this Fanola Shampoo Review to share my experience with you guys.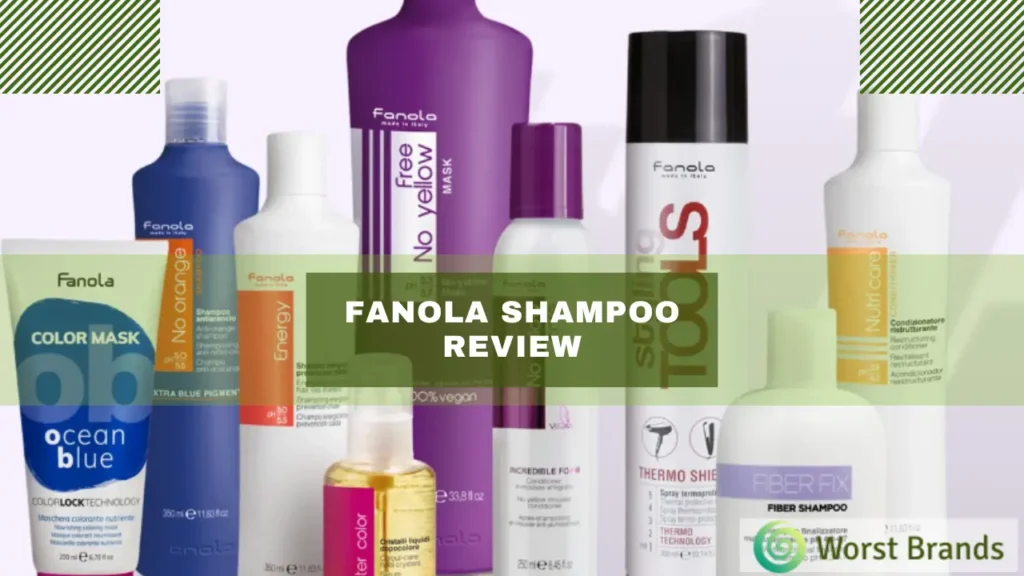 Fanola Shampoo Review
Natural blondes and faux blondes have one burden to bear, brassy hair! Fanola Shampoos hail the crown for good quality and a loyal customer base.
So, I looked through various brands like Joico to get rid of the orange tint. Finally, I ordered Fanola No Yellow Shampoo.
I loved it so much that I recommended it to all my friends and even left a review online! So, here are my top Fanola Shampoos.
1. Fanola No Yellow Shampoo
I was mourning the patchy highlight job when I noticed a little section turning yellow. I had just gone from Black hair to Platinum Blonde.
So, I ordered the Fanola No Yellow Shampoo. In the first wash, I noticed violet pigment coming out of the bottle.
Like any other purple shampoo, it caters to bleached, super lightened, and grey hair.
It contains healthy, active ingredients that tone down unwanted yellow hair or streaked hair.
Fanola shampoo worked for me as a toner. It eliminates brassiness from cool-toned hair. My hair was less frizzy, detangled, and voluminous. Moreover, it is vegan!
Once you wash the hair, the hair feels great for a long time. This product has a long-lasting effect.
The strong purple pigments eliminated the warm tints in just 3 washes!
I felt my hair glossy, shiny, and fresh with a brighter color. The silky, lightweight formula was strong enough to cleanse the hair and remove product build-up.
The shampoo is available in 2 sizes: 350 ml and 1000 ml. This shampoo retails for under $10!
However, like any other purple shampoo, it was too stripping. I could not use it frequently.
I also found the scent to be taking a toll on me. It was very pungent and it felt like an ordeal to get the purple hue off!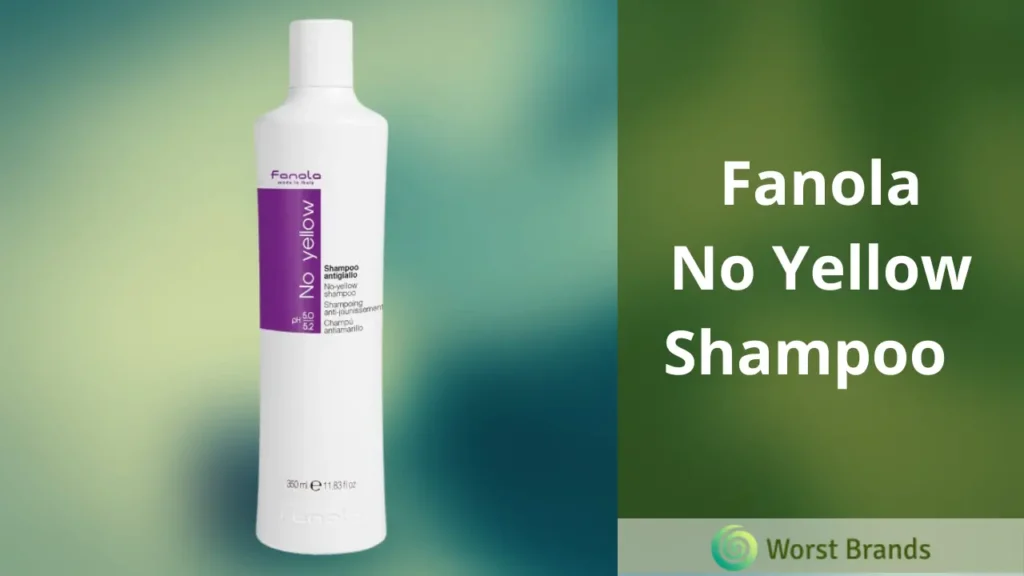 Pros
Very Pigmented
Removes All Brassiness
Great Value For Money
Quick Results
Cons
Turns Hair Dry
Scent Too Strong
2. Fanola No Orange Shampoo
My friend wanted to eliminate nasty red reflections in her brown strands. She was puzzled about which brand to pick and how much to splurge.
Luckily, she asked me for help. So, I ordered Fanola No Orange Shampoo for her.
After the first wash, she felt her hair was shiny and hydrated. It neutralized the unwanted copper hues.
If you have highlighted or bleached your hair, you must use Fanola No Yellow Shampoo.
Strong blue pigments can draw a reddish tone out of the hair, giving dark hair lovely light high points.
It is high in nutrients with calcium-rich seaweed called Coralina Officinalis.
It includes special Monoi milk created from Tahitian Tiaré flower petals. This flower is a dermatological and hair treatment in Polynesia and has a light aroma.
Fanola No Orange shampoo does not leave any strain on the scalp. Its pH level is between 5.0 – 5.5.
Some of the main ingredients used in this product are Benzyl Alcohol and Citric Acid. Magnesium chloride, sodium sulfate, and coconut oil are also present.
You will love the hypoallergic formulation that seals the cuticles. It is available in 2 sizes that are 350 ml and 1000 ml.
Like the No Yellow Shampoo, this shampoo also had a really bad scent that was hard to ignore. It is just not for everyone when it comes to scents.
Though it is easy on the pocket, the scent is strong enough to make you splurge a little more on a different shampoo.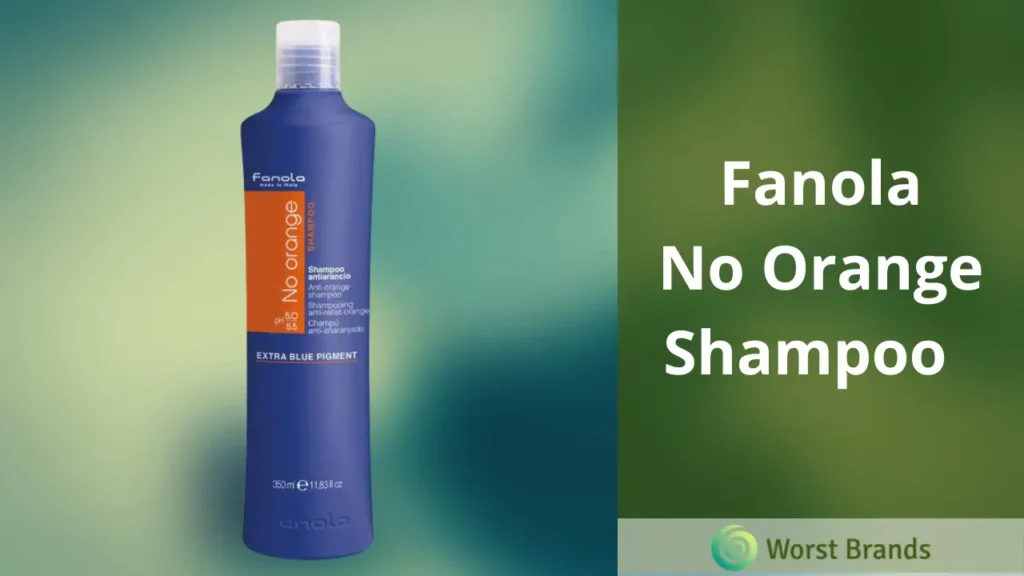 Pros
Not expensive
Color Safe
Very pigmented
Strain free
Cons
3. Fanola Nutri Care Restructuring Shampoo
After 2 successful Fanola experiences, we decided to let our third friend in on the secret.
So, we got her the Fanola Nutri Care Restructuring Shampoo for her birthday.
The shampoo improves texture, adds volume, and rejuvenates the hair. It seals the cuticles and consequently reduces hair thinning due to breakage.
Its butterscotch scent attracts customers without overwhelming them. When my friend hugged me, I was surrounded by a home-like aroma.
It carries Milk Proteins. These are rich in Amino Acids, which help to moisturize, reduce frizz, and make hair supple.
Casein promotes healthy hair development by stimulating the hair follicle growth cycle.
Proteins supply nutrition, hydration, and moisture. This nourishing, rich shampoo repairs and strengthens weakened hair fibers.
The Fluid Crystals contain Aloe Vera and Linseed Oil, which help to shine hair and prevent dry hair.
The shampoo is ideal for curly and wavy hair for detangling. It is available in 2 sizes that are 350 ml and 1000 ml.
On the flip side, you cannot use this shampoo daily. That is a major concern for people who work out or undertake manual labor.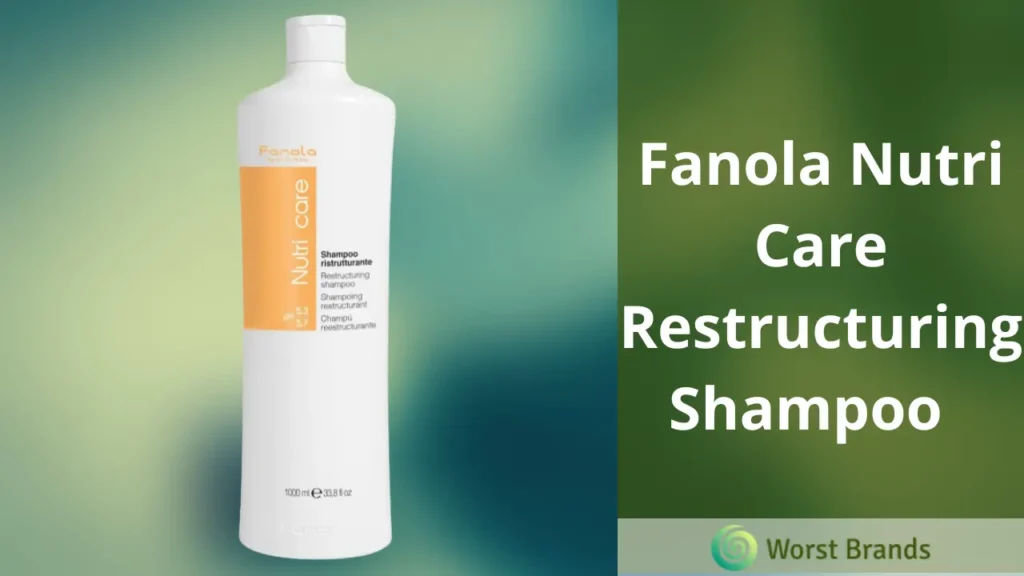 Pros
Cruelty-free
Treats dry and frizzy hair
Ideal for all hair types
Cons
Not free of parabens and sulfates
Customers' Feedback About Fanola Shampoos
Customers love Fanola shampoos for various reasons. Some love it for its packaging, while others love it for its hydrating and cleansing factors.
On Amazon, Fanola has more than 4.5 stars out of 5. It carries positive reviews. Out of more than 86,000 reviews, 80% were positive and 5 stars.
Customers worldwide are pleased with the product for its hydrating and moisture-locking features.
Users are also happy with the prices and attractive packaging of the shampoo bottles.
FANOLA has increased its brand loyalty by making it budget-friendly. One customer said, "This is great value for money."
However, you might have a bad experience with this. A minority of the viewers report sensitization caused by Fanola Shampoo.
They also find it stripping and point out the pigment residue from the shampoo itself.
Are Fanola Shampoos Worth It?
No, Fanola shampoos provide ample softening and shine to the hair. Still, we would not purchase these shampoos in the long term.
The price is extremely attractive for the size and benefits. It is a steal at this point!
However, Fanola shampoos contain sulfates and silicones that cause dryness in the hair.
If you use these for a long time, your hair will be stripped of natural oils. In the future, it will cause dry scalp and irritation.
Where to Buy Fanola Shampoo?
Here are a few significant retailers of Fanola shampoos.
Walmart
Amazon
Salon wholesale website
Yes Style
Chemist Warehouse
This shampoo is only available in a few locations, while it is retailed mostly online. If you purchase through another seller, be sure they are authentic.
Salon Guys is the only authorized Fanola distributor in the USA and Canada. Ensure Salon Guys is listed as the Amazon vendor if you buy.
Similar Blogs:
Common Ingredients in Fanola Shampoos
Fanola Shampoos carry different formulations to target different tints. Here are some of the common ingredients Fanola uses.
Aqua (water)
Benzyl Alcohol
Cocamidopropyl Betaine
Chlorphenamine
Citric Acid
Decyl Glucoside
Fragrance
Magnesium Chloride
Magnesium Nitrate
Methylisothiazolinone
Potassium Metabisulfite
Parfum
Propylene Glycol
Phenoxyethanol
Sodium Chloride
Sodium Cocoamphoacetate
Sodium Laureth Sulphate
Tri Ethylene Glycol
Acid Violet 43
Do Fanola Shampoos Have Sulfates?
Yes, Fanola shampoos primarily contain Sodium Laureth Sulphate.
Fanola shampoos use milder surfactants in the newer variants. A new range of Fanola products like NO Yellow vegan shampoo and NO Yellow Purple Shampoo does not contain sulfates.
Possible Side Effects of Fanola Shampoo
While Fanola Shampoos leave your hair nourished and bright, here are some possible side effects of this shampoo.
The citric acid in such shampoos mildly exfoliates the scalp's skin. However, the chemical might produce burning, itching, or redness.
Benzyl Alcohol cause peeling skin. It leads to dryness and rash.
Sodium sulfate in the shampoos makes the scalp dry because it strips away moisture. It irritates the skin. It is unhealthy for the hair.
Fanola shampoos contain propylene glycol. It causes irritation, redness, dandruff, and hair thinning if used more than the prescribed quantity.
It contains CocamidopropylBetaine.It is extracted from coconut oil. However, it can cause skin irritation, rosacea, eczema, and allergies.
To thicken the texture, sodium chloride is primarily present in Fanola shampoo and conditioner. Salt may make a hypersensitive scalp dry and more irritable, leading to hair loss.
Frequently Asked Questions
Q1: Are Fanola Shampoos For All Hair Types?
Yes, FANOLA shampoos can be used on all hair types. It will cleanse your hair and keep it fresh for a long time.
The color balance shampoos work for all scalps and all hair types.
Q2: How to Contact Fanola Company?
If you have concerns related t the product, you can visit their official website. You can email them.
You can text them on social media sites such as Instagram and Facebook. Other than that, you can also email customer service or phone at 877-707-7751.
When I filed for returns due to a delivery error, I emailed customer service, and they responded within 24 hours.
Final Words
In conclusion, my experience using Fanola Shampoo has been a mixed bag.
The products effectively eliminated brassiness and warm tones from my hair, leaving it looking shiny and healthy.
The shampoos' strong purple and blue pigments worked quickly to neutralize unwanted hues. The lightweight formula left my hair feeling less frizzy and more voluminous.
However, I found the scent of these shampoos quite strong and overpowering, and the shampoos were also somewhat drying on my hair.
Despite the great value for the money, I would caution anybody with sensitive scalps who wants a gentler cleansing experience.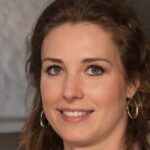 Crystal Hafley is a dedicated writer and content creator for WorstBrands, where she specializes in writing insightful reviews about kitchen appliances and fashion products.
With her expertise, Crystal provides readers with accurate and reliable information to help them make informed decisions about the brands and products they use every day. When she's not researching or writing, Crystal enjoys cooking and exploring the latest fashion trends.