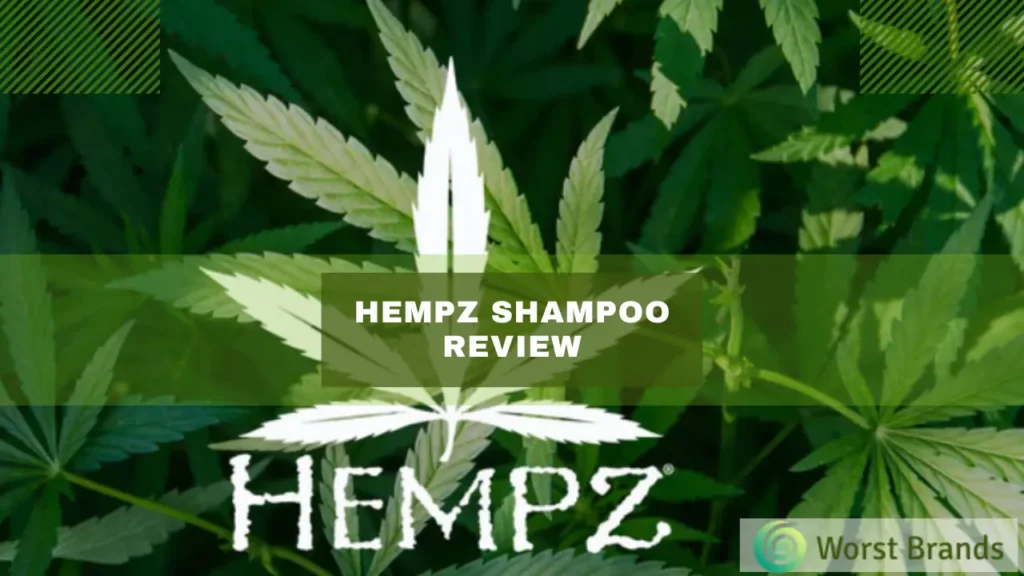 Everyone is searching for a shampoo with more benefits and minor side effects; it should also be organic and natural.
I was on the same hunt until I found the Hempz Shampoos. Their shampoos are admirable and significantly impact my hair's well-being.
I decided to write this Hempz Shampoo Review after getting great results and smooth hair. Keep reading to know all about their shampoos!
Hempz Shampoo Review
Hempz has formulated multiple shampoos targeting different hair types and concerns. This blog will share my experience with a few Hempz shampoos.
1. Sweet Pineapple Volumizing Shampoo
This Shampoo by Hempz is packed with Vitamins, Volumizing agents, Essential oils, and a sweet and fruity scent.
Hemp Seed Oil mixed with omega-rich fatty acids locks 100% moisture and protects hair from further damage.
Pineapple extract with Vitamin C drastically improves hair growth, while Melon extracts replenish and add strength to hair.
This shampoo has been my friend's favorite since last year, and the change in her hair is incredible.
On the other hand, I won't use this shampoo because Ascorbic Acid can lighten the hair dye quickly.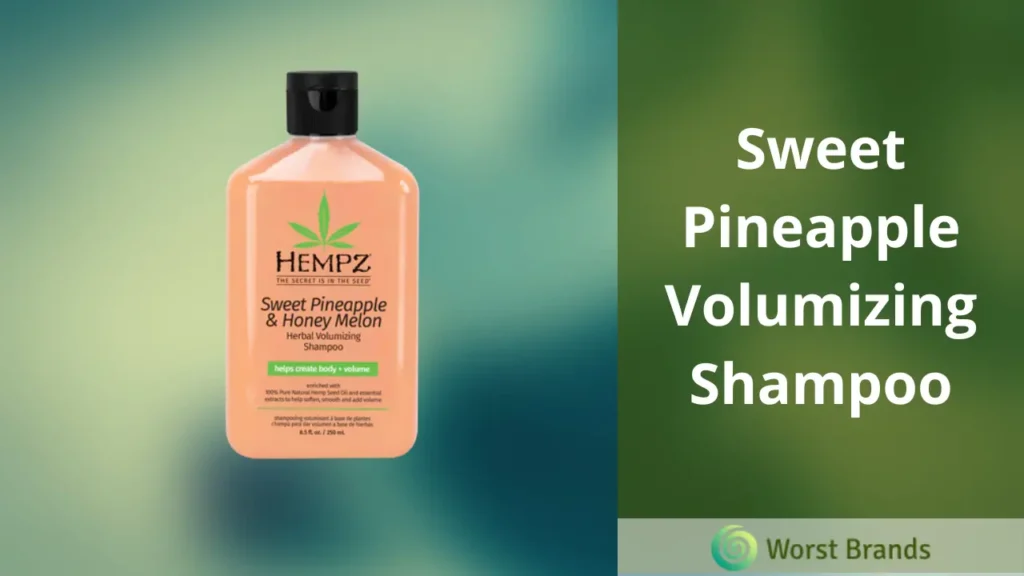 Pros
Volumizing the hair
Sweet-scented
Cons
Not suitable for all hair types
2. CBD Moisture Hit Ultra-Hydrating Herbal Shampoo
This unique formula is infused with CBD, which encourages hair growth by nourishing the scalp and strengthening the hair strands.
CBD oil is packed with omega-3, 6, and 9 improving the quality of scalp tissues, nourishing cuticles, and moisturizing the hair.
Vitamin B and Healthy Collagen levels with Vitamin C helped my sister to keep her hair shiny, smooth and ultra-moisturizing.
The formula contributes to stronger hair structure with Eucalyptus and Tea Tree oil to invigorate and soften hair. Iron used in this shampoo specifically targets hair loss.
This shampoo has been on the top list of my sister and mother because of its promising results.
With that said, Methyl 2-Octynoate used in this formula caused Allergies & Immunotoxicity in my friend as she has sensitive skin.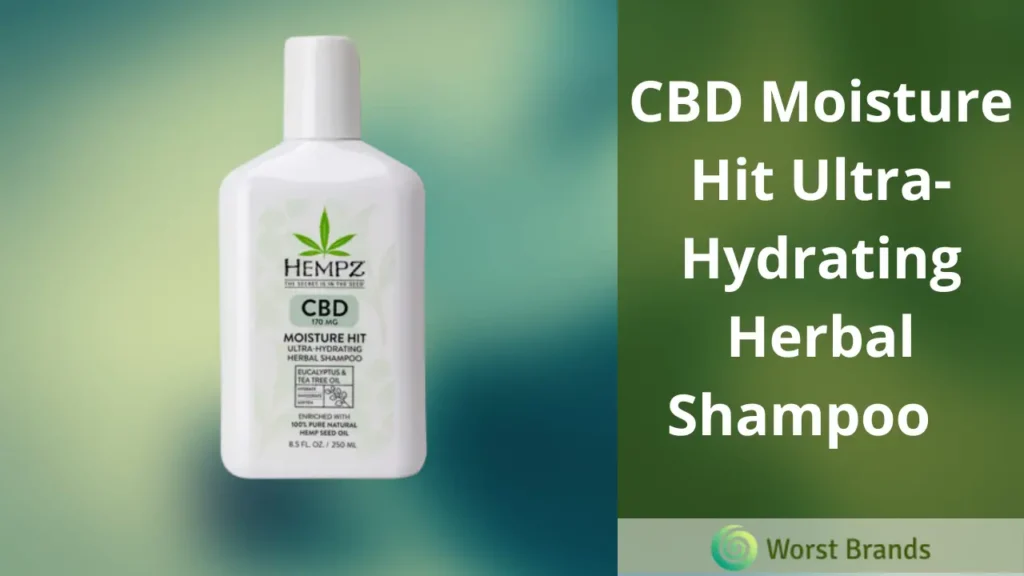 Pros
Highly moisturizing
Strengthening the hair
Contains Keratin
Cons
3. Hempz Original Herbal Shampoo
Often shampoos make your dye fade in a short time. Your hair is left with dull and faded colors, and to top it, they get severely damaged due to frequent dyes.
I used to struggle with this same issue until my stylist told me about Hempz's original herbal shampoo for damaged and color-treated hair.
100% pure hemp seed oil used in Hempz Shampoo helps to protect my hair from chemical damage and make it more manageable. It also has a great scent.
Key Ingredient, Ginseng root encourages new hair growth.
Natural ingredients like Sunflower Seed Oil, Aloe Barbadensis Leaf Juice, and Matricaria Flower Extracts help to preserve moisture and color, prevent frizz, and enhance shine with natural extracts.
Antioxidant and mineral-rich avocado oil strengthens and hydrates the hair.
However, the subtle and gentle formula does not provide a thorough cleanse for everyone.
So if you don't have severely damaged or color-treated hair, you should try other shampoos from the Hempz collection.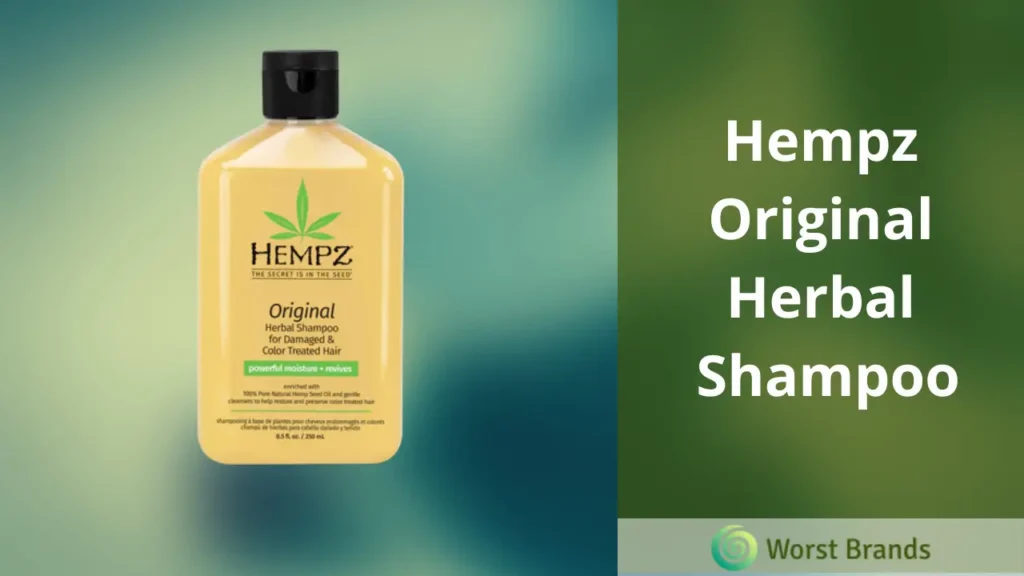 Pros
Color safe
Improved growth
Cons
Comparison Table of Different Hempz Shampoos
| Products | Treats Damaged Hair | For All Hair Types | Sulfate And Paraben free |
| --- | --- | --- | --- |
| Sweet Pineapple & Honey Melon Herbal Volumizing Shampoo | Yes | No | Yes |
| CBD Moisture Hit Ultra-Hydrating Herbal Shampoo | Yes | Yes | Yes |
| Original Herbal Shampoo | Yes | No | Yes |
Hempz Shampoos: What do Customers Say?
To make this Hempz Shampoo Review more authentic, we have added honest feedback and experiences from people who have used these products.
According to most users, they have experienced great before and after results.
Hempz has a high rating of 4.7 out of 5 on most of its shampoos from different sources.
Customers love the blend of organic essential oils that soothe the scalp providing maximum volume, nourishment, and strength.
Consumers are surprised by the benefits of its key ingredient, Hemp Seed Oil, as it gives shine and softness, improves growth, and strengthens the roots.
Most people, including me, love the relaxing and soothing scent of this shampoo which is also very long-lasting.
The prices of Hempz shampoos are also very affordable and a plus point for its users.
However, some people have complained regarding the change in formula and the color of the product.
Also, ingredients used in these shampoos, like Methyl 2-Octynoate and Sodium C14-16 Olefin Sulfonate, may cause allergies and rashes on sensitive skin, as it did to my friend.
Are Hempz Shampoos Good?
If we discuss the monetary aspect, these shampoos are relatively affordable. You can get a 33.8 FL OZ bottle at around $29.99 (0.89/FL OZ).
The price is meager, considering the impact on the growth and well-being of the hair.
We are a fan of all the natural ingredients that give incredible nourished and moisturized hair and a great smell.
The formula is also parabens, sulfate, and gluten-free, which are known to damage your hair.
That being that, we love this shampoo, and we would recommend everyone to at least give it a try.
In addition, you might also want to check if Ichikami Shampoos are Worth it or whether Milbon Shampoos are Good.
10 Reasons to Choose Hempz Shampoos
You should choose Hempz shampoo as your go-to hair solution for multiple reasons.
This shampoo is free from parabens and sulfate.
It is also gluten-free, which can cause hair loss.
Essential oils used in the formula are soothing to the scalp.
These shampoos smell sweet and relaxing.
Hemp seed oil in every shampoo locks the moisture and protects your hair from further damage.
Different flower extract helps hydrate the hair strands increasing elasticity and shine to the hair.
Sweet almond oil used in the formula adds body and volume to your hair.
These shampoos are relatively affordable compared to other products.
They are 100% cruelty-free and do not test their products on animals.
The formula is gentle on your hair.
Where to Purchase the Hempz Shampoo?
Hempz has a wide range of shampoos available on its official website. However, if you like to make your purchase in person, there are some of the common stores that retail Hempz shampoos.
eBay
Amazon
Walmart
Target
Sally Beauty
Walgreens
CVS
Ulta
Kroger
Riteaid
Possible Side Effects of Hempz Shampoos
No matter how natural a product is, some ingredients can have potential side effects to cause you harm.
Methyl 2-Octynoate has a low potential to cause Cancer, Immunotoxicity, and Developmental and Reproductive Toxicity.
Sodium C14-16 Olefin Sulfonate used in high concentrations can dry and irritate your scalp.
Aminomethyl Propanol can be the reason for severe eye and skin irritation.
Overexposure to Disodium EDTA can lead to nausea, vomiting, fever, and skin issues.
Final Verdict
Hempz shampoos are a great option for natural and organic hair care solutions with minimal side effects.
The Sweet Pineapple Volumizing Shampoo contains ingredients like hemp seed oil and pineapple extract that can help improve hair growth and add moisture.
The CBD Moisture Hit Ultra-Hydrating Herbal Shampoo contains CBD oil and other nourishing ingredients that can help strengthen the hair and improve its overall quality.
The Original Herbal Shampoo is specifically designed for damaged and color-treated hair. It contains natural ingredients like sunflower seed oil and avocado oil that can help preserve moisture, prevent frizz, and enhance shine.
While each of these shampoos has unique benefits, it's essential to remember that people may have different experiences. So. it is a good idea to patch-test these products first.
FAQs
Q1: Will CBD Use In Shampoo Make Us High? 
CBD comes in many forms. The one that Hempz uses is isolated. THC, the compound that produces the high, is eliminated.
So, CBD doesn't cause any mind-bending effects.
Q2: How Often Can You Use Hempz Shampoo? 
Gentle and natural ingredients used in the formulations of these shampoos are safe for daily use. 
However, you may not need to wash your hair daily as it eliminates quick dirt build-up and has a long-lasting cleansing effect.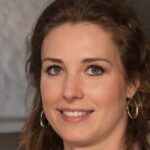 Crystal Hafley is a dedicated writer and content creator for WorstBrands, where she specializes in writing insightful reviews about kitchen appliances and fashion products.
With her expertise, Crystal provides readers with accurate and reliable information to help them make informed decisions about the brands and products they use every day. When she's not researching or writing, Crystal enjoys cooking and exploring the latest fashion trends.